Sign up for weekly updates:
Start with a search:
The waterfalls of Trang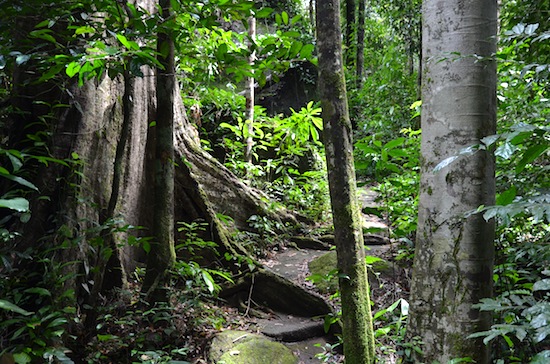 If you're up for a motorbiking adventure before or after a trip to the islands, the Ban That mountains in Trang province's remote western reaches conceal some 10 waterfalls, many of them reachable on a single day trip. At least one — Ton Te — is worth the trip, but it will take some effort.... Read full story
Best online rate guaranteed
best price guarantee
Messageboard
Topic
Replies
Views

Sticky!

New site, bugs etc In About us: by somtam2000, last reply by somtam2000
108
23876
Halong Bay - should we? In Vietnam: by patrirp, last reply by MADMAC
1
40
koh larn, Pattaya. In Thailand: by mikal83, last reply by mikal83
7
153
Overstaying in Indonesia In Indonesia: by LexHeller, last reply by mooball
3
224
Need some convincing to see South Laos In Laos: by gatoguts, last reply by mooball
8
715
Monsoon in Burma In Burma: by clairegui123
0
27
Boat logistics from Luang Prabang to Nong Khiaw. In Laos: by DSawyer, last reply by alisonrd
22
5647
Burmese itinerary In Burma: by BestinDWorld
0
28
phuket to koh samui by car In Thailand: by davsteer
0
38
Holidays in hell: Castaway Island In Vietnam: by somtam2000, last reply by MADMAC
4
313
Philippines in 21 days. Options? In Philippines: by niggles, last reply by Gogomobile
2
209
Bus drivers leaving you behing at malasya-singapour border In Visas and border crossings: by Pokol, last reply by deepak696
7
198
Hello Everyone In India: by ritika
0
48
Snorkeling from the shore in November? In Thailand: by benzine4, last reply by Tilapia
2
157
advice itinerary with children In Cambodia: by terence67, last reply by MADMAC
1
92
First SE Asia trip (12 weeks) and trying not to cram too much In Southeast Asia: by hollon, last reply by MADMAC
5
344
snorkeling from shore In Indonesia: by benzine4, last reply by SBE
7
453
14 days in Thailand over ambitions? In Thailand: by auroraphillips, last reply by asiantraveler
1
194
Is it possible to do the Southeast Asian mainland on a bus? In Thailand: by anil_traveller, last reply by MADMAC
3
245
Is Laos developing a new party scene to replace VV? In Laos: by MADMAC, last reply by MADMAC
4
460
Best motorcycle trip- Tha Khaek or Pakse In Laos: by djkeith, last reply by MADMAC
24
5319
Koh samui house rental In Thailand: by RohiniNegi
0
137
Weather? In New Zealand: by Trary, last reply by Trary
4
214
Bangkok to Hoi An for Lantern Festival In Southeast Asia: by Thomkl1, last reply by Thomkl1
6
259
17 days in Burma: can you help me? In Burma: by Telegrafista, last reply by andy10555
26
3288
Northern Laos In Laos: by Kuduman1, last reply by Kuduman1
3
420
The loop and baggage drop In Laos: by mikal83, last reply by mooball
5
537
Tha Khaek Hotels In Laos: by mikal83, last reply by mooball
4
532
Road Conditions - Lao Bao to Savannakhet In Laos: by carlosmm4, last reply by mooball
1
358
Sapa and Ha Giang In Vietnam: by zhuang, last reply by amylee
4
607
About Travelfish.org
Samantha Brown and Stuart McDonald came up with Travelfish.org as they sunned themselves on an eastern Thai beach in 2004. They wanted to use the internet to better provide travel intelligence to independent travellers, to help them find more interesting destinations, to get off the beaten track and to find little-known places to stay. They also wanted to help little-known places to stay find people to host.
What began as a collection of their favourite spots in Thailand has developed over the years into one of the largest independent travel guides dedicated solely to Southeast Asia. Researched and written by a team of writers who live in the region, Travelfish.org today contains independently researched and written coverage to Cambodia, Indonesia, Laos, Malaysia, Singapore, Thailand and Vietnam. It includes anonymously written reviews by our researchers on over 4,500 places to stay and over 500 destinations in the region.
If we've written about a place on Travelfish.org, we've been there in person. There are no exceptions to this. Not one.
Our team of writers live in the region, research in person and as far as humanly possible, work anonymously. Travelfish.org operates on a strict "no freebie" basis, so what you read on Travelfish.org is our own unvarnished opinion on all things Southeast Asian. There's no outside influence you need to worry about.
Travelfish.org has an active community travel forum where you can ask and answer all manner of Southeast Asia travel questions. Download free PDF travel guides and browse our feature stories and general travel planning advice to get you out and on the road.
So that's it in a nutshell. Whether you're travelling on a tight budget, or you want to splurge on a fabulous beach holiday, if you're doing it on your own steam, we're here to help you have the best time possible. Please do email us if you have any feedback about the site.
Browse places to stay
Burma (Myanmar)

Cambodia

Indonesia

Islands

Laos

Malaysia

Singapore

Thailand

Vietnam
Travel Insurance.
Simple & Flexible.