Sign up for weekly updates:
Start with a search:
Hua Hin Train Station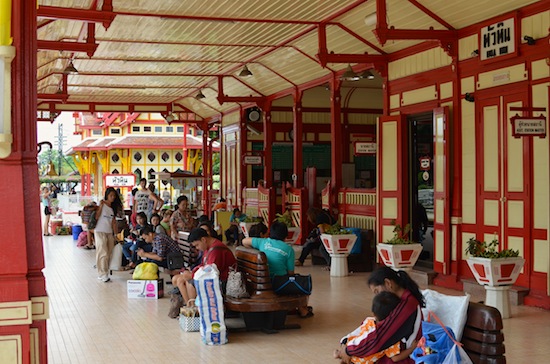 Crimson-and-beige signs with pointed tops are found all over Hua Hin, from cafes to markets, right down to the street signs. All of them attempt to capture the style of Hua Hin Train Station, one of the oldest and arguably the most picturesque in Southeast Asia. Most people only think of going to a train station if they want to catch a train, but here, the station is an attraction in its own right... Read full story
Best online rate guaranteed
best price guarantee
Messageboard
| Topic | Replies | Views |
| --- | --- | --- |
| Is it possible to do the Southeast Asian mainland on a bus? In Thailand: by anil_traveller, last reply by exacto | 1 | 77 |
| Koh samui house rental In Thailand: by RohiniNegi | 0 | 40 |
| Weather? In New Zealand: by Trary, last reply by Trary | 4 | 111 |
| snorkeling from shore In Indonesia: by benzine4, last reply by SBE | 4 | 291 |
| Bus drivers leaving you behing at malasya-singapour border In Visas and border crossings: by Pokol | 0 | 58 |
| Bangkok to Hoi An for Lantern Festival In Southeast Asia: by Thomkl1, last reply by Thomkl1 | 6 | 136 |
| Is Laos developing a new party scene to replace VV? In Laos: by MADMAC, last reply by antoniamitchell | 3 | 288 |
| Overstaying in Indonesia In Indonesia: by LexHeller, last reply by sambalgoreng | 1 | 93 |
| 17 days in Burma: can you help me? In Burma: by Telegrafista, last reply by andy10555 | 26 | 3138 |
| Best motorcycle trip- Tha Khaek or Pakse In Laos: by djkeith, last reply by purcitron | 23 | 5212 |
| Northern Laos In Laos: by Kuduman1, last reply by Kuduman1 | 3 | 343 |
| The loop and baggage drop In Laos: by mikal83, last reply by mooball | 5 | 476 |
| Need some convincing to see South Laos In Laos: by gatoguts, last reply by mooball | 4 | 554 |
| Tha Khaek Hotels In Laos: by mikal83, last reply by mooball | 4 | 466 |
| Road Conditions - Lao Bao to Savannakhet In Laos: by carlosmm4, last reply by mooball | 1 | 300 |
| Sapa and Ha Giang In Vietnam: by zhuang, last reply by amylee | 4 | 522 |
| China itinerary advice In China: by RTruter132, last reply by amylee | 5 | 935 |
| Best time of year with kids In Australia: by Trary | 0 | 67 |
| Budget scuba diving In Maldives: by AndersH, last reply by savorygal | 2 | 768 |
| First SE Asia trip (12 weeks) and trying not to cram too much In Southeast Asia: by hollon, last reply by mikal83 | 1 | 140 |
| Changes to Travelfish PDF guides In About us: by somtam2000 | 0 | 172 |
| Trip to bali-Lombok sept 7 to oct 10 In Indonesia: by MatMcNeil, last reply by x_vizta | 1 | 148 |
| good video about khao san road in bangkok In Thailand: by shaaban, last reply by MADMAC | 1 | 185 |
| Northern Thailand In Thailand: by fergal28 | 0 | 106 |
| What it is Like to Travel Around Thailand In Thailand: by irishfilmmaker, last reply by MADMAC | 1 | 160 |
| How do Americans die while travelling? In Southeast Asia: by somtam2000, last reply by MADMAC | 4 | 386 |
| New Film section on Travelfish In Travel videos: by somtam2000, last reply by irishfilmmaker | 66 | 35768 |
| Be careful of Avanti Travel Insurance In Insurance: by Saward | 0 | 92 |
| What would you do with 3 weeks... In Thailand: by alexizfresh, last reply by galapapuss | 13 | 1128 |
| Myanmar Consulate General Opens in Chiang Mai In Southeast Asia: by Captain_Bob | 0 | 82 |
About Travelfish.org
Samantha Brown and Stuart McDonald came up with Travelfish.org as they sunned themselves on an eastern Thai beach in 2004. They wanted to use the internet to better provide travel intelligence to independent travellers, to help them find more interesting destinations, to get off the beaten track and to find little-known places to stay. They also wanted to help little-known places to stay find people to host.
What began as a collection of their favourite spots in Thailand has developed over the years into one of the largest independent travel guides dedicated solely to Southeast Asia. Researched and written by a team of writers who live in the region, Travelfish.org today contains independently researched and written coverage to Cambodia, Indonesia, Laos, Malaysia, Singapore, Thailand and Vietnam. It includes anonymously written reviews by our researchers on over 4,500 places to stay and over 500 destinations in the region.
If we've written about a place on Travelfish.org, we've been there in person. There are no exceptions to this. Not one.
Our team of writers live in the region, research in person and as far as humanly possible, work anonymously. Travelfish.org operates on a strict "no freebie" basis, so what you read on Travelfish.org is our own unvarnished opinion on all things Southeast Asian. There's no outside influence you need to worry about.
Travelfish.org has an active community travel forum where you can ask and answer all manner of Southeast Asia travel questions. Download free PDF travel guides and browse our feature stories and general travel planning advice to get you out and on the road.
So that's it in a nutshell. Whether you're travelling on a tight budget, or you want to splurge on a fabulous beach holiday, if you're doing it on your own steam, we're here to help you have the best time possible. Please do email us if you have any feedback about the site.
Browse places to stay
Burma (Myanmar)

Cambodia

Indonesia

Islands

Laos

Malaysia

Singapore

Thailand

Vietnam
Travel Insurance.
Simple & Flexible.