Sign up for weekly updates:
Start with a search:
Nola Guesthouse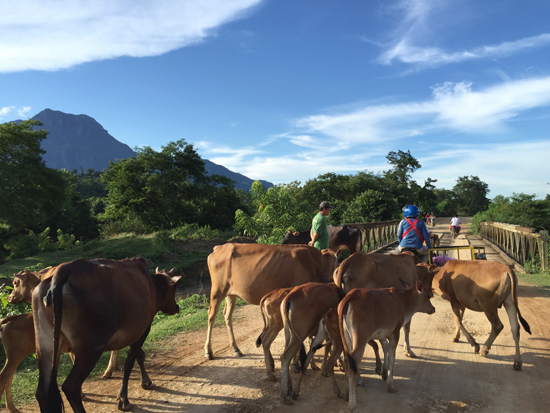 Just 50 kilometres north of Vang Vieng, on the well-travelled road to Luang Prabang, Nola Guesthouse offers guests an opportunity to relax and immerse themselves in a rural Lao village unspoilt by tourist crowds. This is the type of place where travellers plan to stay a few days and end up staying a week or more.... Read full story
Best online rate guaranteed
best price guarantee
Messageboard
| Topic | Replies | Views |
| --- | --- | --- |
| Travel from Chiangmai to Siem Reap. Help! In Thailand: by ander112 | 0 | 14 |
| Preah Vihear In Thailand: by dg234 | 0 | 34 |
| Karaoke In Idle banter: by MADMAC, last reply by exacto | 4 | 4232 |
| Phimai, Phnum Rung and Preah Vihear In Thailand: by dg234, last reply by exacto | 2 | 100 |
| Airport Rail Link for 8:45 am flight at BKK? In Thailand: by andrewesque, last reply by andrewesque | 5 | 352 |
| Prek Chak/Xa Xia border (Kep Ha Tien) In Visas and border crossings: by oasisbarhatien, last reply by oasisbarhatien | 3 | 4706 |
| Best way to get to the Islands from Chiang Mai, Quiet Island, Returning home from Phuket In Thailand: by Buffalosoldier, last reply by Buffalosoldier | 8 | 713 |
| July-August- Koh Phangan+Andaman islands In Thailand: by Mor | 0 | 90 |
| Planning a 2-week trip to Thailand in Mid-August In Thailand: by KamaL | 0 | 108 |
| Taxi from Chiang Mai Airport to old city In Thailand: by shing, last reply by Captain_Bob | 11 | 1220 |
| Help with visas? In Thailand: by Freyarose, last reply by Freyarose | 2 | 150 |
| Bali for solo travellers In Indonesia: by TravelinTracy, last reply by TravelinTracy | 13 | 1325 |
| Solo travel to Thai In Thailand: by Ossha, last reply by Ossha | 11 | 1549 |
| Hanoi,Sapa,Hanoi In Vietnam: by mikal83, last reply by mikal83 | 3 | 280 |
| Where to go?! Urgent!!! In Southeast Asia: by Freyarose, last reply by Freyarose | 10 | 551 |
| Where is the best place to enjoy coffee in Ha Noi ? In Vietnam: by halalu, last reply by halalu | 6 | 438 |
| need help - searching for cheap one bd apt/studio/house sharing in Battambang In Cambodia: by expatstarter, last reply by amnicoll | 2 | 424 |
| trying to do too much? In Thailand: by alexizfresh, last reply by amnicoll | 3 | 245 |
| 3 Week Itinerary In Indonesia: by robbiedee, last reply by amnicoll | 7 | 499 |
| Road trip in Australia or New Zealand? In Australia: by travellingsarah, last reply by Alycook | 12 | 4563 |
| which are the safest & largely scam-free cities in Thailand? In Thailand: by LK023, last reply by amnicoll | 12 | 818 |
| This is Australia In Australia: by JseAdventureTim, last reply by Alycook | 1 | 741 |
| Need some advice! In Finance and money: by ChristD, last reply by Alycook | 10 | 2055 |
| DO NOT TRUST THIS WEBSITE! BETTER LUCK LOOKING SOMEWHERE ELSE In Thailand: by travelshite, last reply by MADMAC | 33 | 2881 |
| 8 week Itinerary- July / August - Help and general advice wanted! Thank you In Indonesia: by wblaker, last reply by sambalgoreng | 6 | 598 |
| A note to Hotmail, Outlook, MSN and Live email users In About us: by somtam2000 | 0 | 274 |
| Current July Weather in South East Thailand? In Thailand: by Karl_the_scot, last reply by asiantraveler | 2 | 175 |
| Hotel Bangkok, Thailand In Thailand: by marialopez, last reply by exacto | 1 | 136 |
| india trip advise please In India: by steveandrowan, last reply by Jessica12 | 4 | 1545 |
| 10 days first time to Southeast Asia... Where should we go?!? Please help! :) In Southeast Asia: by jajohnst, last reply by JuliaLuther | 15 | 1398 |
About Travelfish.org
Samantha Brown and Stuart McDonald came up with Travelfish.org as they sunned themselves on an eastern Thai beach in 2004. They wanted to use the internet to better provide travel intelligence to independent travellers, to help them find more interesting destinations, to get off the beaten track and to find little-known places to stay. They also wanted to help little-known places to stay find people to host.
What began as a collection of their favourite spots in Thailand has developed over the years into one of the largest independent travel guides dedicated solely to Southeast Asia. Researched and written by a team of writers who live in the region, Travelfish.org today contains independently researched and written coverage to Cambodia, Indonesia, Laos, Malaysia, Singapore, Thailand and Vietnam. It includes anonymously written reviews by our researchers on over 4,500 places to stay and over 500 destinations in the region.
If we've written about a place on Travelfish.org, we've been there in person. There are no exceptions to this. Not one.
Our team of writers live in the region, research in person and as far as humanly possible, work anonymously. Travelfish.org operates on a strict "no freebie" basis, so what you read on Travelfish.org is our own unvarnished opinion on all things Southeast Asian. There's no outside influence you need to worry about.
Travelfish.org has an active community travel forum where you can ask and answer all manner of Southeast Asia travel questions. Download free PDF travel guides and browse our feature stories and general travel planning advice to get you out and on the road.
So that's it in a nutshell. Whether you're travelling on a tight budget, or you want to splurge on a fabulous beach holiday, if you're doing it on your own steam, we're here to help you have the best time possible. Please do email us if you have any feedback about the site.
Browse places to stay
Burma (Myanmar)

Cambodia

Indonesia

Islands

Laos

Malaysia

Singapore

Thailand

Vietnam
Travel Insurance.
Simple & Flexible.