Sign up for weekly updates:
Start with a search:
Hua Hin Train Station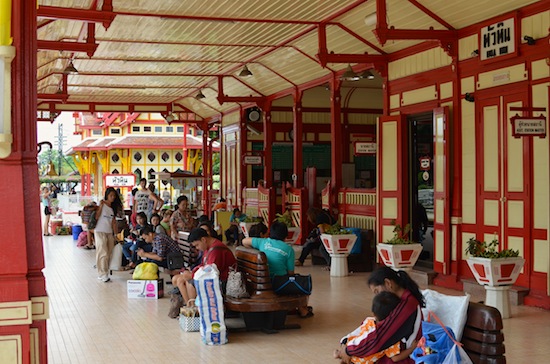 Crimson-and-beige signs with pointed tops are found all over Hua Hin, from cafes to markets, right down to the street signs. All of them attempt to capture the style of Hua Hin Train Station, one of the oldest and arguably the most picturesque in Southeast Asia. Most people only think of going to a train station if they want to catch a train, but here, the station is an attraction in its own right... Read full story
Best online rate guaranteed
best price guarantee
Messageboard
| Topic | Replies | Views |
| --- | --- | --- |
| Help/advice needed... In India: by qamar, last reply by jamesoldies | 4 | 1126 |
| india trip advise please In India: by steveandrowan, last reply by jamesoldies | 7 | 1950 |
| New Film section on Travelfish In Travel videos: by somtam2000, last reply by geoclip | 65 | 35680 |
| Best motorcycle trip- Tha Khaek or Pakse In Laos: by djkeith, last reply by MADMAC | 20 | 5085 |
| hello everybody here In Thailand: by shaaban | 0 | 66 |
| onward travel proof In Southeast Asia: by Alicia3, last reply by Thefinebalance | 11 | 880 |
| Is Laos developing a new party scene to replace VV? In Laos: by MADMAC | 0 | 95 |
| What would you do with 3 weeks... In Thailand: by alexizfresh, last reply by Tilapia | 12 | 886 |
| Looking for a good book on history of Cambodia In Books: by wheelse, last reply by AFClatouche | 20 | 10317 |
| Sapa and Ha Giang In Vietnam: by zhuang, last reply by ngotauhanam | 3 | 442 |
| Trip to bali-Lombok sept 7 to oct 10 In Indonesia: by MatMcNeil | 0 | 79 |
| Lombok/Gilis and Bali in September until 3.10 , travel buddies are welcome! In Indonesia: by catweazle, last reply by MatMcNeil | 2 | 2943 |
| Using US ATM card in Singapore (non EMV chip) In Singapore: by janetyfoo, last reply by MWasser6 | 4 | 767 |
| The loop and baggage drop In Laos: by mikal83, last reply by billytheliar | 2 | 395 |
| Tour to Goa In India: by kolkatatrip, last reply by nisha1 | 13 | 3050 |
| Plan a trip to char dham In India: by deepak2789, last reply by nisha1 | 5 | 1745 |
| Budget scuba diving In Maldives: by AndersH, last reply by nisha1 | 1 | 689 |
| Important: Visa free entry to Indonesia In Indonesia: by somtam2000 | 0 | 270 |
| How do Americans die while travelling? In Southeast Asia: by somtam2000, last reply by MADMAC | 2 | 258 |
| Philippines in 21 days. Options? In Philippines: by niggles | 0 | 97 |
| snorkeling from shore In Indonesia: by benzine4, last reply by mooball | 1 | 160 |
| Honeymoon in Indonesia (2 Weeks) In Indonesia: by phra, last reply by mooball | 7 | 827 |
| Too many people In Southeast Asia: by somtam2000, last reply by eastwest | 9 | 687 |
| Can someone recommend a meditation/yoga/relax retreat in Bali? In Indonesia: by tyler, last reply by tyler | 2 | 159 |
| Philippines for 16 days in September. In Philippines: by idif, last reply by azupak | 1 | 202 |
| 17 days in Burma: can you help me? In Burma: by Telegrafista, last reply by Telegrafista | 24 | 3006 |
| Advice on 3 month Indonesia, Thailand, Vietnam & Cambodia trip for solo female In Southeast Asia: by SLL, last reply by JuliaLuther | 10 | 536 |
| Tour or free and easy on Cambodia and Vietnam? In Cambodia: by david12, last reply by daawgon | 1 | 253 |
| From Pangkor to Singapore In Malaysia: by nowy, last reply by alexsg | 2 | 714 |
| Has anyone done the Mahout Lodge 3 day mahout course In Laos: by condrew, last reply by SoManyMiles | 5 | 2721 |
About Travelfish.org
Samantha Brown and Stuart McDonald came up with Travelfish.org as they sunned themselves on an eastern Thai beach in 2004. They wanted to use the internet to better provide travel intelligence to independent travellers, to help them find more interesting destinations, to get off the beaten track and to find little-known places to stay. They also wanted to help little-known places to stay find people to host.
What began as a collection of their favourite spots in Thailand has developed over the years into one of the largest independent travel guides dedicated solely to Southeast Asia. Researched and written by a team of writers who live in the region, Travelfish.org today contains independently researched and written coverage to Cambodia, Indonesia, Laos, Malaysia, Singapore, Thailand and Vietnam. It includes anonymously written reviews by our researchers on over 4,500 places to stay and over 500 destinations in the region.
If we've written about a place on Travelfish.org, we've been there in person. There are no exceptions to this. Not one.
Our team of writers live in the region, research in person and as far as humanly possible, work anonymously. Travelfish.org operates on a strict "no freebie" basis, so what you read on Travelfish.org is our own unvarnished opinion on all things Southeast Asian. There's no outside influence you need to worry about.
Travelfish.org has an active community travel forum where you can ask and answer all manner of Southeast Asia travel questions. Download free PDF travel guides and browse our feature stories and general travel planning advice to get you out and on the road.
So that's it in a nutshell. Whether you're travelling on a tight budget, or you want to splurge on a fabulous beach holiday, if you're doing it on your own steam, we're here to help you have the best time possible. Please do email us if you have any feedback about the site.
Browse places to stay
Burma (Myanmar)

Cambodia

Indonesia

Islands

Laos

Malaysia

Singapore

Thailand

Vietnam
Travel Insurance.
Simple & Flexible.