Sign up for weekly updates:
Start with a search:
Huai Mae Khamin Waterfall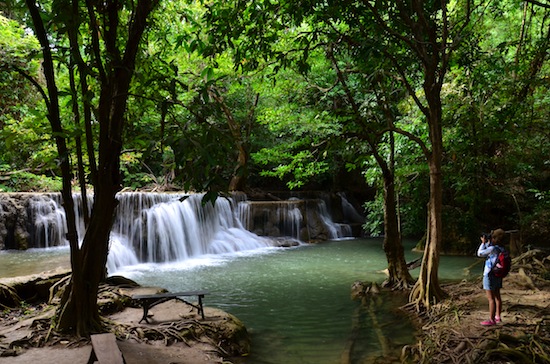 The main draw of Khuean Srinagarindra National Park, Huai Mae Khamin is a seven-tier waterfall flowing down some 1.8 kilometres of hillside blanketed in bamboo and banyan. Between the main tiers are countless smaller rock shelves, smoothed by the flow over untold time. Hot-tub-size travertine pools emerge here and there, with larger swimming holes found at many of the main tiers. On a Sunday visit, we encountered no more than two dozen other people at the lower four tiers. The next day, we had the upper three tiers all to ourselves... Read full story
Best online rate guaranteed
best price guarantee
Messageboard
| Topic | Replies | Views |
| --- | --- | --- |
| Planning for a trip to Northwest Vietnam In Vietnam: by giangnt60014, last reply by giangnt60014 | 2 | 110 |
| Khuraburi/Koh Surin Snorkel Mask In Thailand: by StartATMarket | 0 | 15 |
| Hostel/hotel volunteer work. In Cambodia: by CraigCorcoran, last reply by chinarocks | 5 | 527 |
| Loy Krathong Chiang Mai In Thailand: by asiantraveler, last reply by loudneighbors | 5 | 174 |
| Need info about tet festival. In Vietnam: by sheetalpasad1, last reply by NoraC | 1 | 333 |
| Vietnam visa stamp free: 25 or 45? In Vietnam: by diegomarialuisa, last reply by NoraC | 2 | 105 |
| 11 days with a car? In Malaysia: by Pitichup, last reply by davidhaltson | 2 | 214 |
| Muay Thai in Chiang Mai/Pai In Thailand: by Adventurer707, last reply by Adventurer707 | 2 | 77 |
| Trekking to Kinnaur? Anyone been there? In India: by Adventurer707, last reply by Adventurer707 | 2 | 190 |
| Taking Prescription Drugs to Indonesia In Indonesia: by quigly, last reply by amnicoll | 1 | 104 |
| North Central Coast - motorbike rentals In Vietnam: by Dayvit78 | 0 | 64 |
| Hoi An: Warning about buying gas!! In Vietnam: by enna4 | 0 | 143 |
| Buddhist monasteries in Laos/Vietnam In Laos: by galeforce, last reply by LeGoff | 11 | 18615 |
| Phuket January 2016 In Thailand: by j2016, last reply by Gogomobile | 4 | 466 |
| Bangkok Walking tour In Thailand: by j2016, last reply by DLuek | 8 | 416 |
| Xmas and New Year Advice In Philippines: by Scribbles, last reply by yonderbound | 2 | 522 |
| Vang Vieng Camping Community In Laos additions: by neilenolix, last reply by sonny93 | 1 | 139 |
| gym in Chiang Mai In Thailand: by loudneighbors | 0 | 104 |
| 3 months to spend in Thailand, Cambodia and Vietnam starting June2016 In Southeast Asia: by Artix, last reply by Gogomobile | 7 | 375 |
| Vietnam to offer Visa exemptions to 15 countries... In Vietnam: by altmtl, last reply by Deedee3 | 7 | 2696 |
| Choosing quiet beach areas in Thailand in December In Thailand: by algamann, last reply by algamann | 5 | 388 |
| Flights to Bangkok from London In Thailand: by robert367, last reply by amnicoll | 3 | 1790 |
| Malaria recommendations in Yangon, Bagan and Inle Lake In Burma: by larsness, last reply by larsness | 6 | 447 |
| Looking for cheap Pak Bara accomodations In Thailand: by roam, last reply by DLuek | 2 | 169 |
| Vietnam War Tours In Vietnam: by chris9393, last reply by olivernguyen | 10 | 1782 |
| Best 1 Day Mekong Tour In Vietnam: by N45H, last reply by olivernguyen | 2 | 409 |
| Travel to Bhamo In Burma: by petertoowoomba | 0 | 132 |
| Phuket to Railey/Tonsai transport In Thailand: by dastott, last reply by dastott | 3 | 150 |
| Yao noi to phi phi In Thailand: by snepat, last reply by snepat | 6 | 360 |
| Thai Sim - How long is it valid for now? In Thailand: by altmtl, last reply by altmtl | 3 | 232 |
About Travelfish.org
Samantha Brown and Stuart McDonald came up with Travelfish.org as they sunned themselves on an eastern Thai beach in 2004. They wanted to use the internet to better provide travel intelligence to independent travellers, to help them find more interesting destinations, to get off the beaten track and to find little-known places to stay. They also wanted to help little-known places to stay find people to host.
What began as a collection of their favourite spots in Thailand has developed over the years into one of the largest independent travel guides dedicated solely to Southeast Asia. Researched and written by a team of writers who live in the region, Travelfish.org today contains independently researched and written coverage to Cambodia, Indonesia, Laos, Malaysia, Singapore, Thailand and Vietnam. It includes anonymously written reviews by our researchers on over 4,500 places to stay and over 500 destinations in the region.
If we've written about a place on Travelfish.org, we've been there in person. There are no exceptions to this. Not one.
Our team of writers live in the region, research in person and as far as humanly possible, work anonymously. Travelfish.org operates on a strict "no freebie" basis, so what you read on Travelfish.org is our own unvarnished opinion on all things Southeast Asian. There's no outside influence you need to worry about.
Travelfish.org has an active community travel forum where you can ask and answer all manner of Southeast Asia travel questions. Download free PDF travel guides and browse our feature stories and general travel planning advice to get you out and on the road.
So that's it in a nutshell. Whether you're travelling on a tight budget, or you want to splurge on a fabulous beach holiday, if you're doing it on your own steam, we're here to help you have the best time possible. Please do email us if you have any feedback about the site.
Browse places to stay
Burma (Myanmar)

Cambodia

Indonesia

Islands

Laos

Malaysia

Singapore

Thailand

Vietnam
Travel Insurance.
Simple & Flexible.