Sign up for weekly updates:
Start with a search:
Nha Trang's beaches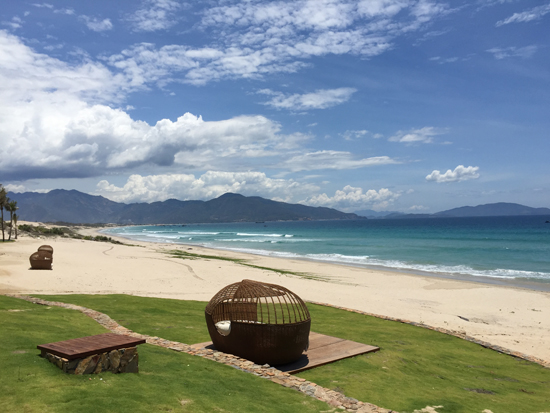 Nha Trang's famous beaches live up to their reputation. The city is situated right on the coast, making a beach holiday within reach for all budgets. Whether you are staying at a hostel or a five-star in the tourist centre, the ocean is always less than a 15-minute walk away and all beaches in Nha Trang are free to the public. And what's more, venture out of the downtown core and you're spoiled with additional options.... Read full story
Best online rate guaranteed
best price guarantee
Messageboard
| Topic | Replies | Views |
| --- | --- | --- |
| Need some advice. In Thailand: by Mayb31, last reply by Mayb31 | 7 | 247 |
| On authenticity In Idle banter: by somtam2000, last reply by exacto | 7 | 235 |
| Looking to swap Cambodian Riel for British Pounds *CHEAP CAMBODIAN RIEL* In Cambodia: by laurence_groom, last reply by Bridgequeen | 1 | 298 |
| Visa on Arrival at port In Vietnam: by Bridgequeen, last reply by Bridgequeen | 3 | 152 |
| Cambodia - September 2015 In Cambodia: by Soe, last reply by Bridgequeen | 14 | 3202 |
| 7 days in chiang mai...what to do? In Thailand: by alexizfresh, last reply by asiantraveler | 8 | 161 |
| Itinerary Advice November In Vietnam: by bells83, last reply by JAXFL | 1 | 58 |
| Women Who Have Traveled in SE Asia Alone? In Thailand: by emc, last reply by Yesterday | 8 | 2812 |
| Nha Trang to Hoi An in early November - very rainy? In Vietnam: by HUIG, last reply by JAXFL | 1 | 82 |
| tagging books you leave behind In Books: by caseyprich, last reply by Gogomobile | 5 | 3525 |
| Any ideas?? In Vietnam: by Tracy53, last reply by Tracy53 | 4 | 131 |
| Like motorbiking, beaches and exploring? In Vietnam: by SoManyMiles, last reply by somtam2000 | 4 | 219 |
| Another Plane Missing in Indonesia? In Indonesia: by exacto, last reply by mooball | 12 | 389 |
| 3w itinerary advise In Indonesia: by blackhawk60, last reply by mooball | 8 | 745 |
| What is your favorite city and why? In Idle banter: by exacto, last reply by Gogomobile | 15 | 472 |
| 23 days in Vietnam and Phi Phi - Advice Needed In Vietnam: by Moonbeam, last reply by Gogomobile | 2 | 168 |
| What does it really cost to live in Bangkok at an expat? In Thailand: by somtam2000, last reply by antoniamitchell | 25 | 1811 |
| Beach Destinations After HCMC? In Vietnam: by Freyarose | 0 | 124 |
| Have you already bought a guidebook? Will you? In Thailand: by somtam2000, last reply by Tennouji | 61 | 2125 |
| Hanoi to Quan Lan In Vietnam: by piokopze, last reply by tf_geckozy | 1 | 316 |
| Padang Bai and Ubud In Indonesia: by smartlyndy, last reply by smartlyndy | 3 | 495 |
| How to get to Southern Myanmar and its Beaches In Burma: by relaxedTrev, last reply by YeMeansWater | 17 | 7604 |
| December 2015: Luang Prabang - Nong Khiaw - Muang Ngoi In Laos: by ttdub, last reply by SoManyMiles | 5 | 455 |
| Dien Bien Phu loop In Vietnam: by flano_2 | 0 | 132 |
| AIVI hostel in Vietnam In Vietnam additions: by AIVI, last reply by AIVI | 2 | 185 |
| Looking for a travalmate - Chiang Mai (23 - 25 Oct) In Companions: by Raymond | 0 | 160 |
| Nature and culture attractions in Malaysia In Malaysia: by Juha_H | 0 | 177 |
| Bangkok: which area? In Thailand: by Yesterday, last reply by laphanphon | 9 | 742 |
About Travelfish.org
Samantha Brown and Stuart McDonald came up with Travelfish.org as they sunned themselves on an eastern Thai beach in 2004. They wanted to use the internet to better provide travel intelligence to independent travellers, to help them find more interesting destinations, to get off the beaten track and to find little-known places to stay. They also wanted to help little-known places to stay find people to host.
What began as a collection of their favourite spots in Thailand has developed over the years into one of the largest independent travel guides dedicated solely to Southeast Asia. Researched and written by a team of writers who live in the region, Travelfish.org today contains independently researched and written coverage to Cambodia, Indonesia, Laos, Malaysia, Singapore, Thailand and Vietnam. It includes anonymously written reviews by our researchers on over 4,500 places to stay and over 500 destinations in the region.
If we've written about a place on Travelfish.org, we've been there in person. There are no exceptions to this. Not one.
Our team of writers live in the region, research in person and as far as humanly possible, work anonymously. Travelfish.org operates on a strict "no freebie" basis, so what you read on Travelfish.org is our own unvarnished opinion on all things Southeast Asian. There's no outside influence you need to worry about.
Travelfish.org has an active community travel forum where you can ask and answer all manner of Southeast Asia travel questions. Download free PDF travel guides and browse our feature stories and general travel planning advice to get you out and on the road.
So that's it in a nutshell. Whether you're travelling on a tight budget, or you want to splurge on a fabulous beach holiday, if you're doing it on your own steam, we're here to help you have the best time possible. Please do email us if you have any feedback about the site.
Browse places to stay
Burma (Myanmar)

Cambodia

Indonesia

Islands

Laos

Malaysia

Singapore

Thailand

Vietnam
Travel Insurance.
Simple & Flexible.