Sign up for weekly updates:
Start with a search:
Vinh Hy-Binh Tien Pass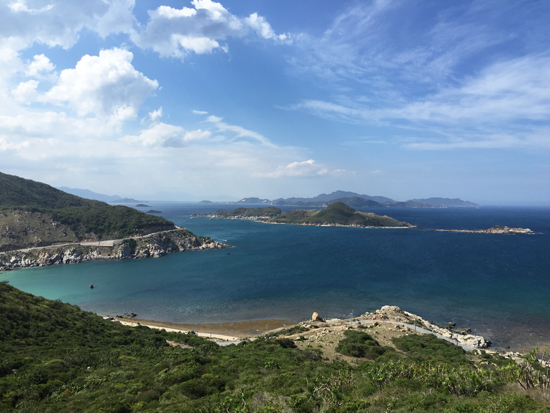 The Vinh Hy-Binh Tien pass easily ranks as one of Vietnam's best scenic motorbike rides and it is probably the most unsung: Seventeen kilometres of freshly paved and virtually empty road winds its way along magnificent unspoiled coast. It starts from a gorgeous stretch of white sand known as Binh Tien beach and ends in the small fishing village of Vinh Hy in Ninh Thuan province; along the way you'll be rewarded with jaw-dropping, breath-taking, unobstructed views, coves of turquoise water, empty beaches, the wild, dry forest of Nui Chua National Park and tiny but magnificent Binh Hung island... Read full story
Best online rate guaranteed
best price guarantee
Messageboard
| Topic | Replies | Views |
| --- | --- | --- |
| Guy heading to Bali 18-21 in Dec. In Indonesia: by Golferlee | 0 | 2 |
| Five friends looking for a cycling tour to get to know Chiang Mai In Thailand: by trey2993, last reply by lemak | 13 | 756 |
| Loy Krathong Chiang Mai In Thailand: by asiantraveler, last reply by lemak | 7 | 289 |
| Bangkok Walking tour In Thailand: by j2016, last reply by lemak | 9 | 494 |
| Local Stay With Family In Thailand: by j2016, last reply by lemak | 11 | 639 |
| Atauro on a budget In Timor-Leste: by elfinawe, last reply by elfinawe | 1 | 34 |
| Switching to a new Travelfish site design In About us: by somtam2000 | 0 | 48 |
| 20 days in Thailand, Vietnam & Cambodia In Vietnam: by cmaranhao, last reply by Gogomobile | 5 | 240 |
| Travel to Bhamo In Burma: by petertoowoomba, last reply by petertoowoomba | 2 | 196 |
| Eating in Luang Prabang and Vientiane In Laos: by asill73, last reply by travellerLaos | 19 | 3933 |
| Travel round the Ayeyarwady region In Burma: by adgilcan | 0 | 38 |
| Bangkok early january In Southeast Asia: by Kentishvegan, last reply by Gogomobile | 2 | 195 |
| Champasak to Pakse - bus/taxi/tuktuk In Laos: by robney, last reply by amnicoll | 2 | 74 |
| Chiang Mai or Ayutthaya In Thailand: by mcgdeborah, last reply by Gogomobile | 6 | 240 |
| Mt. Pinatubo Hike In Philippines: by angelx08 | 0 | 44 |
| Indochine Residences In Thailand additions: by indochinedev | 0 | 41 |
| Need info about tet festival. In Vietnam: by sheetalpasad1, last reply by sheetalpasad1 | 2 | 528 |
| Drought in northern Thailand In Thailand: by geezer, last reply by geezer | 3 | 153 |
| Camping at Panoen Thung, Kaeng Krachan Over New Year In Thailand: by cowslip | 0 | 52 |
| Female traveller looking for female travel buddy!! Feb 2015 In Companions: by aoifewoo, last reply by sheetalpasad1 | 1 | 953 |
| 1 night/2 days trip to Khao Sok from Ao Nang/Krabi In Thailand: by sarah88, last reply by Captain_Bob | 1 | 92 |
| Ko Yao Noi // Ko Yao Yai In Thailand: by j2016, last reply by mcgdeborah | 2 | 413 |
| Market Thailand In Thailand: by j2016, last reply by mcgdeborah | 10 | 624 |
| Khuraburi/Koh Surin Snorkel Mask In Thailand: by StartATMarket, last reply by DLuek | 1 | 104 |
| Mae Nam 2016 In Thailand: by TABORDAN, last reply by TABORDAN | 2 | 351 |
| Suvarnabhumi airport to Don Muang Train St In Thailand: by caballerodeandr, last reply by caballerodeandr | 8 | 176 |
| Dawei is overlooked In Burma: by DaweiBeach, last reply by DaweiBeach | 4 | 136 |
| Lake temenggor? In Malaysia: by Pitichup | 0 | 98 |
| Planning for a trip to Northwest Vietnam In Vietnam: by giangnt60014, last reply by Dayvit78 | 3 | 217 |
| 11 days with a car? In Malaysia: by Pitichup, last reply by exacto | 3 | 284 |
About Travelfish.org
Samantha Brown and Stuart McDonald came up with Travelfish.org as they sunned themselves on an eastern Thai beach in 2004. They wanted to use the internet to better provide travel intelligence to independent travellers, to help them find more interesting destinations, to get off the beaten track and to find little-known places to stay. They also wanted to help little-known places to stay find people to host.
What began as a collection of their favourite spots in Thailand has developed over the years into one of the largest independent travel guides dedicated solely to Southeast Asia. Researched and written by a team of writers who live in the region, Travelfish.org today contains independently researched and written coverage to Cambodia, Indonesia, Laos, Malaysia, Singapore, Thailand and Vietnam. It includes anonymously written reviews by our researchers on over 4,500 places to stay and over 500 destinations in the region.
If we've written about a place on Travelfish.org, we've been there in person. There are no exceptions to this. Not one.
Our team of writers live in the region, research in person and as far as humanly possible, work anonymously. Travelfish.org operates on a strict "no freebie" basis, so what you read on Travelfish.org is our own unvarnished opinion on all things Southeast Asian. There's no outside influence you need to worry about.
Travelfish.org has an active community travel forum where you can ask and answer all manner of Southeast Asia travel questions. Download free PDF travel guides and browse our feature stories and general travel planning advice to get you out and on the road.
So that's it in a nutshell. Whether you're travelling on a tight budget, or you want to splurge on a fabulous beach holiday, if you're doing it on your own steam, we're here to help you have the best time possible. Please do email us if you have any feedback about the site.
Browse places to stay
Burma (Myanmar)

Cambodia

Indonesia

Islands

Laos

Malaysia

Singapore

Thailand

Vietnam
Travel Insurance.
Simple & Flexible.