Sign up for weekly updates:
Start with a search:
Self-guided walks in Muang Sing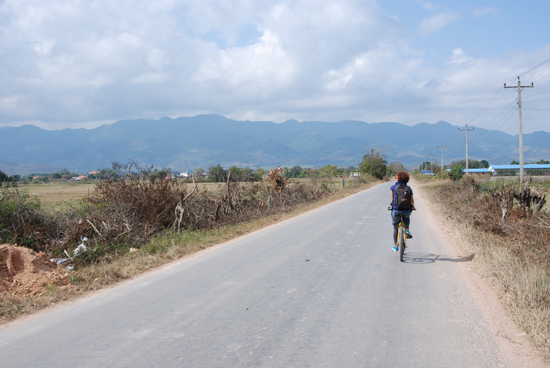 To an outsider Muang Sing's nine ethnic groups may all seem the same but there are differences from head to toe: from a person's dress to the way they build their houses to what they craft, worship, eat and grow. A guided trek or a homestay is the best way to gain insight into the culture and traditions but if hiring a guide is not an option, here is a self-guided village tour. Hire a bicycle or motorbike, pick up a map of the villages from the Tourism Office and hit the road.... Read full story
Messageboard
| Topic | Replies | Views |
| --- | --- | --- |
| 3 week trip...thinking about completely skipping Bangkok. Mistake? In Thailand: by alexizfresh, last reply by BrownieThailand | 4 | 86 |
| Best places to stay in Ho Chi Minh City In Vietnam: by Octodad, last reply by daawgon | 2 | 152 |
| Vietnam Train Timetable and Fares is it latest in Travelfish In Vietnam: by olimhltf, last reply by Want2BHappy | 1 | 73 |
| trying to organize Cambodia - Laos and more... help plz! :-) In Cambodia: by Davide11, last reply by JimTokay | 3 | 110 |
| Easykart.net Go-kart in Koh Samui In Thailand additions: by easykart | 0 | 45 |
| Hellfire Pass In Thailand: by decco, last reply by DLuek | 1 | 117 |
| Tha Kha to beach? In Thailand: by Debra, last reply by DLuek | 1 | 71 |
| 5 Weeks Southeast Asia Nov-Dic In Thailand: by GSavi | 0 | 77 |
| Can I bring my Thai registered car into Laos In Laos: by scoopybombam, last reply by deeral | 4 | 278 |
| Video impressions of Thailand In Thailand: by asiantraveler, last reply by asiantraveler | 13 | 875 |
| Selling my Thai registered car purchased on finance In Thailand: by scoopybombam, last reply by scoopybombam | 4 | 245 |
| Thailand company June 2015 In Companions: by wizardsbeard | 0 | 101 |
| Internal flights- updates? In Burma: by Canadia | 0 | 102 |
| NAB Free Travel Insurance In Vietnam: by Thomaxs, last reply by busylizzy | 1 | 160 |
| Question about flight from Chiang In Thailand: by alexizfresh, last reply by amnicoll | 2 | 329 |
| Itinery help!! In Cambodia: by EllieBlack, last reply by amnicoll | 7 | 378 |
| Re: Small and wonderful Singapore In Singapore: by ryanmill1986, last reply by deepak696 | 6 | 2215 |
| Mount Bromo accommodation In Indonesia: by stevenjmartin, last reply by tobfl | 4 | 236 |
| Considering this route, any advice appreciated. In Thailand: by BuzzmFrog84, last reply by antoniamitchell | 188 | 9067 |
| 4 weeks in SE Asia In Southeast Asia: by Amerish, last reply by MADMAC | 8 | 443 |
| Baan Barefeet Naturist resort in Bangkok In Thailand: by vivid2 | 0 | 158 |
| Sa Pa Trip - Looking for a travel mate In Vietnam: by Kaladevee, last reply by backpacker184 | 1 | 289 |
| Mukdahan has fastest internet in Thailand In Thailand: by DLuek, last reply by DLuek | 4 | 221 |
| Planes, boats or automobiles... In Cambodia: by sunlvr, last reply by TerroirTravel | 4 | 364 |
| New tourist charge in Hoi An In Vietnam: by somtam2000, last reply by daawgon | 4 | 1272 |
| Weather in Sianoukville and on Ko Rong / Ko Samloem in the 2nd half of October? In Cambodia: by jwaltersorf, last reply by JimTokay | 1 | 269 |
| From HAT YAO to KRABI coast...where to stop?? In Thailand: by clodee, last reply by DLuek | 2 | 197 |
| The Elephant Valley Project in Sen Monorom, Mondulkiri In Cambodia: by somtam2000, last reply by Lisa_A | 1 | 347 |
| 3 weeks: Bali to Komodo / Flores and back In Indonesia: by seaniegraham, last reply by amnicoll | 1 | 208 |
| thehimachal.com - Himachal culture In Culture and politics: by thehimachal123 | 0 | 159 |
About Travelfish.org
Samantha Brown and Stuart McDonald came up with Travelfish.org as they sunned themselves on an eastern Thai beach in 2004. They wanted to use the internet to better provide travel intelligence to independent travellers, to help them find more interesting destinations, to get off the beaten track and to find little-known places to stay. They also wanted to help little-known places to stay find people to host.
What began as a collection of their favourite spots in Thailand has developed over the years into one of the largest independent travel guides dedicated solely to Southeast Asia. Researched and written by a team of writers who live in the region, Travelfish.org today contains independently researched and written coverage to Cambodia, Indonesia, Laos, Malaysia, Singapore, Thailand and Vietnam. It includes anonymously written reviews by our researchers on over 4,500 places to stay and over 500 destinations in the region.
If we've written about a place on Travelfish.org, we've been there in person. There are no exceptions to this. Not one.
Our team of writers live in the region, research in person and as far as humanly possible, work anonymously. Travelfish.org operates on a strict "no freebie" basis, so what you read on Travelfish.org is our own unvarnished opinion on all things Southeast Asian. There's no outside influence you need to worry about.
Travelfish.org has an active community travel forum where you can ask and answer all manner of Southeast Asia travel questions. Download free PDF travel guides and browse our feature stories and general travel planning advice to get you out and on the road.
So that's it in a nutshell. Whether you're travelling on a tight budget, or you want to splurge on a fabulous beach holiday, if you're doing it on your own steam, we're here to help you have the best time possible. Please do email us if you have any feedback about the site.
Browse places to stay
Burma (Myanmar)

Cambodia

Indonesia

Islands

Laos

Malaysia

Singapore

Thailand

Vietnam
Travel Insurance.
Simple & Flexible.