Sign up for weekly updates:
Pagoda Rocks Boutique Resort
What we say:
The road to Pagoda Rocks is stunning as you sweep down and around a working pagoda with trees flanking either side, monkeys abounding, monks proceeding and children running amok while their mothers watch from nearby food stalls and dingy wooden houses. As you come to the top of a short steep hill, you take a sharp right and swoop down a precipitous drive that takes you to a hotel that does not in any way disappoint after the sights just seen. Alive with trees, and named after neighbouring Wat Leu, Pagoda Rocks bills itself as a "haven of tranquility in a garden setting", and that is no lie.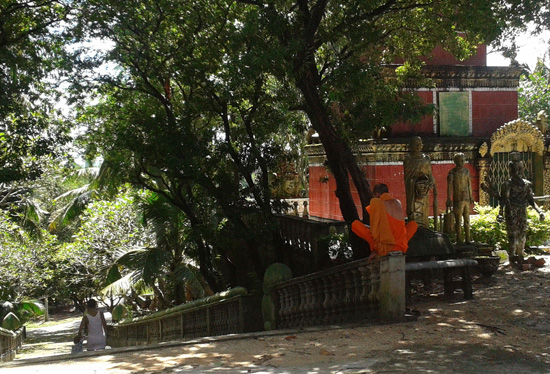 The first thing to catch your eye on entering the grounds is the glimmering, green/blue infinity pool. Look beyond that, and down the brick steps, where you'll start to catch sight of the bungalows tucked away among the trees on the hillside.
Designed to blend in with the surrounding landscape, from the outside, the bungalows appear more modest than they are. Inside, the polished timber floors, king-sized beds and tasteful furnishings will put an end to any initial doubts you may have about their comfort or style.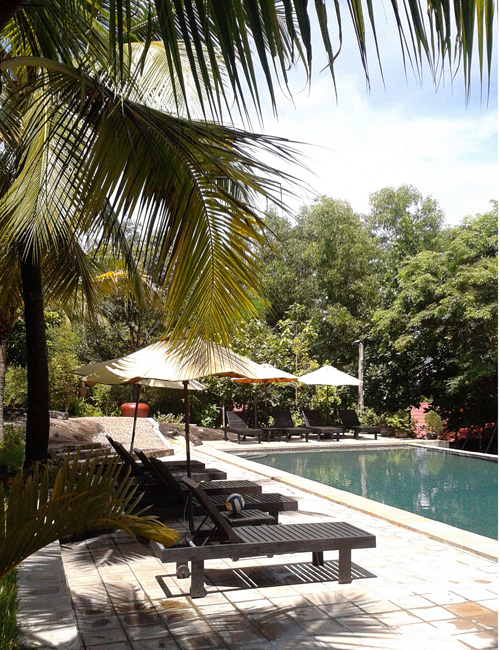 The bungalows at Pagoda Rocks are meant to be lived in, not just slept in. Every bungalow has an ocean view balcony. A flat screen cable TV and DVD player will ensure you're not without entertainment or contact with the outside world. A fridge and minibar offer instant refreshment or you can ask the staff to deliver a full meal to your room. All rooms are air-con and have separate en suites with hot water showers and/or baths.
If there's one drawback to staying here, it may be that you won't want to leave. Between the comfort of your bungalow, the pool and the assortment of delicious international dishes on offer in the open-air restaurant, there is little reason to explore Sihanoukville.
Should you decide you want a change of scenery, you can take a short walk up the hill and across the road to Wat Leu or take your choice of modes of transportation for longer excursions. Mountain bikes are free to use, motorbikes can be rented cheaply, or you can take a tuk tuk or taxi into town. The staff can also arrange private car or minibus tours outside of town or boat trips to the islands for you.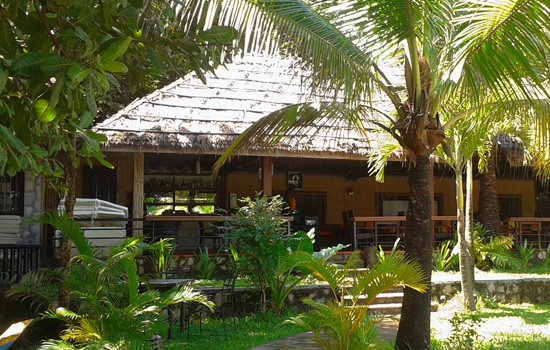 At US$65 per night during the high season (November-April), Pagoda Rocks is not budget accommodation, but it's good value in comparison with other similarly priced Sihanoukville accommodation. A 20 percent low season (May-October) discount makes it even better value.
Pagoda Rocks Boutique Resort will appeal to couples, families and small groups looking for a mellow, retreat-like atmosphere more than to those who come to Sihanoukville to party. If that sounds like you and you're planning on coming in the high season, book well in advance to avoid disappointment.
The hotel is high up in the hills behind Sihanoukville, which means it's out of the melee, and also an excellent spot for sundowners, whether or not you're staying here.
Make a reservation online now
Contact details:
Beside Wat Leu, Sihanoukville. T: (034) 939 222, (067) 255 545, (077) 524 275
Email them at:
info@pagodarocks.com
Visit website
What we were quoted
| Type of room | Low season | High season | Notes |
| --- | --- | --- | --- |
| Standard - Double | 52 USD | 65 USD | |
| Family room | 84 USD | 105 USD | |
Added to Travelfish on: 27th March, 2015
Last visited or updated on: 25th August, 2015
Last reviewed by:
Nicky Sullivan
Nicky Sullivan is an Irish freelance writer (and aspiring photographer). She has lived in England, Ireland, France, Spain and India, but decided that her tribe and heart are in Cambodia, where she has lived since 2007 despite repeated attempts to leave. She dreams of being as tough as Dervla Murphy, but fears there may be a long way to go. She can't stand whisky for starters. She was a researcher, writer and coordinator for The Angkor Guidebook: Your Essential Companion to the Temples, now one of the best-selling guidebooks to the temples.
Get your PDF guide now!
best price guarantee
Photo gallery
Jump to a destination
Hot spots

Phnom Penh & surrounds

Siem Reap, Angkor & West Cambodia

Sihanoukville & Cambodia's islands

Banlung, Kratie & the Northeast
Pagoda Rocks Boutique Resort map
Pagoda Rocks Boutique Resort
Beside Wat Leu, Sihanoukville.
T: (034) 939 222, (067) 255 545, (077) 524 275
info@pagodarocks.com
http://www.pagodarocks.com

Map data © OpenStreetMap contributors, Mapbox
Terms & Feedback
All accommodation in Sihanoukville
Onward travel
The above are all within 200km of Sihanoukville.