Sign up for weekly updates:
Great places to stay in Siem Reap
What we say:
Accommodation standards in Siem Reap have improved beyond recognition in the last few years, across nearly all budgets. The gateway to Angkor now has more than 300 hotels and guesthouses and the chances of a soft landing are high. Here, though, are a few of our favourites that won't break the bank.
Dream a dream
Starting at the top, Navutu Dreams Hotel, Resort & Spa is set amid paddy fields just a 15-minute tuk tuk trip away from the centre of town. Designed by the Italian family behind the highly commended Navutu Stars resort in Fiji, Navutu Dreams is a step into another world where white Neo-Moroccan villas sit in a tropical, landscaped garden. A Polynesian-style straw-roofed dining pavilion forms the centrepiece and is flanked by no fewer than three Egyptian blue swimming pools, including one lap pool. The effect is stunning, even before you get to see the spacious rooms, which are exquisitely designed with a gorgeous Mexican cyan backdrop to offset the sculpted white walls and carefully selected pieces of regional crafts. Rooms start at $96 per night during the green season, it could be worth a splurge for one night even if your budget wouldn't normally go that far. Alternatively, check out the spa, which combines Cambodian and Pacific know-how and ingredients in a cool, luxurious setting. They also have a dedicated yoga centre with regular classes seven days a week. Even if you're not staying here, the $8 fee for the yoga class includes the option to spend the rest of your afternoon by the stunning pools, and maybe tucking into a cocktail or two. The restaurant is very highly recommended, and offers a gently sophisticated and tropical ambience that is hard to find in town.
Navatu Dreams Hotel Resort & Spa
T: (063) 964 864 ; (092) 141 694
reservations@navutudreams.com
http://www.navutudreams.com/
Check for discounted rates with Agoda.com
Get fruity
Rambutan is not just one but two hotels, the Rambutan Resort and Rambutan Hotel (both of which were part of the original Golden Banana group). Not even 50 metres apart from one another, they each offer a gorgeous neo-Mediterranean setting with white-painted villas beautifully offset by red painted doors, lush green foliage and cerulean pools with gently sprinkling water features. The differences are in the rooms, with the Resort's being larger with a slightly more luxurious and contemporary edge. They also have larger terraces complete with showers, bath tubs and loungers.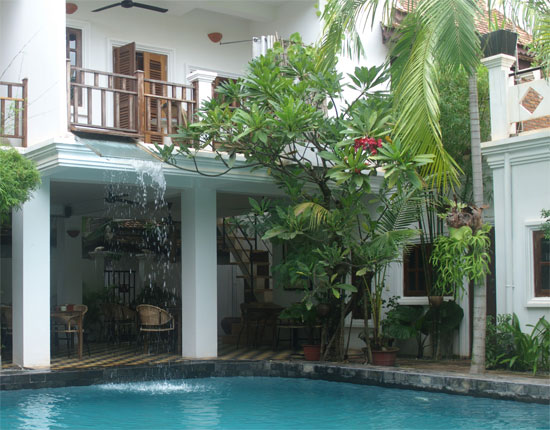 You'd be bananas not to consider it.
A secret garden
You can't even tell that it's there from the street. Hidden away behind a white wall and elegant gate, Maison 557a> is all about getting away from it all. Centred on a 1950s colonial-style villa, this beautiful retreat offers an exclusive villa, with its own private pool and lush tropical garden, as well as six uniquely-styled rooms, four of which lead directly out to a separate pool and garden. The whole atmosphere for this genuinely boutique hotel is one of tranquil, gentle elegance and the very personable owner makes it a mission to ensure that all of his guests get the most out of their stay in the way that suits them best.
A hotel with a heart
It has to be said that Soria Moria Boutique Hotel may possibly the best in town. Not necessarily for the size of their rooms, though on average they're reasonably big, nor for the quality of their decor which is good but not outstanding. Their location on the Wat Bo Road is excellent, but that's not it either. They have a bright, airy restaurant that has an excellent $1 tapas night on Wednesdays, but that's not what makes us smile every time we hear their name. Nor is it the full schedule of activities, whether it's movie nights or the "Oh My Buddha hand me another one of those outrageously cheap margaritas" nights. What makes Soria Moria stand head and shoulders over most hotels, anywhere, is the size of their hearts.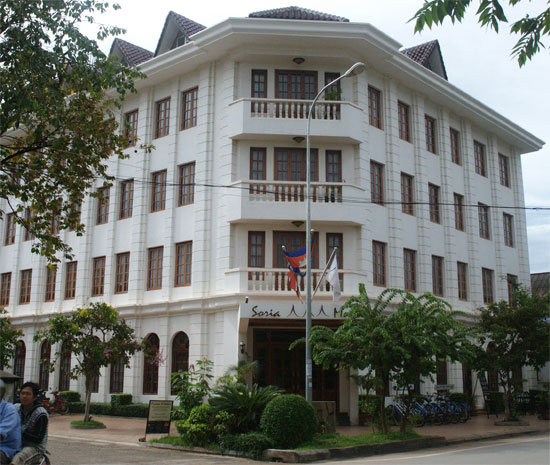 More than just a hotel.
Soria Moria was founded in 2007 by a couple of Norwegians as a boutique hotel with 38 rooms and from the very beginning it was about making Cambodia a better place. The hotel has been associated with and active supporters of a number of reputable local NGOs since its inception, including the $1 tapas night, which is also a hospitality training night for disadvantaged youth. They have invested heavily in their staff training and support, with the real coup coming in 2012 when 51% of the hotel's ownership was transferred to the staff. If you would like to do your bit to contribute to Cambodia's future, they have plenty of ideas for you to follow up on.
The rooms at the Soria Moria range from $40 to $65 per night, and we forgot to mention they also have a rooftop bar perfect for watching the sun sink down over the horizon.
Soria Moria Boutique Hotel
Wat Bo Road
T: (063) 964 768
http://thesoriamoria.com/
Check for discounted rates with Agoda.com
Elegant and tasteful
Just up the road from Soria Moria, and still within walking distance of town, Frangipani Villa Hotel is a lovely spot. It's the creation of three enterprising Cambodians, an architect, a landscape gardener and a marketing whizz, whose specialties have come together in an elegant symbiosis. The two large, airy buildings house tastefully decorated rooms (from $40 per night), featuring lots of four-poster beds with gently fluttering canopies, silk throws, flowers and subtle contemporary motifs. A setting this lovely would cost significantly more pretty much anywhere else in the world.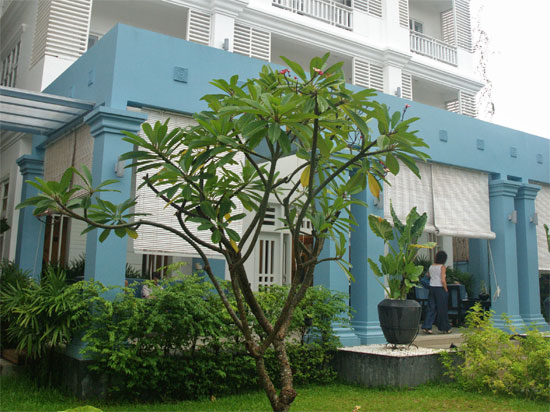 Look out for the frangipani.
The pool at the back is a real prize, and faces east so is perfect for afternoon swims after a morning spent trampling around temples. Our only reservation here is the restaurant in the principal building, whose standards and ambiance seem rather at variance with the rest of the hotel.
Frangipani Villa Hotel
Wat Bo Road
T: (016) 581 045
http://www.frangipanivillahotel.com/
Check for discounted rates with Agoda.com
Build a future
Way over on the other side of town, there is another hotel with a heart. Actually, Sala Bai is not really a hotel but a hospitality training school that takes in 100 disadvantaged young Cambodians every year and gives them formal and practical training in the industry.
Part of the training includes hosting guests in the few rooms above the (amazing) restaurant, which are simply decorated, clean and very good value with rooms from $20 per night for a standard double. At that price, you're doing more than securing comfortable, air con accommodation within a stone's throw of the centre of town; you're building someone's ability to grasp their own future, which is worth so much more in the long run. On that note, it's worth remembering that sometimes the staff may struggle with their developing English skills especially at the beginning of the school year, and they may make the odd mistake. But I can't describe the happiness you'll take home with you knowing that you can play a part in helping them to help themselves build a future of their own making.
The restaurant downstairs, which is also part of the training school, is one of our absolute favourites. Open for breakfast and lunch on weekdays during the school terms, they offer an a la carte and set Western and Asian menus with dishes that are wonderfully creative, beautifully presented and absolutely delicious. We can't recommend this place enough, even if you're not staying at the hotel.
Sala Bai
155, Phoum Tapoul
T: (063) 963 329
http://www.salabai.com/
A true rose
If you're into more homely fare, then Rosy's Guesthouse could be the place for you. The love child of a young English couple who met and fell head over heels in Siem Reap, Rosy's is a sort of home away from home for many.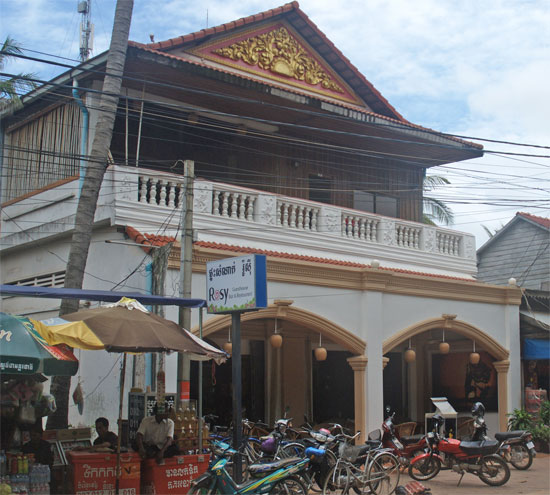 Rosy and homely.
Like its owners, Rosy is down to earth and straightforward, but thoughtful and also enormous fun on the monthly charity quiz nights. The bar area has a pool table, and two large flat-screen TVs for catching up on sports and the occasional movie nights. For the hungry, Rosy's beef and Guinness pies are the stuff of local legend. Travellers with children will be thrilled by theKids Room downstairs, which is stocked with toys, soft flooring, a blackboard wall, books, and anything else the owners can get their hands on. It is always being added to.
Rooms at Rosy's range are simple but comfortable, ranging from $9 for the budget rooms with shared bathroom and $15 to $35 for the rooms.
Rosy Guest House
# 0074, Phum Slor Kram
T: (063) 965 059
http://rosyguesthouse.com/
Not your average hostel
Super-popular with backpackers, the Siem Reap Hostel is only a two-minute walk from the Old Market, and is really much more than just a hostel; it's one of the only places in town with an indoor pool too. And a pool table, and a regular yoga schedule, games nights, occasional gigs, Sunday barbecues and, do you know what, it's impossible to keep up with their busy schedule unless you're actually staying there. The Siem Reap Hostel makes a virtue out of hiring energetic, creative management teams whose sole reason for living seems to be ensuring that their guests have as much fun as possible while they're there.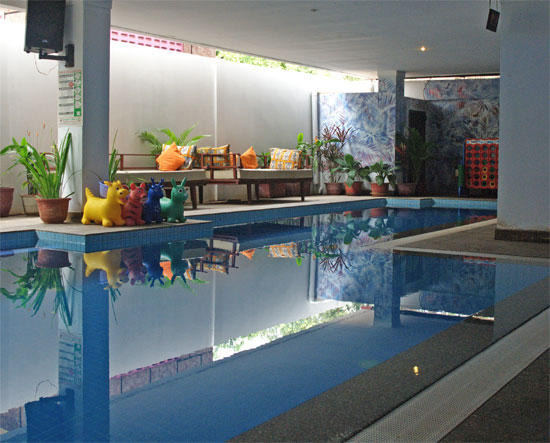 Not your average hostel.
Rooms are spotlessly clean, and for those who want to step out of the party light, there is comfy seating on the large balconies on the first and second floors where you can find some space to just chill out – subject to the traffic on the street below. Dorms start at $8 (low season), and rooms start at $34 for an air con double.
The Siem Reap Hostel
7 Makara Street
T: (063) 964 660
http://www.thesiemreaphostel.com/
The game-changer
Funky Flashpacker burst onto the Siem Reap scene last year with stage-managed parties, tales of derring-do and extravagant boasts about their brekkies and Sunday roasts (which turned out to be true). If this is a hostel, you wouldn't know it from looking at the very modern, and beautifully-designed three-storey building with wide balconies, plenty of open spaces, pool and excellent rooftop bar, perfect for catching breezes and sunsets over a cocktail. They still host regular parties and events, and the air con dorms and private rooms are every bit as modern and well-maintained as the exterior would have you believe. Only a ten-minute walk from town, and five minutes from the lusty, late-night Sok San Road, Funky Flashpacker has changed the game for almost every other hostel in town, whose job is now going to consist mainly of trying to catch up. Dorms are $7 a night, while a double room is $18 with fan, and $23 with air con.
Funky Flashpacker
#319 Funky Lane (off Samdech Tep Vong St)
T: (096) 752 1040
www.funkyflashpacker.com
Forever praised
Locally owned Mandalay Inn is one of those places that people just can't seem to praise enough. Set in a large Cambodian style villa off the river road, and with air con double rooms starting at $16, it's easy to see why this is such a hit, before you even get to the wonderfully friendly and helpful service and modest but scrupulously clean rooms. They also have the only Burmese restaurant in Siem Reap.
Mandalay Inn
Psar Kroung Street
T: (063) 761 662
http://www.mandalayinn.com/
Check for discounted rates with Agoda.com
Added to Travelfish on: 30th May, 2015
Last visited or updated on: 31st May, 2015
best price guarantee
Photo gallery
Jump to a destination
Hot spots

Phnom Penh & surrounds

Siem Reap, Angkor & West Cambodia

Sihanoukville & Cambodia's islands

Banlung, Kratie & the Northeast
All accommodation in Siem Reap
Onward travel
The above are all within 200km of Siem Reap.