Sign up for weekly updates:
Indigo House
In the thick of it
What we say:
You can't get more centrally located in Luang Prabang than Indigo House. The 12-room hotel is on the main street, in arguably the busiest block in town. If you want to be in the thick of the action, this is the place to stay. The four-storey building – a skyscraper by Luang Prabang standards – looms over the night market and is adjacent to the popular cheap eats alleyway teaming with spicy papaya salad stalls, barbecue and vegetarian buffets.
Formerly known as Ancient Luang Prabang, the hotel had its "indigo" reno and facelift in early 2014. If the name and the blue and white facade didn't give you enough of a hint, each of the 12 rooms feature different shades of blue.
The lobby is a coffee shop, bakery and boutique selling indigo-dyed textiles, a craft that Laos is well known for. It's an inviting space, but it's also a busy, very public hub. Don't expect personalised service. If you are looking for calm, quiet and privacy (and if you hate the colour blue!), this is definitely not the hotel for you.
Each room has a different theme centered on a feeling, such as "Cool," "Calm," and "Peace," each varying slightly in design and decor. The rooms are a fair size and elegant, with gleaming wood floors, white linens, minimal decoration and new bathroom fixtures. Natural materials like stone, rattan and hand-woven textiles have been incorporated. Parts of the bathroom are open concept, with the shower and sink integrated into the room design. They are can provide a screen if you are skittish about privacy.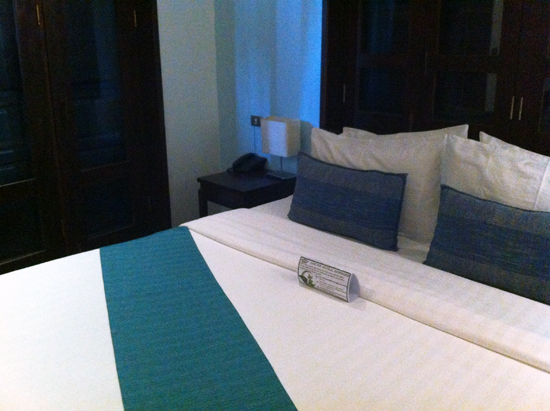 The rooms have air-conditioning, electronic safe, TV and minibar. The four rooms that face the front of the building have their own small balcony overlooking the main street. These rooms are, of course, subject to street noise. There are also no ground floor rooms so guests must be able to climb stairs.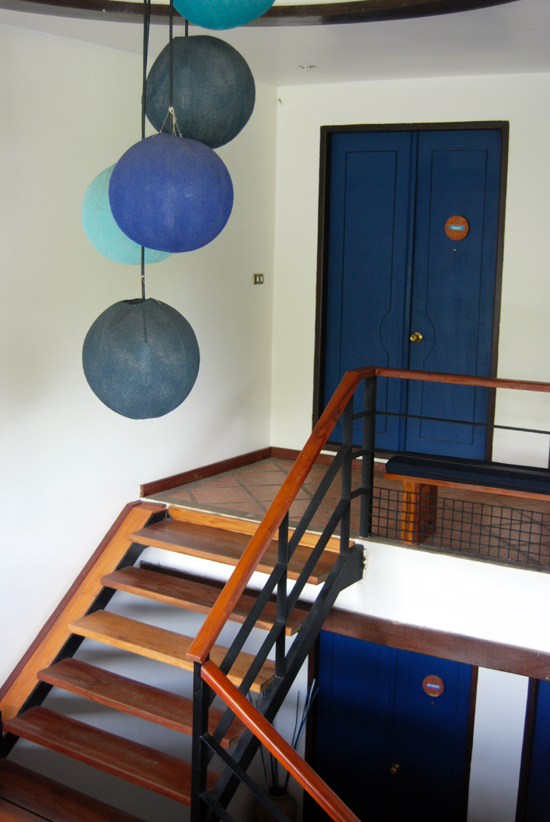 The hotel's best feature is the private rooftop terrace. It's a place you'd want to write some postcards, catch up on email or enjoy a drink. It has an amazing vantage point of the main street – something to consider if you are planning to be in Luang Prabang during a special religious procession or festival.
The location means you are steps from everything but you sacrifice facilities like free bicycle, private restaurant and lobby, swimming pool and garden. The price point is comparable with Le Sen, My Dream and Maison Dalabua – but these hotels offer a completely different experience to Indigo House.
Make a reservation online now
Contact details:
Sisavangvong Rd, Ban Pakham. T: (071) 212 264
Email them at:
info@indigohouse.la
Visit website
What we were quoted
| Type of room | Low season | High season | Notes |
| --- | --- | --- | --- |
| Superior - Double | 70 | 80 | High season October to April |
Added to Travelfish on: 5th August, 2014
Last visited or updated on: 5th August, 2014
Last reviewed by:
Cindy Fan
Cindy Fan is a Canadian writer & photographer living in Laos since 2011. She's the author of So Many Miles, her blog about diving in, discovering and creating a narrative about the world, one story and adventure at a time.
best price guarantee
Photo gallery
Jump to a destination
Hot spots

Vientiane, Vang Vieng & surrounds

Luang Prabang & Northern Laos

4,000 islands & Southern Laos
Indigo House map
Indigo House
Sisavangvong Rd, Ban Pakham.
T: (071) 212 264
info@indigohouse.la
http://www.indigohouse.la

Map data © OpenStreetMap contributors, Mapbox
Terms & Feedback
All accommodation in Luang Prabang
Onward travel
The above are all within 200km of Luang Prabang.