Oct 13 2011
The Malaysian government's announcement last week of a 420 million ringgit plan to boost tourism in Langkawi sent a huge shiver down my spine. The last thing this beautiful island needs is more visitors; most of its best beaches are already either over-developed, or the private property of exclusive resorts.
What Langkawi (and indeed Malaysia as a whole) needs is not more tourism, but better tourism. Most crucially it needs to reduce the environmental impact of existing visitors before trying to attract new ones. The government may be making the right noises about using its five-year Langkawi plan to encourage ecotourism, but past behaviour would suggest this should be taken with a huge pinch of salt.
The majority of the Malaysian tourism industry is woefully unsustainable, particularly when it comes to beach holidays. Without any government leadership or support, it has fallen to individual hotels or guesthouses to introduce more environmentally friendly practices. One such place is The Frangipani Langkawi, which describes itself as Malaysia's greenest resort.
I'm not sure whether it quite deserves that title, but the Frangipani certainly makes much more effort than most. Water recycling, sustainable building materials, solar panels, tree planting and energy efficient light-bulbs are just some of the steps it has taken to reduce its environmental impact.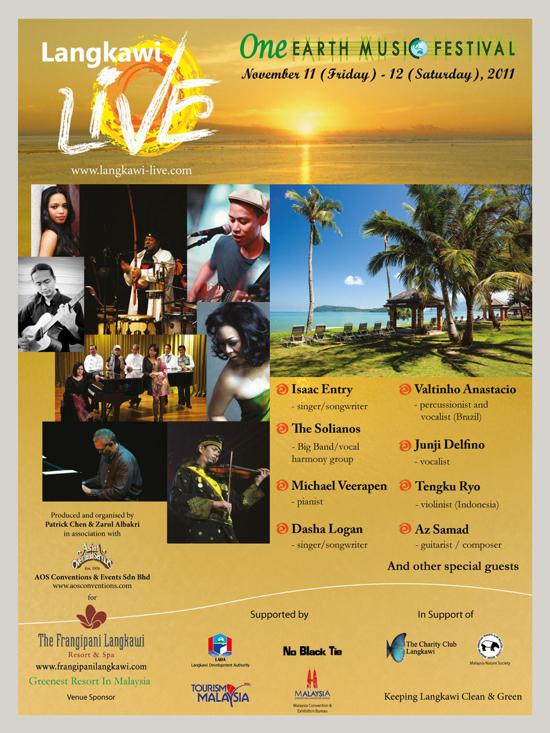 It is fitting therefore that the Frangipani should be the venue (as well as a co-organiser) of Langkawi Live – One Earth Music Festival, a new event with a distinctive green theme. The two-day festival, on November 11-12, will play host to an eclectic mix of local and international talent.
The line-up includes jazz pianist Michael Veerapen and singer Junji Delfino, two of Malaysia's most acclaimed performers. They are joined by up-and-coming local artists, like singer Dasha Logan, and quality acts from Brazil and Indonesia. If the music tends towards one category, it is jazz, but the influences include everything from electronic funk to Indian classical. The music is timed to start at sunset on the two nights, break for dinner, and start again for the second part of the show.
It is before the music gets underway each evening that Langkawi Live will really show its green credentials. The festival venue will offer an opportunity for both locals and tourists to learn more about eco-friendly practices like organic farming and sustainable craft production.
All daytime events at Langkawi Live are free. Tickets for individual nights are priced at a very reasonable 65 ringgit, or 110 ringgit including dinner. Two-day dinner and music tickets are available for 200 ringgit. Langkawi Live is open to everyone, regardless of whether they are guests of the Frangipani or not. The festival website lists generally expensive hotels; best to look online for more affordable options – for a large range of hotels try Agoda.
The organisers want the festival not just to provide entertainment, but also act as a spur to help save Langkawi from over-development. Whether the government's five-year plan will end up hindering or helping that laudable aim is open to question.
The Frangipani Langkawi
Jalan Teluk Baru, Pantai Tengah, Langkawi, Kedah
T: (04) 952 0000
www.frangipanilangkawi.com
More still
» Previous post: Raising a beer to all things German in Kuala Lumpur (including Oktoberfest)
» Next post: The Hindu festival of Deepavali (Diwali) in Kuala Lumpur
Disclaimer
Travelfish.org always pays its way. No exceptions.
Tags: Langkawi Live

best price guarantee
One Response to "Langkawi Live: A new music festival with more than a hint of green" ...
#

mich

on 12 Jan 2012 at 3:41 pm

Hello ,
I'm going to Langkawi with my wife in february ; we are looking for a not overcrowded place and also a hotel with reasonable prices , around 200 a night ; if you have any ideas , I will appreciate !
Thank you , have a good day
michel
Leave a Reply