Dec 20 2011
For a city of Kuala Lumpur's wealth and ambition, its public transport system was until recently an embarrassing mess (making it easier, sometimes, to just walk). It was not so much that it was badly planned, as to be completely lacking in any strategic overview at all. Every mode of transport, even the two lines of the LRT, used a completely different ticketing system, reliable information was almost unheard of, and the (rare) interchanges were crazily inconvenient.
Thankfully, for both visitors and locals alike, the government finally woke up to the lunacy of the situation a few years ago, and has been trying to make the best of a bad job ever since. A big step in the right direction was to bring the LRT, the Monorail and the majority of the city's buses under the control of one publicly-owned company, RapidKL, rather than have them as competing private enterprises.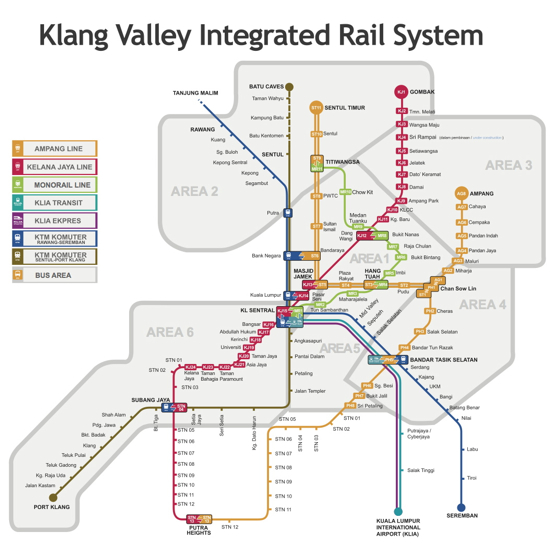 The main problem with trying to integrate a transport system after it has been built, rather than at the planning stage, is that even when it is logistically possible it is much more expensive. It would not be feasible now, for example, to move Pasar Seni LRT station next to Kuala Lumpur KTM station, where it should originally have been built. But at least the new elevated pedestrian walkway between the two makes the interchange far less hassle. Oddly enough, the easiest and most affordable way to improve integration — linking up bus and train services — is still not being pursued.
One area that has seen huge advances over recent years has been ticketing. It is now possible to use Touch 'n Go cards on the LRT, the Monorail, RapidKL buses and KTM Komuter trains. They can be bought and topped up much more easily too, making them a sensible purchase for visitors. As an added bonus, Touch 'n Go cards can be used to pay highway tolls, should you hire a car.
It is also possible to buy other stored value cards, specifically targeted at RapidKL services, such as the new MyRapid Pass. At present it only works on the LRT, but the aim is to extend it to the Monorail and buses in the near future.
Apart from giving LRT commuters through ticketing for the first time, the MyRapid Pass is still not as useful overall as a Touch 'n Go card. The pass is designed to work with the new ticket machine system, which became operational on the LRT in late November 2011.
The only real change for single journey tickets is that they are tokens rather than plastic cards. The tokens have to be swiped on the way in, and dropped in the slot on the way out. While the new system is bedding in, expect plenty of confusion. KL's public transport system is unlikely to ever be a thing of beauty, but at least it's moving in the right direction these days.
More still
» Previous post: How to celebrate (Western) New Year in Kuala Lumpur
» Next post: Halal and haram (haraam) in Kuala Lumpur
Disclaimer
Travelfish.org always pays its way. No exceptions.
Tags: buses, KTM Komuter, LRT, monorail, MyRapid Pass, public transport, RapidKL, taxis, Touch 'n Go, trains

best price guarantee
Leave a Reply