Feb 21 2012
You might well think that an English playwright who produced his work at the turn of the 17th century has little relevance in a modern Southeast Asian city such as Kuala Lumpur. But the fine people at the Kuala Lumpur Performing Arts Centre clearly see things differently, if their March schedule is anything to go by.
First up is a production of The Merchant of Venice (February 29-March 3, 20:30; March 3, 15:00; 20 ringgit), one of Shakespeare's best-known pieces of work. The play packs in several timeless themes — love, friendship, loyalty, mercy, revenge — while remaining an entertaining story. Although often criticised as anti-Semitic for its portrayal of Shylock, a Jewish moneylender, his definitive soliloquy is one of the most eloquent arguments against prejudice ever written. After KLPAC, the production will travel to the Penang's new performing arts centre, Penangpac (March 8-10, 20:30; March 10, 15:00; 20 ringgit).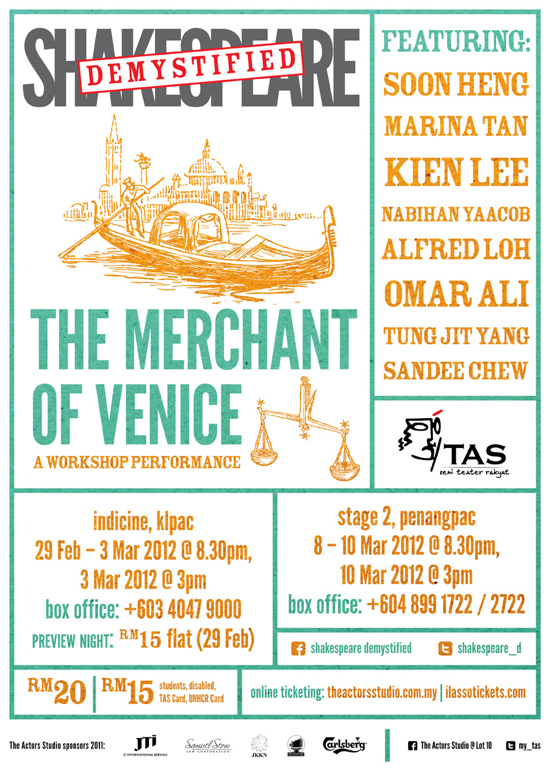 The Merchant of Venice also has a cameo role in The Compleat Wrks of Wllm Shkspr (Abridged), a humorous show that condenses nearly 40 plays into 90 minutes. Ever since it was first performed in 1987, The Complete Wrks has proved a big hit with audiences. After KLPAC (March 21-24, 20:30; March 24-25, 15:00; 48 ringgit), the production will travel to Penangpac (March 29-31, 20:30; March 31-April 1, 15:00; 48 ringgit).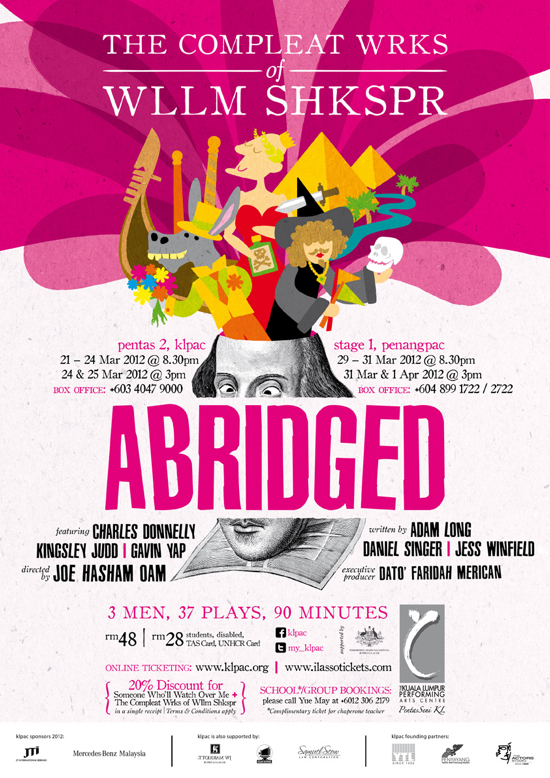 March also sees three showings from the latest season of Shakespeare on Film. Stuart Burge's Julius Caesar (March 4), will be followed by Orson Welles' Macbeth (March 11), and then Franco Zeffirelli's Hamlet (March 18). All shows start at 15:00, and admission is free. Tickets are issued on a first come, first served basis. Shakespeare on Film is now in its sixth season, a testament to The Bard's enduring appeal in KL, nearly 400 years after his death.
KLPAC also has plenty of non-Shakespeare stuff in March, the pick of the bunch being the black comedy Dead Man's Cell Phone. It will be shown March 14-17 at 20:30, with a 15:00 performance in March 18, before travelling up to Penangpac (March 22-24, 20:30; March 24-25, 15:00). Tickets cost 33 ringgit.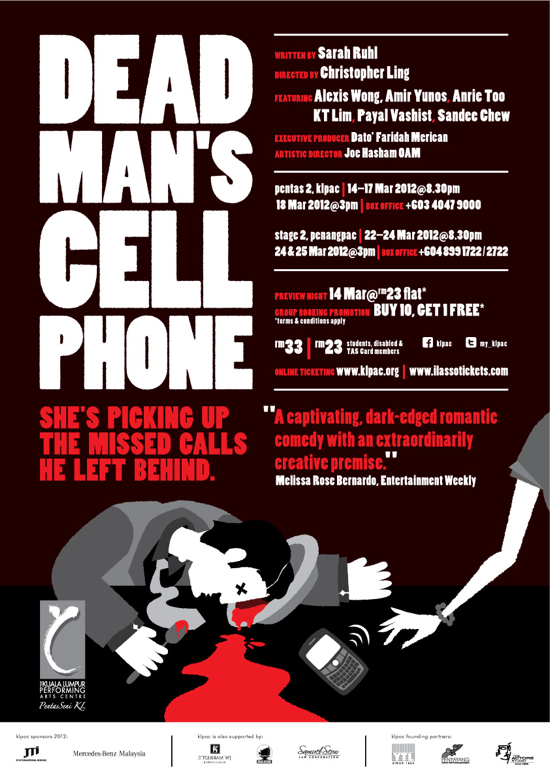 Moving onto music, and fans of percussion instruments have two treats in March. First up is Kaleidoscope II – Hands Drumming Festival at KLPAC (March 8-10, 20:30; March 10-11, 15:00; 68-148 ringgit); then Rhythm II, a Chinese percussion performance at its sister venue, The Actors Studio (March 31, 15:00 and 20:30; April 1, 15:00; 28-38 ringgit). For something completely different, The Actors Studio will hold its next indie night on March 24 (20:30, 15-30 ringgit), featuring four up-and-coming local bands.
KLPAC (Kuala Lumpur Performing Arts Centre)
Sentul Park, Jalan Strachan, Sentul
T: (03) 4047 0910 (enquiries); (03) 4047 0900 (box office)
www.klpac.org
Penangpac
3H-3A-1, Straits Quai, Jalan Seri Tanjung Pinang, Tanjung Tokong, Penang
penangpac.org
The Actors studio
The Rooftop, Level 8A, Lot 10 Shopping Centre, 50 Jalan Sultan Ismail, Bukit Bintang
T: (03) 2142 2009 (box office)
www.theactorsstudio.com.my
More still
» Previous post: Taking photographs in Kuala Lumpur
» Next post: Putrajaya: Malaysia's other capital city
Disclaimer
Travelfish.org always pays its way. No exceptions.
Tags: Kuala Lumpur Performing Arts Centre, penang, Shakespeare, theatre

best price guarantee
Leave a Reply