Ko Lipe's best budget guesthouses 2012
First published 14th February, 2012
Over the past ten years the tiny southwest Thai island of Ko Lipe has gone from being a little known blip of sand in the Andaman Sea to one of Southeast Asia's most heavily touristed small islands. While a decade ago there were just a few simple resorts, today Lipe boasts close to 50 accommodation options to choose from, with the trend going persistently towards expensive, upmarket spa resorts.
However, don't think Lipe is out of reach just yet if you're travelling on a tight budget. I recently checked out a handful of rustic but comfortable bungalows just steps from the beach that may be scored for under 1,000 baht per night, even in high season.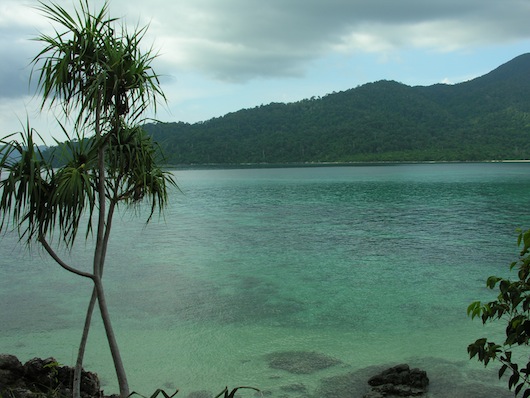 Wait, I can pay how much to stay here?
First off, my top pick for budget digs on Lipe goes to Lipe Beach Resort (not to be confused with expensive Lee Pae Beach Resort on Pattaya beach). Located on a quiet and shady stretch of sand towards Sunrise beach's northern end, this stylish spot with a spirited young staff offers small, recently restored bamboo bungalows with a bed on the floor, mosquito net, fan, open-air bathroom, and comfy cushions on the front porch. Yes, that's it, but in this setting, what more do you really need? While beachfront bungalows will cost you 1,000 baht during high season, those in the second row go for 700 baht, and it's just 500 baht for the ones a bit further back. Don't worry, all bungalows face the sea, so even those in the very back still catch that refreshing ocean breeze.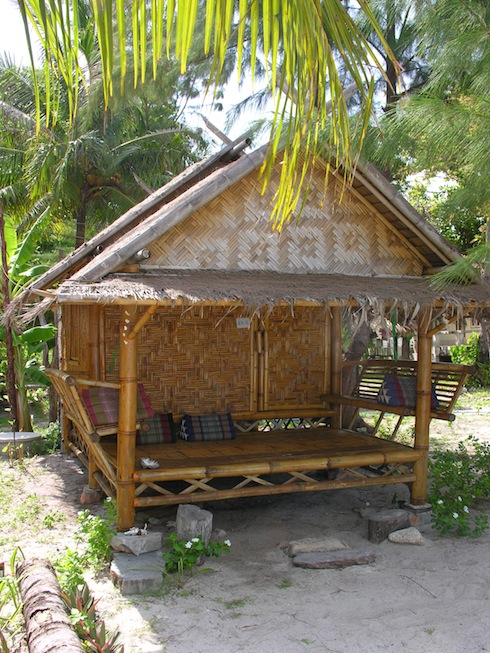 A cheap bungalow at Lipe Beach Resort -- everything you need.
A short walk down Sunrise beach to the south will bring you to Gipsy Bungalows, also a solid budget choice with a more central location. Gipsy resembles a small beachside village with bamboo and concrete bungalows facing each other across a wide path of sand that's filled with tropical plants and flowers. Fan-cooled bungalows are relatively spacious with mosquito net-covered beds on raised platforms, hammocks, and shelves to display your growing sea shell collection.
The Spanish-managed resort has a laidback vibe, and unlike most resorts they only run high season prices from mid December to March, so it's especially good value in the shoulder seasons. Well equipped concrete bungalows go for 1,000 baht in high season while the bamboo version runs 800 baht. These rates drop to 550 baht and 450 baht during shoulder seasons.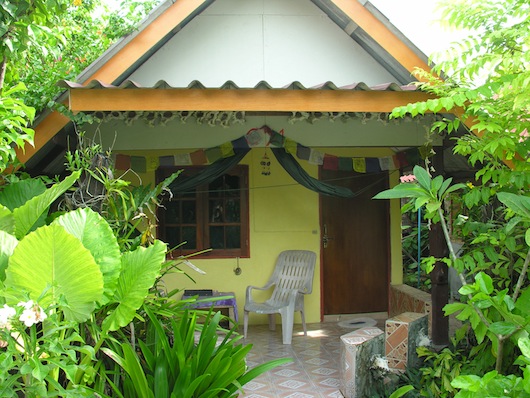 One of Gipsy's bright and spacious concrete bungalows.
If you decide to stay on Pattaya beach, I recommend checking in with Swiss-run Cafe Lipe to see if one of their six bamboo fan bungalows are open. These are spacious with raised, comfortable beds and mosquito nets, simple but tasteful open-air bathrooms, and large front porches with built-in benches and pillows. The bungalows are shaded by thick palm trees and tropical plants, and they're situated behind Cafe Lipe itself -- one of Lipe's very best places to eat. The cafe and resort are very relaxed -- bungalows are a negotiable 600-800 baht during high season -- and for what you get this might be the best value on the island.
A bungalow at Cafe Lipe -- can you get any more relaxing than this?
If Cafe Lipe is full, which is often the case, give nearby Greenview Resort a try. Fan bungalows here are also spacious and on the newer side, with raised beds, a small desk and mirror, large open bathrooms and front porches with traditional pillows for relaxing. The resort is known for its eco-friendly practices, and is run by a boisterous and welcoming Italian man. Greenview is also close to the action of Pattaya beach with dozens of bars just a stone's throw away. Bungalows nearest the beach run 1,000 baht during high season with those further back costing 800 baht.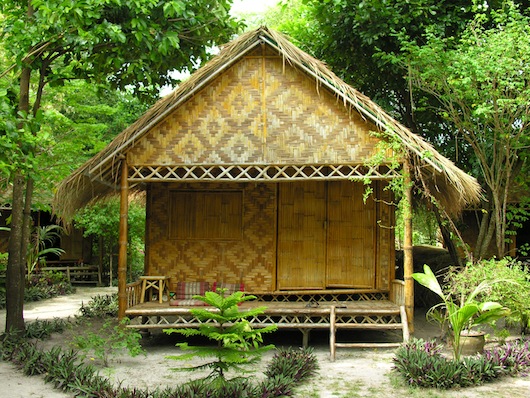 Greenview offers bungalows that have, well, a green view.
If you're looking for the cheapest of the cheap, walk over to Seaside Resort, next door to Greenview. The bungalows here are small, old, and set back a short ways from the beach, but they're as clean as an old beach bungalow should be, and they do have fans, mosquito nets and private bathrooms. Smaller bungalows go for 400 baht in high season and the slightly larger ones run 500 baht. Staff are not too friendly -- in fact you'll be lucky if you can find them -- but for those prices we're willing to wager expectations may happily be lowered.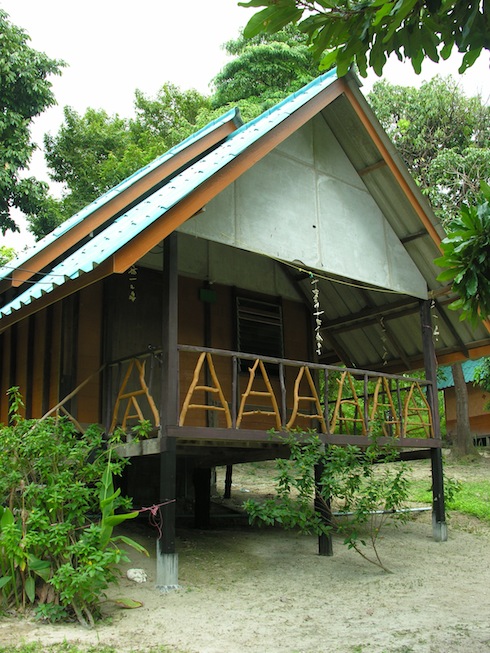 There's no place like Porn.
Finally, Porn Resort is the lone accommodation choice over on funky little Sunset Beach. I know, I know -- you're wondering what's up with the name right? Well, don't expect to see steamy movies being filmed here, but you might see a skinny dipper or two. Bamboo and concrete/wood bungalows are perched on a shady hillside overlooking the beach with a couple of low key restaurant/bars next door.
These are very basic rooms featuring little more than a thin bed with mosquito net, fan, and bathroom that's slightly on the grotty side, but the resort makes up for it with its chilled out atmosphere, not to mention the prices. In high season, larger concrete bungalows cost 700 baht while the old bamboo ones further up the hill go for 500 baht. If you happen to have a tent Porn Resort is also Lipe's only resort that allows camping, for 150 baht.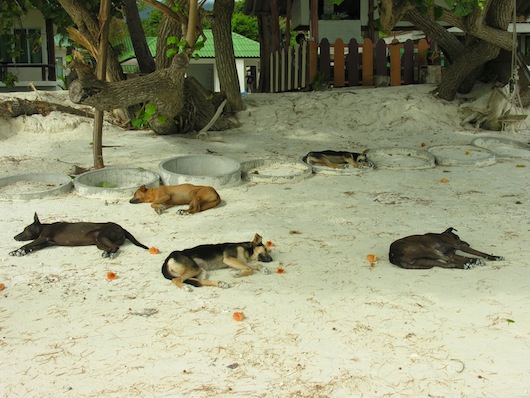 I stand corrected; these guys found the best budget beds on Lipe.
And there you have it -- plenty of proof that Ko Lipe is still doable for the budget traveller. Happy beach-bumming.
*Note: while prices listed here are what we were recently quoted, resort managers on Ko Lipe have been known to boost rates slightly if the island is particularly crowded on a given day. Many also charge "peak season" prices from mid December to mid January, so expect to pay an extra 100-200 baht or more at that time of year.
About the author:
David Luekens
Usually found exploring Bangkok's side streets or south Thailand's islands, David Luekens is an American freelance writer & photographer who finds everyday life in Asia to be extraordinary. You can
follow his travails here
.
Read 3 comment(s)
Very happy to agree with Travelfish re: Gipsy Resort - their review is absolutely on the nail. For a few more Gipsy Resort pics and my review of one of their concrete pads, clickthrough my profile link.

Posted by Christian on 5th January, 2013

Hello,

i would like to makes a reservation for the Seaside Resort on Pattaya beach in koh Lipe.
Could you help me
Thank you
Best Regards
Francine Perren Helic

Posted by Francine Perren Helic on 8th October, 2013

Unfortunately I cannot find any accomodation below 1400THB in high season. The resorts mentioned have doubled or even tripeled the price in the past 2 years.


Posted by Matthias on 21st August, 2014
Add your comment
Feature story quicklinks
Giving back in Southeast Asia (19)

Burma (8)

Cambodia (24)

Indonesia (14)

Laos (20)

Malaysia (10)

Singapore (8)

Thailand (85)

Vietnam (33)

Accommodation guides (14)

Travel with kids (7)

Opinion & advice (18)

How do I? (11)

Cycling Asia (13)

Health and safety (6)

Money and finance (4)

Diving guides (6)

Photo essay (3)

Guest blog (2)

General (15)

Book reviews (5)

Interviews (8)

Explore Bangkok by BTS (18)
Newsletter signup