Northeast Cambodia in photos
First published 28th May, 2012
Through the middle of May I took off for a two-week trip through northeast Cambodia. I commenced in the capital, Phnom Penh then headed north through Kratie, Stung Treng and finally Banlung, before turning around and retracing my steps. It was a great trip as it had been quite some time since I'd been in this part of the country but it was also deeply saddening seeing the environmental devastation continuing to be wrought on the country. I snapped a bunch of pics on my iPhone, using the Instagram app, and here are some of my favourites. Enjoy.
First stop: pho
When we lived in Phnom Penh, this was my regular noodle joint. It's probably not the most authentic pho joint in town, in fact, I'm sure it's not, but the food is good and you're spitting distance to the river. You'll find it on Street 178 opposite The Rising Sun.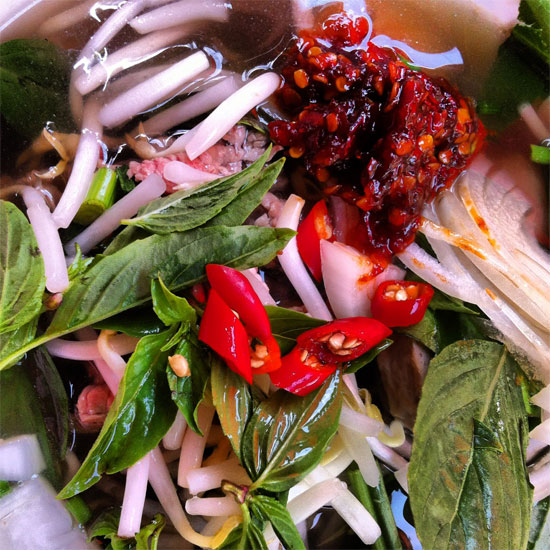 First stop: pho.
Wet season in Cambodia
May marks the onset of Cambodia's wet season, and as you can see by the approaching wall of water beyond the FCC, it doesn't muck around. I tried to outrun it to another restaurant but failed miserably.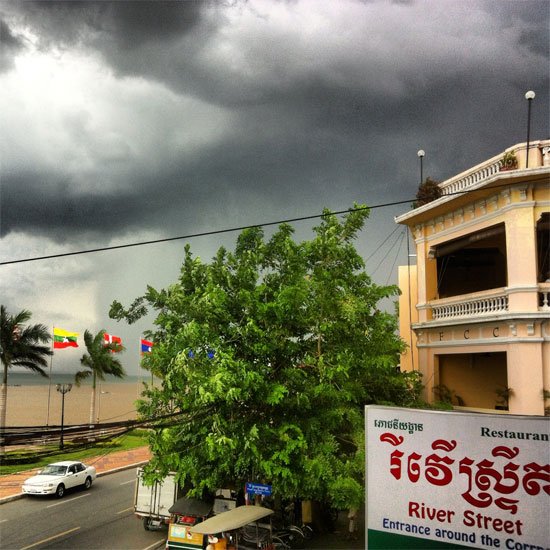 Now where did I put that umbrella?
Start with a splurge
I decided to treat myself at a fancier hotel for the first couple of nights in Phnom Penh and was delighted with The Plantation. At US$55 a night it was excellent value.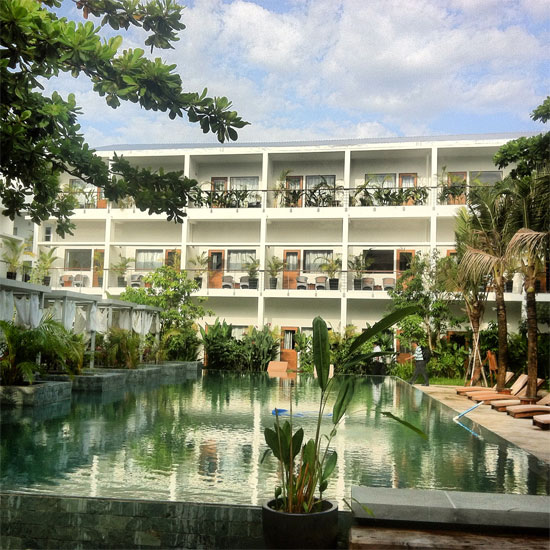 Will do at a pinch ;-)
Flowers so pretty
Like an intergalactic spaceship (and let's face it, if aliens were to arrive, they'd settle in Phnom Penh) Phsar Thmei has long been one of my favourite attractions in the city. While the innards are fascinating, the outside footpath perimeter is also awash with snack spots, dried fish and flower stalls.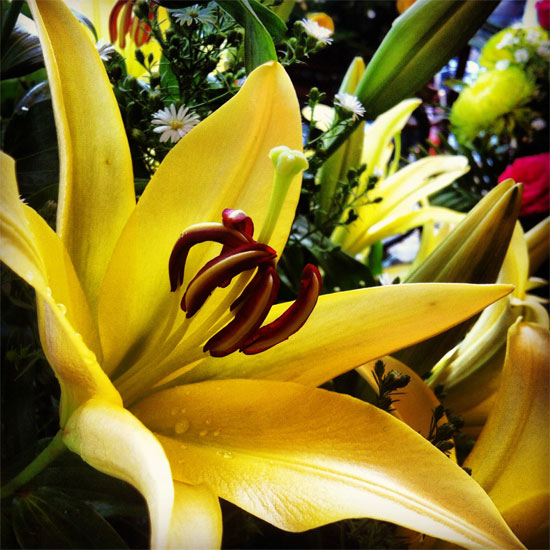 Hey pretty pretty...
Riverside
While residents often turn their nose up at riverside -- "oh it's full of idiot tourists" -- there is a reason the tourists like it: it's darn pretty.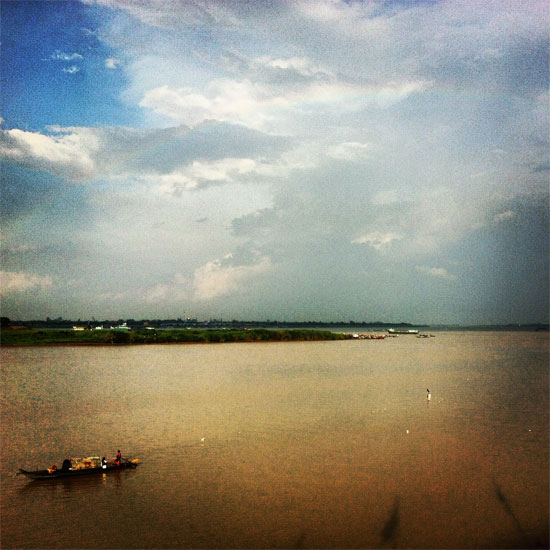 Brown and distant blue.
Stomach torpedoes away!
As in Vietnam, stuffed long white rolls are a great takeaway for bus trips (like the one I was about to commence to Kratie). Smeared with pate and filled with cucumber, carrot and other random tasties, they can be delicious. These are best ordered in the morning though, as a slab of pate broiling away in the all-day sun can deliver an explosive charge to the tummy.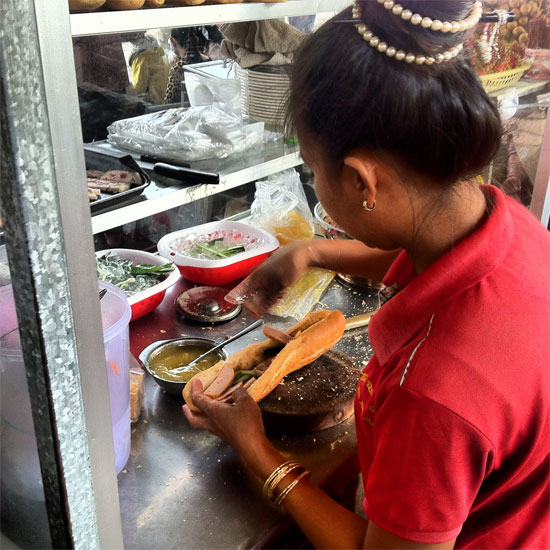 Launch stomach torpedoes now!
Hello Kratie
Now I won't go as far as to say Balcony is the best backpacker joint in town, but for $5, it isn't too bad and the sunset views are fabulous. The Khmer food is also solid -- a shame more backpacker guesthouses don't put the effort into the food that Balcony does. But man oh man do they need to sort out the water pressure in the upstairs shower!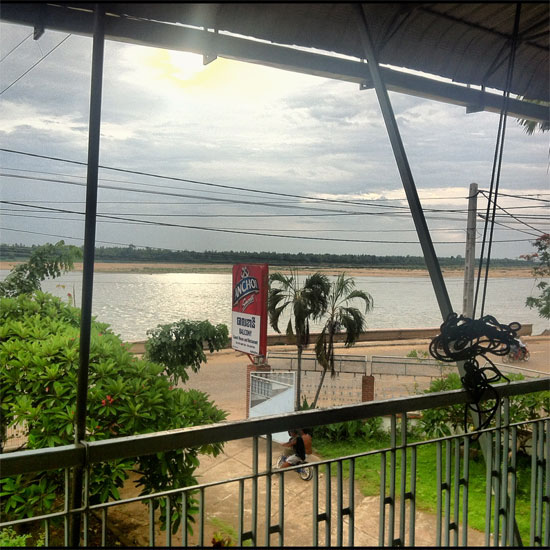 A balcony with a view.
Bikes ride free
The next day I grabbed a boat across the Mekong River to Ko Trong -- a long thin island home to a few places to stay and an allround pleasant kind of place to hang out. The boat costs 1,000 riel, but bikes ride free -- or you can do as I did and hire a bicycle on Ko Trong for $1 for the day.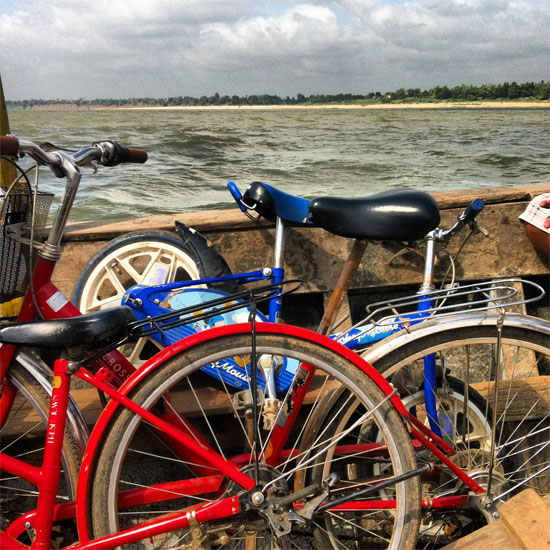 Have bike, can pedal.
Cycling Ko Trong
Ko Trong is a very pretty island -- the inner-island is given over to rice cultivation with the occasional burst of sugar palms reaching up into the sky. You can ride the whole island in a few hours at a comfortable pace, but there are plenty of diversions -- on the southwest coast for example there is a small Vietnamese floating village and towards the northern tip a temple and aged chedi, but the real pleasure is just cycling around. Pack sunscreen and a hat.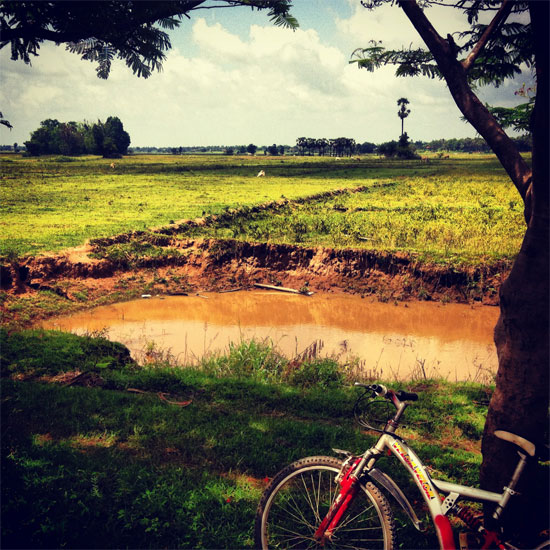 It was hotter than it looks.
Hilltop cult place
The next day I grabbed a motorbike and headed north towards Stung Treng. Just before Kampi (where the dolphins are) a hilltop temple at Phnom Sambok offers great views of the surrounds. Near the summit you'll also find some great paintings of Buddhist hell that alone make the climb worth it.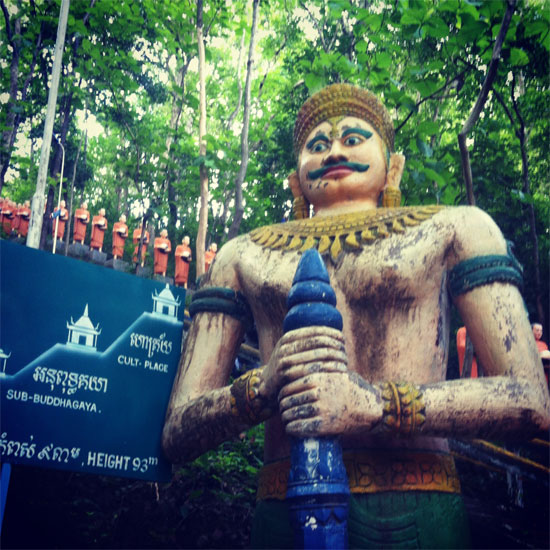 Take me to your cult place.
Where are the trees?
Further north, the extent of deforestation is breathtaking. In some places as far as I could see was denuded rolling hills. Clearing native forest for cash crops like cassava and rubber obviously make someone a lot of money, but rest assured the locals who are getting kicked off their land, sometimes shot dead in the process, are not among the winners. Invariably one of two majestic trees would be left standing -- consider them a monument to the abject stupidity of the Khmer ruling cliche. Really, the people running Cambodia are a bunch of cretins.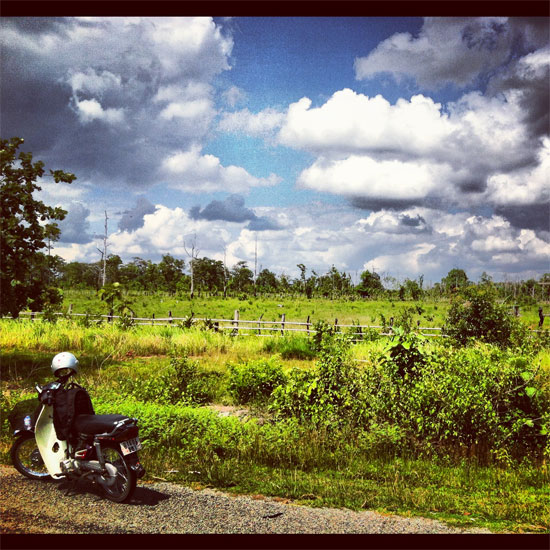 MIA forest.
A Cambodian shoulder
Once over the provincial border into Stung Treng, for dozens of kilometres the road's shoulder is covered in drying out cassava -- often to a backdrop of still burning fires. Environmental bastardry.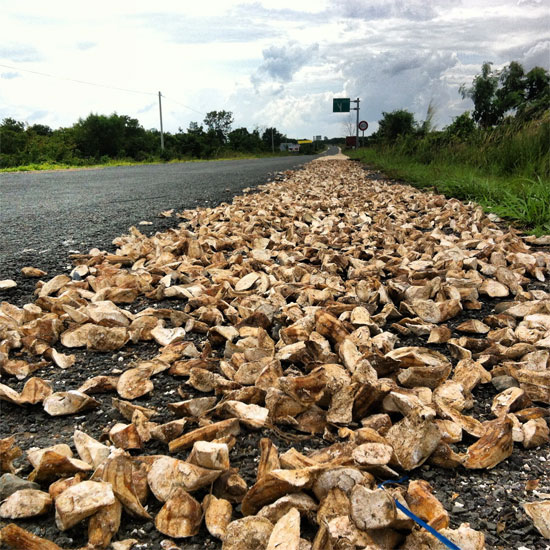 Laying stupidity out to dry.
Rather pretty
A few hours later I rolled into Stung Treng -- just in time for a couple of swift Beerlaos (it was really hot!) and then I rode out along the San river to watch the sunset. Stung Treng really delivers the goods when it comes to sunsets. The town itself is nearly devoid of tourists -- with most opting for through buses from Laos to Kratie or Phnom Penh -- dodging Stung Treng due to its very well-earned reputation for ripping off tourists a few years ago when the border crossing situation was less clear. Few people I talked to have much sympathy for Stung Treng, which is a shame as there is plenty to do.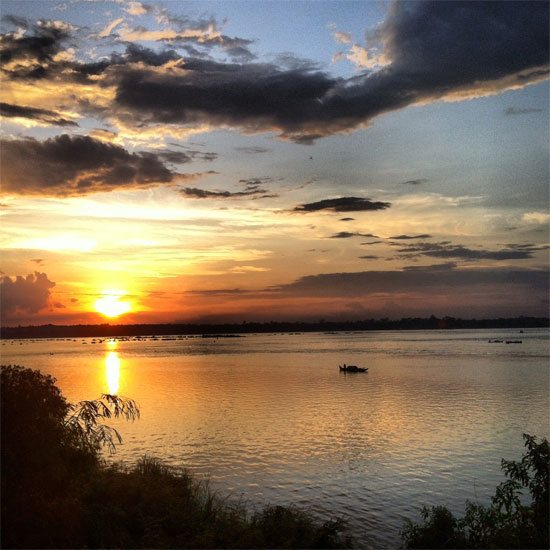 Just another sunset.
Call me Indiana
Before sunset I met a British and a Russian scientist who were planning on taking a boat trip to some near islands to take dirt samples and they were kind enough to have me along (long story -- they'll be a feature on Travelfish soon about this little adventure). Once we bush-bashed through the jungle towards the centre we stumbled upon some remnant evergreen forest -- grand, towering trees, thriving in life -- surrounded by cashcrop cultivation. More idiocy. The island has tremendous potential, reminding me of Don Khon in Laos, but it is largely undeveloped save a couple of small hamlets. When I asked our fixer why there is no development like on Don Khon in Laos he replied: "Stung Treng doesn't allow people to smoke pot." Note: Travelfish.org T-shirts are not built to Indiana Jones' standards -- mine was a shredded mess by the time I returned to Stung Treng.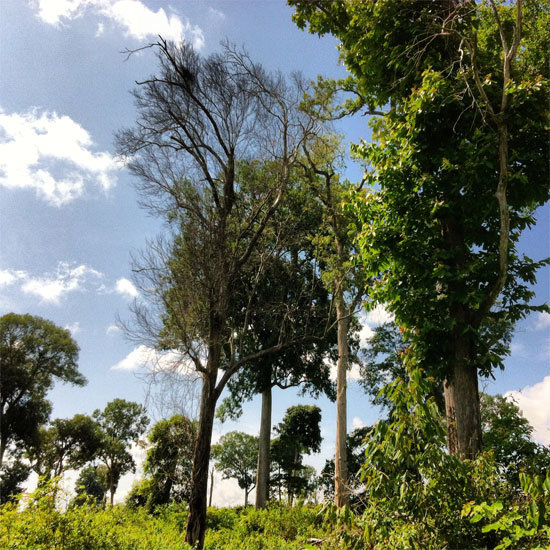 Once a magical place.
I'm on a boat
Gratuitous "I'm on a boat in the middle of the Mekong River" photo.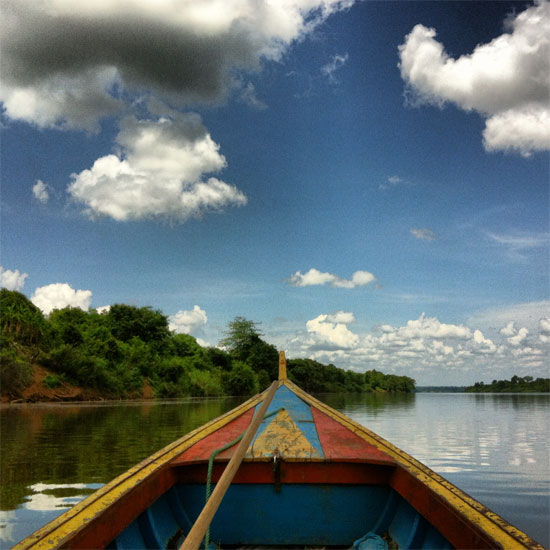 I'd rather be sailing.
Now that's a market
It's rare that there's a high enough point to really take in a Cambodian market, but in Stung Treng I got a great view over the central market from a nearby guesthouse.
Busy.
Now that's a hammock
Next stop after Stung Treng was Banlung in Cambodia's far northeast. I set up camp at the lovely Treetops Guesthouse, where the individual wooden bungalows feel like they truly are elevated in the trees. I'd highly recommend it, though was more than a little annoyed when a bag disappeared from my room -- management insisted it was a dog that took it. Still, the views and nature vibe of the place, was excellent.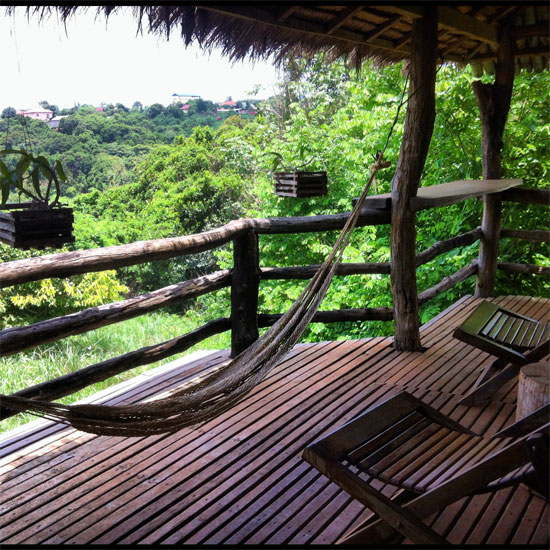 How much was a month-long stay again?
Evening swim?
The crater lake at Banlung is a great spot to put the feet up (or put them down -- in the water) and relax for a few hours. A very attractive spot, in the late afternoon, as mist (or steam?) gathers on the waters as the sun sinks towards the crater rim, it's a very evocative spot. A highlight of Banlung, especially once the crowds drop off.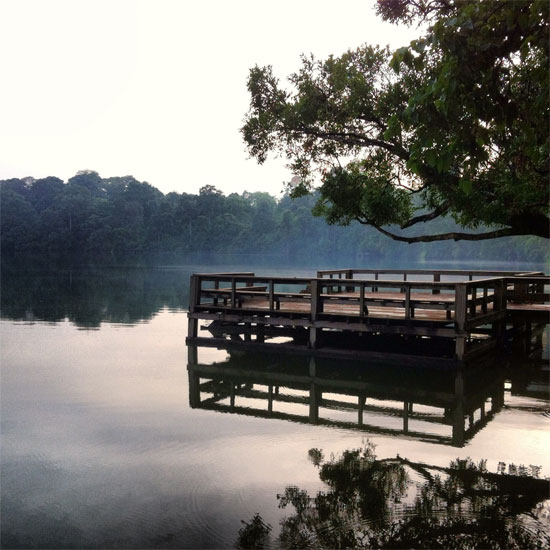 Looking for the Banlung Monster...
Dreamy falls
Banlung has three main waterfalls and Chaa Ong waterfall is the best. When I arrived there was just one other person, asleep on a platform at the base. It's a magical spot as you can walk behind the falls and look out into the surrounding jungle. Highly recommended.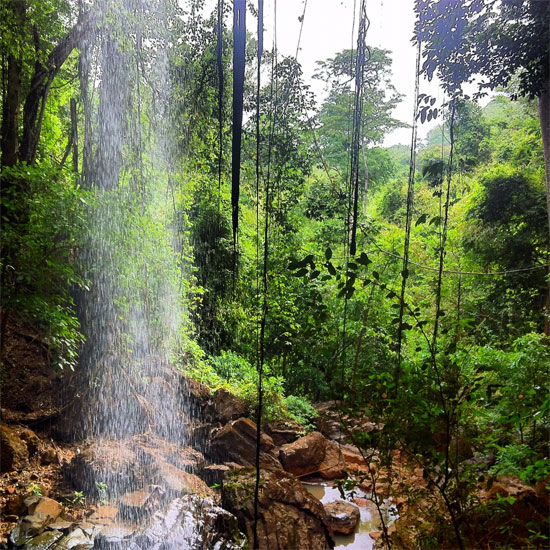 Just lovely.
Wet season
I'll close with three thoughts: people are not kidding when they call it wet season, that Humvee is most definitely going in the right direction, and yes, I got soaked to the absolute skin.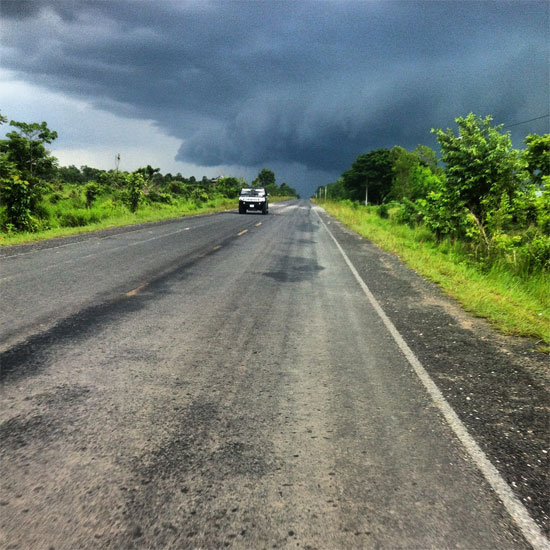 Why people catch buses.
About the author:
Stuart McDonald
Stuart McDonald co-founded
Travelfish.org
with Samantha Brown in 2004. He has lived in Thailand, Cambodia and Indonesia, where he worked as an under-paid, under-skilled language teacher, an embassy staffer, a newspaper web-site developer, freelancing and various other stuff. His favourite read is
The Art of Travel
by Alain de Botton.
Read 4 comment(s)
excellent,will b there july this year.
great help for my inenary,cheers

Posted by gerry on 29th May, 2012

Very good article, makes me want to go back and see all the things we missed.

Posted by Peter on 30th May, 2012

Love the photos! Very inspired to plan a trip there now.


Posted by Sarah on 4th June, 2012

We're just back from the same track described in this article and I sadly have to confirm the enviromental destruction.
From the bus windows we saw all the time burning or burnt trees.
They burn day and night: we clearly saw big fires on the hills when we were in Banlung.
One day we rent a motorbike and, on the way to the waterfalls, we could not breath because of the smoke...
We wouldn't suggest this long trip because it leaves you full of sadness, delusion and rage.
Most of the hills are now rubber-tree plantation: perfect raws of tiny tree with a black cup at the bottom containing white rubber, a lot of money for the rich owners responsible of destroying Cambodia...


Posted by leotheb on 27th January, 2015
Add your comment
Feature story quicklinks
Giving back in Southeast Asia (19)

Burma ()

Cambodia (9)

Indonesia (4)

Laos ()

Malaysia (1)

Singapore ()

Thailand (66)

Vietnam (7)

Accommodation guides (4)

Travel with kids (7)

Opinion & advice (17)

How do I? (8)

Cycling Asia (12)

Health and safety (6)

Money and finance (4)

Diving guides (5)

Photo essay ()

Guest blog (2)

General (15)

Book reviews (5)

Interviews (8)

Explore Bangkok by BTS (18)
Newsletter signup