Two Wheels & Ricefields: A review
First published 4th August, 2012
Way back last century when it "re-opened" to tourism, travelling Vietnam by motorbike was one of the offbeat ways to explore the country. Then, a few years ago, the BBC's Top Gear programme did it and the sight of Jeremy Clarkson, Richard Hammond and James May vrooming down Vietnam's back roads did more for British tourism to Vietnam than anything short of free bia hoi would have.
The traveller-motorbiking scene exploded, and in the years that followed thousands of foreign travellers, many of them at least in part inspired by the BBC programme, headed to Vietnam to grab a scooter and ride it top to tail (or tail to top). It seems few though enjoyed the trip quite as much as Anthony Milotic and Elise Reeks did, as they've put together a very smart 120 page ebook that serves as an ideal planner for a motorbike trip in Vietnam.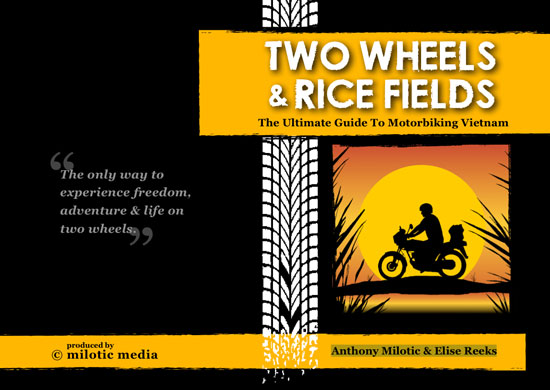 Vroom vroom!
Two Wheels & Ricefields is an easy to read and well laid out ebook that covers much of the information a "Vietnam-easy-rider-wannabe" is going to need to know. It starts off with some very clear, no BS facts. More than 7,000 fatalities and 7,000 injuries befall motorcyclists in Vietnam EVERY YEAR, and many insurance companies WILL NOT COVER YOU. So this isn't a rosy ride up the garden path; Milotic and Reeks are at pains to point out from the get go that you need to "be safe and ride at your own risk".
We agree.
If you're brave enough to keep on reading, the book then guides you through some of the standard pre-departure briefing material -- etiquette, festivals, accommodation, food, weather and language. They also cover some of the issues surrounding the legalities of riding in Vietnam, where to get a license, permits and rego, and an overview of border crossings. It's all solid information -- much of which is probably in your guidebook (should you have one), but this is written with the motorcyclist in mind.
It's not till some 26 pages in that we get to the meat in this motorcycle sandwich -- rent or buy along with a swag of guidance regarding what you need to consider when you're looking at various bikes. Best of all there is a selection of pics of different types of bikes common in Vietnam, from the Minsk 125cc through to the Win 100/110cc, each with a short par describing who each bike is most appropriate for. This is very useful -- though we have to say the bikes in the pics are WAY shinier than anything we have ever seen in Vietnam!
This follows on with a section on what to look out for in a bike (assuming you are buying a secondhand bike). This will be obvious to an experienced biker, but for the novice, there are some very good points that will help you avoid buying a pile of junk.
Once you've got the bike, it's time to accessorise. Milotic and Reeks cover just about all the bases save fluffy dice; it's solid, good advice and again as with the earlier sections, this is of most use to the novice. We then move on to maintenance, motorbike safety tips and general advice pertinent to staying alive on the road -- thumbs up.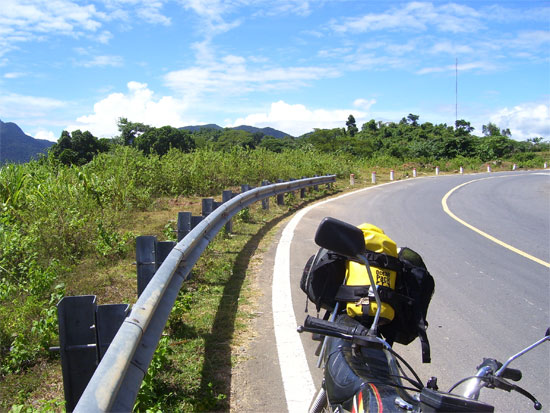 Just you and the road.
The guide next covers places of interest, where they traverse some of the most likely destinations a motorcycle tourist is going to find themselves. Information is rather brief, but this isn't pretending to be a guidebook -- rather it's suggesting which direction you should point your bike in. They follow this up with a section covering some "unforgettable rides" which, as with places of interest, is brief on details, but certainly enough to get your feet itching.
From here they move towards the conclusion with some handy tips regarding where to offload the motorbike at the end of your trip, with advice on different ways to sell it. The ebook rounds out with a kit list, some phrases, including the ever-useful "Can I just pay a fine?" and a bunch of coupons and links for further reading (thanks for the plug!).
Two Wheels & Ricefields does a good job of covering all the main bases that a first-time motorcyclist in Vietnam will be looking out for, but we do think that the destination section could have been more in depth. As Milotic and Reeks obviously discovered, Vietnam is great for biking, but more information on suggested routes, along with estimated time required to do a particular route, would really have added to the value of the guide. As would a map -- even for general illustrative purposes -- as a first-time visitor may have scant idea where Kon Tum or Buon Me Thout actually are when they're at their planning stage.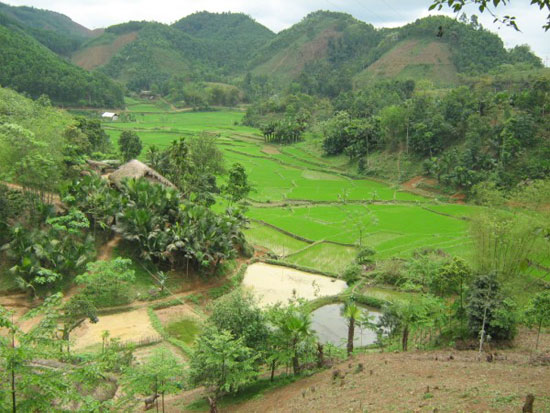 Get off the beaten track -- somewhere random in Yen Bai.
For the more experienced motorcyclist, most of what is in here SHOULD be common knowledge, but if motorbiking Vietnam is a brand new adventure for you, this guide is excellent value and we don't hesitate to recommend it -- and the coupons (should you use them all) will easily recoup the price of the guide -- it retails for US$17.
Thanks to Anthony and Elise for forwarding us a complimentary copy of the guide -- we've also bought a copy, meaning we've got two to give away. If you'd like a copy, we'll be giving away both in our newsletter next week, so sign up and you'll find out more on August 13.
To learn more about the guide, or to contact Anthony & Elise, visit their website at
Positive World Travel
or see the page about the
Vietnam motorbike guide
.
About the author:
Stuart McDonald
Stuart McDonald co-founded
Travelfish.org
with Samantha Brown in 2004. He has lived in Thailand, Cambodia and Indonesia, where he worked as an under-paid, under-skilled language teacher, an embassy staffer, a newspaper web-site developer, freelancing and various other stuff. His favourite read is
The Art of Travel
by Alain de Botton.
Read 3 comment(s)
Thanks for this great comprehensive review of our eBook. If any readers need more advice or have any questions we would love to help out and point them in the right direction. Happy Riding :)

Posted by Anthony @ Positive World Travel on 5th August, 2012

This is really awesome and very handy read! I highly reccomend it for anyone looking to do the trip. Also for anyone flying into Hanoi check out vietnam-motorbikes.com these guys seems to have the skinny on riding in Vietnam. They sell fully restored bikes and are incredibly friendly and helpful. They have everything you need to get your trip underway and most importantly amazing bikes! Check their facebook page here:

http://www.facebook.com/pages/Vietnam-Motorbikes/368049586596708

Really the trip of a lifetime and anyone looking for an amazing adventure!

Posted by Joorst on 26th August, 2012

I had a bad experience with Vietnam Motorbikes after using them and their quality must have declind a lot since the above post. Their "rebuilt" bikes were more unreliable than other motorpackers that I was driving with, who had brought theirs from other shops.

The buy back option in Ho Chi Minh as I found out when I arrived was very bad and not what i was promised, ended up selling my bike to Ho Chi Minh Motorbikes who were very helpful. I heard from the people who brought from their shop Hanoi Motorbikes that their bikes had been great, also Flamingo Travel's rent-a-bike scheme seemed like a good idea.

Posted by HanoianBiker on 4th January, 2014
Add your comment
Feature story quicklinks
Giving back in Southeast Asia (19)

Burma ()

Cambodia (9)

Indonesia (4)

Laos ()

Malaysia (1)

Singapore ()

Thailand (28)

Vietnam (5)

Accommodation guides (2)

Travel with kids (7)

Opinion & advice (17)

How do I? (6)

Cycling Asia (12)

Health and safety (5)

Money and finance (4)

Diving guides (1)

Photo essay ()

Guest blog (1)

General (15)

Book reviews (5)

Interviews (8)

Explore Bangkok by BTS (18)
Newsletter signup