The best places to stay in Singapore
First published 25th November, 2012
From bare-bones dorms to suites with private butlers, the city-state of Singapore has something to meet any accommodation need. As Singapore is infamously expensive the bargains fill up quickly, so if you hope to score one of these top-rated hotels and hostels a reservation is essential.
The lowest you can go in Singapore is S$20-22 per night. This will get you a bunk in a simple dorm that's air-conditioned overnight. Our top pick in this range is The Little Red Dot (from S$22) with squeaky clean dorms, awesome staff and a location walking distance to two MRT stations. If it's a fun atmosphere you're after then the Inn Crowd (from S$20) in Little India is Singapore's top party hostel with a lounge packed with entertainment options and in-house pub. For complete cultural immersion, try homey Fernloft Hostel (from S$22) with an amazing location overlooking the temples, markets and hawker centres of Chinatown.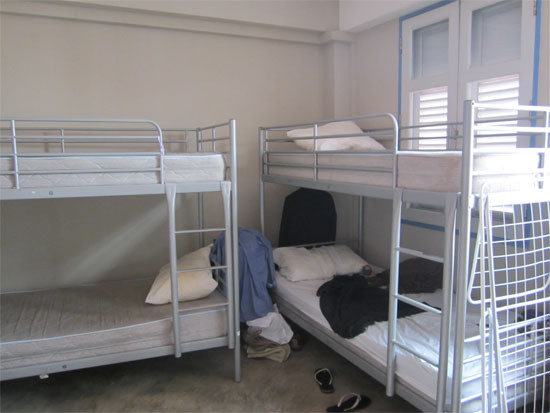 Yeah, but where is the horizon pool?
Moving into the flashpacker price range, Singapore has a new crop of boutique hostels with lots of style and added amenities. You'll get a great night's sleep beneath the silky duvets at Pillows & Toast (from S$28 weekdays/S$30 weekends) and can treat your tired feet to the massage chair in their common lounge. Our inner hippie recommends Tree In Lodge (from S$27) for its reliable dorms (mixed or female-only), green practices and free guided tours to Singapore's parks and nature reserves.
For something completely different, check out Wink Hostel (from S$50); it's a high-tech hostel in a converted Chinatown heritage building, with pod-style beds that offer more privacy than your typical dorm.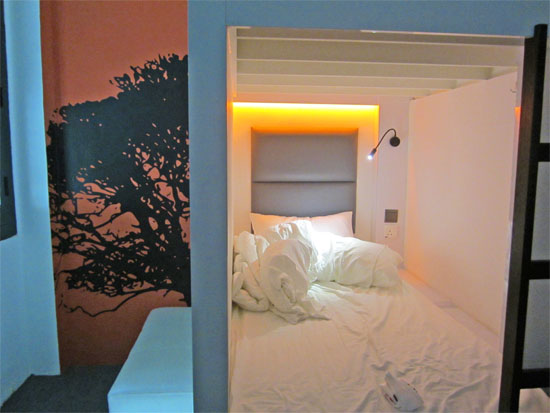 It is called a pod.
A handful of Singapore hostels also offer private rooms with shared bathrooms – they are in short supply so book well in advance. The Hive charges S$60 for a brightly painted private room with your choice of one double or two single beds. The Prince of Wales charges S$60-70 for a private room with the more expensive option having its own TV. Note that this is as much a bar as it is a hostel, so don't expect to hit the hay very early. The Betel Box Hostel is notable for being the only hostel with a family room and it can accommodate up to six people. The nightly rate starts from S$80 depending on the number of people; their food tour is highly recommended. All of these options are air-conditioned and rate includes internet and a light breakfast.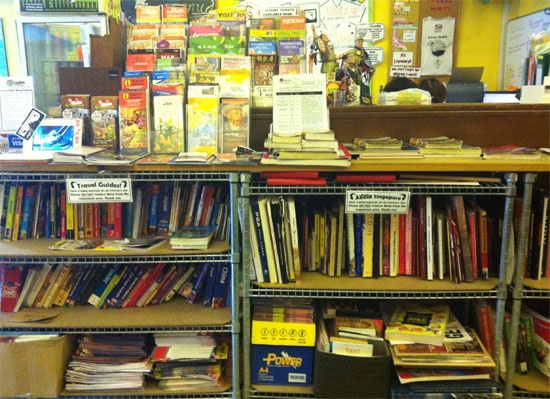 Now that's a traveller's common room :)
If you absolutely positively must have a private room with en-suite bathroom, expect to pay in the range of S$100-200 per night for a room at a budget hotel. If you're prepared to contend with some traffic noise, the Mayo Inn is one of Singapore's best bargains. The immaculately clean rooms range from S$110 for a standard room to S$150 for a family room and all have TV, minibar, coffee/tea-maker and complimentary WiFi. Over in the colourful Little India area, we recommend family-run Perak Hotel with rooms starting from S$128 per night. Each room has been lovingly decorated and the rate includes WiFi and continental breakfast.
In a posh residential area near Orchard Road, Hangout @ Mt Emily offers the best of both hotel/hostel worlds. The private rooms (from S$115) are modern though minimally furnished, but there are cosy common areas including a lounge, rooftop terrace and guest kitchenette. Hangout is also one of the few hotels in Singapore that offer rooms for groups of four or five people with no fuss.
Increasing your Singapore hotel budget to S$200-300 gives you infinitely more options and will even score you a swimming pool. On the shopping belt of Orchard Road, we love the Royal Plaza @ Scotts (from S$280) for its contemporary rooms, rooftop pool, incredibly convenient location and thoughtful extras like free minibar and Nespresso maker in all rooms. It's also a great option for families.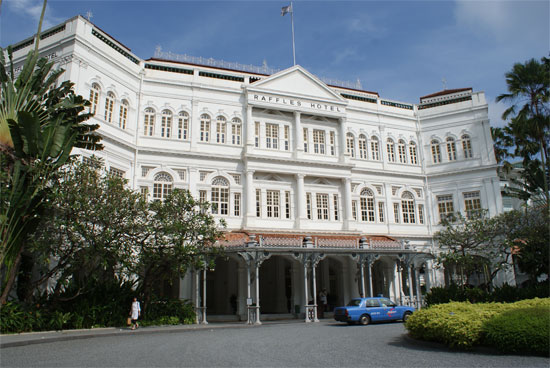 Flex that plastic baby!
In terms of value for money, you can't go wrong with the Parkroyal Hotel (from S$240). There are two convenient locations – one in Bugis and one in Little India – and both offer spacious rooms with all the modern trimmings, great swimming pools and delicious (if expensive) on-site dining. Be sure to sign up for their loyalty program to enjoy free internet access.
For a hotel experience to remember, book a night at the New Majestic Hotel (from S$250 with breakfast) in Chinatown. No two rooms are alike at this boutique hotel and you may end up sleeping inside a giant goldfish bowl or in a tree-top loft – you can browse through all the artist-designed rooms on their website.
If money is no object (oh, how we wish we could say that), Singapore has some truly amazing options. Check into historic Raffles Hotel (from S$400) to be pampered like a colonial general – butler service and opulent brunch included. If you want to experience Singapore's most modern hotel, try Marina Bay Sands Hotel (from S$350) for cutting-edge rooms and access to their famous rooftop infinity pool. If you're in luck you may win back the cost of your room at the nearby casino.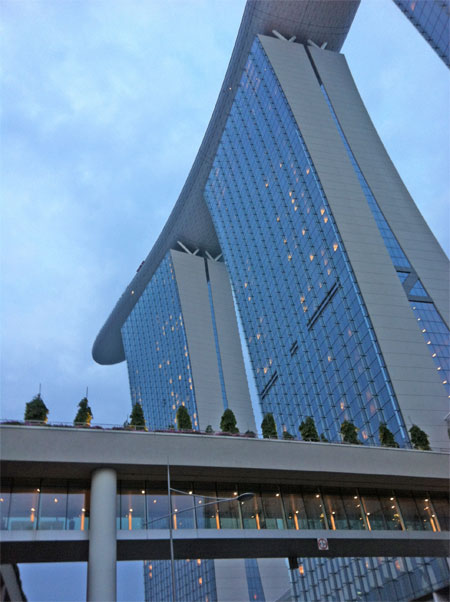 No dorms here.
A final note, if you're looking for the cheapest rather than the best places to stay in Singapore, then you may want to read our wrap on the cheapest places to stay in Singapore.
About the author:
Tanya Procyshyn
Tanya Procyshyn is a Singapore-based freelance writer and photographer. With a passion for unusual destinations, she has camped alongside Komodo dragons and shook hands with soldiers in North Korea. She blogs at
www.idreamofdurian.com
.
Read 1 comment(s)
Good choices. One addition...The best of the medium priced is the Gallery Hotel in Robertson Quay. Great location to get in and out of the city, reasonably priced for what you get, and you can walk to Clarke Quay bars/restaurants.

Posted by Kconan on 31st January, 2014
Add your comment
Feature story quicklinks
Giving back in Southeast Asia (19)

Burma (9)

Cambodia (24)

Indonesia (14)

Laos (20)

Malaysia (10)

Singapore (10)

Thailand (87)

Vietnam (38)

Accommodation guides (22)

Travel with kids (7)

Opinion & advice (18)

How do I? (11)

Cycling Asia (13)

Health and safety (6)

Money and finance (4)

Diving guides (6)

Photo essay (3)

Guest blog (2)

General (15)

Book reviews (5)

Interviews (8)

Explore Bangkok by BTS (18)
Newsletter signup