Oh Poipet!
First published 6th January, 2013
If only a certain '80s singer had heard of this particular border crossing drama then an Austrian capital wouldn't have a theme song. Such are the wondrous stories which are conjured up by travellers who otherwise would enjoy only a simple stamp in their passport.
The Thai-Cambodia crossing of Aranya Prathet-Poipet has been known as one of the worst in Southeast Asia for many years now, and I have either been lucky or misfortunate enough to have crossed it three times in seven years on my way to Siem Reap. In that time many things have changed but there are still multiple scams to watch out for on this crossing and no one traveller is likely to escape them all. This article has been written to try to compare the past with the present in a vain attempt to convince the contemporary traveller that things have definitely improved, though not in the way they might think.
Thailand, 2005 and 2012
2005, 7am:
Most travellers who make their way to Cambodia start their journey on Khao San Road, and so did we in 2005, spending roughly 650 baht for a ticket to Siem Reap, which included the border crossing transfer in Cambodia. We had little idea what we were letting ourselves in for except that according to Lonely Planet the journey was "tough" and Poipet was a "cesspit". But despite our fears the trip started fine and we were well away from Bangkok within an hour.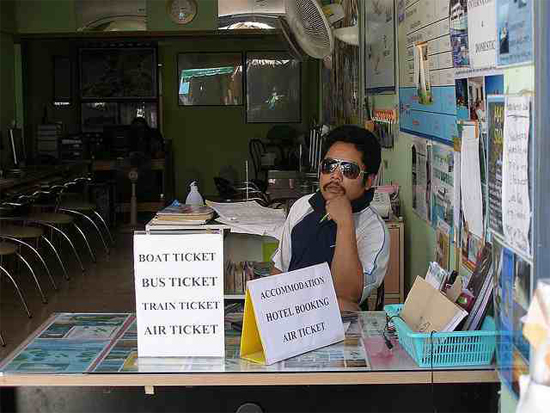 It all starts here.
2012, 7am:
A cheap ticket (priced at only 400 baht) from the island of Ko Chang convinced us that it was easier to give our cash to a travel agent to get us to Siem Reap than to try getting to the mainland and getting a public bus from there. We knew the obvious scams but agreed, if only for time's sake. It seemed cheap, pick-up was at 07:00 and we were near the border by 11:00. There were six of us in total, me and two companions plus three people we didn't know.
2005, 13:00:
We were driven to the border and shepherded into a line and given a sticker. Someone took our passports and came back with our visas after demanding their fee, which was slightly more than the $15-$20 for the crossing. There were about a dozen of us who weren't sure what was happening at the time but looked to each other for reassurance. The border checkpoint went fine and we crossed over into Cambodia with few problems.
2012, 12:30:
We were driven to a cheap restaurant near the border and, with a menu curtly shoved in our palms, asked to buy food. The three of us agreed to give our passports over for 1,200 baht, plus 100 baht because we didn't have photos on us. We expected this to cover pictures being taken in a photo booth but weren't asked for anything. Instead we found out that the 100 baht was a bribe to the Cambodian military to cover the fact that we didn't have photos and we were driven to the border with our Cambodian visas in hand. The other three travellers we were with refused to pay 1,200 baht and were left at the restaurant.
We arrived at the border and were met by an agent who took us to a car park and went into very precise detail on exactly what he thought we needed to know. He went to great lengths to make sure we had our right stamps, arrival cards filled in, visas, money, and even gave us a fairly detailed description of life in Cambodia "where there are no ATMs, and it isn't like Western country where credit card is King". He also mentioned that the country doesn't use US dollars much anymore. Having lived in Cambodia we knew both of these to be a lie, but he was convincing enough for anyone happening to cross the border for first time to get them to exchange money at a dodgy exchange rate. We crossed the border fine and were met by our agent at the other side.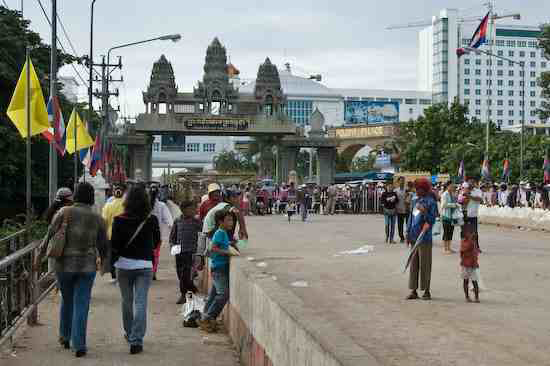 Oh Poipet!
2005, 14:00 Cambodia
Our little red stickers saw us duly collected on the other side of the border and kindly escorted to a minivan for the next stage of our journey. We were introduced to our guide/driver and given a 'Welcome to Cambodia' speech. At this point we (all travellers in the van) were first asked about our guesthouse, but thought nothing of it.
2012, 14:00 Cambodia
After Checkpoint Charlie the various travellers reassembled at the side of the large roundabout in Poipet. At the time we didn't know it but as Lonely Planet say, we were 'part of a monopoly who had paid the Cambodian government to run services for foreigners at a profit'. We weren't asked to pay any more money, and our three fellow travellers who refused to pay the higher fee rejoined us (more on this later).
2005, 15:00
The initial joy of negotiating the Cambodian border was waylaid by the fact we hadn't moved much in over an hour. Our driver soon stopped talking to us (feigning ignorance) and our guide disappeared.
2012, 15:00
We were driven to a bus station seven miles or so out of town and things felt a little fishy, but we were reassured that a bus would take us to Siem Reap. The three travellers who refused to pay the extra 400 baht at the border said that the agents eventually relented and took them to the border, but one person's return ticket was torn up. The officials we were with said they were 'employees of the Cambodian Government' and this was fairly convincing. The bus station was new, and we were again given the chance to exchange currency as 'Cambodia doesn't have any modern banks, and many places don't accept the dollar'.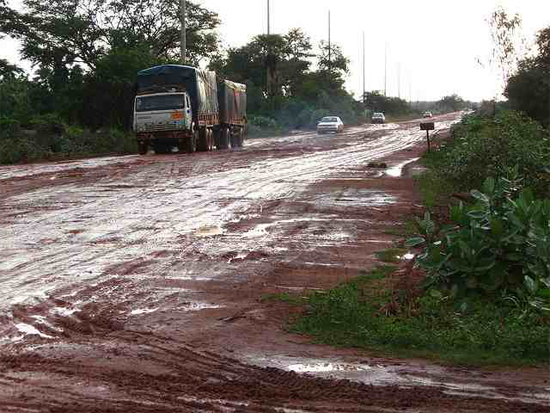 How the road used to be (on a good day)
2005, 18:00
By now we had been on the road for three hours since the border and already stopped once, much to some people's annoyance. The sun was going down and many wondered how far it was to Siem Reap. The road was terrible, mud filled the potholes and very little was left for the van to negotiate around. Even so, our progress seemed a little slow.
2012, 18:00
After being given a precise speech on not only the distance but how many stops we would make along the way our bus was about halfway to Siem Reap. I was relieved to see the road in good condition, and by the time the sun set we were well into Pursat province with only a slightly overpriced beer to our detriment.
2005, 20:00
The bus slowly ground on and by now most people had made each other's acquaintance and shared their worries about the road, how long it would take, where we would end up, and so on. A young American woman took it upon herself to start asking the awkward questions we all wanted to ask to the driver, such as "Where the hell are we going?"
2012, 20:00
The bus pulled into Siem Reap as promised and we nabbed a cheap tuk tuk into town. In essence the crossing ordeal was over; it took just over twelve hours in total. Not great but nothing a 50c beer on Siem Reap's Pub Street couldn't solve.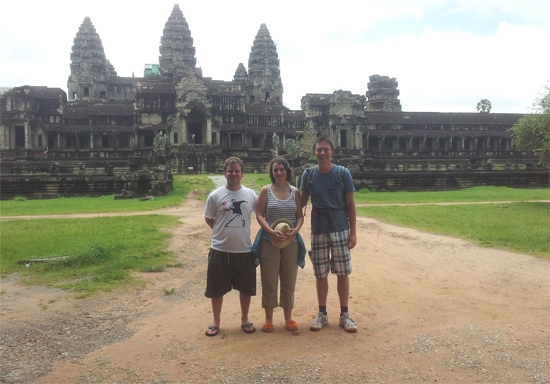 Yes, it is worth the effort.
2005, 22:00
Still on the road and by now the entire bus was in agreement that the service was a complete sham. The bus driver had his mobile in one hand, and his other on the wheel, the bus lurching violently as he steered it along the edge of the road, where the biggest holes were. Lazily driving through the potholes the driver caught up with his family; the slow driving was a deliberate ploy to get us into Siem Reap as late as possible.
2005, 00:00
As the clock turned midnight the minivan could only be described as being in open revolt. Most of us were offended that we'd been lied to, we had stopped four times in seven hours and it was way too late to try to find a room in Siem Reap. The driver knew this and said he was taking us to a local guesthouse. The American girl, though, had a plan - we were all to head en masse to a different establishment.
2005, 01:15
We finally arrived in Siem Reap, at a guesthouse not of our choosing, and the street exploded into argument. Simply put, we were coerced into staying in the place we hadn't agreed to. When we refused one Cambodian said bluntly "I'll kill you."
It was at that moment I grabbed my girlfriend and we got into the first tuk tuk we could find. It was probably our worst introduction to a county in 10 years of travelling.
Conclusion
The simple conclusion is that the scams involved in getting to Cambodia are still as prevalent as before, they are simply a little more subtle. The main amount of money is made at the border crossing currency exchange, which offers pathetically bad exchange rates and the information disseminated by 'government agents' is almost all designed to scare you into changing money.
Even so, the actual border crossing itself is immensely better than before and getting into Siem Reap without being harassed into a dodgy guesthouse was a big relief.
If you travel independently you can certainly avoid almost all the scams, however our ticket (priced at 400 baht) did feel cheap. We were willing to pay a bit of extra on the Thai side of the border for the Cambodian visa for this precise reason.
Ultimately the only way to avoid feeling cheated completely is to do it 100% independently or fly.
Story by Tim Clark
Read 9 comment(s)
I went through in late 2011 and had minimal problems. Caught a public bus from Bangkok to Aranyaprathet, tuk tuk to the border (firm no to the scammers offering visas for fee as we already had them and knew we could get them at the border anyway), pretty smooth pass through checkpoints, into a car waiting from the Siem Reap guesthouse.

The only problem we had was getting mobbed when people realized weren't getting on the shuttle buses that take people to the bus station, but the driver found us pretty quickly so it was fine.

Granted, the private driver was a luxury but as I was travelling solo and just happened to meet somebody on the bus it was worth it. I would not have liked to have to find the buses on my own after what I'd heard of Poipet, and I suspect we did so well partly because my friends were two guys, one of them pretty big...

Posted by KatjaKat on 7th January, 2013

I have travelled via this border crossing twice, first in Oct 2010 and again in Nov 2011, both times via train from Bangkok.

The first time was a breeze compared to the second; I ignored the "agents" on the Thai side and hopped on a public bus to the official border crossing where everything went smoothly.

Once in Cambodia another "government agent" befriended a group of backpackers and took us to the bus station via tuk-tuk. After a one hour wait, with constant advice on how we should change money here rather than Siem Reap, the bus collected us and took us to Siem Reap, albeit to a guesthouse of their choice. I had no accommodation booked so made my excuses and left the guesthouse we had been brought to and made my way towards the market end of Sivatha Blvd, it was late and dark but I was confident I would be OK and I was, finding a room in Key Royal Angkor Guesthouse which was lovely. I can see how others would not chance this though given the time and it being dark.

My second journey was not so smooth, travelling from the islands in the Gulf of Thailand meant that due to delayed ferries and trains we missed the early morning train from Hualamphong Train Station and had to get the afternoon train. If you are faced with this scenario I would recommend another night in Bangkok...

The train journey was straightforward, however once at Aranyaprathet I could see no bus like before to take us to the border. We had to chance a tuk-tuk which, predictably, took us to the "new" border crossing where fees were about $10-20 more than the year before. After much deliberation we went inside to fill out the forms - it was getting late and we were concerned the border may close at 7pm and it was already 6.30pm.

I complained and argued with the gentleman who provided the forms that this was not the correct border crossing, his response was vague and always that "things have changed since last year." After much "debate" with our supposed Cambodian Government Employee things got strained to the point where he became quite aggressive, told us we would be stranded and then snatched the forms from us. At this point we didn't want to give this man any money at all, never mind any extra. Another European couple persisted and went through with this scam however.

Upon leaving the office we were followed by 2 more shady looking gentlemen whom we ignored, one gave up but the other persisted to try and engage us in conversation telling us that there are many scams by Thai people but he was Cambodian and would help us. We ignored him and walked for approximately 10 minutes using my memory from the previous year and lo and behold the border crossing existed exactly as before. We crossed, paying the correct amount, accompanied by our new "friend".

On arriving in Poipet we waited for the newly introduced bus to take us to the station, our new "friend" informed us the bus stopped at around 5 or 6pm, this much seemed to be true. He offered to take us to Siem, an offer we declined many times. We walked along with 3 other backpackers towards the bus station hoping to find a taxi we could hire. Our new "friend" and some of his friends followed us around in an old car which was quite intimidating. After much discussion amongst the 5 of us we decided that it was best to take them up on the offer as Poipet is not at all welcoming, especially at night, and the guys following us were as mentioned very intimidating. We were stranded with little option.

We overloaded the old car which took us to Siem, thankfully to Hak's House (very friendly and helpful, if a little bit of a stroll from Sivatha Blvd) which the American girl had booked. After a day and a half from the Gulf our trip was over, from leaving Bangkok it had taken about 13 hours.

I would not recommend this journey if you miss the early train from Bangkok, Poipet is not very friendly at night.

Posted by Cormo on 7th January, 2013

One important scam not mentioned here are the fake consulates on the Thai side of the border.

I took a bus from Bangkok Mo Chit to Aranyaprathet and then took a tuk-tuk to the border crossing. Before reaching the border crossing I was taken to a shack off the side of the road with a crooked sign saying 'Cambodia Consulate' and then asked for my passport. What they do is help you obtain a visa online (something you can do yourself for free) for anywhere from $5 to $30 US. I just kept insisting that the tuk tuk take me to the border and didn't hand over my passport or anything. Unfortunately I saw some tourists had fallen victim to the scam, and I met some fellow Canadians in Siem Reap who also went through the same thing.


Just be firm and insist they take you to the border (you may be taken to additional fake consulates if the first one didn't work, luckily this didn't happen to me)

Also, I met many tourists whom had booked tickets on Khao San road Bangkok to Siem Reap, only to make it to the other side of the border and have no onward transport waiting for them. This can be avoided by booking at Mo Chit bus station directly, and then taking a share taxi on the other side of the border to Siem Reap.

This border crossing is ridiculous, but I think with due diligence the chances of bad things happening can be minimized.

Posted by ehenness on 9th January, 2013

I did this crossing in 2011...I took the 5A.M bus from Bangkok.I expected the worst but it was not terrible.First off the bus dropped me about 200 yards from the actual boarder so I had to orient myself a bit.The driver kinda motioned his hand forward so I walked that direction.

I was approached by at least 5 different guys about Visa's,
I politely told them I had an E-visa(which I did not)that seemed to send them off quickly.It's important to know that while walking the road to the Cambodian boarder,stay on the left hand side.This is the side where you will you will get stamped out of Thailand.Once you walk out the back of the building,you will immediately cross under the Kingdom Of Cambodia arch.At that point you must cross the street to get your passport stamped and pay $20-$25? I forget,but it's posted on their wall...I believe it's the first building right.(I had bypassed this on my crossing and was sent back from the immigration desk)once you get your Visa and Passport stamped, stay on that side of the road walk past the casinos and walk to immigration.There you will fill out your final forms.

Once done with that,walk just 50 steps or so and there is a free Government Bus that takes you to the Bus /taxis station...I paid about $45 for a taxis for myself to Siem Reap.Obviously if you have more people it can be done for less.

Sadly once I passed the arch into Cambodia...I was approached by a guy who said he worked for the Government...I thought it must be just another tout.Turns out he really worked for the Government and I just inadvertently rejected his help(based mostly on my paranoia)
I only found out He was legit when I had to go back to the arch to get my passport stamped...He said "I thought you had you passport stamped"...I laughed and told him I thought he was going to scam me..he laughed and kinda walked with me the whole way onto the Government bus.....oh well live and learn

Posted by DSawyer on 10th January, 2013

I did this border crossing Nov/December 2012 and it was exactly as you documented for 2012. I totally got scammed on the way to Cambodia, but I didn't do much research before I went, so I can only blame myself. However, on the way back, I ended up at the same 'restaurant' where they pressure you into paying $40usd (1200b) for a visa. As soon as a couple of the 'agents' recognized me from a week prior, they all suddenly disappeared. Oh well, lesson learned!

Posted by janelle on 12th January, 2013

I can see why this can be overwhelming to especially sole backpackers. However, my advice is that you must stand your ground and try not to talk to people unnecessarily...Group up with fellow backpackers and make it fun! After all this is an experience, why is what makes backpacking exciting - and this is SE Asia!

If travelling from Bangkok - just off Khao San Road - Chakrabongse Road to the left (to the right is Rambuttri Road) there is a well established backpackers hostel (the travel part upstairs used to be run by people from Israel)and downstairs they serve very nice food such as Falafel, Hummous, Shashuka and lovely fresh fruit shakes and of course Chang/Singha!But last year we noticed that upstairs had changed hands and did not use them last year....The Israeli people had gone, who were very helpful! This was a very good place to purchase your tickets to the Aranyaprathet/Poipet border crossing...mini bus picks you up from outside and takes you just before the border...Where the driver then will give you the choice for him to sort things out for you, e.g. transport the other side - for an extra cost(which many people do with no problems) or you can just walk a couple of mins to the border avoiding all who approach you (unless your a fellow backpacker!)...
Just remember - no deal is done until you say yes! If you say "NO" and keep your head down/up then all is fine! You have your money safe and you are in control of it, and until you hand it over - it is still yours!! Simple..
...Group up with fellow backpackers, get in the ques ASAP (complete your immigration form before you get to the counter or it is back of the que!), get your visa (this is where Major so and so....will demand extra Baht/Dollars for express visa, just keep saying "NO" and he/she WILL eventually give in! The price of the visa is clearly stated above the officce window - so just point and say this is what I am paying - end of! Make sure you have correct money ($20 or 1000 THB - haven't done this since 2010 so may have changed slightly)...If you don't give the correct money - the change will be in Cambodian Riel at an awful exchange rate!! And avoid anybody at the border who approaches you asking for money for express visa (they will follow you and keep on for a while - just keep walking and saying "No Thanks!" - actually you don't have to say anything, just ignore them is sometimes better...

Always better to ensure accomodation before hand at Siem Reap and they can guide you at the other side in relation to where to go, and will sometimes offer to collect you...I strongly recommned Ta Som Guest House (www.tasomguesthouse.com)where Mr Meng and his kind family/colleagues will really look after you! Government bus to taxi rank and then a shared taxi to Siem Reap - stress to them where you want to be taken (you may stop for a ahemm "car wash" where you are encouraged to purchase something - come on it's helping a family - don't be so tight lol)...so it is very wise for you to give the address to taxi driver and ensure that he undertands - if he doesn't - ask the people at the governeny bus rank to translatr to him/her before you commit! Basically get an agreement and you will be fine...
If dropped off at Tuk Tuk land in Siem Riep - stay in thr car and state that you are not moving until you are taken to the agreed address...Job done - fun and games!! Cambodia is a beautiul county with gorgeous people!!

Posted by Markoni Gaudi on 12th January, 2013

Going from Cambodia to Thailand through the same border is obviously much, much easier. I did this in November 2012 and it was just the same as any other border crossing.

This is probably partly because most people don't need to pay for a visa to enter Thailand so no one bothers with that scam. Secondly there seemed to be lots of options from the border to BKK public and private buses, taxi's, minivans etc so even if they try to rip you off you know you have other options to look into.

I was pretty anxious about this crossing as I had read articles such as this but almost all were written giving info on entering Cambodia not exiting. I was pretty happy with everything (apart from being stuck in the back of an overcrowded minivan from the border to BKK and getting violently carsick. Have they heard of a thing called fresh air!!!). I got from Siam Reap to Bangkok for US$10.

Posted by stefanw on 13th January, 2013

I went through this border from the Thai side in July 2011, and it was fairly horrendous! We actually came all the way from Krabi in South Thailand, which was 14 hours, then moving straight on to Siem Reap, which made it even more exhausting!

So, after getting a local minibus from Mo Chit for I think 300B, I was dropped directly at the border market. Of course the 'government agents' came up with their little name tags and offered to bring us to the 'visa office'. I had read about them beforehand so knew the game, and politely declined their offers of assistance and started looking around for the border crossing. There seemed to be no signs anywhere, and there were people milling around all over, and the combination of heat, exhaustion, and heavy backpack didn't help matters!

After seeing a couple of obviously fake 'visa offices', I started walking (the wrong way, I was to later realise!) to try to find the place I needed to go, when I saw a Thai Tourist Police car! Ah, I thought to myself, just guys I need! I went over to them and asked in my broken Thai what I was looking for. They looked at eachother, then indicated for me to hop in! Awesome, a nice aircon'd lift to the border, no worries! Where they actually brought me, was yet another fake visa office, leading me to believe that the Thai authorities are in on the scams, and that the border is deliberately left unsignposted to confuse tourists into falling for them!!

I have to hand it to them, it's ingenious! As a tourist, you usually only end up paying a couple of dollars extra, which I eventually did, giving up my protests out of sheer exhaustion! Made it through the Thai border control eventually (after paying a hefty fine for overstaying my visa for a couple of days!) and managed to secure myself a share taxi with a couple of other people I met in the queue, thus avoiding any ridiculous bus nonsense...

Needless to say, it was a memorable crossing! My advice would be, if dropped at the border (rather than in Aranya), then ask in a bank or somewhere fairly official for directions if you can't find the checkpoint. It's really close and once you find it you'll be amazed at how many people fall for the scam when they are right next to it.

Posted by JaiYen88 on 22nd January, 2013

Just to add, there is absolutely no need to have a Cambodia visa BEFORE you check out of Thailand, regardless of what the touts tell you! So find the checkpoint, get stamped out of Thailand, walk for a few seconds and you will see the Cambodian visa office on the right, queue, get your visa, BOOM you're officially in Cambodia! Have fun!

Posted by JaiYen88 on 22nd January, 2013
Add your comment
Feature story quicklinks
Giving back in Southeast Asia (19)

Burma ()

Cambodia (9)

Indonesia (4)

Laos ()

Malaysia (1)

Singapore ()

Thailand (38)

Vietnam (5)

Accommodation guides (3)

Travel with kids (7)

Opinion & advice (17)

How do I? (7)

Cycling Asia (12)

Health and safety (5)

Money and finance (4)

Diving guides (4)

Photo essay ()

Guest blog (2)

General (15)

Book reviews (5)

Interviews (8)

Explore Bangkok by BTS (18)
Newsletter signup