Which beach on Ko Samui?
First published 10th March, 2013
The answer to the question of where you should stay on Thailand's Ko Samui for a holiday would depend entirely on what you are looking for from a stay on the island. Do you want to be where the party is? Would you prefer a little peace and quiet and a taste of the old Samui? Here we give you a few pointers on what to expect from the different areas, so you can make an informed choice of where to head.
Chaweng Beach
Chaweng, on Samui's east coast, is the island's busiest beach by far. The entire length (it's also the longest beach) is lined with resorts, restaurants and bars, and here you'll find the most vendors and jetski operators too. If it's a party you're after, Chaweng is the beach for you. If you're looking for tranquility, it's hard to escape the party when staying here, unless you're at either far end of the beach. The northern part is quieter, as is Chaweng Noi at its southern end. There's not much in the way of budget accommodation along Chaweng, at least directly on the beach. If you plan on partying only a few nights of your stay, you'd be better off staying out of Chaweng, but within easy driving distance, either yourself, or by taxi.
Chaweng: yes, it's popular.
Choeng Mon Beach
Choeng Mon is located in the northeastern corner of the island, about a 10-minute drive to busy Chaweng. The beach itself is beautiful, and quite protected, with rocky outcrops on both sides. It's far from isolated, and you'll find several bars, restaurants, beach resorts and vendors, but on a much smaller scale than Chaweng. Although songthaews do travel this route, they are not quite as regular as along the 4169 route (Samui's main ring road). Choeng Mon is a good option if you don't want to be isolated, but don't want to be surrounded by drunken partygoers all the time.  You'll still find a few budget options along this stretch, as well as in the smaller surrounding bays of Plai Laem, Thongson Bay and Samrong Bay.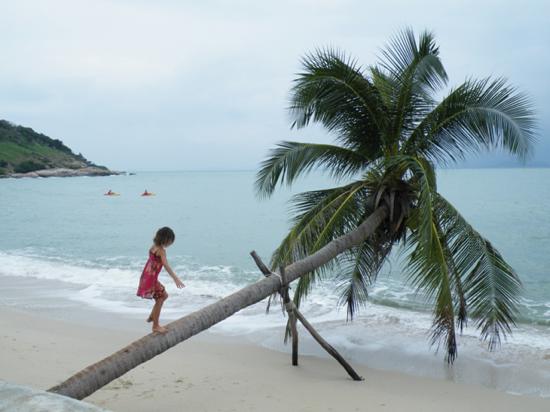 Thongson Bay near Choeng Mon beach is quiet and private.
Bang Rak/Big Buddha Beach
Bang Rak is on the north coast between Fisherman's Village and Big Buddha -- it's also sometimes called Big Buddha Beach. Sunsets are great from here and transportation is relatively easy. It's about a 15-minute drive to Chaweng (taking the back route via Choeng Mon) and about the same distance to the main Tesco Lotus shopping centre. The beach itself is not the best, but more than adequate for a swim, and several low budget options are on offer along here, even on the beach. The beaches near Choeng Mon are a five- to 10-minute drive away on scooter. There are plenty of cheap roadside restaurants and vendors, particularly near the Big Buddha fresh market.
Bophut and Fisherman's Village
Fisherman's Village is in the heart of Bophut, with Bang Rak to the east and Mae Nam to the west. It comes alive on Friday nights, when it hosts a walking street market. There's a good beach, especially the western part, and the village has a cosmopolitan feel as many expats have opened quaint bars, restaurants and shops. A few high-end restaurants are there for a splash out, but not all are pricey and you can still find a few flashpacker places to stay here. If you're looking for backpacker spots, walk the beach a little further west to Bophut, outside of Fisherman's Village, and you'll find a few places that are still within walking distance to Fisherman's Village. Transport is easy from here, as many songthaews pass this way.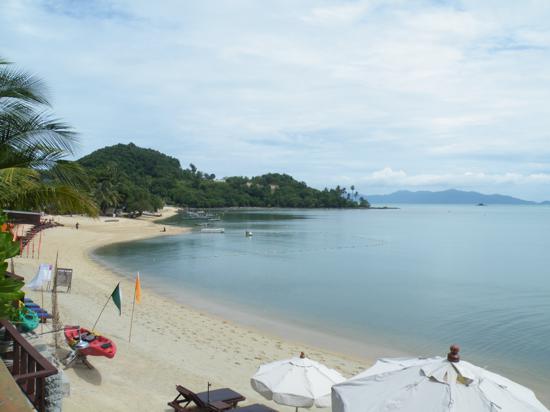 Bophut -- a perfect beach. Away from the crowds, but not isolated.
Mae Nam Beach
Mae Nam, along the north coast, with Bophut to the east and Bang Po to the west, probably has the largest concentration of backpacker spots but you'll find a few upmarket establishments too. The beach is long, good for swimming in most parts and you won't find too many vendors. This beach doesn't get the credit it deserves for some reason, and you'll do well finding a place to lay your head here for a while. It's a fair drive to busy Chaweng however, about 25-30 minutes.
Bang Po/Ban Tai Beach
Bang Po to the west of Mae Nam has improved over the last year, with several characterful beach bars opening. It's quite a drive from all the activity, but if it's quiet you're after, this is a good bet.
Nathon
Nathon is Samui's capital, and is located along the west coast. It doesn't have much to offer in the way of accommodation, but Lipa Noi to its south is a better option. This side of the island is far from all the happening spots however, and there really wouldn't be any reason to stay in Nathon, other than to take an early ferry.
The south coast
Along the southwest coast and east coast, including Taling Ngam and Laem Set, is where you'll find the Samui of yesteryear. There's little in the way of nightlife, other than a few local bars, or the bars at the few high-end resorts. One would think that it should be cheaper down here, but it doesn't seem to be the case. If you have your own transport, and are happy to drive far for a night out, then you may enjoy this area, even if only for a few nights. The area is quaint, and you'll see islanders going about their daily business, sorting coconuts, fishing, and leading a more chilled life than those along the busier coast.
Lamai Beach
Lamai along the east coast is sometimes called Chaweng's ugly sister. It pretty much has everything Chaweng has to offer, but on a smaller scale, and slightly cheaper. There are many backpacker spots along here, but also a lot of seedy bars too. You'd do well to stay in the small bays just north of Lamai, Coral Cove and Crystal Bay. These two small bays offer Samui's best snorkelling, and being protected, they are great swimming beaches – but mind the sharp coral. It's only a short drive to Chaweng should you want a night out on the town.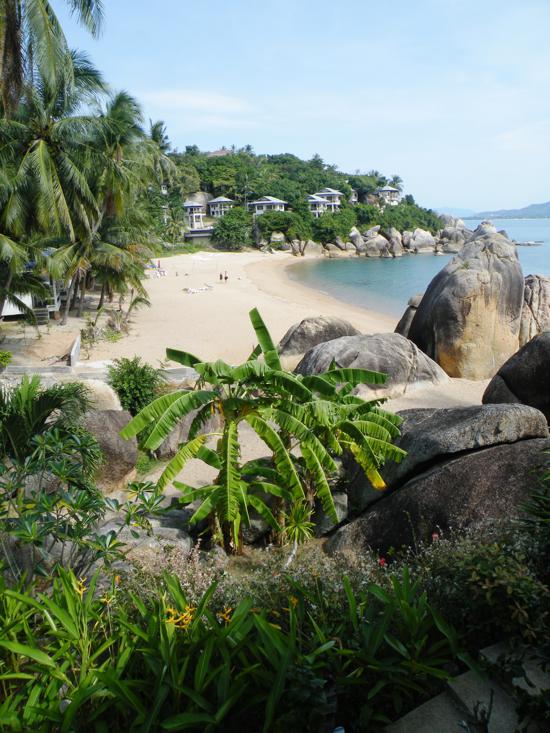 Just what you'd expect from a tropical island. Coral Cove, just between Chaweng and Lamai.
That rounds up Samui's main areas. So which is ideal? A personal choice would be quieter beaches, not completely isolated, but close to the happening areas – Choeng Mon in the northeast, and Coral Cove and Crystal Bay between Chaweng and Lamai, or Fisherman's Village for a cosmopolitan vibe... But the choice is yours.
About the author:
Rosanne Turner
Rosanne Turner relocated to Thailand in 2010 from South Africa. She enjoys sharing her discoveries of Samui after walking every beach, hill, coconut grove and forgotten path in search of that memory-making beach bar. You can follow her blog at
Travelling Pen
.
Read 3 comment(s)
Great summary!

Recently I've been around Samui to try and gather images of most of the beaches .... unfortunately my Picasa link to them does not seem to work!

As stated, there are beaches to suit all tastes.... Busy or quite... or some where in between!

Tides vary, getting lower between April to October... During February Chawang and Lamai beaches had very rough surf this year, ... Do not attempt to swim under rough conditions! Often a case of traveling a few kilometers to find a calm beach for swimming or sunbathing if the wind is blowing!

Personally, I like Maenam, Ban Tai and Ban Po (Por) Beaches for tranquility. Then too, some of the beaches on the S.W. Corner of Samui! where you might be the only one there! Some are not always easy to find.... but that can be part of an adventure!



Posted by samuijimmy on 11th March, 2013

Definitely agree that Choeng Mon Beach is a great spot to stay . Its easy access when you want to be entertained but also offers a much appreciated 'buffer' between you and the over zealous party goers further down.

Posted by Jenny James on 11th March, 2013

This is perfect! I've been planning on spending my last two weeks in Thailand on Koh Samui, but I wasn't sure which beach would suit me. After reading this, I think I'll head to Bophut! Thanks.

Posted by Jessica Hill on 30th March, 2013
Add your comment
Feature story quicklinks
Giving back in Southeast Asia (19)

Burma ()

Cambodia (9)

Indonesia (4)

Laos ()

Malaysia (1)

Singapore ()

Thailand (38)

Vietnam (5)

Accommodation guides (3)

Travel with kids (7)

Opinion & advice (17)

How do I? (7)

Cycling Asia (12)

Health and safety (5)

Money and finance (4)

Diving guides (4)

Photo essay ()

Guest blog (2)

General (15)

Book reviews (5)

Interviews (8)

Explore Bangkok by BTS (18)
Newsletter signup