Where to stay at Railay Bay, Thailand
First published 8th July, 2013
Surrounded on three sides by the Andaman Sea and walled off from the rest of the mainland by limestone cliffs that make rock climbers drool, the isthmus of Railay is one of Thailand's most magnificent beach destinations. Each of the peninsula's four beaches has its own distinct character, and it pays to do your homework before deciding which is right for you.
If arriving from Krabi town, you'll be dropped at the "mangrove beach", or Railay East, the peninsula's most heavily developed stretch of seafront. Unless taking the five-minute boat ride or 30-minute hike over rugged headland to Ao Tonsai, budget travellers have no choice but to stay here. While Railay East is lovely at high tide, it becomes a stinky mud pit when the water recedes.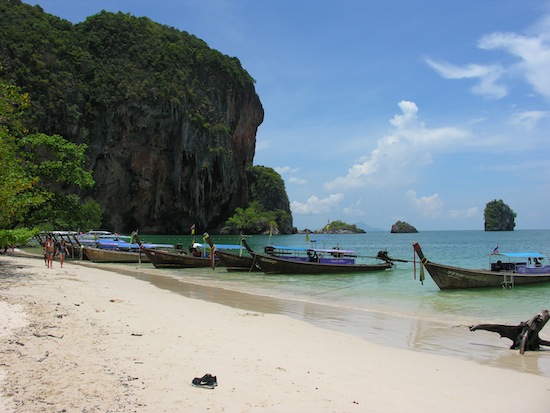 Just another day in Phra Nang bay.
Still, Railay East does boast the area's widest selection of places to stay, and it's an easy 10-minute walk to the breathtaking Phra Nang and West Railay beaches. If seeking a comfy room that will be comparable to -- but significantly cheaper than -- midrange choices on the west side, both Anyavee and Sunrise Tropical are good choices in the 1,500 to 3,000 baht range. For a more isolated getaway (and the longer walk that goes with it), Railay Great View offers beautiful villas perched on a forested hill with sea on three sides and a backdrop of jungle.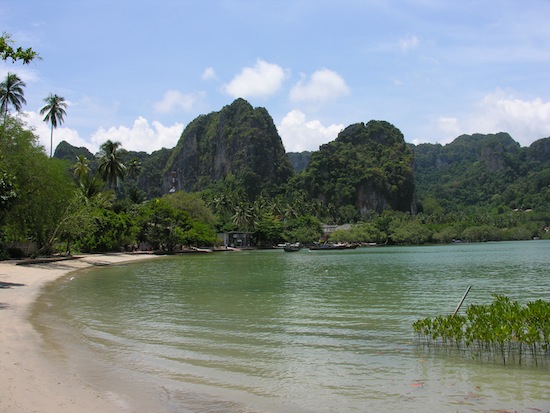 Railay East -- it looks great now but is a different story at low tide.
Railay's best budget digs also happen to be the most out-of-the-way. A stone's throw from Great View on Railay East, don't let Railay Garden View's uninspiring name put you off. The chilled out owner has a limited selection of basic yet tasteful stilted bungalows on a lush, flower-filled perch with sea views. You won't find air-con here, but at 600 baht in low season and 1,050 in the busy months, shelling out the extra cash to stay here rather than nearby (and far less inviting) Rapala Resort is a no-brainer.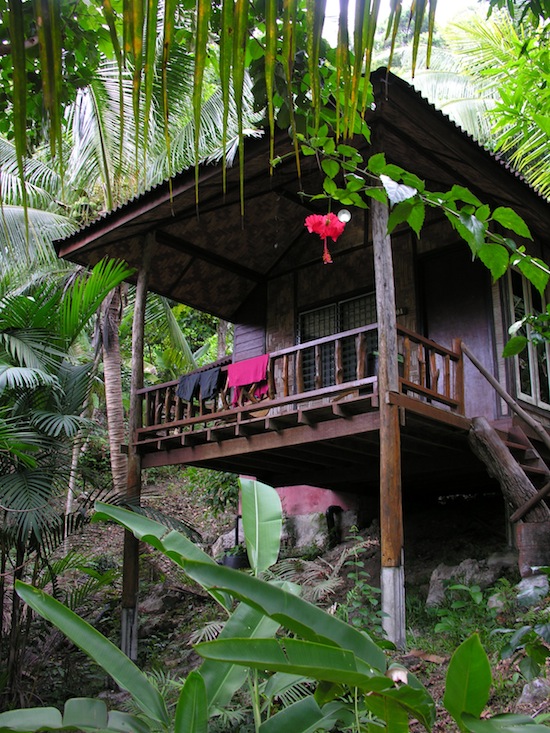 Railay Garden View -- the porches afford sea views too.
A five-minute walk inland from Railay East brings you to Phutawan Resort, a large but low key resort spread over quiet grounds filled with fountains and frangipani. Puthawan's air-con villas offer similar comfort to many of those at Railay West -- but for a third of the price. Though the cheapest fan bungalows are beginning to show their age, they remain a steal at 400 to 500 baht per night year-round.
A short walk past Phutawan lies Railay Cabana, a family-run spot with spacious bungalows for as little as 300 baht per night. With plenty of birdsong and chickens milling about beneath the fruit trees, the place is perfect if you want to leave the world behind for a while. Both Phutawan and Railay Cabana are a solid 15- to 20-minute walk from either Phra Nang or Railay West beaches, but we reckon many will prefer this back-to-nature setting over the low-tide quagmire views from Railay East's seaside strip.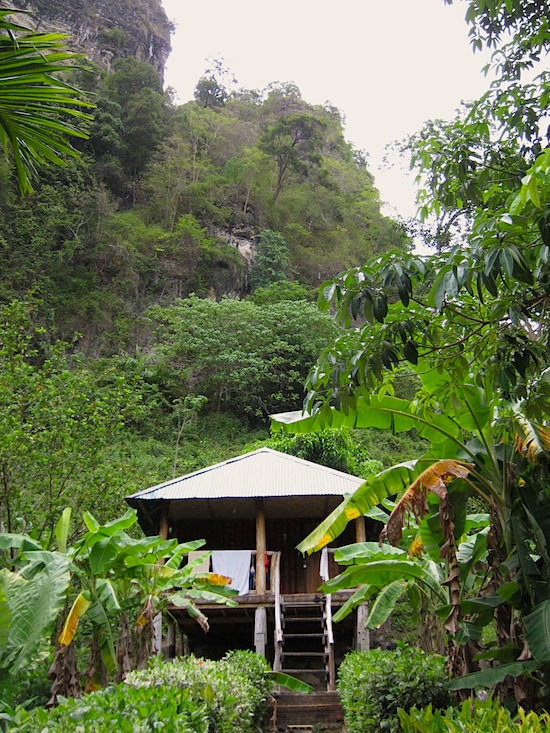 Railay Cabana -- complimentary breakfast courtesy of porch-side banana trees.
The only option for direct resort access to Railay's most stunning beach, Phra Nang, is to part with a minimum of 15,000 baht per night at lavish Rayavadee. Although it sees more longtail boat traffic than Phra Nang beach, Railay West is a larger and similarly glorious stretch of white sand framed on either side by dramatic cliffs. If you don't mind spending at least 2,000 baht per night, Railay West has a trio of bland but comfortable midrange resorts. We should also mention that Rayavadee's massive spread stretches to the western beach as well.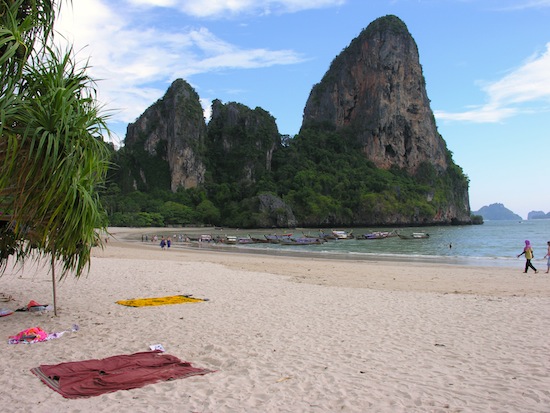 Getting ready for sunset on Railay West.
For something far more refreshing on Railay West, check out Railei Beach Club and its privately owned houses spread across a wide, leafy swath of land with an ideal location. From big luxury homes that fetch up to 20,000 baht per night, to simple cottages for as low as 2,00o, all of the houses have a personal touch. Each comes with a private kitchen, and staff can stock the fridge with groceries of your choosing before you arrive. They can even supply a private Thai chef to prepare your meals -- now that is service.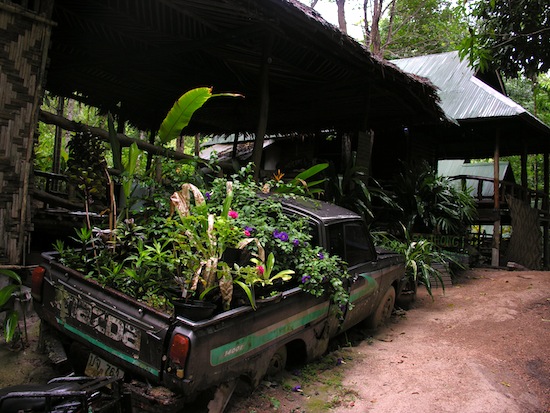 Traffic in Tonsai, courtesy of Sai Thong Bungalows.
Then there's the other side of Railay -- Ao Tonsai. This hidden harbour has a decent little beach to go with world class rock climbing and a youthful hippie vibe. Think bare bones bungalows, barefooted flower children, limited electricity, reggae bars and no shortage of "greens" (and we don't mean the kind you put salad dressing on).
There's not a whole lot to differentiate one Tonsai bungalow joint from the next, but Andaman Nature, Paasook and Sai Thong are all tried and true favourites. For more comfort, Mountain View and Dream Valley offer air-con in high season to go with TVs and hot water; the latter even has a swimming pool.
About the author:
David Luekens
Usually found exploring Bangkok's side streets or south Thailand's islands, David Luekens is an American freelance writer & photographer who finds everyday life in Asia to be extraordinary. You can
follow his travails here
.
Read 4 comment(s)
We stayed at Great View Resort last year. 1000 Baht at the time. Hard to find better value for money. We wake to monkeys on the balcony.

Posted by Allan Wilson on 9th July, 2013

I just got back from 8 days in Railay. We stayed at the Sand Sea Resort and paid 12,000 Baht for the period (1,500 per night). The resort is on the West Side with easy access to the beach. The bungalows are really nice with good aircon and daily cleaning. The resort has 2 pools: one by the beach and one further back which is more chilled. It's a "dry" resort so you'll have to buy your beers from one of the mini-marts and bring them to the restaurant if you want a drink with dinner. The mini-marts on the East side closer to the "Last Bar" have the best prices for beer - almost half that of the shops on the west side or at the drop off on the east side. There's some construction going on near the beach but otherwise a great stay. Because everything gets shipped in by longtail you end up paying 4-6 times what you would for food in Bangkok or Chiang Mai.

Posted by Eugene on 10th July, 2013

Looks a bit like Palawan, Philippines. I am sold.

Posted by ryanm24 on 12th August, 2013

I was there last year. What an amazing place!!!!!!!! Stayed at Anyavee, east side, great place, clean, decent breakfast, good service, kind staff. Close to nice places to go out at night, so I'm glad I stayed on the east side. The walk to the west side or Phra Nang is so short that it's not worth it to pay more to stay there, I think.
100% recomended!!!

Posted by Flor on 4th December, 2013
Add your comment
Feature story quicklinks
Giving back in Southeast Asia (19)

Burma (8)

Cambodia (24)

Indonesia (14)

Laos (20)

Malaysia (10)

Singapore (8)

Thailand (85)

Vietnam (33)

Accommodation guides (14)

Travel with kids (7)

Opinion & advice (18)

How do I? (11)

Cycling Asia (13)

Health and safety (6)

Money and finance (4)

Diving guides (6)

Photo essay (3)

Guest blog (2)

General (15)

Book reviews (5)

Interviews (8)

Explore Bangkok by BTS (18)
Newsletter signup