Which Cambodian island is right for you?
First published 14th July, 2013
Off the coast of Cambodia's Sihanoukville, picture-perfect islands attract travellers in the know, seeking long beaches, accessible diving and natural environments. Koh Rong and Koh Rong Samloem are a couple of hours off the mainland, while Koh Ta Kiev and Koh Russei are just a 45-minute boat ride away. Koh Thmei requires a little more effort to get to, but as some clever Chinese man once said, "The journey is the reward." If you're on limited time, how do you choose the island and the accommodation that's right for you?
Romance
Just the two of you? If you're prepared to pay a little more for a touch of luxury, check out Lazy Beach on Koh Rong Samloem. The bungalows are well spaced, the sunsets are top billing and the beach is never busy. Get cosy in the softly-lit wooden restaurant for dinner a deux with a bottle of wine. On the other side of the island, Saracen Bay Resort's superbly constructed bungalows will have you oohing and aahing from the moment you step onto the beachside veranda. Across on Koh Rong, fulfil your desire to fall asleep in a treehouse to the sound of lapping waves. Who says romance is dead?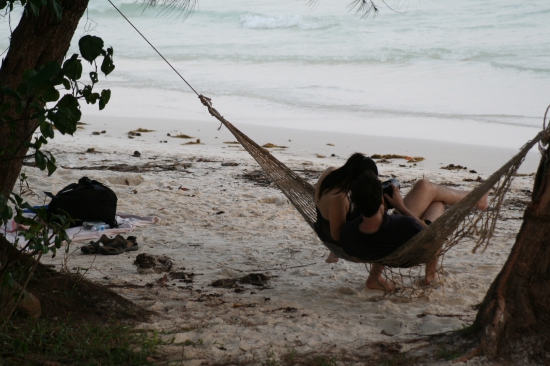 A hammock made for two.
Partying
If your trip won't be complete without dancing all night with sand between your toes, The Beach on Koh Rong Samloem runs monthly full-moon parties. The Party Boat runs from Sihanoukville to the  island, returning the next morning, but we'd recommend staying a couple of nights to recover and making the most of the white beach at Saracen Bay.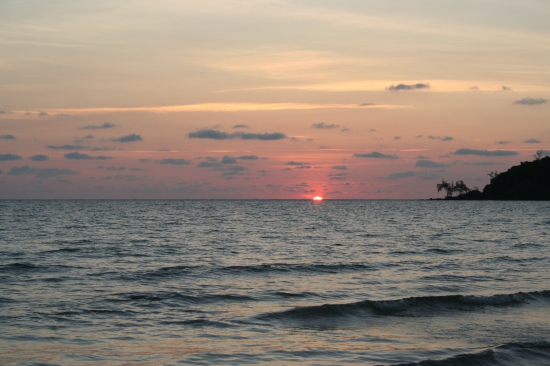 Show-off sky.
Sunsets
Sunset seekers should choose the correct side of each island to be sure of the best views. On Koh Rong Samloem, Lazy Beach provides some spectacular skies that Michaelangelo would be proud of. The bay next door, home to Robinson Island and the brand new Huba-Huba guesthouse, is imaginatively named Sunset Beach. The quick-minded will also spot the cleverly disguised marketing of Sunset Bungalows, at the north of Koh Rong Samloem by M'pai Bei village. On nearby Koh Rong, sky-gazers should head for the 7km beach which has Sok San Bungalows and Angkor Chum Bungalows at one end.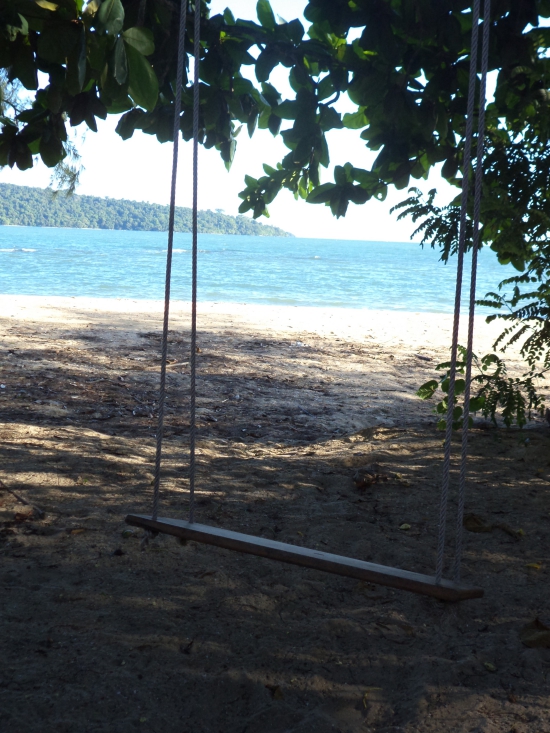 Every beach needs a swing.
Family friendly
For adventurous families, a few days on a tropical island should come high on a list of to-do experiences. Koh Thmei Resort (on Koh Thmei, unsurprisingly) is geared up for kids with a family-sized bungalow, plenty of games and toys, and a beach with a fine selection of shells for collecting. Their 24-hour electricity and above-average bathrooms also make life easier if you're travelling with ankle-biters. Although getting to the fishing village for the boat transfer is a little tricky, the 45-minute boat ride through mangroves and along the island's coast gives ample opportunities for bird and island spotting, and not much time for sea-sickness.
A little further afield, Paradise Bungalows on Koh Rong are a favourite with expat families. Small touches like swings on the terrace, non-stop electricity and thoughtful menus make for happy castaways.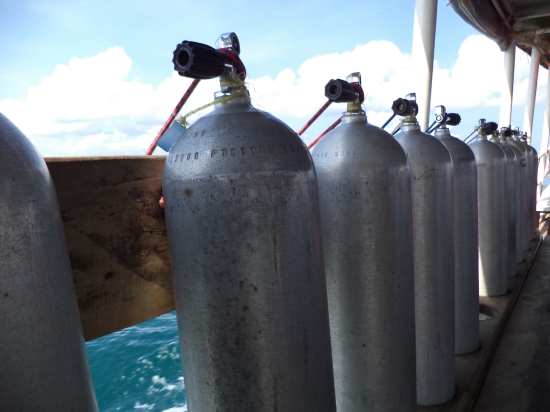 Tanks for everything!
Activities
If your beach bum could do with some exercise, there's plenty to get you off your towel and into nature. There are excellent dive options on Koh Rong and Koh Rong Samloem, with snorkelling if you prefer to keep in touch with the surface. Palm Beach Resort and Rising Sun on Koh Rong have kayaks for hire if you want to stick your oar in. Jungle trails ranging from a pleasant 20-minute stroll to a few hours of effort crisscross Koh Rong and neighbouring Koh Rong Samloem. A guide is not essential but sensible shoes and plenty of water are a must. For those comfortable on two wheels in rough terrain, mountain bikes and motorbikes are available for hire on Koh Rong, giving you access to the interior of the island. For something less strenuous, bird watching is a popular pastime on Koh Ta Kiev, with more than 150 species of birds to keep twitchers happy.
Rustic seclusion
Any island stay brings you up close and personal with a bit of nature, but some places are more wild than others. Longing to lose the WiFi and truly escape? Adventurers who like their location untouched and untamed will enjoy Robinson Bungalows on Koh Rong Samloem, falling asleep to the sound of monkeys and tokay geckos and exploring the under-subscribed beach. On Koh Ta Kiev, get back to basics sleeping in an outdoor hammock at Ten 103 or pitching a tent on your chosen spot of paradise at Crusoe Island.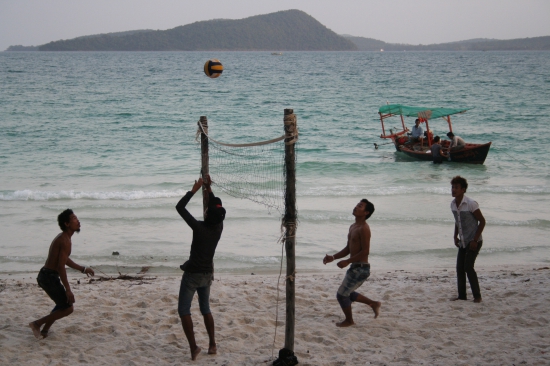 Tiny shorts optional.
With friends
For a memorable mates' break, hanging out on tropical beaches sipping cocktails is something to tell the grandkids. Head to Palm Beach Resort on Koh Rong for kayaking, volleyball and lazy beachside barbecues. Book out all 10 bungalows and make it your private island getaway! On the island's main beach, Monkey Island has a good selection of accommodation and a spacious shady restaurant deck designed for drinks and storytelling late into the night. For a cheaper option, your crew can bed down in Ten 103's dorm on Koh Ta Kiev and wake up to sparkling sea views in a jungle setting.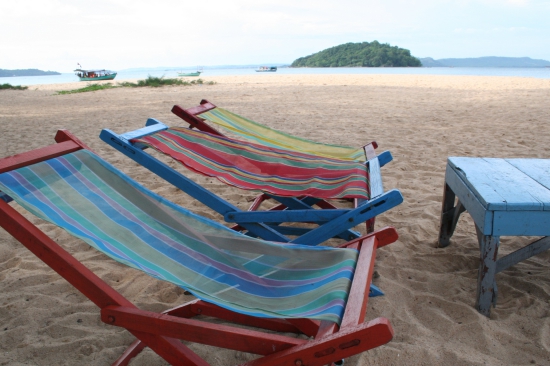 ... and relax.
Day trip
While we'd strongly recommend a few nights on your chosen island, travellers on tight schedules can still get an island experience on a day trip. Although a way offshore, Koh Rong Samloem can be reached by the Party Boat in less than two hours, giving you a few hours of impressive white beach time. Don't forget your toothbrush in case you decide you can't possibly leave the same day. Closer to land, Koh Ta Kiev is less than an hour's boat ride and Koh Russei features in all the three-island day tours sold around Sihanoukville. If you do visit Koh Russei, follow the jungle path across the island for 10 minutes to the more beautiful and less inhabited bay.
About the author:
Abigail Gilbert
Abigail has been stoned by villagers in India, become an honorary Kenyan tribeswoman, sweet talked border guards and had close encounters with black mambas. Her motto is: "Live to tell the tale."
Read 3 comment(s)
Koh Rong Samloem:

I wonder why you don't mention that the
sunrise beach is full of rubbish as soon
as you leave the resort.
It just looks nice from far away.


Posted by Susanne A. on 16th July, 2013

Really great note and helpful with traveling :)

We invite you to our blog www.pocztowka-z.blogspot.com. It's avaliable in Polish and English :)
Greetings,
Wiktoria and Piotr

Posted by Pocztowka Z on 25th July, 2013

Sadly there is some rubbish on most island beaches, often due to littering on the mainland, but I didn't notice so much on Koh Rong Samloem. Perhaps the clean-ups have become more regular? I do tend to collect my own bag of rubbish when I take a walk, to try and do my bit.

Posted by Abigail Gilbert on 2nd September, 2013
Add your comment
Feature story quicklinks
Giving back in Southeast Asia (18)

Burma (9)

Cambodia (23)

Indonesia (14)

Laos (19)

Malaysia (10)

Singapore (10)

Thailand (83)

Vietnam (38)

Accommodation guides (22)

Travel with kids (7)

Opinion & advice (17)

How do I? (11)

Cycling Asia (13)

Health and safety (6)

Money and finance (4)

Diving guides (6)

Photo essay (3)

Guest blog (2)

General (15)

Book reviews (5)

Interviews (8)

Explore Bangkok by BTS (18)
Newsletter signup