COPE: Helping people move on
First published 6th August, 2013
Between 1964 and 1973 the US army dropped more than two million tons of ordnance on Laos, earning the country the dubious distinction of being the most heavily bombed country per capita in history. The Cooperative Orthotic and Prosthetic Enterprise -- COPE --  is a non-profit based in Vientiane that runs rehabilitation centres aiming to provide access to orthotic and prosthetic devices and a range of other services for the victims of the remains of these weapons.
The majority of the bombs dropped by the US were cluster munitions-- bomb casings containing around 200 smaller bombs, which explode upon impact. Cluster munitions are engineered to react to hard surfaces, but the extensive vegetation covering the Lao countryside was often not firm enough to trigger explosions, leaving around one third of the 260 million bombs dropped unexploded and lodged within forests and paddy.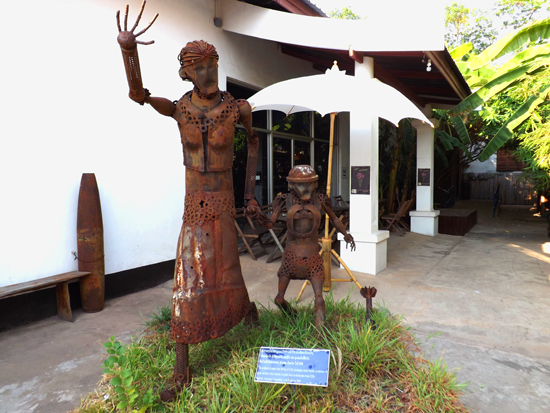 Art made of scrap metal from cluster bomb casings.
Contaminating around 25% of villages throughout Laos, these unexploded ordnances (UXOs) have plagued rural dwellers every since, detonating from the impact of ploughs, shovels and the prods of curious children. More than 20,000 lives have been lost to UXOs in the post-war era, and thousands of more victims have been injured -- often blinded or losing limbs.
Less than a single percent of UXOs have been removed, and until this monumental task is completed, every year will see around another hundred casualties from UXOs in Laos.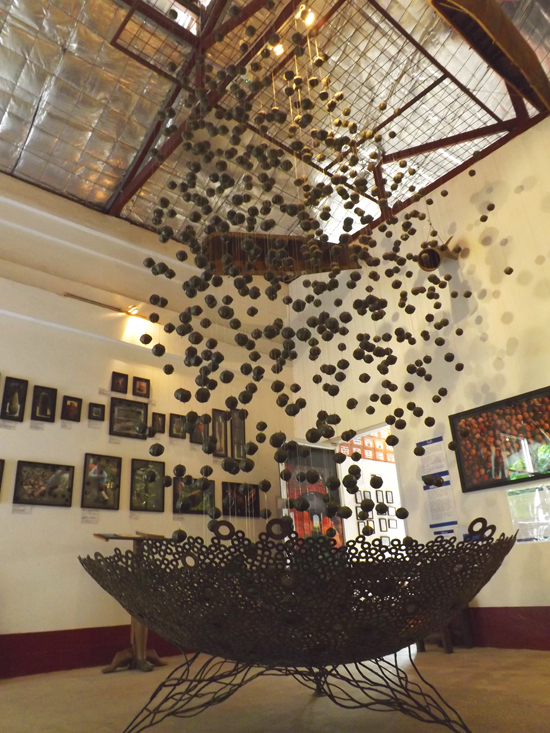 Each cluster munition contains around 200 smaller bombs.
Raised in a society that has yet to develop an infrastructure for people with disabilities, most surviving UXO victims in Laos remain in the care of their families. Few victims are able to acquire vocational skills and education; many end up a financial burden to their families, who do not have the means to provide them with sufficient care and resources. For the many Lao families who subsist on a few dollars a day, the time and cost of caring for a disabled family members is a challenge. Furthermore, they're financially incapable of investing in mobility aids and training that would help disabled family members achieve greater physical and economic autonomy.
COPE provides UXO victims not only with physical assistance, but with a means to become an active member of society. COPE also serves as a training ground for Lao medical students wishing to specialise in rehabilitation, both to improve medical care in Laos and as an effort to make the project sustainable in the long term, so that the project will be entirely Lao-run in the future.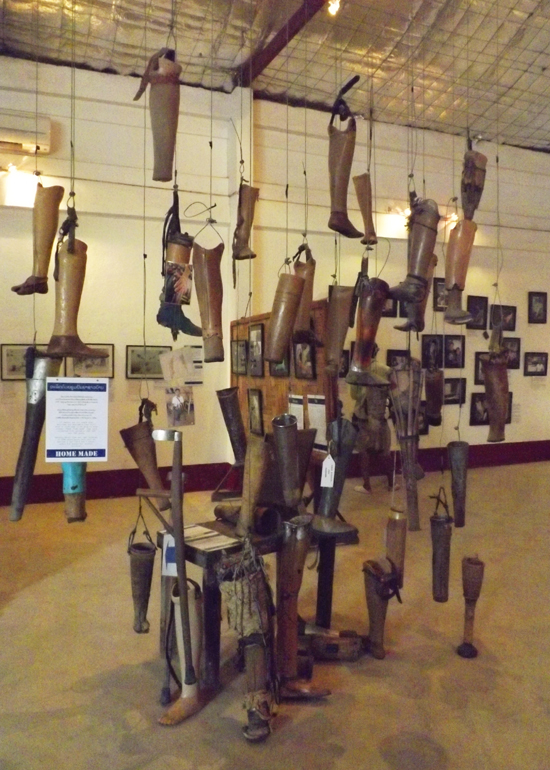 Prosthetic legs help people move on.
The central COPE complex in Vientiane additionally provides housing and schooling for young UXO victims whose families cannot afford their care. Volunteer positions are sometimes available, but simply popping in to see the victims is not permitted. Anyone interested in participating or simply learning more about the war and UXOs is encouraged to come to the COPE Visitor Centre.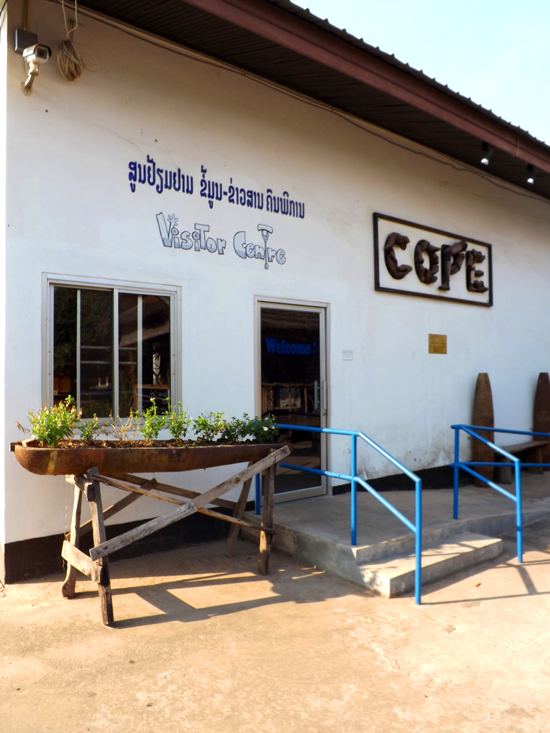 An old bomb casing used as a flower bed at the Visitor Centre.
The COPE Visitor Centre provides a little tour of the world of UXOs, telling of war history and showing examples not only of the bombs, but various ingenious uses for scrap metal from bomb casings. It explains the role of COPE and shows examples of prosthetics, and has a movie room with about a dozen documentaries to watch at your leisure.
Admission is free. Donation boxes are provided for those wishing to contribute, and proceeds from gift shop merchandise go towards funding the project. If you're in Vientiane in November/December, check to see whether you'll be there for the annual fundraising concert. For 30,000 kip, you'll see a variety of local bands and everyone's favourite B-boys, Lao Bang Fai, hit the stage. Booths sell food and drink from around the world, and a crowd of all nationalities party on in the knowledge that all proceeds will go toward providing new opportunities in life for the victims of UXOs.
COPE
Khou Vieng Road (about a kilometre from the bus station)
Open daily 09:00-18:00
copelaos.org
Each month a Travelfish.org writer selects a charity or non-government organisation that they believe does excellent work on their patch in Southeast Asia. They write about them and we donate $100, a small way for us to give something back to the region. If you're looking to give back too, please consider giving a little cash as well.
About the author:
Ivana Lexa-French
Born in Aarhus Denmark, Ivana got her first passport at 6 months old and moved to Southeast Asia in 2009 to work as an English teacher and find new cultural windows in which to peep.
Read 1 comment(s)
Very happy to read this here! I promote COPE to as many people as well. They are doing a very good job.

Posted by LF1913 on 7th August, 2013
Add your comment
Feature story quicklinks
Giving back in Southeast Asia (19)

Burma ()

Cambodia (9)

Indonesia (4)

Laos ()

Malaysia (1)

Singapore ()

Thailand (66)

Vietnam (7)

Accommodation guides (4)

Travel with kids (7)

Opinion & advice (17)

How do I? (8)

Cycling Asia (12)

Health and safety (6)

Money and finance (4)

Diving guides (5)

Photo essay ()

Guest blog (2)

General (15)

Book reviews (5)

Interviews (8)

Explore Bangkok by BTS (18)
Newsletter signup