Christmas and New Years in Southeast Asia
First published 15th December, 2013
Despite most of Southeast Asia not being predominantly Christian, Christmas is often seen as just another excuse for a party -- or an expensive gala dinner. Western New Year's Eve too is wildly celebrated across the region, and you can join in the festivities whether you're on a budget or looking to splurge. If you'll be parked somewhere in Southeast Asia this Christmas or New Year's, here are our correspondents' suggestions for what to do.
Yangon, Burma (Myanmar)
If you're looking to truly feast but are on a budget, Californian-run Cousins Grill has become the source for gluttonous traditional Western holiday menus. Expect to pay 17,000 kyat for a set menu consisting of staples such as turkey and gravy, grilled lamb in rosemary sauce, or vegetarian lasagne, ending with pies and cobbler. The menu is available both Christmas Eve and Christmas Day after 15:00, but make sure to call for reservations.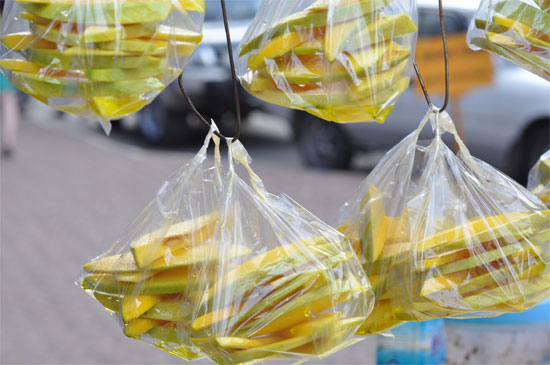 Burmese goodies to hang on the tree.
For those who play Santa with no price tag too large, The Governor's Residence has a US$150, six-course set menu that includes everything from oysters and caviar to turkey and lobster. Between 19:00 and 20:00, a choir from the Grace Home Orphanage will be singing Christmas carols in the Governor's Garden.
Cousins Grill: T (01) 546 633; 28A Kokine Swimming Pool St
The Governor's Residence: T (01) 229860; www.governorsresidence.com
Bring in the New Year at one of the few Yangon venues that consistently offers good music: Flamingo Bar. From live rock bands to DJ sets, you'll be able to count on this dive bar-club scene for a New Year party that won't disappoint and won't break the bank.
Looking for something a bit more spectacular? Traders Hotel will host an Outdoor Gazebo DJ Party where US$60 gets you snacks, free flow drinks and gifts for every guest, but they'll also offer a Magic Circus celebration going for a cool US$160. This will include an "amazing buffet", more entertainment and a lucky draw on top of access to the Outdoor Gazebo DJ Party.
Flamingo Bar: T (09) 73048544; hoteljapanyangon.com
Traders Hotel: T (01) 242828; www.shangri-la.com/yangon/traders
Phnom Penh, Cambodia
For a Christmas pig out without splashing out, reserve a seat at Aussie XL, where a big plate of turkey or ham with trimmings, followed by pudding, will set you back just US$15.95.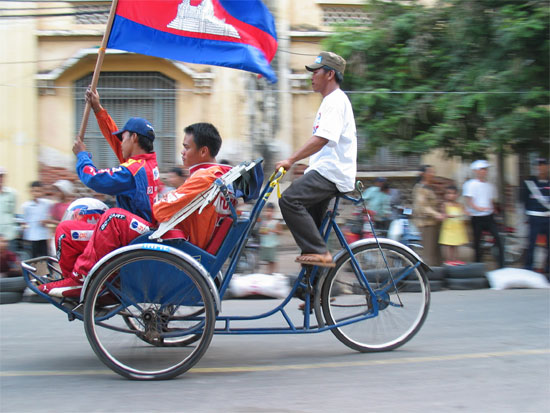 Express present delivery in Phnom Penh.
If Santa's been kind, the five-star Raffles Hotel Le Royal is the ultimate location for festive treats. Gather around a real Christmas tree for a Santa Claus buffet brunch, where US$170 (plus taxes) gets you unlimited Taittinger Rose Champagne and an overwhelming selection of food.
Aussie XL Cafe: T (023) 301 001 www.aussiexl.com
Raffles Hotel Le Royal: T (023) 981 888 www.raffles.com/phnom-penh/offers/festiveoffers/christmas-in-style
Thanks to the climate and a love of fireworks, cheap-seekers can enjoy New Year's Eve in Phnom Penh with very little expenditure. Grab some cans of Angkor beer and head to the riverside, or cross the Chroy Chungvar bridge to get a better view of the explosions while hanging out with the locals on the yet-to-be constructed promenade.
Want to make it swish? The snazzy Sofitel Phnom Penh Phokeethra gets the party started at 18:00, with an international buffet menu at La Coupole, free-flow drinks and a specially flown-in DJ by the pool for US$130 plus taxes.
Sofitel Phnom Penh Phokeethra T:(023) 999200 www.sofitel.com/gb/hotel-6526-sofitel-phnom-penh-phokeethra
Siem Reap, Cambodia
Many Siem Reap hotels and restaurants offer affordable Christmas Eve and Day specials, although they'll often include less traditional fare. For most of the trimmings at a good price, Molly Malone's is serving up a Christmas Day feast for US$28.95 per person.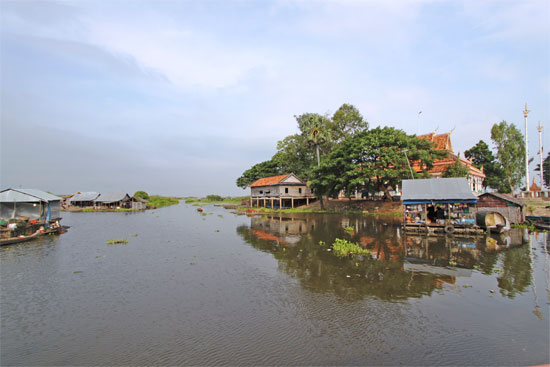 Earn that lunch with some exploring.
In tinsel – we mean temple – town, top hotels usually experience completely full occupancy over key festive dates; reserving a table in advance is essential if you want to live the high life with the US$105 Christmas Eve buffet at Raffles Grand Hotel D'Angkor.
Molly Malone's: (063) 963 533 www.mollymalonescambodia.com
Raffles Grand Hotel D'Angkor: T (063) 963 888 www.raffles.com/siem-reap
While Cambodians have already celebrated Khmer New Year, December 31 is no less of a party when revellers pack themselves into Pub Street to rival the busloads of crowds of Angkor Wat at sunrise. It's a fun street-party vibe with the competing blaring tunes of Angkor What? and Temple Bar, opposite each other, vying for your attention. Merriment usually spills over into X-Bar in the later hours until dawn. All have free entry.
Many first-class hotels include compulsory gala dinners in their room rates and if you dine out at the more popular or fine-dining restaurants, we recommend booking in advance as it is the peak of the high season.
Bali, Indonesia
On Christmas Eve Bali's International Christian Community (ICC) will have a lantern party, releasing more than 200 lanterns on Double Six Beach in front of Cocoon Beach Club from 17:00. Admission is free.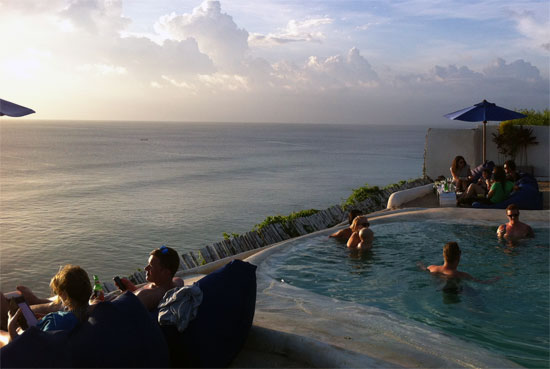 Bring on the New Year at El Kabron.
Who says Santa doesn't do the tropics? St Nicholas will be gracing King Cole Bar at the St Regis on the Bukit on December 25 from 15:00 to 17:00 while guests can enjoy what sounds like a fine afternoon tea for the price and location -- 350,000 rupiah net.
ICC: T (0878) 6158 7283 iccbali.com
St Regis: T (0361) 847 8111 www.stregisbali.com/en/christmas-program-in-bali
When it comes to ringing in the New Year in a memorable setting without it costing the earth, why not go for a Spanish flavouring for the last sunset of the year at the fantabulously set El Kabron on the Bukit Peninsula. Their New Year's dinner runs from 20:00 to midnight and you'll be ideally placed to see the sun sink into the ocean. Dinner costs 425,000 rupiah ++. Reservations essential.
For something upmarket, Seminyak's Kudeta will be hosting a Roaring Twenties party. It will feature DJ Pete Gooding and Jim Breese and the dress code is 1920s -- yes, they really do mean flapper dresses, suits and suspenders ... you've got those in your backpack right? Pre-sale comes in at 850,000 rupiah or it's 950,000 rupiah on the night.
El Kabron: T (0361) 780 3416 www.elkabron.com
Kudeta: T (0361) 736 969 www.kudeta.net
Langkawi, Malaysia
A sure bet for a cheapie Christmas feast Western-style is Mangoes Bar and Grill, which serves up a buffet to write home about. With barbecue chicken, roast turkey and ham taking centre stage to a massive selection of sides and desserts, inclusive of free flow beer, wine and soft drinks, the 110 ringgit price tag per person is a bargain -- reservations are a must.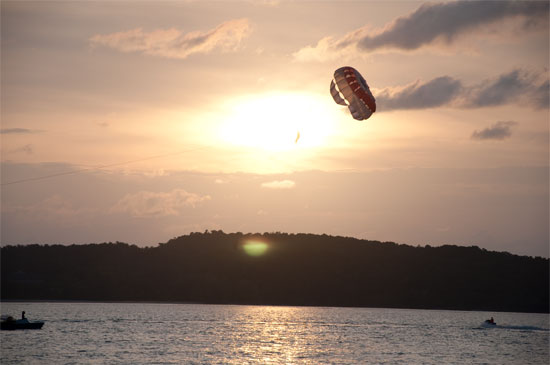 Looking for Santa over Langkawi.
But for a little tropical luxury, the Meritus Pelangi Beach Resort takes the cake this year. Located front and centre of a gorgeous sunset and the sandy-white beach of Pantai Cenang, they offer a Christmas Eve gala buffet with rack of lamb and barbecue seafood among the offerings, plus a live band showing for 450 ringgit per person. On the festive day itself they offer a slightly more affordable Christmas brunch for 78 ringgit per person and a Christmas Day barbecue dinner for 148 ringgit per person.
Mangoes: T (017) 589 8117 mangoeslangkawi.webs.com
Meritus Pelangi Beach Resort: T (04) 952 8888 ext. 6930 www.meritushotels.com/en/hotelinformation/meritus-pelangi-beach-resort-spa-langkawi/about
With the seafront of Pantai Cenang always being THE place to be on New Year's Eve, even the most budget-minded can easily stash their duty-free take away and plonk themselves on the sands to catch the annual fireworks or impromptu busking and fire twirling acts. But reggae fans might be keen to concentrate their evening agenda at recently relocated Babylon Matlounge, now sharing beachfront space with Sugar on Pantai Tengah at the southern end of Jalan Pantai Cenang. Toe tapping commences around their sunset happy hour about 19:00ish.
Looking for more bells and whistles and maybe even some cheesy party favours? Shimmy on down to Retro Night at Meritus Pelangi Beach Resort where their Cba Restaurant and Bar is starting their countdown at 19:00 with a 550 ringgit per person extravaganza -- whole roasted lamb and barbecue seafood is on offer while a live band and DJ pump out the top tunes from yesteryear.
Babylon X Sugar: T(04)955 3928 (04)955 1010 https://www.facebook.com/BabylonMatLounge
Meritus Pelangi Beach Resort: T (04) 952 8888 ext. 6930 http://www.meritushotels.com/en/hotelinformation/meritus-pelangi-beach-resort-spa-langkawi/about
Singapore
After a stroll enjoying Christmas by the Singapore River and viewing the festive decorations, Christmas market offerings or even doing a Christmas Segway tour, head to the historic Fullerton's Jade restaurant for their dinner buffet, a steal at $58 given that there are close to 40 Chinese dishes to choose from.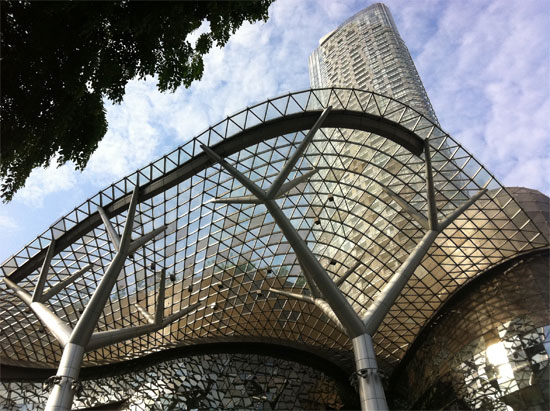 Easy to empty your wallet via Singapore's Silly Season.
For splurgers who wish to live it 'up' (literally!) for a special Christmas with that special someone, the Singapore Flyer offers a Christmas Sky Dining experience at $329++ per couple in a shared capsule that includes traditional Yuletide dishes like roast turkey and a log cake, all to be savoured while enjoying a night view of the Singapore skyline on board the world's largest observation wheel.
Christmas by the river: singapore-river.com/christmas
Jade Restaurant: www.fullertonhotel.com/dining/diningCategories_2-en.html
Singapore Flyer: www.singaporeflyer.com/promotions/festive-packages
New Year's Eve revellers on a budget can head to the Esplanade and Marina Bay waterfront areas for the annual countdown and watch the skyline light up with a fireworks display at midnight. The Esplanade will feature music from local acts, while the Promontory@Marina Bay will host international DJs and regional bands, playing music for over seven hours so you can dance the night and 2013 away and see Singaporeans out partying in full force.
Those in the mood to splash out can head to Mount Faber for New Year's Eve in a cable car ($338++ a couple) with bubbly, or if there are more of you, get a Champagne Countdown Cabin for six ($578 nett). For even more luxury, there's a Swarovski-encrusted VIP Jewelled Countdown cabin for four ($888 nett). To get both the luxury of privacy and a bird's eye view where you'll be able to glimpse some fireworks from the various countdowns -- it might just be worth the price.
Marina Bay Countdown: www.marinabaycountdown.sg
Mount Faber cable car: www.mountfaber.com.sg
Bangkok, Thailand
Most budget travellers settle on an 80 baht Christmas dinner of Khao San Road pad Thai and Chang beer, but a number of Sukhumvit pubs offer an affordable taste of yuletide love. Bully's, Bourbon Street and The Londoner each do solid buffets of turkey and all of the trimmings at around the 1,000 baht per head price point.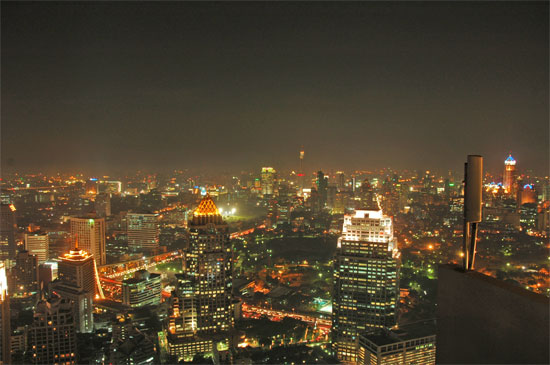 Bangkok: You'll need to imagine the fireworks.
At the higher end, splurge on a five-course set dinner for 5,300 baht per person on Vertigo's 61st floor terrace.
If you'd like to celebrate the religious side of Christmas, the multi-denominational International Church of Bangkok is one of many churches planning Christmas services.
Bully's Pub: (02) 656 4609 www.bullysbangkok.com
Bourbon Street Bangkok: (02) 381 6801-3 www.bourbonstbkk.com
The Londoner: (02) 261 0238 www.the-londoner.com
Vertigo: (02) 679 1200 www.banyantree.com/en/bangkok/
International Church of Bangkok: (02) 258 5821
For New Year's Eve, those on a tight budget can join the wild street party along Khao San Road, while the nightclubs of RCA and Sukhumvit 11 are good midrange bets for a thumping night out. Families might head for the free countdown celebrations at Central World Plaza or Asiatique's riverside boardwalk, both of which culminate at midnight with extravagant fireworks displays. Altitude at the Imperial Queen's Park Hotel will throw an all-out rooftop bash starting at 1,200 baht per head, and So Bangkok's more refined rooftop party includes free-flow Chandon Brut for its 3,900 baht price tag.
High-rollers can part with 20,000++ baht per person at the lavish New Year's dinner parties held by Lebua and Mandarin Oriental among others. If you're after a celebration featuring traditionally Thai activities, hundreds of floating fire lanterns will take to the skies over Sanam Luang, and a candlelight procession is planned for Wat Saket's Golden Mount.
Altitude at the Imperial Queen's Park Hotel: (02) 261 9000 www.newyearseveinbangkok.com
So Bangkok: (02) 624 0000 www.sofitel-so-bangkok.com
Lebua State Tower: (02) 624 9999 www.lebua.com/state-tower
Mandarin Oriental: (02) 659 9000 www.mandarinoriental.com/bangkok
Chiang Mai
Those seeking a hearty, traditional, Christmas meal, should head to Bake & Bite, which will be serving a special, themed menu - including classics such as roast turkey and gingerbread cookies– from 2-7pm on December 25. Judging by how delicious their regular menu is, we're counting the days before we treat ourselves to their Christmas pies. Alternatively, Anchan vegetarian restaurant will be offering a five course Christmas Eve meal complete with fruitcake made with mulled wine and lime and honey glazed potatoes for 550 baht per person. If this sounds delicious, but a little lacking in the meat department, head to Dhara Dhevi resort, which will have a welcome cocktail, followed by a lavish, international buffet to the soundtrack of live Christmas carolers and a marching band, all for 4,500 Baht a person (5,700 with wine and beer).
Anchan Vegetarian: T: (083) 581 1689 https://www.facebook.com/events/261575890661426/
Bake & Bite: T: (053) 249 689
Dhara Dhevi: T: (053) 888 888 http://www.dharadhevi.com
As far as New Year's Eve is concerned, our all out choice would the exquisite buffet at Shangri-La hotel, which at 14,880 baht per person, includes unlimited Moet Chandon champagne. Surely, it's an extravagant, if pricey way to greet 2014. A much more reasonable 2,880 will get you just the food, but, if you ask us, we'd rather ring in the new year with a cold Leo to the tune of live music at the Northgate Jazz Co-op, or Warm-Up Cafe.
Northgate Jazz Co-op: https://www.facebook.com/northgate.jazzcoop
Shangri-La: T: (053) 253 888 http://www.shangri-la.com/en/chiangmai/shangrila/
Warm-Up Cafe: https://www.facebook.com/warmupcafe1999
Ko Samui, Thailand
Those watching their baht can head to one of the many expat bars and eateries on the island putting on traditional Christmas roast lunches. Premier Sports Bar in Bang Rak offers a full roast lunch with unlimited beer for a limited period at 1,400 baht per person. Or if you're quick, you can order all the usual Christmas fare from Mrs Moffet's Kitchen as well as Fabulous Things for delivery to your resort or villa – so perhaps a Christmas picnic on the beach is in order.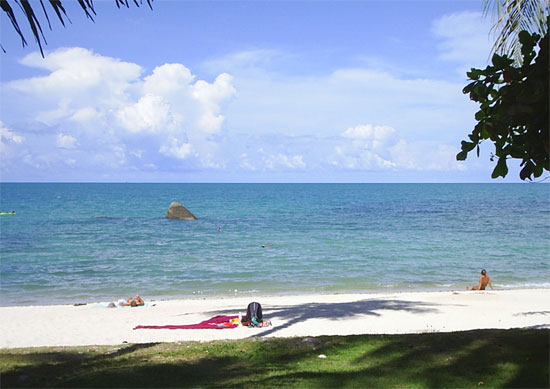 Samui: Pick a beach, put your feet up.
If you'd prefer a fancy spread, just about every hotel on the island will be putting on a set menu or buffet, both for Christmas Eve as well as lunch on the day. If you're into a DJ and party vibe for Christmas, Beach Republic in Lamai is offering a free flow canapes and cocktails for Christmas Eve, for 1,500 baht, as well as a fancy buffet lunch at 2,450 baht per person.
Premier Bar: www.premierbarsamui.com
Mrs Moffet's Kitchen: https://www.facebook.com/MrsMoffettsKitchen
Fabulous Things: https://www.facebook.com/FabulousThingsSamui
Beach Republic: http://www.beachrepublic.com/holidays_2013.html
It's hard to escape New Year's Eve on Samui, so even those on a budget can easily join in the festivities. Wherever you are, from around 23:00 until well past pumpkin hour, astronomical numbers of fireworks will be going off everywhere, and you'll feel as though you're in the opening scene of a Disney movie. So if you're looking to celebrate on the cheap, grab your own bottle of bubbles or pack of beers (it won't be frowned upon) and head to the nearest busy beach, particularly Chaweng, Lamai of Bophut's Fisherman's Village.
You can enjoy the evening at the opposite end of the budget scale by heading out for an exclusive party at beachfront clubs such as Nikki Beach (Lipa Noi), or Beach Republic in Lamai. Beach Republic is charging 8,250 baht for a night of DJs, fire shows, fireworks, free-flow alcohol and a fancy dinner buffet.
Beach Republic: http://www.beachrepublic.com/holidays_2013.html
Ko Pha Ngan, Thailand
Why not try a Christmas picnic on one of Ko Pha Ngan's many white-sand beaches? Head to the newly-opened Big C, a well-stocked grocery store in Baan Tai, and pick up all the take-away goodies you need for the perfect meal. Fancy plastic cups and paper dishes can be purchased from nearby Big A, closer to Thong Sala town. Find your perfect picnic locale here.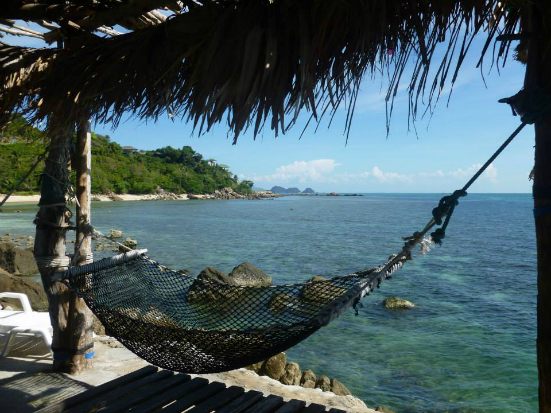 Does Santa need to bring you a hammock?
For a real Christmas treat with a view, head to one of the island's best restaurants, Peppercorn, for Christmas Eve or Day. Book in advance -- they marinate and slow-cook the meals, so they need lots of notice. Located at the top of a hill overlooking the stunning Haad Salad bay, the view here can't be beat.
Peppercorn: T (087) 896 4363, www.peppercornphangan.com
The place to be for New Year's Eve on Ko Pha Ngan is Haad Rin beach, where the festivities begin early with fireworks and the beach party is the biggest of the year. Cheap food is available from roadside stands, and of course, there are buckets galore. If a glass of champagne is more your thing, some Ko Pha Ngan restaurants put on special Christmas spreads. Loyfa Natural Resort does a gala dinner at 1,500 baht per person, while the higher-end resorts on Thong Nai Pan Noi offer even more gourmet delights to ring in the new year. Luna Restaurant is offering a four-course New Year's Eve dinner for 980 baht, which includes a glass of sparkling wine.
Loyfa Natural Resort: www.loyfa-natural-resort.com/
Luna restaurant: T (077) 445 035 luna-restaurant-phangan.com/
Phuket, Thailand
One of Phuket's best-value festive meals is at the Shanti Lodge guesthouse in Chalong. Its Christmas Eve Dinner barbecue buffet with cold mulled wine, Texas-style spare ribs, tofu steaks, corn on the cob and Caesar salad is priced at a budget-friendly 450 baht for adults, 200 baht for children aged six to 12 and free for kids five and under.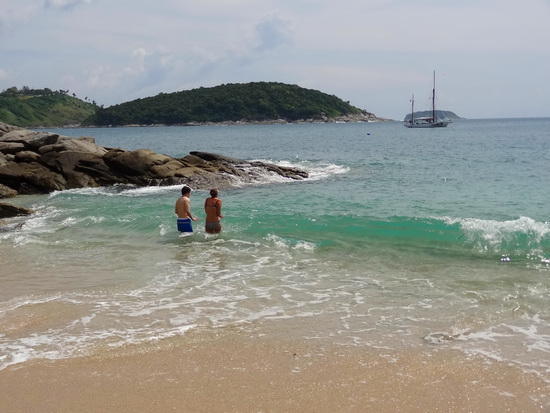 Phuket: Your presents are on the yacht.
At the decadent end of the scale is The Boathouse Wine & Grill, which is putting on a Christmas Eve gala dinner with cocktails in the sunset lounge, a buffet dinner, a lantern release on the beach and a visit by Santa for the kids. Dinner is priced at 4,500++ baht per person and half-price for kids under 12.
Shanti Lodge Phuket T (076) 280233 www.shantilodge.com/page/shanti-phuket
The Boathouse T 076 330015 www.boathousephuket.com
Budget-minded New Year's Eve revellers on Phuket will want to head down to the sands of Karon beach, which will be home to two nights of dance music on December 30 and 31 for the Phuket Electronic Music and Dance Festival 2014, with free entry for all. For a more swanky affair, check out Re Ka Ta beach club on Kata beach, which will have three choices for New Year's eve partygoers. Those who join just the poolside lounge party with a tapas menu pay 2,500++ baht per person. To indulge in the five-course dinner plus the party you'll be shelling out 6,000++ baht per person, or for a big splurge join the Champagne Deck too and pay 14,500++ baht per couple including a bottle of champagne, oysters, chilled seafood and tapas.
Re Ka Ta T: (076) 330015 www.rekataphuket.com
Hanoi, Vietnam
Your best option for a budget seasonal feed, served up with plenty of Christmas cheer, is Hanoi Backpacker's Hostel on Ma May, where 600,000 VND gets you a three-course roast dinner with free-flow beer, sangria, vodka and rum. At the other end of the scale, check out Le Beaulieu restaurant at the Sofitel Metropole Legend Hotel, which is serving up a Christmas brunch for 2,500,000 VND, or 3,900,000 VND including free-flow champagne.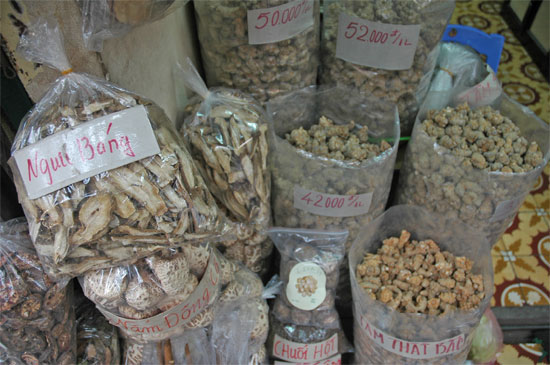 Hanoi: Ideal for presents for the person who has everything ... else.
Hanoi Backpacker's Hostel: www.vietnambackpackershostel.com
Sofitel Metropole Legend Hotel: T (04) 3826 6919 ext. 8215 www.sofitel.com/gb/hotel-1555-sofitel-legend-metropole-hanoi/index.shtml
The bars in Old Quarter have yet to announce specific plans for New Year's Eve, though we're willing to bet there will be something to amuse those looking for a lively night out. But if you want to see the New Year in among the masses, head to the Opera House, where Heineken sponsors an annual countdown which attracts thousands of mostly Vietnamese. It's free, unless you want beer.
For a fancy night out, we like the sound of the Intercontinental Hotel's Moet and Chandon Countdown, where 1,505,000 VND gets you free-flow champagne, canapes and a live DJ on the Milan Saigon terrace. Add dinner on beforehand in Cafe du Lac restaurant if you want more than just canapés.
Intercontinental: T (04) 6270 8888 www.intercontinental.com/hanoi
Hoi An, Vietnam
To have yourself a merry little Christmas on a tight budget in Hoi An, pop yourself down to 3Dragons for a Western festive spread and many happy hours of fabulous frivolous fun. For 400,000 VND you'll tuck into a set menu including turkey, beef, lamb, pork belly and all the trimmings from 14:00 till really rather late.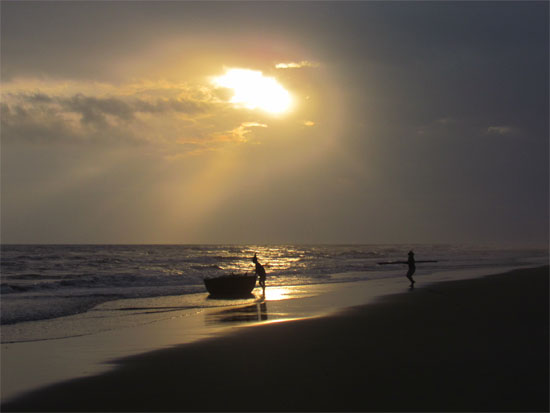 Hoi An: An Bang Beach - ideal for a last beach walk of the year.
For the jet setters however there really is only one place to go: the Intercontinental Christmas day brunch (book a pod) for the most flamboyantly decadent spoil -- it'll set you back 1,080,000 VND or 1,680,000 VND with free-flow champagne.
3Dragons: T (0127) 5050 400
Intercontinental: T (0511) 393 8888 www.intercontinental.com
For the biggest party in the Hoi An hood this New Year, grab yourself a bean bag on the beach at the Banyan Bar, An Bang Beach where you will be serenaded by international D.J's and never ending rounds of free shots. For a rather more opulent spread, Green Mango are putting on a veritable feast - tuna, lobster, turkey and sparkles along with one of the best balcony spots to watch the fireworks ring in the new year over the old town. 950,000VND.
Banyan www.facebook.com/groups/105512802875963
Green Mango: T (0510) 392 9918 greenmango.vn/Page/103.aspx
Saigon, Vietnam
Christmas dinner in Saigon doesn't have to break the bank. At Scott and Binh's in District 7 you can get a proper festive dinner of turkey or ham with all the fixings for just 375,000 VND. Christmas dinner in Saigon can be a pricey affair and if price is of no concern, head to one of the city's five-star hotels for a treat. At the Park Hyatt, for instance, 2,079,000 VND will get you a dinner buffet along with free-flow champagne.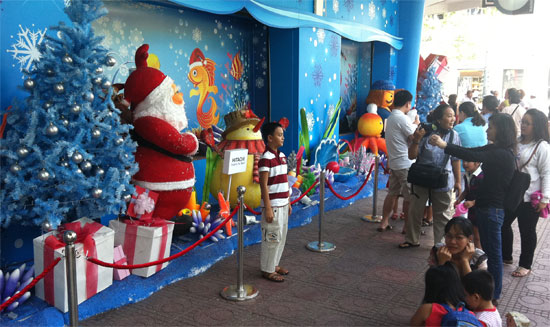 Christmas is a hit in Saigon.
Scott and Binh's: T (09) 4890 1465 www.facebook.com/scottandbinhs
Park Hyatt: T (08) 3824 1234 saigon.park.hyatt.com/en/hotel/home.html
If you're staying up for the fireworks you'll need a good view of the riverfront in District 1. Those on a budget will be on foot, as most major downtown streets are closed to vehicles, and need to muscle through the crowds to get to a good spot on Ton Duc Thang.
If you have some coin to throw around, head to one of the rooftop celebrations. At the Sofitel, 3,000,000 VND will get you great views and an all-you-can-eat and drink buffet next to the rooftop pool.
Sofitel Saigon: T (08) 3824 1555 www.sofitel.com/gb/hotel-2077-sofitel-saigon-plaza/index.shtml
About the author:
Samantha Brown
Samantha Brown is a reformed news reporter. She now edits most of the stuff you read on Travelfish.org, except for when you find a typo, and then that's something she wasn't allowed to look at.
Read 2 comment(s)
I'll add that in Singapore Heritage Museums are free on Christmas, considered the usual price you can gift yourself a cultural day! :)

Posted by Tommaso Querini on 16th December, 2013

What, no Laos???

Posted by nicklamport on 19th December, 2013
Add your comment
Feature story quicklinks
Giving back in Southeast Asia (19)

Burma ()

Cambodia (9)

Indonesia (4)

Laos ()

Malaysia (1)

Singapore ()

Thailand (66)

Vietnam (7)

Accommodation guides (4)

Travel with kids (7)

Opinion & advice (17)

How do I? (8)

Cycling Asia (12)

Health and safety (6)

Money and finance (4)

Diving guides (5)

Photo essay ()

Guest blog (2)

General (15)

Book reviews (5)

Interviews (8)

Explore Bangkok by BTS (18)
Newsletter signup