Bangkok to Siem Reap
Updated on 4th January, 2013. First published 15th October, 2006
The trip from Bangkok to Siem Reap and Angkor Wat is one of the most talked about routes in the region: scam buses, awful roads, visa rip-offs, over-priced taxis and a whole realm of shysters and con men to boot, but in the end, it's a very straightforward trip, which, with a bit of planning is as easy as pie. Here's a cheat sheet to get you there and back without too much fraying of the nerves.
Update
The road situation between Poipet and Siem reap improved dramatically since this story was first written way back in 2006. The surface was sealed in its entirety and a trip by share taxi now takes as little as one and a half to two hours (depending on how crazy your driver is) from the border to Siem Reap.
Bangkok Airways flights on the Bangkok-Siem Reap route remain ridiculously overpriced though Cambodia Angkor Air is now also flying the route and their prices are more affordable. So all things considered it is a far easier and faster trip than it used to be.
Fly
Price no problem? Bangkok Airways is the way to go. In one of the more dubious chapters of open skies agreements this airline was for a long time the only airline flying the Bangkok to Siem Reap route, and not surprisingly, for the distance flown it remains one of the most expensive flights around.
Rumour long has it that the road from Poipet to Siem Reap was kept in it's particularly crappy condition in order to steer people onto the Bangkok Airways planes -- who would have thought! Expect to pay around 5,500 baht one way (including taxes, fuel charges and so on) for the cheapest web-only version of the flight -- yes, it is an absolute rip-off. The flight takes about an hour each way.
The relatively new carrier, Cambodia Angkor Air (51% owned by the Cambodian government and 49% owned by Vietnam Airlines), is now also flying this route and it's online fares come in at around 3,500 baht (including taxes and surcharges) so it is considerably cheaper than Bangkok Airways.
If you're not up for spending a wad of cash for an hour long flight, then read on for the details on doing the trip overland.
Overland
There's two segments to this trip, the Thai side (from Bangkok to Aranyaprathet, then to the border) and the Cambodian side (from Poipet to Siem Reap).
Bangkok to Aranyaprathet.
Unless you're planning on hiring a taxi from Bangkok to Aranyaprathet (expect to pay around 2,500-3,000B) your choice is down to train or bus. If you're travelling slow and maybe considering overnighting in Aranyaprathet, then the train is great, but most people opt for the bus as it is quicker.
Train
There are two 3rd class only trains a day from Bangkok to Aranyaprathet. The morning train leaves at 05:55, the afternoon one at 13:05. The trip takes around five and a half hours. If you want to get to Siem Reap on the same day, you must catch the morning train. With the afternoon train you'll need to overnight in Aranyaprathet or Poipet. The train is slow but scenic -- if you have time on your hands it is worth doing at least once.
| | | | | |
| --- | --- | --- | --- | --- |
| Bangkok | Chachoengsao | Prachinburi | Aranyaprathet | Fare |
| 05:55 | 07:51 | 8:58 | 11:35 | 48B |
| 13:05 | 14:21 | 15:19 | 17:35 | 48B |
| Aranyaprathet | Prachinburi | Chachoengsao | Bangkok | Fare |
| 06:40 | 09:21 | 10:22 | 12:05 | 48B |
| 13:55 | 16:33 | 18:00 | 19:55 | 48B |
Bus
Buses to and from Aranyaprathet use Bangkok's northern bus station (Morchit). Both first-class (around 200B) and second-class (around 160B) buses leave from the ground floor of the terminal. Buses leave every half hour or so and the trip takes four to five and a half hours. Buses depart Bangkok from 04:00 - 18:00 every thirty minutes or so. If you're heading in the other direction, the last bus to Bangkok leaves Aranyaprathet at around 18:00.
If you're wanting to go direct from Bangkok's Suvarnabhumi Airport to Aranyaprathet, there are at least two buses a day, costing around 200B. In the reverse direction, buses to the airport leave Aranyaprathet at 08:30 and 12:30.
At Aranyaprathet
Once you're at Aranyaprathet you need to take a tuk tuk or motorbike to Rongklua border market which is 7km away. The ride should cost 80-100B depending on the number of passengers. Under no circumstances allow a tout into the tuk tuk with you.
At Rongklua market
The tuk tuk will drop you off at the border market where you need to clear both Thai and Cambodian immigration and customs. As you walk towards the border crossing you will be approached by touts -- ignore them -- do not even acknowledge their existence.
Immigration and customs
The Poipet border crossing is open from 07:30-20:00 daily. Clearing Thai immigration and customs is straightforward. Depending on your nationality, you will need a visa to Cambodia to be able to enter. The visa costs US$20 and you'll need to supply one passport photo. You are well advised to have enough crisp US notes to pay for this as if you have to pay in Baht you'll be given an awful exchange rate.
At Poipet
Once you've been stamped into Cambodia, take the government shuttle bus from the border to the transport depot. From there you have three choices -- share-taxi, government bus or pick-up -- we recommend taking a taxi.
Leaving Poipet
One of the best things about Poipet is leaving it. A taxi to Siem Reap will cost US$30-50, so try to hook up with other backpackers to split the fare. The government bus costs $10. A ride in a pick-up will cost you 30B in the back or 100B for two seats in the cab -- note this is only to Sisophon, from where you'll need to organise another ride on to Siem Reap. If you're going by pick-up we'd suggest splurging and buying two seats in the cab -- it's a dusty, uncomfortable ride. When shopping around for a pick-up be sure to choose one that is almost full. Some guesthouses in Siem Reap can supply a pick-up service from the border -- check with your guesthouse to see if this is possible.
Poipet to Siem Reap
This road has gained near legendary status for its poor condition but that is all in the past now. The road is completely sealed and a trip by share taxi from the border to Siem Reap can take as little as an hour and a half.
Scam buses
At both Khao San Road and Siem Reap you'll see minibuses offered for next to nothing for the Bangkok to Siem Reap run. These are invariably scams that in some cases have taken in excess of 20 hours to deliver the passengers. Do NOT use these services.
For more information, see Why you should not catch a package minibus between Bangkok and Siem Reap.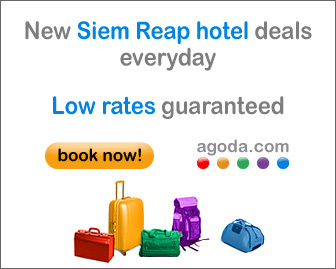 Summary
Don't use the minibus scam service
If you have money - fly
If you have loads of time - take the train
Never talk to touts
Don't use the minibus scam service

See -- we told you getting from Bangkok to Siem Reap was going to be easy!
Further reading
Looking to sort out your accommodation at either end of the trip? Read our independent reviews of guesthouses and hotels around Khao San Road in Bangkok and Siem Reap, or, if you're looking to book something online, try Agoda's discounted hotels in Bangkok and Siem Reap.
If you'd prefer to fly, Bangkok Airways or Cambodia Angkor Air are the direct options, or use AirAsia to fly into Phnom Penh (or to Siem Reap via Kuala Lumpur!).
Last but not least, for more info on general stuff to do once you've arrived, read up on our blogs by local residents. The Cambodia blog is here and the Thailand blog here.
Good travels!
About the author:
Stuart McDonald
Stuart McDonald co-founded
Travelfish.org
with Samantha Brown in 2004. He has lived in Thailand, Cambodia and Indonesia, where he worked as an under-paid, under-skilled language teacher, an embassy staffer, a newspaper web-site developer and various other stuff. His favourite read is
The Art of Travel
by Alain de Botton and he spends most of his time in Bali, Indonesia.
Read 541 comment(s)
There is a bus line running from Bangkok directly to the casinos in Poipet. How can I get more details? Thanks.
By the way: You give good information.

Posted by Reinhart on 31st October, 2008

Just went to Siem Reip and followed these directions, they are right on! In fact found the prices to be slightly cheaper than above. Taxi was only $30 to return. Taking the 4:30am bus got us to Siem Reip around 12:30pm following these directions. No need to worry about finding the bus directly to the casino IMO since the tuk-tuk ride was very efficient and only paid 50 bht for two people.

Posted by Matt on 6th November, 2008

hi...is there any chance to book a bus at the internet. We need bus tickets to proof that we leaving Thailand. Thank you very much

Posted by michelle on 28th November, 2008

We did this trip on 11/29 and followed these instructions. It all matched up fine with one glitch that we wanted everyone to know about. We left Bangkok at about 12:30 pmand that landed us in Aranyaprathet after dark. I had a feeling it might make things more challenging and it did.

The tuk tuk driver only charged us 100 Baht, but he took us to a little outpost that had some interesting characters there. They charged us double for everything. 1200 Baht for the visa, 2400 Baht for the taxi and then told me Cambodia no longer takes USD and that I should take out 15,000 Baht and exchange it with their friend on the border. I only exchanged a couple hundred Baht just to see and they dinged me for about 25% so don't do that if anyone suggests it and everyone in Cambodia still takes USD mostly so that was not true.

At the end of the day these guys took us for an extra $50 and it was worth coughing it up to not have any trouble. They walked us through the immigration and put us in our taxi (which, by the way, they only paid him 1000 Baht after taking 2400 from us). But we got through safely and made it to Siem Reap and seeing the temples there and the lovely people, it was all well worth it.

I just recommend passing through there during the day so you will have your bearings and be aware of these kinds of scams.

Not sure about the last question, we just went to the bus station and got the tickets. (and be sure to do first class, I'd hate to see what standard coach is like ;-)

Posted by Brian on 11th December, 2008

Hi
I just wanted to say thanks for such thorough info, we're planning our trip for March and this leg was particularly daunting. I was thinking about doing the trip at night to 'save' a day but have definitely scrapped that now!
Thanks

Posted by Jess on 17th December, 2008

I am also planning on doing this trip in March - thanks for all the useful information. It doesn't feel quite so daunting doing this leg of the trip on my own now.

Posted by Nal on 17th December, 2008

I'm also doing this journey in March with a friend-leaving Bangkok Monday 16th so if you're going then we could split a taxi from the border to Siem Reap!

Posted by Omi on 23rd December, 2008

Very Useful information. A little discouraging yes, but we are planning a trip in late march and this will definitely come handy

Posted by Lisa on 27th December, 2008

I am looking for a way to get from Bangkok to Siem Reap, however I am a female and will be travelling alone. Would anyone recommend this as unsafe??

Posted by Shelley on 3rd January, 2009

I'm planning on doing this trip (Bangkok to Siem Reap) on either the 8th or 9th of March 2009 - if anyone fancies meeting up somewhere along the way (to share taxis etc) feel free to let me know.

Posted by Nal on 6th January, 2009

We're making this trip going backwards. Siem Reap to Bangkok. Any suggestions? We're not worried about Thailand, looks pretty straightforward. However, Siem Reap to the border looks to be the issue. Help!

Posted by Azure on 14th January, 2009

hi,

this is a very useful information - very detail.. thanks. i'm planning on doing this trip - solo - on March also - probably leaving BKK on 13/14th Mar. so if anyone happen to have the same plan as i am, maybe we can met up somewhere..

Posted by sita on 20th January, 2009

been researching about seam reap & finally found this useful info. thanks for breaking it down for me step by step...

Posted by joe on 20th January, 2009

been researching about seam reap & finally found this useful info. thanks for breaking it down for me step by step...

Posted by joe on 20th January, 2009

hi we will be going to Siem Reap on 17th of March, going from Bangkok. Is anyone interested in sharing a taxi from Poi Pet to Siem reap?

Posted by knot01 on 22nd January, 2009

Heya!! this is a very useful information...
ill be doing this trip around the 5th or 7th of February if anyone is looking forward share taxi ride...

cheerio

Posted by Jasmine on 23rd January, 2009

this is not near as tough as it sounds. i've done it in reverse (siem to bkk).

bus to Aranyaprathet from morchit

Aranyaprathet to rongklua

go through customs

take government bus or taxi to siem

Posted by damian on 27th January, 2009

I may be looking to do this trip on or around 8th 9th March too... great info thanks.

Posted by Ewan on 28th January, 2009

Are there anyone want to share the cab with us from poipet to siem reap on 14th Feb around 9.30 Am?We booked a pick-up service but two people from us can't come.so anyone want to share the cab with us please contact me: bibi16905@hotmail.com I'm sure the price is reasonable!!

Posted by Edison on 3rd February, 2009

Hey Jasmine I will be making the trip on the 8th or 9th of Feb, is that any good for you, let me know


Posted by hazel on 4th February, 2009

Hi.Im looking to travel overland to Cambodia, preferably Siem Reap today, what's the best way to do it? I id like to get a bus if possible but i've been told to avoid minibuses

Posted by Andy on 5th February, 2009

Re:Sita!!

I am planning to leave BNK on 15 of Mar and I would be looking for some to share taxis either buses from Cambodian site.I am staying in Siem reap for two nights (Angkor Wat is the reason) any suggestions about hotels in Siem reap?
thanks.Matt


Posted by Matt on 10th February, 2009

Ewan - I am doing this trip on 8th March. If you are looking for anyone to share taxis etc let me know!

Posted by Nal on 10th February, 2009

I'll be doing this trip solo on March 17.
if anyone wants to share the ride please email me!! (annjaimi@gmail.com)

Posted by Annj on 10th February, 2009

I'll be heading from Bangkok to SR on March 17.
Travelling solo.
If anyone wants to share the ride, pls contact me.

annjaimi@gmail.com

Cheers!

Posted by Annj on 11th February, 2009

Going from Bangkok to Siem Riep this Friday, the 13th if anyone would like to share the expense/experience!

Contact: seanburke19@yahoo.com

Posted by Sean Burke on 11th February, 2009

I am planning to do the same on March 13th with my wife. So if anyone is interested in sharing the cab from poipet, pl connect....

deba.write@gmail.com

Best

Posted by deba on 11th February, 2009

I'll be doing the trip on March 8th . . .if your doing the same, shoot me an email and we'll travel together


bernerms@gmail.com

Cheers,

Mike

Posted by Michael on 16th February, 2009

Hello Nal - yes i am still thinking of these dates... certainly no later than 8th... not sure how to contact you. my email is ewanshears@hotmail.com

ewan

Posted by Ewan on 24th February, 2009

Me and a friend will be doing the same trip ( Poipet- Siem Reap )from BKK on March 5th or 6th ..If anyone wants to share the taxi let me know! cosecomuni1980@yahoo.it

Posted by peropah on 25th February, 2009

Hi Sati and Deba,

I am also going alone from Bangkok to Siem Reap on 13March. We can meet up and go together if you don't mind?

Send me an email to discuss, mine is: bodiver13[at]gmail[dot]com

Cheers,
Cuan.

Posted by Cuan on 28th February, 2009

This is very informative. I am planning to have my Bangkok-Seam Reap adventure in May. Does anyone had planned to do the same trip on May? I'll be going there by myself.

Posted by Luis on 1st March, 2009

I'm planning to go to Siem-Reap from around march 10 to 12 from Bangkok to Aranyaprathet.. please let me know if anyone is interested to share a taxi with me.. preferably female.. Thanks!

Posted by Jenn on 3rd March, 2009

RE: Matt,

i don't know how to contact you. so, if your plan has not change, please drop me an email: red_mars37@yahoo.com. it will be great to have a company along the way.

cheers,
Sita

Posted by sita on 3rd March, 2009

I'm planning to do the trip from Bangkok at the 8th of march by train. Cross the border and leave for Siem Reap the very same day.

Anyone interested in travelling together?
this is my e-mail: znoepiez@hotmail.com

Posted by Josje on 3rd March, 2009

03.03.09 . Have just got back from Siem Reap to Bangkok.The trip took 10 hrs. I got a taxi from Siem Reap to Poipet border town $35.From there just cross through 2 immigration posts walk 20m turn right and there is a coach to Bangkok bus station 212 baht.From the bus station you can get a bus to Khao San rd no. 3 bus 20 baht.I am a female travelling alone and had no bad experiences , it was amazing and well worth the effort.

Posted by julia on 3rd March, 2009

Traveled this route yesterday and it worked just perfect. The trip took around 11 hours. At the border the 1ooo baht pr visa was tried by the gouvernment employee.. Just say no no no and that you will only pay 20 dollars and they will give up in about two minutes.

I took the bus and it was ok. The roads were bad, but also expected. Notice that if someone in a pink shirt talk to you they are helpful and not selling you things. They are from te gouvernment and will ship you from the border to the bus station.

Good luck, i loved the trip.

Posted by mats on 3rd March, 2009

Hi Guys! (especially Euan and Nal!)
I am also goin to travel from bangkok to siem reap on either the 7th or 8th of march, this sat or sun; and would love to travel it with one or both of you...not too sure about travellin on my own as a girly!
Let me know what you think an where an when we could meet if doable...
email is emzibee@hotmail.com.
cheers!
;)

Posted by emily on 3rd March, 2009

Hi,

My boyfriend and I are landing in Bangkok on April 13 - staying for 3 nights then planning on going to Cambodia. If anyone wants to meet up to do the trip around this time please let me know. AmyWalden81@hotmail.com

Posted by Amy on 5th March, 2009

Hi I'm currently in Bangkok and will be going by bus to the Cambodian border. I will be leaving 7am from the Mo Chit bus station. I believe the skytrain line runs to this station. Once in Cambodia I would like to share a cab to Seam Reap with any other travellers to reduce cost and also there is always safety in numbers. Please let me know. Its a good idea also to have 2 passport photos ready before you head to cambodia for the visa. Get it done in Bangkok before you leave to save time and money.

My email is joon808@hotmail.com

Posted by William on 8th March, 2009


my daughter and I are planning to travel to Siem Reap from Bangkok march 13/14. would be happy to link up with fellow travellers.

maridel_gender@yahoo.com

Posted by del on 12th March, 2009

Hi, we are going from BKK to SR on May 1st. Has anyone bought a visa online? They charge 25$.

Posted by Tim on 17th March, 2009

Did this trip a few weeks ago from Bangkok. I caught the later train from Bankok which took about hours. arrive early to get a seat or you will have to stand the whole way. Once you get off the train a moto will take you to the border, beware of scam tour companys trying to get you to buy a visa before the boarder... my driver stopped at one of these on the way. At night its a bit confusing as the casinos are open and you have to walk past them to get to the Cambodia visa office. Men will follow you trying to help you but they are taxi drivers. Once the other end you will see nothing but dust and a roundabout. The shuttle stops at dusk so i stayed at the hotel on the left past the crossing $15.00. In the morning a caught a free bus to the lounge and then a bus. The men that get on the bus with you are tour agents ignore them and go straight to the desk in the lounge for the bus or taxi.

Posted by Samantha on 17th March, 2009

Hey Luis,

I'll be flying into Bangkok on May 31 and will be travelling to Siem Reap soon after that. If you're keen to meet up, feel free to email me on penpen_81_8@hotmail.com. Similarly, if anyone else is travelling there then, drop me a line!

Posted by Penny on 18th March, 2009

Hi!
I am planning to do the Bangkok - Siem Reap trip in beginning of June :) Anyone interested in joining please let me know. I'm currently planning to travel alone, but would love some company!



Posted by Madli on 19th March, 2009

Hello!

I'm planning to go on the trip in beginning of June. If anyone plans to go at the same time I'd be glad to have some company and share the costs.
have a nice trip everyone!

Posted by Madli on 21st March, 2009

Hi,

Great information i'm currently travelling alone and plan on trying this little adventure 26th or 27th March if anyone is interested in sharing costs just send me a mail, thanks.

nannygoo@hotmail.com

Posted by Lee on 24th March, 2009

Hi Madli,

My boyfriend and I are going to do this trip at the beginning of June as well, around 8th. You didn't leave your email address, so I will leave mine. os.elocin@gmail.com

Contact us if you would like to meet up in BKK. We're from Sydney, Australia.

Hope to hear from you.

Posted by elocin on 30th March, 2009

William,
The skytrain stop at Mochit is still a bit from the bus station, you would need to get a taxi or local bus


Pat

Posted by Pat on 3rd April, 2009

Anyone know if the bus stops outside Central Bang Na on the way to Aranyaprathet?? Doing the Visa run on 6th April

Posted by Dave on 4th April, 2009

I live in Bkk. There are a company called 99 they stop outside central bang na (big C) at 9.30 the cost is 200 baht for a round ticket i did it 4 times already and they drive you all the way to the border-you dont have to take any tuk tuk or what ever just walk straight in and do you visa etc. ( forget the consulate and the men in suits trying to "help" you do your visa) do it on your own it saves you some money have usd currency ready 20 or 25 usd for the visa otherwise you might getting to pay 1500 baht or some thing similar and o and have 1-2 passport photos ready they will charge you if you dont have any its only 100baht but anyway if you want to save money then have em ready ;). On the bus to Aranyaprathet you are giving small paper tickets save them and show them when the bus goes back to bkk around 1630. that way you only pay 100 each way. The bus is 1st class aircon vip cheaper and better than the ones leaving from mochit. im leaving again tomorrow the 5th to visit cambodia again !

hope any of you out there could use this info.

All the best M

info@bestfatburners.com

Posted by M on 4th April, 2009

ups! wrong email here is the right one!

Info@bestfatburners.net
Take care out there!

-M

Posted by M on 4th April, 2009

Hey all,

I will be travelling from Bangkok to Siem Reap at the start of June (June 2 or 3). If anyone would like to do this trip with me, please drop me a line on penpen_81_8@hotmail.com. I'm from Melbourne, Australia.

Posted by Penny on 8th April, 2009

Hello everyone,

me and a friend of mine would like to go to from Bangkok to Angor, but we have just about 2days to get there and back.

Is anyone going there on 14.4.? We would like to join someone as we are two girls and quite worried about the safety.

Thank you

Posted by Misha on 9th April, 2009

Hey all ! I'm going alone and will be in Bangkok from May 11th thru 19th and would love to have company to share the journey. e-mail me to share info and let's make some stories out of it. will be staying on Khao San and hope to meetup.
patbrown5869@gmail.com
will give facebook info upon request.

Posted by Patrick on 11th April, 2009

Thanks for this post and all the comments. It's been very helpful in my planning process. I can't help but wonder if there is any easier way to do this route? It seems like a lot of switching and possibility for disaster. I'm a young, lone female traveler and i'm traveling by myself so i would like to avoid as much trouble as possible...

Posted by julia Chen on 13th April, 2009

Hi,
well, it might sound as a strange question, but are there really no trustworthy busses on the BKK-Siem Reap-Route? No 5* tour operaters? And if I may ask further: Why?
Thanks a lot!

Posted by meineeine on 13th April, 2009

hey everyone ,

il be travelling in june of this year. im lucky enough to have a flight from bangkok into siem riep. but after few days will be travelling back overland to bangkok. anyone know what its like ? ? is it more straightforward than going the the other way overland from bangkok to siem riep ??

thanks
Tommy



Posted by Tommy on 15th April, 2009

We did the trip from Siem Reap to Bangkok in early May having taken all the advice offered on this site and it worked out fine. The one thing we want to update everyone on is that the road from Siem Reap to the border has very recently been upgraded and the horror stories reported about the condition of the road are gone for good. The road was in excellent condition and the trip took only two hours by taxi (organised by our hotel for $35). We crossed the border ourselves ignoring all the offers of "assistance" and took the tuk tuk to the bus station. The bus to bangkok was clean, airconditioned and efficient. This was a great adventure which went well for us.

Posted by Kiwiboyz on 9th May, 2009

Hi,

Anyone going on a trip from Bangkok to Siam Reap anytime next week?

Or has anyone taken the train through this course and back? How was it?

Appreciate your inputs!
=)



Posted by zoe on 9th May, 2009

By the way, you may respond to my queries through my email address if you prefer that:

zoe_krishna@yahoo.com

Thanks!

Posted by zoe on 9th May, 2009

To Madli ; I'm planning as well to do the trip BKK-Siem Reap beginning of June 2009. I'm travelling alone as well. You can contact me at ennaz65@hotmail.com. Planning to take the morning train in BKK. I'm a 44yr cool Belgian guy living in Japan and planning some holiday in Cambodia.

Posted by Jan Van Hooreweghe on 11th May, 2009

is there anyone going to do Bangkok to Siem Rep on 24th or 25th may 09.

feel free to contact me.

via_alan@yahoo.com

Posted by azlan on 11th May, 2009

I live in Siem Reap and have done the trip a few times. I have always found that they insist on bhat to pay the Khmer visa. US$ really work? Also, from Siem Reap there is a very good bus just near the border crossing that goes to Bangkok. Easier than going into Aranya... mabe I have been lucky but have never had to wait more than 30 minutes for this. Yes, road is great now!

Posted by Maureen on 12th May, 2009

is there anyone going to do Bangkok to Siem Rep on 31th july or 01 th august 09.

feel free to contact me.

egita_pauline@yahoo.com

Posted by egita on 12th May, 2009

Hello,

I will be traveling solo to Siem Reap on May 28th via train route early AM from Bankgkok and was wondering if any other travlers were leaving on that day. Cheers.

Contact me: ambrals@gmail.com



Posted by Ambra Sutherlin on 16th May, 2009

Hey, just done the Bangkok - SR trip yesterday and it is pretty much exactly as you say.
A few things from yesterday.......I took your advice on touts, and I was surprised how few bothered me. The one who did, who I ignored, turned out to be a government official who was doing a compulsory health check (maybe to stop swine flu?), and what a prat I felt.

The tuk-tuk from Aranyaprathet took us to the border, but via an ófficial' office where we 'must'get our visa. When we asked why we must get it here they couldn't answer, so we refused to get out. Eventually the tuk-tuk driver left.....and drove us to the Cambodian embassy right next door, which we hadn't seen! We heard it was more expensive here so demanded to be taken to the border.
At the border the Cambodian officials asked for the $20US, but then 400baht as a 'fee'. DO NOT PAY THIS. We refused, so they dropped it to 200 baht, and then to 100 baht. I explained I wouldn't barter with a supposed official, and eventually they asked for nothing.

Note, the Cambodian border is the most unoffical border you will ever see. It probably is possible to walk straight into the country without anyone batting an eyelid - its messy and chaotic, but all in all way less stressful than I was expecting.

Also, the road from Poi Pet to Siem Reap is a dream, smooth as. Nothing to worry about there!

Posted by Robbie George on 17th May, 2009

Oh, and the total journey time was 10 hours!

Posted by Robbie George on 17th May, 2009

I'm a budget traveler, I'd be traveling from Bangkok to Battambang, Cambodia on June 8th.

I'd probably take the train going to Aranyaprathet then motorcyle taxi to the border.

Anyone who wants to travel along to save costs? Email me rockababes@yahoo.com

Thanks! :)

Posted by rockababes on 26th May, 2009

We are three people planning to go to Siem Reap and Phnom Phen. We live in Bangkok and there will be holiday from July 5 to 8. If any one is interested,please email me fatam19@gmail.com

Posted by Proudpinoy on 26th May, 2009

I am from USA (live in Thailand) and I support a registered orphanage in Battambang Province. The comments about ripoffs are true but sad because Cambodia is war torn but healing and with beautiful people.

If anyone can get a few people together I will have my fluent English speaking Cambodian van driver pick you up at the border and drive you wherever you want, and I absolutely can guarantee no-nonsense. All money given will help support the orphanage thanks. Pics of the children and Ankor at the link provided.....

Posted by Peter G. on 2nd June, 2009

I'm glad I never read this article before I left for southeast asia. I took the "scam" minibus service from Siem Reap to Bangkok in January. It cost me about 10 USD including connections at the border, total travel time (before the new road was finished) about 10 hours.

Posted by Jeffery on 5th June, 2009

Hi, I'm planning to go to Siem Reap and then on to Phnom Pehn and then Saigon. Anyone got any advice? We will be getting the bus and we will be travelling roughly 10th June, so any advice will be welcome. We are actually starting in Dubai (home) and going to Singapore and up through Malaysia and Thailand via train, so again any advice is good!

Thanks!

Posted by Becki on 6th June, 2009

I'm hoping to do the Bangkok-Siam Reap run in the second week of August and I'll be by myself, so if anyone's around then, be awesome to go together :) If anyone is interested

email me at: natashachowdory@googlemail.com

Posted by Natasha Chowdory on 9th June, 2009

Hi.. i am going to cross border from siem reap to bangkok on june 29, any one to go and to share the taxi with
contact me at enr1quees@yahoo.com

Posted by rico on 9th June, 2009

Hi,

Well be travelling from Aranyaprathet to Siem Riep on the 26th June - Anyone going on the same date who wants to share a taxi to help save costs, let us know :)



Posted by Christie & James on 11th June, 2009

Will be travelling from Aranyaprathet to Siem Riep on the 26th of June. Anyone going the same day, could share a taxi?

Christie and James

Posted by Christi and James on 18th June, 2009

We took the plunge and went on a scam bus from Bangkok directly to Siem Reap in June 2009. The bus ticket itself cost us 350 Baht.

The (comfortable) bus left at 8 and arrived near the border at 11:30. We were asked to fill in a form for the Cambodia visa, which would have overcharged us about 15 dollars. Of course we refused. They threatened to leave us at the border, lied that it was the only way to get the visa and a lot of other things. When we remained vigilant they just stopped making a fuss.

After about an hour they cramped us into 2 mini buses and drove us 6 kilometers to the border crossing. After crossing the Thailand border we were taken to some officers sitting just beside the Visa on Arrival office by the guide on our bus. Here they also tried to overcharge us at least 10 dollars, which we again refused. We walked to the actual Visa on Arrival office where they asked us the actual 20 dollars, but with a 100 baht extra fee that they didn't want to explain. In the end we paid it, but later we heard that some people started taking pictures, which got them the visa for the actual price.

After the border crossing we were driven to the new bus terminal, a huge building with nothing in it. There we changed on another bus that took us to Siem Reap in about 4 to 5 hours. We were dropped 5 kilometers from the city and had to pay a tuk tuk driver 0.80 dollar cents each to bring us to a hotel. We decided to not stay with the place they were getting commission for, but we did use the driver for the next day's Angkor sightseeing (which the guy was much more eager for).

Overall I think the scam bus for us was not so bad, considering we didn't have to spend a lot of money on a taxi on the Cambodian side.

Posted by Wouter Meyers on 19th June, 2009

To Christie and James

I will most likely also be travelling the same day. Sharing a taxi would be nice!

Here is my email address:

lily_of_the_valley64@hotmail.com

-Marina

Posted by Marina on 20th June, 2009

Plan on making this trip overnight the week of July 20th to the 24th 2009. I am flexible on the days going and would like to see if anyone would like to meet up for the trip. I am a 25/F.

Posted by Sarah E on 24th June, 2009

Did the trip about 2weeks ago. got caught at the border re 1200b visa but taxi to S/Rwas only 20us and the road from P/P to S/R is now a 4lane highway and only 1.75 hoursride.at S/R stayed at ancient Angor guesthouse Was ok. 25 U/S night and house a pool. Clean but staff did speak a lot of english and wereindiferant to your needs. On returning from P/P stayed at Siemreap riversideguest house for 1 nightand do thourghly recommend it. 20 u/s a nightbut no pooland 4/6 minutes to Pub street

Posted by Kieran Williams on 26th June, 2009

Hi, I'm planning to do this trip Bangkok to Siem Reap (solo budget traveller) around the 13th July if anyone would like to share the taxis would be great to meet up.

My e-mail address: lee_wai_wai@hotmail.com
Thanks
Wai

Posted by Wai Wai on 3rd July, 2009

ARE YOU DOWN TO SHARE THE COSTS
BKK TO SIEM REAP, MONDAY JULY 6th?

Will be leaving from Morchit 2 station, 6am bus to Aranyaphrathet and continuing onto Siem Reap. Will be planning on taking the buses from ticket windows 23 or 25 departing from bus stall 116. (See Tales of Asia link below for details about that...)

Last minute post here, but in case someone is taking the same trip, we can plan to share costs, etc.

Found this site below very information, along with Travelfish suggestions for making the journey across to Poipet and Siem Reap --- check it out:
http://www.talesofasia.com/cambodia-overland-bkksr-self.htm


Planning on staying to chill with the Angkor Wat ruins for a week and then returning to BKK.

Male solo budget traveller, 32 years old, Filipino, on my summer break from teaching and looking forward to seeing Angkor Wat!!! I've got a big green backpack, shaved head, black glasses in case you see me at the bust station.

Safe travels.

Peace,
jons
isanghamahal@yahoo.com


Posted by jons on 4th July, 2009

Hi,

I have read that with the 13.05 pm train you'll need to overnight in Aranyaprathet or Poipet.
I have also read that the Poipet border crossing is open from 07:30-20:00 daily, so... that can´t be right.

Why do we hace to overnight? At what time do we hace to take a bus / train not to overnight?
We want to stay in Bangkok till 12.00 in the morning because it is sunday and we want to see the markets. And we would likre to tkae a bus / train at that time, but tu get Siem Reap in the night. Is this impossible?

Thanks!

Posted by Iker on 4th July, 2009

Hi! I'll arrive in BKK on the 27th. I'm going to siem reap from BKK on the 27th or 28th of July.. Im pretty flexible. I would love a company and to share a cab going there.
E mail me if you want to join me. carina_rys@yahoo.com

Posted by carina on 7th July, 2009

Hi,

I`m planning to make this trip from BKK to Siem Reap around August 1st or 2nd,I`ll be travelling on my own,because I`m meeting some friends once I get there,If there is anybody ok for thoses dates would be great to share the trip and the expenses.

jordiclimb@hotmail.com

Posted by Jordi . on 8th July, 2009

The girl and I might be making this trip at the very end of August '09. If anyone is interested in tagging along, let me know.

Elliott
commonplace@gmail.com

Posted by angfonz on 8th July, 2009

Hi, I'm leaving very very early on the 25th to make this journey to Siem Reap by nightfall. If anyone is interested, it will be myself and my friend. 21/F and 21/M.

cencia@hawaii.edu

safe travels :)

Posted by cencia on 11th July, 2009

Hi -- I'm looking to do Bangkok to Siem Reap, leaving early the morning of July 19 or 20 (either day works just fine). If anyone is interested in sharing the trip and expenses, drop me a line. I'm 35/M, originally from the Caribbean but living in London now.

cheers
Dex

chappole@yahoo.com

Posted by dex on 13th July, 2009

My sister and I would like to leave for Siem Reap around July 24th...anyone else plan on making the trip then?

TidaAnnManathat@gmail.com

Posted by Tida A on 13th July, 2009

Hi, we are planning to do this trip from Bangkok Airport to Siem Reap on the 13th September. if anyone would like to share the taxis would be great to meet up.I have already booked a privat tourist guide for Angkor. I

here is my email: jucipotter@gmail.com
Thanks
juci

Posted by jucipotter on 15th July, 2009

Hi, we are planning to do this trip from Bangkok Airport to Siem Reap on the 13th September. if anyone would like to share the taxis would be great to meet up.I have already booked a privat tourist guide for Angkor. I

here is my email: jucipotter@gmail.com
Thanks
juci

Posted by jucipotter on 15th July, 2009

hello were going to Siam Reap from Bangkok on October 5...please let me know if anyone will go on that date...Thanks!!!

Posted by Edward Urbina on 15th July, 2009

hello were going to Siam Reap from Bangkok on October 5...please let me know if anyone will go on that date...Thanks!!!
my email is : iloveyoubaby2005@gmail.com

Posted by Edward Urbina on 15th July, 2009

Would like to take the train from bkk to siam reap. will be my girlfriend and I, anyone travelling there in the beginning of agust would like to join the trip? will be better and safer to be more people..we planned to live with the early morning train on the 5th Agust. please email me if you might interested...franco.pesci@gmail.com

Posted by Franco on 22nd July, 2009

When you cross the border from Cambodia back to Thailand, keep in mind that your visa is for 15 days only, not 30 days that you were issued when you arrived at the Bangkok airport. We had to pay a 500 baht penalty per day when we left the country to return to America because I assumed incorrectly that when we returned to Thailand from Cambodia the visa was good for 30 days. The 30 day visa is issued at airports only, Any overland crossing by foot will get you a 15 day visa. The fine applies to any travellers age 15 and older.

Posted by Patrick Riley on 23rd July, 2009

Super super last minute but I'm looking to make the trip to siem reap from bangkok tomorrow July 25th coming back on the 28th. Anyone care to join?

my email: mona.p.wu@gmail.com

Posted by mona Wu on 24th July, 2009

Me and my girlfriend are planning to take the bus from Bangkok to Siam Reap on the 28th of July in the afternoon.

Does anyone know if there will be enough time left to cross the border to Cambodja (and maybe to even get to Siam Reap)?


Anyone wants to join us to share to costs for a taxi from the border?

E-mail: j_deneut@yahoo.com

Posted by Jasper on 26th July, 2009

hi, sorry for the short notice, but I'm planning to go to siem reap from bkk in the next 2 or 3 days, anyone would like to join me so we can share the costs? thanks a lot.

Posted by liz on 29th July, 2009

2 girls are planning to take this trip on 1st October and back to BKK on 5th October. anyone would like to join us to fight together and split the taxi cost? Thanks.

debbie.y.chen@gmail.com

Posted by debb on 5th August, 2009

will be on business trip in Bkk til Sept 17 but planning to extend til 20th. Leaving for Siam Reap on the 18th and back on the 20th.
anyone who'll be traveling on the same date?
it wud be nice to split the taxi and win a friend :)

Posted by kelly on 6th August, 2009

will be on business trip in Bkk til Sept 17 but planning to extend til 20th. Leaving for Siam Reap on the 18th and back on the 20th.
anyone who'll be traveling on the same date?
it wud be nice to split the taxi and win a friend :)

Posted by kelly on 6th August, 2009

i'll be in Bangkok for a business trip from 13th to 17th. I'm planning to go to Siem Reap on the 18th and back to Bkk on the 20th.

If anyone will be traveling on the same date, it'll be nice to share a ride and win a friend. ;D

Posted by kelly on 6th August, 2009

Kelly, I planned to go to Siem Reap from Bangkok on the 17th or 18th and return on the 21st of September. I have not decided weither I'll fly or by land. If you are interest in planning something together, drop me a line - vhuang0501@gmail.com.

Posted by Vince on 9th August, 2009

BTW, AirAsia offers pretty decent airfare as well. I checked earlier today and found that it can cost as low as $60 for a round trip ticket.

Vince

Posted by Vince on 10th August, 2009

Hello!
I am going to go to Siem Reap from Bangkook on the 23 or 24 of October for 3 days
If anyone will be traveling on the same date, it'll be nice to share a ride and with a friend.

Posted by Helen on 10th August, 2009

I am heading to Siem Reap sometime in the next couple weeks, August 15-30, not 100% sure which day I'll leave, but I am flexible if anyone is interested in going. I have plenty of time, so the train sounds like it may be the way to go but I would fly if anyone is interested.



Posted by Ryan on 11th August, 2009

I read somewhere on this page that the guy's on the border with pink shirts are Cambodian government employees who are there to aid our transition through the crossing.

They turned out to have the logo of the cambodian taxi company on their shirts and although full of helpful information, are only there to ensure you pay for their service.

NB: The quickest way to avoid the few hundred Baht 'additional fee' from the Cambodian border guards is to point to the sign above their office that says USD20. (Although I did feel a little bad for not providing what must be the only small perk of their job)

Posted by HaydenNZ on 14th August, 2009

Hey Ryan

Im planning on heading this way pretty soon and would be more than happy to hook up and split the taxis etc. Could be leaving Bangkok as soon as the 16th, maybe the 17th. If your up for it, or anyone else for that matter, drop me a line lisa.ann.mason@gmail.com

Posted by Lisa on 14th August, 2009

I have plans to go to Siem Reap to meet an impatient supposed-to-be employer. Just wanna meet her and see the school. I would probably stay there overnight. Planning to travel probably end of August or second week of September - anyone who wish to chip in/split traveling costs from Poipet to Siem Reap are most welcome.

Posted by nery on 16th August, 2009

Guys, if you want to use a convenient service - I know a German (Claudio +6681-815-4803) who can provide you transportation service from Tesco/BTS On Nut station to a Cambodian border. Consult him first about your itinerary and probably negotiate. This guy also arranges daily trips for foreigners who wish to extend their Thai Tourist visas, costs are fairly reasonable. Hope this is helpful.

Posted by nery on 16th August, 2009

Me and my gf will be in bangkok from Oct 10-16 and planning for squeeze the siem reap trip. Anyone care to join... if you are going to bangkok within the said date...
It's better to travel with a group and will be cheaper to share fares..
thanks..

just PM me. Ym: en_fuego_alex

Posted by alexizzz on 24th August, 2009

my friend and i, 2 girls, will travel from siem reap to bangkok on 6 october. looking for ppl share the taxi. my email is woorixiang@hotmail.com. email me if you will travel at the same day. cheers!

Posted by eden on 24th August, 2009

hi! came across this site. any suggestions on how to get to bkk from sr? there are five of us who will be going to bkk this september 22nd and we are going to follow the direction given in this site from bkk to sr. however, we dont have an idea on how to get back from sr to bkk. ;) any suggestions? thanks! just email me @ lilbored19@yahoo.com

one more thing? what is the best time of the day when visiting angkor wat? and how much is the fee as of this year 2009? thanks!!!


THANK YOU VERY MUCH! Godbless! ;)

Posted by mike on 25th August, 2009

Hi everyone, i will be in bangkok between the 8 to 21 sept, i'm looking people to share this transportation to angkor wat and if it is possible to return the next day. so just send me a message to jnasc82@yahoo.com

my best regards.


Posted by Jose on 26th August, 2009

Hi Kelly,
I came trough your post here and I am planning to take the same journey to Angkor Wat, but cannot contact you as you didn't send your email address.
Regards, juci

Posted by jucipotter on 27th August, 2009

Hi Kelly,
I came trough your post here and I am planning to take the same journey to Angkor Wat, but cannot contact you as you didn't send your email address.
Regards, juci

Posted by jucipotter on 27th August, 2009

Me and my Mother will be doing this trip on the 23rd of sept from Bangkok airport to siem reap - we will be leaving the airport at about 2pm and will be at the bus station by 3pm -
anyone who wants to share the taxiride can meet us at the airport or the bus station.
I have been traveling for 8 months and have already been to siem reap and all the temples but my mother has just come out to meet me so she will be first time.
i have not done this trip in this direction.

Anyone willing to share the bus and taxi fare please email me on EDB1984@live.co.uk

Im 24 male and stuff - here is my profile on couchsuring to prove im not a serial killer is;......
http://www.couchsurfing.org/ev1lted

thanks people - hopefully get to meet someone soon.
Ted







Posted by Ted Bailey on 28th August, 2009

Me and my gf will be in bangkok from Oct 10-16 and planning for squeeze the siem reap trip. Anyone care to join... if you are going to bangkok within the said date...
It's better to travel with a group and will be cheaper to share fares..
thanks..

just PM me. Yahoo messenger: en_fuego_alex
email: en_fuego_alex@yahoo.com

Posted by alex on 28th August, 2009

We took the chance 1,5 weeks ago... we took a scam minivan to poipet and took care of the rest ourselves.

The van stopped 8km before the border, tried to arrange our visa's but we just told them (sawasdee travel) that we already had a visa (which wasn't true, but they didn't try to convince us further) other people also said no because i printed this article :). The van was not broken en after half an hour it went to the border and they tried to get our passports again to arrange the other people's visa's by a fancy government building. again they said no and after the guy went in (with ~15 passports from people waiting at the restaurant) and came back we went to the border.

At the border we got our visa within 5 minutes after we were stamped out of thailand. no problems there, just 25dollars without any "extra" cost. then off to getting stamped into cambodia, it was quite busy so it took about half an hour (some chinese people tried to get in with copies of their passwords).

We met two israelian guys who were willing to share a cab so we went into the shuttlebus, two touts joined us, but we completely ignored them.. when we were almost were at the busstation they tried to tell us that dollars had to be exchanged, we told them that we didn't have dollars they quite fast shut up :)

We got a cab, which was 14 dollars per person, and 1,5-2 hours later we got into siemreap, there they dropped us off with some tuctuc drivers (they told us that the transportation to the guesthouse was included in the cab drive.). That tuctuc drivers tried to get us to a certain guesthouse, but we told them that we already booked&payed for ours, he still wasn't convinced, but after a few minutes he got us there anyway :) after that they tried to get a job as tourguide for angkor wat the next day. we already had an address for a good tourguide and after we told them that we already had one they got annoyed that he didn't pick us up.

A lot of people in siem reap are really annoying, try to find a tuctuc driver that looks trustworthy and you'll have a couple of fun days in angkor wat. and do not pay more than 8-10 dollars a day for a tourguide that will drive you around.

Posted by Harold on 30th August, 2009

Me and my husband will be doing this trip n 28 September. Anyone who want to join us to follow this plan, please email me to:
tanuha.k.a@gmail.com

Posted by Tanya on 1st September, 2009

Hi
Just wanted to thank M!

We got a taxi to the Big C shopping centre in Bang Na and ended up on a red Star Vegas bus all the way to the visa post at piopet (just less than 3 hours). Cost 200baht and had bril aircon, free water and a sandwich. We were going for the Company 99 bus (which is green and white) but panicked and got on the one that came in first. You get both just after the hawker breakfast stall.
lovely old guy from bus pretty much escorted us to the check point, and when the Visa official tried to charge us 2000 baht we told him we had no baht left so paid 20 dollars plus 100 baht after various other scams and threats from him- i just kept pointing at the 20 dollar sign! not bad and saved lots of hassle.
Then we actually ignored the shuttle cos of stress/confusion, and managed to get a taxi all the way to seim reap for 30 dollars.
The road is fantsstic and we arrived at seim reap in less than 2 hours!!

Altogether the trip took 5 hours.
Just one word of warning the taxi drive stopped just outside the town and said we had to transfer to tuttuk - this was "free" and luckily we had hotel booked already. He tried to book us for the next day but we just thanks but no thanks.

Stayed there 5 days as we enjoyed it so much.
Hope this helps someone!

Posted by j1500 on 1st September, 2009

Hi guys,

Me and friend will be doing this trip on the 8 Oct from Bangkok bus station Morchit to siem reap - anyone who wants to share the taxiride.

thanks, Christine.Dendekker@Clariant.Com



Posted by Christine on 2nd September, 2009

Just a quick update for anyone doing this trip having completed this on July 20th... it all goes to plan as above apart from at one stage..

BE CAREFUL WHEN YOU GET OFF THE TRAIN AT ARANYAPRATHET... there is a big scam that we all got caught in...

When you get off the train the tut tut drivers say they will take you to the border but instead they take you to a visa agent, with an office designed to look like the border. They say they will help you with the visa and then charge you 1300BHT... we argued the toss and tld them we knew it was only $20 (680BHT) but they told us it had changed and many more lies. The tut tut driver is in on the scam too - they get a cut, so once you are there they will not drive you to the real border until you have bought the over priced visa - so you are stuck.... if this happens just grab your bag and start walking! It's not far.

So the lesson is - tell the driver you are not interested in this immitation border and you want the real border where you will buy your visa yourself from immigration. Be very direct and tell them you know about the visa company scam... hopefully they will then take you to teh real border which you will know is the real deal because there will be hundreds of trucks, lots of other local people and lots of big buildings... not just one office!



Also of note... cabs into siem reap have now been standardised by the government so they are all $12 per person, no negotiation or price per car, so expect to pay $12 each.

Posted by Michael Webley on 2nd September, 2009

Hi,
I travel from Phnom phen Siem Reap 7.october and then to Bangkok. So if someone want join me and other two friend we will be happy.
lukas.melis@gmail.com

Posted by Lukas on 4th September, 2009

we r planning a road trip from bangkok to siam reap in mid oct 2009...we are a group of 70 indian nationals...we were told that the visa at the border is 7000 rupees!!!!...but if you fly into siam route then the visa is gratis..free....need to know if this true....
tanya

Posted by tanya on 6th September, 2009

I know its early BUT 1 canuk and 1 American will be going Dec 12 2009 from BKK to SR. Train then taxi over. Let me know if anyone else wants in. date fixed. rogue.silly@gmail.com

Posted by Roslaiw on 12th September, 2009

I want to travel overland from Bangkok to Battambang ASAP, does anyone know how I can do this please? Thanks a lot.

Posted by Dawn on 15th September, 2009

i am travelling from bangkok to siem reap by 1st week of october anyone travelling on the same week?

Posted by Glen on 17th September, 2009

hey - two people doing this trip on the morning of the 24th of sept - from bangkok bus station all the way to siem reap by bus - then taxi after the border
email me if you want to split the cost of the taxi

EDB1984@live.co.uk

thanks - ted

Posted by edward on 18th September, 2009

Hi Glen..
We are also going to bangkok then go to Siem Reap.. Oct. 9-16. There are two of us.. we can split the transpo cost. email me: en_fuego_alex@yahoo.com

Posted by alexizzz on 18th September, 2009

sent you an email alex...

Posted by Glen on 18th September, 2009

Hi! Thanks for this.. I will be in BKK on Oct 31 - Nov 8, and i came across this site. it was really informative, thanks to the one who started it and the latest comments and updates provided by everyone.

Anyway, i was thinking of crossing Thai boarder and checking out other places as well, and came across this site.

Is it possible to travel from BKK -Siem Rep in one whole day and head back to BKK before the end of the day? I just want to check out Angkor Wat anyway and take some pictures then head back to Bangkok.

If anyone is also traveling BKK on the same dates, you can get in touch with me through riorachel@live.com, maybe we can share on transportation to save up on a lot of things.

thanks!

Posted by reine on 19th September, 2009

Hi, starting in bangkok on the 7th october, stayin there for 3 months then to cambodia and then vietnam, any 1 know any good fun cheap hostels to stay at?

dannycook86@hotmail.com

Posted by Dan on 21st September, 2009

Hi 23 m England, starting in Bangkok on 7th october, staying in thailand for 3 months, travelling all over , doing the famous full moon party, xmas eve,new years eve, any 1 else up 4 it? dont be shy email me :)

Posted by Dan on 25th September, 2009

email me at dannycook86@hotmail.com
forgot 2 add that

Posted by Dan on 25th September, 2009

Hi Alex,
we are 3 pax will leave Bangkok from Morchit bus station to Siem Reap october 9, maybe we can share teh transp. cost.

email me: Christine.Dendekker@Clariant.Com
or : dd.christine@yahoo.com

Posted by Christine on 29th September, 2009

Tried to send an email to the address shown for M, in response to her advice on catching the bus from Bang Na. Perhaps not her correct email address shown.

My question is are the bus tickets purchased on the day of travel, and is there a chance that the seats get sold out?

Appreciate responses. Thanks,
Carlo

Posted by Carlo on 30th September, 2009

Does any 1 know when the storms are gonna stop in thailand, or is the sun still out and shining over there???

Posted by Dan on 2nd October, 2009

Hello everybody!!!

I'm travelling around in Thailand for a month,starting 16 Nov.'09,and plan a sidetrip for a about 4 days to see & take pictures of Angkor Wat.
I checked about flights,AirAsia has a promotion - flying to Phnom Penh for about 2200 baht,roundtrip,late arrival 16.30 - but still have to travel 5 hours to Siem Reap!!!Will take a lot of time...inconvenient arrivaltime also!
(just tell you,maybe good idea for some other readers here ;-)) >>> Or fly BangkokAir,will be 7000 baht ('bestprice'fare-internet!) Too much for me!!!!!

I decide to travel by bus,leaving monday 23 Nov!!! Maybe someone would like to join,and share transportations to SR? Stay 2 days...getting back to BKK at thursday 26.

This forum is great!!! Lot of people talk about their experience of cheaper possibilities,and made me think positive about the trip!!! Can somebody tell me if there's anything 'tricky' to keep in mind???
Take Dollars or Bahts,seems like you can use both? Need a photo for the visa,just one or more? Don't need to ake reservations for any bus during the trip?
Any tips are welcome...as I like to prepared! ;-)

michelbavelaar@ziggo.nl (The Netherlands)


Posted by Michel on 4th October, 2009

Myfiance and I are going to Thailand on October 31 and staying for 10 day. We are going to Siem Reap for a couple days, hen going to travel around Thailand for 10 more days. Anyone interestedin joining us on our trip to Cambodia are MORE THAN WELCOME to contact me! We will be thre

kjbreal@yahoo.com ( stay in Belgium, but i am American!)

Please

Posted by Kevn Bryant on 8th October, 2009

Hi Everyone,
I'll be making this journey in the next 2-4 days, departing from bangkok.
If anyone is interestedto share the journey's cost and a chat then please get back to me.
Also attached the link for applying for a cambodian visa via the cambodian government at the same price but hassle free.

http://www.mfaic.gov.kh/e-visa/vindex.aspx
My email is fede777@hotmail.com

Posted by Federico on 12th October, 2009

planning to travel to SR nov 2 , flying into bkk nov1 2300hrs from melbourne.anyone interested in catching up at mochit and sharing the journey'c cost will be awsome.there are 3 of us traveling .contact
alister alisterdias@hotmail.com

Posted by alister on 13th October, 2009

I may be a bit early here but we are doing the Siem Reap to BKK leg Feb 12 if anyone wants to share!

Posted by Leah on 16th October, 2009

hello! a were a group of college students who plans to visit enter bangkok and exit in saigon from november 17- november 21. we plan to pass by ream reap then head to phnom penh and then head to saigon. were on a really tight budget. i would like to ask for suggestions for guesthouses we can stay in thats price friendly for backpacers, both in eam reap and in phnom penh hopefully. thanks! please do email me (jsuaberon@gmail.com). thanks bigtime!

Posted by heinrich on 17th October, 2009

hello! we're a group of college students who plans to visit enter bangkok and exit in saigon from november 17- november 21. we plan to pass by seam reap then head to phnom penh and then head to saigon. were on a really tight budget. i would like to ask for suggestions for guesthouses we can stay in that are price friendly for backpacers, both in seam reap and in phnom penh hopefully. thanks! please do email me (jsuaberon@gmail.com). thanks bigtime!

Posted by heinrich on 17th October, 2009

You need to get to the train station VERY early in order to get a seat. please be advise that it's a disgusting train with lots of sweaty people and no bathroom! we had our seats, but people are almost on top of you. We got off after 30 minutes. I wouldn't recommend it... take the bus instead!

Posted by Paula W on 17th October, 2009

leaving Bangkok early to Siem Reap tomorrow (20th oct). If anyones looking for a taxi share on the cambodian border send me an email,

regards arun.

Posted by arun on 19th October, 2009

Hi Everyone! Me and my bf are planning to travel to Siem Reap from Morchit bus station on November 13th. If anyone is interested doing this trip together and to share the journey's cost let me know.

Posted by Agi on 22nd October, 2009

Planning on going to Siem Reap end of November from Bangkok. If anyone wants to join me on this journey and share a taxi, please let me know! Thanks

Posted by Dan on 22nd October, 2009

this directions are gonna be so handy when we go over the first week of january.
THANKS HEAPS!!!!

Posted by virusvaleria on 23rd October, 2009

thanks for the info!
i also wanted to let people know that buses coming back to bkk arent always as nice as the buses leaving. I just took a trip to isaan (north-east) thailand and paid about 250 b and had a great trip. On the way pack we paid just as much and they stopped about every half an hour and picked up more and more people until they JAM PACKED the bus with people, and the trip took twice as long and was hot and uncomfortable. I would reccommend following directions into siam reap but then taking the boat down to phnom phen, which is supposed to be a beautiful ride and for only like $10 US and then flying out from there, there are alot of other airlines that fly from there (esp air asia, which always has deals).


I plan on making this trip with a friend for the Kings birthday weekend, December 6-8 if anyone wants to try to make the trip with us!

kacapraro@liberty.edu

Posted by rin on 26th October, 2009

Hi! We are landing in Bangkok al 10.15 am and I was wondering if there is any chance of arriving to Siem Reap that evening going by land!! Does anyone knows the timetable of the buses from the airport?

Thanks for your help!

Sandra

Posted by Sandra on 28th October, 2009

Hi! We are landing in Bangkok al 10.15 am and I was wondering if there is any chance of arriving to Siem Reap that evening going by land!! Does anyone knows the timetable of the buses from the airport?

Thanks for your help!

Sandra

Posted by Sandra on 28th October, 2009


Rajan

I am planing to go to Siem Reap on 5th november by land, if anyone join with me would be great company...

rajanktm@yahoo.com

Posted by Rajan on 31st October, 2009

Hey
I am doing Siem reap to Bangkok...
What time do i have to be at the border to get the bus to bangkok?
I need to get back to fly out so want to make sure i get there in time!

Posted by Cass on 2nd November, 2009

Hi,

I'm doing this journey on Fri 6th November. The bus leaves at 7.45am from the Ko San Road. If anyone wants to meet up and join me that would great - bit worried doing it alone!

Thanks, Anna

annabailey100@hotmail.com

Posted by Anna on 3rd November, 2009

Hi,

I'm doing this journey on Fri 6th November. The bus leaves at 7.45am from the Ko San Road. If anyone wants to meet up and join me that would great - bit worried doing it alone!

Thanks, Anna

annabailey100@hotmail.com

Posted by Anna on 3rd November, 2009

Hi Everyone! Me and my bf are planning to travel to Siem Reap from Morchit bus station on November 25th. If anyone is interested doing this trip together and to share the journey's cost let me know.

helgaz@rambler.ru


Posted by Olga on 6th November, 2009

Hi Agi,
I'm thinking about going on the 13th of November as well. There's no E-mail adress in your message, so just send me a message if the trip's still on and you're still looking for someone to share the costs

mabischof@hotmail.com

Posted by Marion on 8th November, 2009

Follow the Tales of Asia webpage advice! Take the government bus from Morchit and rent a taxi in Poipet. It's worth the extra money! My wife and I traveled there a few years ago during the dry season and arrived in under 8 hours. The only complaint I had was that we ignored the touts but they still came to the cab driver and demanded money! We tipped him what we figured he lost to them. He seemed to appreciate it; however, when we tipped our drivers to Angkor they seemed confused and maybe a little insulted. Happy travels!

Posted by scott on 10th November, 2009

Left Bangkok this morning by train at 0600.... arrived A..... more or less on time at Noon.... 20Baht on back of motorcycle to border... with E visa straight through border.... without any haggling accepted 3up motorcycle ride to taxi stand... had the back seat all to my self.... a/c comfort... road to turn-off brilliant... then ok, lots of filled in pot holes... delivered to Royal hotel Battamburg at 2.30 pm..... $9.... a bargain... as stated no scams or hassles at the border!!!!

Posted by Peter Pennell on 11th November, 2009

Left Bangkok this morning by train at 0600.... arrived A..... more or less on time at Noon.... 20Baht on back of motorcycle to border... with E visa straight through border.... without any haggling accepted 3up motorcycle ride to taxi stand... had the back seat all to my self.... a/c comfort... road to turn-off brilliant... then ok, lots of filled in pot holes... delivered to Royal hotel Battamburg at 2.30 pm..... $9.... a bargain... as stated no scams or hassles at the border!!!!

Posted by Peter Pennell on 11th November, 2009

Hi,

I'm traveling from Bangkok to Siem Reap on the 15th, 16th, 17th or 18th November and was wondering if anyone wanted to join me on the trip.

I'm a 31 year old man from London who is traveling on my own

If you are interested then please email me on gavin558@yahoo.com

Thanks,

Gavin

Posted by Gavin on 12th November, 2009


thank you mister M!!!!!!

We got a taxi to the Big C shopping centre in Bang Na and we waited for the bus (Company 99, sorry i forget to write phone no.).there is not a terminal, you have to stop the bus! It Cost 200baht with aircon, free water and a sandwich.
At 3pm we arrived at SR,the road is fantastic!!!

Hope this helps someone!


Posted by Giorgia on 12th November, 2009


thank you mister M!!!!!!

We got a taxi to the Big C shopping centre in Bang Na and we waited for the bus (Company 99, sorry i forget to write phone no.).there is not a terminal, you have to stop the bus! It Cost 200baht with aircon, free water and a sandwich.
At 3pm we arrived at SR,the road is fantastic!!!

Hope this helps someone!


Posted by Giorgia on 12th November, 2009

Me and a friend are possibly travelling from bangkok to siem reap around late april 2010, so wanted to say thankyou for the info provided on here, its really helpful and will keep posted if i find any good tips on the way!

Posted by Freya on 17th November, 2009

hi all,

I am thinking of traveling to Siem Reap either from Bangkok or Pattaya(if possible) anytime next week but has to be back in BKK on 26 Nov to catch the plane on 27 Nov.
So if anyone is interested to join me and share the cost, please contact me at cynditsh@hotmail.com
Cyndi

Posted by cyndi on 17th November, 2009

Hey. My boyfriend and I are planning to go from Bangkok (Khao San Road) to Siem Reap on 29th November (Sunday.) We're planning on going via bus to Poipet then a taxi down to Siem Reap, which will be a lot cheaper if we could share with others. If anyone fancies coming along with us - we're from Wales and I've been to Thailand before but it's my first visit to Cambodia - then give me an e-mail or message me on Facebook
Pippa Carvell
pippacarvell@hotmail.com

Posted by Pippa on 19th November, 2009

Not sure if my last comment worked - my boyfriend and I are hoping to go from Bangkok overland to Siem Reap on 29th November. We're taking the bus to Poipet and then hoping to share a taxi if anyone else is thinking of going around that time??
Pippa

Posted by pippa on 19th November, 2009

hi! I would just like to thank you for all the information you have provided. This was one of our references during our trip. This site has really helped us on our journey.

As an act of gratitude, I'll share our experience here. We travelled through Indochina from Oct 10-17, 2009. We took the 5:55am 3rd class train. The train ride costs about 28 baht (if I remember it right). You can ride the train in the Hua Lamphong Railway Station in Bangkok. If you want to be immersed to their culture you should definitely try this!

Be careful in Aranyaprathet. A tuktuk driver took us to this so called "consular office of Cambodia." They insist that we are already at the border but we can't see any of the landmarks 9from our research) that supposed to be there. The supposed to be immigration officials took our passports and filled out the immigration cards for us and after that they ask for 300 baht each for processing. If you dont have a photo with you they'll ask you to pay 100 baht. We started calling up people we know who have been to Cambodia before and I think that scared them and returned our passports. they just said that we have to make sure that we'll pay at the border.

At the real border, it is just a breeze! We don't have to pay anything (since we are from the Philippines we don't need a visa).

At the Poipet (the Cambodian side of the border), we took free shuttle bus that would take us to the terminal for taxis, trucks and buses. The terminal is clean and organized. Then, we took a Toyota Camry taxi for US$12 each. A guy with yellow long-sleeved uniform who we think works for the government helped us during the whole process. He didn't charge us anything at all so look out for those good guys. ;)

The road condition from Poipet to Siem Reap is very good. It will take about 2 hours to arrive at Siem Reap.

I hope this helps. If you like you can visit my site about the trip and if you have any questions don't hesitate to email me: glacierymango@yahoo.com

Have a wonderful trip! enjoy!

Posted by Mark on 23rd November, 2009

Hey there!

I'm travelling from Bangkok to siem reap around the 7th or 8th of december.. hope there's someone who wants to join me! I'm a 28th year old girl from the netherlands and travelling alone. If you're intrested send me an email (jj.vodegel@yahoo.com)!

greets Jody

Posted by jody on 25th November, 2009

Hi there,
I have learnt a lot from this site. I plan to travel BKK to SR on 26th Dec 2009. Anyone interested in joining me? You can contact me at biprajit.chakravarty@gmail.com



Posted by bipchak on 29th November, 2009

I am traveling to siam Reap for the Angkor Wat half marathon on the 4th. I arrive Bangkok on the 3rd. Anyone want to make the trip with me. I flew last time but I have the time so I'm going to take the bus....

Posted by Douglas on 2nd December, 2009

Hi,

Will be crossing the borders on 24th december, hoping to share a cab to JASMINE LODGE, let me know if anyone is interested!

Cheers
sejx88@gmail.com

Posted by Shirley on 15th December, 2009

I am travelling from Bangkok to Siem Reap by Bus/Taxi in FEB 2010 Any body interested may pls contact me over e-mail before Dec 2009

Posted by Shiva on 16th December, 2009

Shiva, I'll be travelling from Bkk to Siem Reap on 09/02/2010 but with the train.


Posted by Ivana on 17th December, 2009

I 'll be travelling by Bus from Bkk to Aranyaprathet , may be we can share a Taxi from Rongklua Border to Siem Reap (if my date is fixed) I will confirm you shortly


Posted by Shiva on 17th December, 2009

Hey Shirley..

Good luck for both of us...

My trip to cambodia is also on 24th dec.. so it would be great to share the taxi..

please read your mail for further details and reply me (very) soon
thanks
Narayan


Posted by Narayan Har Gupta on 22nd December, 2009

my e- mail is

narayanhar@gmail.com

Posted by Narayan Har Gupta on 22nd December, 2009

Hi I'll be traveling from Bangkok to Siem Reap on Feb 4, 2009 with my b/f. We arrive in Thailand around 2am and hope to catch an early bus to siem reap. If anyone wants to join us to share a taxi that would be great!

Posted by jenine on 22nd December, 2009

Hi I'll be traveling from Bangkok to Siem Reap on Feb 4, 2009 with my b/f. We arrive in Thailand around 2am and hope to catch an early bus to siem reap. If anyone wants to join us to share a taxi that would be great!

Posted by jenine on 22nd December, 2009

hi i will be travelling on Feb 18, 2010 with my wife anyone want to share with me a taxi to siem reap?

Posted by pedro on 30th December, 2009

hi, i will be travelling to siem reap on Feb 24,2010.if anyone want to share a taxi with me please write to

stefano.pilz@gmx.net

Posted by Stefan on 2nd January, 2010

Me and my Dad going to Siem Reap on 16 January. Morning train is for us too early - we will be sleeping instead of admiring the views. So - probably by bus.
Anyone can advise details?
Anyone willing to join and share taxi?

Posted by MISZA on 3rd January, 2010

Thank you very much for this information. Our experience below.

We tried this trip on our way to Angkor temples, Siem Riep. Going to Mo Chit from Ko Sang road by TukTuk. Booking the first class ticket for 200b at Mo Chit was easy. The bus left 30 minutes later. This was at 12:30.

Arriving in Aranyaprathet the taxi drivers where waiting for bus, many calling border. We took a TukTuk driver which asked 80bath.

This guy suddenly drove up to a traveling agency with guys wearing suits and officially looking badges on. They said this was the border and we had to arrange the Visa's with them. I said no no, go on to the border. They kept on insisting this was the border. But we didn't give in, and when I started to tap the TukTuk driver on his shoulder to continue to the border he started his engine again and drove on. When we arrived at the real border he pointed how we should walk. I paid him the 80 bath and didn't tip because of his stunt before and we kept smiling. The instructions state clearly now not to talk to anybody, and indeed some visa questions again but we kept on walking straight to the border hand in hand which worked.

We arranged a visa and went easily through the border. The Visa was 1000bath. The custom guy seemed to prefer that instead of dollars. Then we had to walk to the Cambodia border. Between the border we where approached by a guy would who said he was a taxi driver. He pointed at a white Toyota Camry standing in front of a Casino. He said it was 45 dollar to Siem Riep. But it turned this guy was a hustler, he arranged a taxi with a non English speaking driver. He wanted a tip for that. Also said we had to pay the taxi upfront, when we refused and got out the car he said OK OK OK, and the driver left. That taxi driver didn't bring us as agreed to the center but dropped us of with tuk tuk drivers. We ended up in the TukTuk with a tout on board. We jumped out near the night market and arranged a guest-house ourselves.

Arrival in room at Siem Riep guest-house at 20:15.

Posted by Ton on 3rd January, 2010

I have just spent the week in Siem Reap, exploring the temples and tasting the great food. For anyone who is heading there and is looking for a driver I highly recommend contacting my friend Vuthy. He drove me around the temples for three days and was great company. He's very laid-back, has a great sense of humour and speaks excellent English. Also his knowledge of the history of the Angkor Empire and the Khmer legends made the days even more enjoyable. Plus he took me to some of the best restaurants in town. He'll make sure your visit is hassle-free and inexpensive. His contact details are:
(855)17 92 21 76
vuthy_006@yahoo.com

Posted by Luke on 9th January, 2010

we are travelling from bangkok to siem reap tomorrow intrestead in meeting others on the journey.............

Posted by alan & rini on 11th January, 2010

Anthony,
My husband and I are planning to go from Bangkok to Siem Reap on 20/03/10 and are looking to travel by train to Aranyaprathet and then following the directions advised on this website.

Posted by Sarah on 11th January, 2010

Hi, I have seen some posts above from Anthony and Sarah about travelling from Bangkok to Siem Reap on the 20th March. I am also planning to do this trip on the same date. I would love someone to travel with :-)

Send me an email: melanie_andre18@hotmail.com

Posted by Melanie on 12th January, 2010

My friend and I are travelling from Siem Reap to Bangkok around the 4th of April! If anybody is interested in travelling with us then email me at chloebarnes91@hotmail.com
We are a bit freaked out about this particular journey so any help at all would be welcome!

Posted by Chloe Barnes on 13th January, 2010

When it says at the top of the page: "If you want to get to Siem Reap on the same day, you must catch the morning train"

Why is that?

If you get to Aranyaprathet at 5:35 pm, why would it be difficult to get to Siem Reap that evening? The immigration office at the Poipet border is open till 8 pm. After that, it's just a taxi ride away.

Cheers

Posted by Chris on 13th January, 2010

I am just confused. I am planning for a trip to Seam Reap from Bangkok and I am going to take a train from Hualamphong Station.

This website says that from Phoipet to Siem Reap take only around 1 and a half hours. But the other website i searched in, it says it will take around 3.5 on taxi and 5 hours on bus.

I would gladly appreciate anyone's comment on this. I just want to make sure of my time table. So I can maximize my time. Thanks a lo t!

this is my email address: deespyder@gmail.com

Posted by Elmer on 14th January, 2010

Elmer,
recently a friend of mine travelled to siem reap and confirmed that the travel time from Siem Reap to Phoipet is only 1 hr 30 mins by car. I guess it has improved on account of the improved roads. The only issue is that at Phoipet, Thailand does not give visa on arrival (I am told). can this be confirmed by someone please?

Posted by Sriram on 15th January, 2010

we just completed this journey on January 13th, 2010. we left bangkok at 5:55 and arrived in siem reap at 5:30pm. we did not rush so it may be shorter for others.

we decided to take the train from hualamphong to aranyaphrathet as it was cheap and not that much slower than bus. we arrived at the border a full hour later than the schedule stated (ie. 12:30). the train ride was interesting although not very comfortable. I would suggest getting on the train by 5:30am to secure a good seat. some are broken and would be even less comfortable.

when we arrived in aranyaprathet there were tuktuk drivers swarming the train. we met anothers on the train and had made a decision to get through the border together. the first drivers to approach us stuck with us even as it was obvious we were looking for a bus to take us to the border. in the end we could find a bus so we got in the tuk tuks for 20 baht per person (40 baht per tuk tuk). as we were driving down the main road I noticed a big truck driving along side us with all the Thai people I'd seen on the train piled into the back.

the truck went straight down the main road but our tuk tuks turned right. they took us to a travel agent and
said, "get out, get visa here". we said "no no take us to the boarder" the drove us next door to the "consulate" again we said "no no take us to the border". they are very convincing but we knew that we only had to pay $20 and the people at the consulate wanted 1500 baht.

eventually after we would not leave the tuk tuk the driver took us to the border. just remain calm and insistent and you will be fine. remember that you will exit Thailand before you ever need to deal with the Cambodian officials. If you need a re-entry visa to Thailand you can also get this at the Thai departure terminal. Everything is on one road so if your tuk tuk turns you know it is for a scam. ignore all the kids but keep an eye on your stuff!

your tuk tuk driver will drop you off along the road so just walk the same direction until you see cars and people walking to a building. stay to the left and you will come to a covered walkway that says Thai/foreigners/border pass. just follow the walkway inside the building and you'll find the border officials.

once through the Thai border you will walk to the Cambodian border. you will go through the health check line and fill out a form. to the right of the door you exit is the visa on arrival office. fill out the application form and hand it and your passort to the officer. he will tell you the fee is $20 plus a $5 dollar fee. many people paid this but a few questioned it. he then said 100 baht was the fee. we refused to pay either fee and asked for a reason to pay. he said it was a processing fee to have the visa immediately. we stated that we could wait. one of the travellers we were with stated she would not pay a bribe and they were openly being corrupt. he told us to wait aside but we refused to leave the area and our passports but we stood aside. 5 minutes late. our passports and visas were given back to us and we were on our way.

continue down the same road and you will see an arrival terminal. this is were you will fill out you arrival/departure card and get stamped.

there is a free shuttle to the transportation hub. you can get a taxi to siem reap for $12/ person or a bus for $9/person. we opted for a bus which ended up being cramped and uncomfortable. our driver was pissed off that no one ate at his chosen restaurant and almost left a traveler behind except we insisted that he stop. mysteriously the air con didn't work after the stop either. the ride took about 2 1/2 hours.

once in siem reap tuk tuks met us and took us to our hotel for 'free'. they will try to take you to a guesthouse but we had reservations. they also want to nail down a commitment from you to be your driver while you are in siem reap.

all in all the day went smoother than I thought it would. I read many of the comments on this site before leaving Bangkok and they were very helpful. I felt confident to say no to people that if I hadn't been prepared would probably have intimidated me.


Posted by corina on 15th January, 2010

hi we are giong from bangkok to siam reap on monday the 18 early train, if anyone fancies sharing taxis and whatever drop us an e mail and we can meet, steve n irmi.

Posted by steve and irmi on 16th January, 2010

i have found the best easy and reliable.

they pick u from ur hotel 0730 am and then take u there.....to destination

Posted by sonya on 16th January, 2010

Sonya,
I presume you mean that they pick up from hotel in BKK and take all the way to Siem Reap. if so, will be very useful if you can give more information and the contact details.

Posted by Sriram on 17th January, 2010

Sonya,
I presume you mean that they pick up from hotel in BKK and take all the way to Siem Reap. if so, will be very useful if you can give more information and the contact details.

Posted by Sriram on 17th January, 2010

Sonya,
I presume you mean that they pick up from hotel in BKK and take all the way to Siem Reap. if so, will be very useful if you can give more information and the contact details.

Posted by Sriram on 17th January, 2010

hello all

firstly-i have to say that this is a great website-thank you very much for all the info!

my boyfriend and i will be travelling from bangkok to siem reap on either the 6th/7th Feb.

if anyone would like to split a taxi/anything...let us know

thanks :)

Posted by Candice on 18th January, 2010

I will be making this trip alone on the afternoon of 5, overnight on the border, and I will meet up with my group on March 6 in Siem Reap. If anyone is going to be making the trek at that time, and would like to forces, let me know, and we can coordinate.

graysoc at G mail dot com

Posted by Grayson on 19th January, 2010

For the travelers that have visited Siem Reap and Angkor Wat; how many days would you recomend spending in that region? Thanks!

Posted by Marina on 22nd January, 2010

I going to make the journey on Sunday, the 24th January in the morning from Northern & Northeastern Bus Terminal at about 8 am. Let me know if anyone whats to join me to Siem Reap. E-mail - hellis2017@hotmail.com.

Posted by Harry on 22nd January, 2010

Candice

i am arriving to Bangkok on 6 of feb, then planning to go to siem reap same day or next day

pls get in touch re taxi

elena

Posted by Kamchatka on 23rd January, 2010

I will be attempting to make the journey solo... on Tuesday the 26th... if anyone wants to meet up I am going by train and then by whatever means possible....

Posted by Lindsay on 23rd January, 2010

Hi everyone,

I'll arrive in Bangkok on March 8 and I have one spare week.
I'd like to avoid the flight because several friends have recommended the ground trip.
I plan to spend 3 days in Siem Reap plus the trip - I'll visit Bangkok on the other days.
Anyone interested in joining me (sharing taxis and/or travelling by train/bus together)? Flexible dates between 9 and 15 March

P.S. @ Marina: apparently a full visit to the site takes around 3 days

Posted by Dan on 23rd January, 2010

Hello all, I am planning to go from Bangkok to Siem Riep on 26th or 27th Feb. I am female travelling solo, if anyone is planning the same trip on those dates and wants to join me and share taxis etc, please get in touch.

Camilla

Posted by CS on 26th January, 2010

We will take the bus from Bangkok to the border and then a taxi from Poipet to Siemp Reap
We want to take the bus early in the morning to arrive to Siem Reap before night.
We will do this on 11 February.

If you are planning the same route, contact me and we will share the taxi.

aguareles@yahoo.es

Posted by BIEL on 28th January, 2010

I am going with my girlfriend to Siem Reap from Bangkok on Saturday the 30th of januari. We are going to take a taxi. Anyone care to join us and share the taxi ride. Going back the 2nd off Februari.

famousmr@live.com

Posted by Jeroen on 29th January, 2010

My husband and I will celebrate our wedding anniversary in Bangkok and Cambodia. We'll arrive Bangkok on the 20th and proceed to Angkor Wat on the 21st. Anyone who want want to share taxi with us. We're Filipinos.
jacintapueyo@hotmail.com

Posted by Jacinta Pueyo on 29th January, 2010

Hi Dan, My name's Ellen. I'm also going to Siem Reap, probably around the 14th or 15th of March. I arrive in Bangkok on the 9th, and will be spending a few days in Kanchanaburi before coming back to Bangkok, then on to Siem Reap and it would be good to share expenses. Send me an email if this suits: elly_claire@yahoo.com.au

Posted by magella82 on 31st January, 2010

Me and my girlfriend will be doing the Bangkok - Siem Reap overland trip on March 12th, and are looking for 1-2 person(s) to share the taxi with.

We're going to stay in the Two Dragons guesthouse in Siem Reap, and Gordon (the owner) will arrange a taxi + contact to meet us at the border ($45 total for the taxi to Siem Reap) so supposively(!) no hassle with transportation from the border onwards :)

If you're interested in sharing the taxi with us, please contact me at mjtorv (at) utu.fi

Posted by Mikko on 1st February, 2010

Hi,
I will be catching the early train from BKK on Monday 22nd Feb (to Aranyaprathet). And then on to Siem Reap by taxi. Anyone else doing the same and would like to share a taxi?
Andy. (andy @ computacareltd (dot) co (dot) uk)

Posted by Andy on 2nd February, 2010

Holaa
This information and previous posts have been really helpful. Thanks to everyone whose shared their tips

I will be traveling this route March 9th or 10th with my girlfriend. Probably take the train and go with the flow

ANYONE know the situation of arriving in Bangkok by plane and needing to have a ticket thats shows your leaving the country within 2 wks or month, Is that possible to get something from this route before flying into Bangkok 2 wks before this border crossing?

Thanks,
You can reply or email us at CanadianFinnish@hotmail.com

Posted by Johnny on 2nd February, 2010

hi, i will be travelling to siem reap on Feb 24,2010.if anyone want to share a taxi with me please write to

stefano.pilz@gmx.net

Posted by stefan on 2nd February, 2010

We already came back from our trip from bangkok to Siem Reap and the info here was very helpfull. There are a lot off ways that people try to earn money on you. Just don't get fooled. When you arrive at the Cambodian border, just walk into the costums building and don't do anything before, because that is all a trick. You can buy your visa inside on the Cambodian site off the border. They will ask you 1000 baht for a visa. It is very difficult to resist. We payed it, because we where ill prepared. It actually costs 20 dollar. I guess the best way to not pay 1000 baht is to have 20 dollar bills and say you don't have enough baht on you.

For who is interested I have the mail adress off a very nice guide in Siem Reap who will show you the temples for about 25 dollars per day (English and German), and i also have the mail adres off a nice English speaking taxi driver in Cambodia that drives from the border to Siem Reap and vise versa for 25 dollar. If anybody is interested you can sent me an e-mail at famousmr@live.com I will give you their details.

Posted by Jeroen on 3rd February, 2010

Hi, I am arriving to Bangkog on 6th of Feb, heading to Siem Reap on 7th. Plan is to go by train. If someone feels like joining please drop me a mail.

elena.vogt@bluewin.ch

Posted by Kamchatka on 3rd February, 2010

Hi,

I am planning to do this trip and would love to have a buddy. I can leave bangkok Feb. 11+/- and want to return on Feb. 15.

Let me know if you are interested.

Cheers,
Sophie

Posted by SophieTrinh on 4th February, 2010

Hi, I want to go from Bangkok to Siem Reap at the 10th or 11th of February by bus or train/taxi and tuktuk. Anybody interested in joining me, please contact: knatterkatha@gmx.de
Cheers!

Posted by Travelkat on 7th February, 2010

Hi, I'm going from Bankok to Siem Reap the 17th of Feb (could also do it the 18th). Anyone interested in doing the trip together???
Cheers
Hilda

Posted by Hilda on 8th February, 2010

Hello Sophie Trinh/TravelKat

I would like to go from Bangkok to Siem Reap on 10th/11th Feb. Would be good to share taxi, etc. I will probably be heading to Phnom Penh after Siem Reap

My email is cooperchris17@googlemail.com, I will check it this evening

Cheers

Chris

Posted by Chris Cooper on 9th February, 2010

I did this route yesterday. I left Bangkok late, and there were no other farang on my bus, so leave early!! There were tuk-tuks to meet my bus, but the driver brought me to a scam shop where they sold visas for 1300baht. it looked legit as it's right beside the cambodia consulate, and the people seemed genuine. i said no, $20 dollars or take me to the border. At the border I paid only $20 + 100baht as i was supposed to!! Be careful about this!!

Posted by Aoife O'B on 10th February, 2010

Hi, I and my sister plan to go Siem Reap from Bangkok either by earlier train or bus on 21 Feb. Any one here doing the same, would be good to share a cab to Siem Ream from border and good to have more company.

My email address: rongdilan@yahoo.com

Cheers
Linda

Posted by Linda on 11th February, 2010

Hi there,

Me and my boyfriend are heading to Siem Reap tomorrow (12/2/10) and were wondering if anyone would like to share a taxi with us from the border?
We are planning on getting a bus from Bangkok to the border tomorrow morning.
Thanks
Carly
(carmich2010@gmail.com)

Posted by Carly McDowall on 11th February, 2010

Hi, I am planning to visit combodia,temples at Angkor & visit back to bangkok on 27th ,28th & 1st March, intrested in travelling by road. If any body visting this place please let me know i am looking for a company, sharing taxi..etc. Please get it touch with my email id sudhakar_rm@yahoo.com.

Posted by sudhakar on 12th February, 2010

Hi,
I'm a Canadian currently living in Bangkok and planning to make the trip from Bangkok to Siem Reap on Wednesday February 17th. It's last minute, but if anyone would like to try to coordinate and share a taxi from Poipet to Siem Reap, please feel free to contact me. I plan on taking an early morning bus from Bangkok to Aranyaprathet.
-Son
sontruong@hotmail.com



Posted by Son on 15th February, 2010

Hi I just did this trip on Feb 5. It was easy just follow the directions. I took the free shuttle to the bus station and at the bus station you can pay $12 per person for a taxi to Siem Reap. This works out if you are traveling with one or two people. They will wait til the taxi fills up but it won't take long. The taxi will take you directly to siem reap. It dropped us off and we hopped on a tuk tuk that took us for free to our hostel. (Ofcourse the tuk tuk wanted us to hire them as our tour guide but if you politely refuse they'll be on their way.) Good luck!

Posted by Jenine on 16th February, 2010

hi, i will be travelling to siem reap on Feb 24,2010.if anyone want to share a taxi with me please write to

stefano.pilz@gmx.net

Posted by Stefan on 16th February, 2010

My fiance and I will be making this trip tomorrow by train then taxi. Hilda if you got delayed and didn't go yet you are welcome to join us and share a taxi, or anyone looking to do that really. Not sure if we will go early or on the afternoon train but I'm not concerned about it because we're just going back to our apt (my fiance is Khmer), and we could get you to wherever you had in mind first.

Jenine, the problem with getting on the "free" shuttle to the bus station, is you are driven out to the middle of no where where you are trapped. I did the same thing last year, trying to follow the talesofasia directions. I was so determined not to get burned and consider myself savvy. Plus I used to live in Bangkok for 21/2 yrs. Me and a young couple on said shuttle, knew we'd been duped not long into our 'free' ride, as we got further and further away from any alternative option.
Going to Poipet is always cheaper than going to Siem Reap. $48 usd is a hell of a pricey fee (that again u cannot negotiate from the middle of no where). I suggest contacting mr famous above for that taxi number. I suggest more people do like him. We already have a number, though I don't believe he speaks English so I wont post it, but I would love to have another one for back up. Sometimes one guy is busy, but they usually try to pass the business to someone else they know.
I love the place we're staying at because they have hotwater/ aircon options, AND I can cook there, there is a small fridge and a double propane burner and they provide us with dishes. I find food expensive and challenging for me in Siem Reap so it's nice to be able to cook for myself sometimes and the apt/guest house is near Psa Leu market. It's a bit away from pub street but 6000 riel for a moto dop ($1.25), gets there if you need a little night life. And I enjoy not getting acosted by hawkers as soon as I walk out the door.

VEGETARIANS BEWARE!!! Khmers put chicken stock powder in everything and I mean EVERYTHING!!! you have to ask them not to if you can get them to understand you, then get over they're horrified shock! Knorr is better understood than chicken powder, which is better understood than chicken stock. If you're nervous about it, stick to Indian restaurants where they understand the vegetarian concept, because believe me Khmers just don't, or higher end places where you are sure the server has understood you, even if it says 'vegetarian bla bla bla' ask about the chicken stock.

I will be in Siem Reap until March 12th (I'm Canadian), feel free to contact me if you want to ask any questions or feel like having company for a drink or something. Sometimes I get bored waiting for my fiance to get off work! Also I have no one to go for a mani/pedicure with! :-( ha ha carolinelongford_yahoo.com.

I really recomend the Cambodian Cultural village, and don't get there too late or you will miss the many shows they have going on and all the sights and scenery, in a place known for non stop fleecing, it's a really good value cheap thing to do in Siem Ripp-off.
For me, one day of templing was enough, and I hear the same from many. Bring a hat and sunscreen, and maybe a fly swatter...for the hawker kids. Khmer salespeople are masters of haranging, the kicked puppy look, and grand tales of mother in hospital, father killed by pol pot and trying to send my orphaned niece to school stories, books selling for $10 on your way in go for $1 on your way out. If u want to get one get it then. You really don't need to be lugging around the extra weight and you don't have time to read it, if you want things explained, hire a guide, or better yet, horn in on someone elses. if you hover around what interests you there will be one along shortly with someone who has paid them for you. ha ha
Lastly, don't get irritated or excited, it won't help you get any result but laughed at. Just ignore, or eat it, and move on. It's not worth your mood and SUPER bad form here even more so than Thailand. Also always negotiate with a smile ;-). And that's my 2 cents, which is a little more than what I was suppose to comment on, hope that's ok. Caroline

Posted by Caroline on 18th February, 2010

Bonjour, and thank you all for your comments.
My friend and I will travel to Siem Reap from Bangkok on the 2nd of March. She's German, I'm French. If anyone is interested in going with us, do contact me at huitavril@gmail.com !
We're looking forward to doing this trip with you!
Cheers,
Sid

Posted by Sid on 19th February, 2010

Hello,

I (femal, German) would like to do the trip on Monday, 22.02.2010.
I would go by bus from the Northern Bus Terminal in BKK.
I anyone i interested, here is my mail:
schneidersylle@web.de.

Good Night!
Sylvi

Posted by Sylvi on 20th February, 2010

Hi,
I'm planning to visit Siem Reap on 06.03.2010 and come back to Bangkok on 11.03.2010. If you would like to share a taxi from (and back to) the border please feel free to contact me.
marpus00@gmail.com

Posted by Marcin on 21st February, 2010

Hi!

I will do this trip tomorrow or the day after (23rd or 24th feb.) If anyone wants company mail me: johan_wistrand@hotmail.com

Also do I need to get american dollars or can I use their own currency?

And does anyone know any good hostel at siem reap/Angkor wat??

Posted by Johan on 22nd February, 2010

Hi,

I am heading to Siem Reap on Saturday, February 27th. I will be leaving from the Northern Bus Station (Morchit) around 11:30 am - 12:00 pm. I would like to share a taxi from the border to Siem Reap.

If you are interested in doing this trip together and sharing a taxi at the border, send an e-mail to ernieh26@yahoo.com

Posted by Ernie on 22nd February, 2010

Anna
Posted on 23rd February, 2010
Hi,
My friend and I are planning to visit Siem Reap from Bangkok on July 22, 2010 and come back on July 24, 2010. If someone is interested to share a taxi to and from please feel free to contact me.
ananajing@yahoo.com

Posted by Anna on 23rd February, 2010

Thanks so much for this information, extremely useful! We're doing some research for an around the world trip, so its handy to have this kind of information in advance as well as costs, so we know if we're being ripped off! Great contribution! Thanks again!

Posted by Anthea on 24th February, 2010

I will be making the trip from Siem Reap to Bangkok around March 22-23. I am a single woman traveling alone & it would be great to have some company to help share travel costs. If anyone wants to meet, please email me!

amyethom@hotmail.com

(I'll be in southern Vietnam from March 12-16, then Cambodia from March 17-22... anyone who will be traveling during that time and wants to meet, please contact me!)

Posted by Amy on 26th February, 2010

the last time i travelled, i didnt have to take the tuk tuk from Aranyaprathet to Rongklua market at the border since the bus went straight to the market... better ask the driver when taking this trip... i was traveling alone then so it was a bit hard for me. It would have been harder if i did not read this article.

Posted by Glen on 26th February, 2010

Hey!

Do we need an ticket out of Thailand to get in to the country? And what is the cheapest way to deal with this?

We are going to Siem Reap around 10th Mars. But we are not interested in using the Bangkok Airlines.

Plese, help us.

Posted by Bestman on 27th February, 2010

I will be reaching Bangkok airport on 12th march around 3-30pm. I want to visit Anghor Wat for a day's trip. I want to stay in Siem Reap night in a budget hotel. Preffers if they can provide a pick up from convenient place from border or poipet or sisophon.
Name-Nirjhar Roy
e-mail: nroy_39@rediffmail.com
nroy_39@hotmail.com

Posted by Nirjhar Roy on 28th February, 2010

Hello! A friend and I are taking the 5:55 AM train to Aran. The thing is, our flight is arriving in BKK on 11:30 PM the day before. With that said, a couple of questions:

*How much does it usually cost to take a taxi to Hualumphong station? How long does it take to get there? An hour?

*Is the Hualumpong railway station open twenty-four hours? Because another option my friend and I are thinking of is to catch the last trip of the Airport Express bus and hang out in Hualumpong railway station if it is open during the wee hours of the morning.

Help will be greatly appreciated. Thank you so much.

Posted by andyeli on 28th February, 2010

^^Sorry, I misspelled the station: it's Hua Lamphong railway station. But the questions are the same. :)

Posted by andyeli on 28th February, 2010

Hi all,

I will go by train & tuktuk to the border on march 4th. If anyone wants to share a taxi from there to Siem Reap, just send me a message.

fennoverdaasdonk@gmail.com

or feel free to add me on facebook.

cheers, Fenno ( from holland )

Posted by Fenno on 2nd March, 2010

@andyeli I am not sure about the travel time from airport to the train station but what i am sure of is that the train station is open 24 hours. you can visit my blog by clicking my name for more stories about my adventures...

Posted by Glen on 3rd March, 2010

I made the trip for the second time now and got a bit more information. I live in Bangkok, for that I looked around a little bit. I found a taxi that will bring you from Bangkok to the border for about 1600 baht. From the border to Bangkok is 1900 baht.

I have the number off a taxi driver that will drive from Poipet tot Siem Reap for about 25 dollars. Last stay I also met a very nice English speaking Tuk Tuk driver that will bring you a around the ruins the whole day for 12 dollars. It is a bit to much info to put all the details here, but feel free to sent me a mail and I will provide the data.

Greetings jeroen famousmr@live.com

Posted by Jeroen on 7th March, 2010

Bye the way. There are a lot off little children walking around the temples and in the town trying to sell you something. We felt bad for them the first time we where in town and asked our guide iff there is anything you can do. He gave us the tip to give the children pencils or other school suplies. We did this last time we where there. First off all it is great to see the smiles on the faces off the children, because they can really use it. Nice extra side effect is that they will leave you alone after that.

Jeroen famousmr@live.com

Posted by Jeroen on 7th March, 2010

Hi,

first up, thanks Travelfish and all who have commented here for the valuable information regarding this trip - it proved to be quite useful! I'll share our story which differs at least in one part from what's described in this feature story.

We did this trip today as follows:

1) Metered Taxi from Khao San Rd to Morchit 150 THB. We left around 5.45AM and the trip took around 45 minutes due to relatively heavy traffic. I have a feeling that the route the taxi driver took wasn't the quickest/cheapest but what can you do :)

2) Bought the bus tickets from the ground level of Morchit bus station (booth 30 inside), 1st class was 216 THB. Bus left from stall 121 which through a door right next to booth 30.

3) Bangkok - Aranyaprathet trip took around 4 hours or so incl. a couple of toilet/refill stops. The A/C was quite effective so I'd recommend bringing a long-sleeved shirt.

4) This is the part that differs from the Travelfish story above: Our bus stopped in Aranyaprathet, but then continued all the way to the Rongklua market (saving us the 2x80 THB tuk tuk fare). From the market it was a short walk to the Thai immigration office with only a couple of friendly touts trying to offer Visa-services and Taxi to Siem Reap. They left us alone after I told them that we don't need a Visa or a taxi - they even wished us good luck for our trip :)

5) Leaving Thailand and walking over the bridge to Cambodia was a breeze, not a single tout in sight. The official Cambodian Visa services building is under re-construction, so the temporary (a bit un-official looking) one is on the left side of the road. You can't walk past it as the border officers won't let you :)

6) We had applied for the Cambodian e-Visa online so we didn't have to get the Visa on Arrival (you can get that from the temporary Visa services building). We were also asked to fill a proof of health document while in the Visa services building.

7) After leaving the Visa services building we were a bit lost for a second, but then realized that all you have to do is continue walking straight forward, and after a couple of hundred meters there's the Cambodian immigration building on the right (it has a sign that says "Arrival"). Went in there, showed our passports and printed e-Visas and got through in a matter of minutes (no line at all).

8) We had arranged a transport from Poipet to Siem Reap in advance, but we still took the shuttle bus to the Poipet Transportation Center (or something like that) that you would if you arrange the taxi your self. The shuttle bus leaves from the side of the road about 50m after the immigration building. The trip to the transportation center takes about 10-15 minutes, after which it was a nice couple of hours taxi ride to Siem Reap.

Hopefully this longish story helps to ease someones mind when thinking about taking this trip!

Posted by Mikko on 12th March, 2010

Hi there, will be leaving from Bangkok to Cambodia around the 19 or 20 March 2010. Just wondering if anyone would like to tag along for the journey?

Email me if your interested. I am flexiable with my dates.

Posted by Ishag Kheir on 14th March, 2010

Hi there, will be leaving from Bangkok to Cambodia around the 19 or 20 March 2010. Just wondering if anyone would like to tag along for the journey?

Email me if your interested. I am flexiable with my dates.

Posted by Huggy on 14th March, 2010

Hi!

Hoping to do this journey next week and wondered if anyone had any luck with the revised version above? (Mikko's post) I went on the Mo Chit bus timetable site and couldn't see the stations I was meant to be getting.

Any help? Me and the other half are a bit nervous on making this trip!

Thanks to anyone, email is lil_chrissy_@hotmail.co.uk

x

Posted by Christina on 18th March, 2010

Hey, thanks travelfish for the Info, and same to Mikko. That longish story is rather helpful! I just thought i'd check to see if anyone wanted a travel buddy for the 2nd or 3rd of april? Just thought it might be easier on myself if i did it with someone!

Feel free to email me: lacoome@yahoo.co.uk

And maybe see you in the near future!
x

Posted by Alix on 19th March, 2010

I visited Anghor Wat on 14th March 2010. It is extremely easy. The routes are already shown in this website. For going from Bangkok and coming back, the non-thai requires multiple entry VISA to Thailand. It is very natural and I had to to pay for entry to Thai twice. Roads are good and service is good. Cambodian also uses both Dollar and Baht and no need to exchange at any place. In Siem Rip many of the shopping centres tags $ value on the pack. Siem Rip is cheap in many ways.

Posted by Nirjhar Roy on 24th March, 2010

Hello all!

Friends of mine and I are thinking of taking this trip from Chiang Mai after Songkran. Does anyone know anything about the bus system/trains from nothern Thailand to Siem Riep? (or even Lao, also then to Siem Riep)

Best, and thank you!

madeline
madelenebren@yahoo.com

Posted by Madeline on 24th March, 2010

Madeline -

We done this journey and just got here! We got the 2.55pm sleeper from Chiang Mai (must go back, love it) to Hua lamphong where we left our luggage as we only wanted to travel like to cambodia. we then got a taxi to Morchit bus station which was approx 80B. Once we got there we realised there was a left luggage facility there and could've just got off at Bang Sue, but never mind!

From then, followed instructions above re: Mikko's post and it was all fine. On the other side of the border was a bit confusing as a lot of people look official and we weren't sure who to trust, but as it says, just a free shuttle, then they arrange a taxi for you (unless you've organised your own transportation to accommodation).

Nice and easy. Just worried about going back now!

Posted by Christina on 24th March, 2010

I did this trip yesterday (24/03/2010)... very simple. I got a taxi (200baht)to Moh Chit northen bus station at 03:00, booked a ticket on the 04:30 1st class bus (212 baht)(the earliest bus left at 03:30 but was already full..)go to the Blue windows inside, Nr 30 I think it was, got to Aranyaprathet border at 08:30. Breezed through the touts and scams by just ignoring them and met up with Jim, a Korean lad, on the Poipet side to get a shared taxi ($ 15 each) to Siem Reap. Just walk down the street as if you were intending to stay in Poipet and you can find a taxi easily without paying the official "tax". The taxi did try to get us to change just outside Siem Reap to a "free" tuk tuk, but we refused and he "eventually" took us direct to our guest house. I was in Siem Reap by 11.45 :-)

From Hotel in Bangkok to Hotel in Siem Reap around 7 1/2 hours, but this was with NO forward planning.. With a bit of planning I reckon you can do it in 6 hours.

The VISA scam is still widely used... DO NOT pay in baht.. Have at least 40 dollers with you (tip, you should not need more than $40 for the visa and taxi.. to avoid arguing to get you change from the visa office or taxi driver, take small bills (1$ and $5) and pay the exact PRE NEGOTIATED fee) Give $20 for the visa and with the remaining $20 you will be able to get to Siem Reap.

C30

Posted by Charli3Zero on 25th March, 2010

Great! thanks guys!

does anyone have information on getting to Lao from Chiang Mai, and/or Lao to Siem Riep?

Posted by madeline on 25th March, 2010

Hi,

I'm traveling from Bangkok to Siem Reap on the 25th, 26th, 27th April 2010 and was wondering if anyone wanted to join me on the trip.

I'm a 35 year old man from Kathmandu who is traveling on my own

If you are interested then please email me on rajanktm@yahoo.com

Thanks,

Rajan


Posted by Rajan on 25th March, 2010

Hello,
I did this trip 6/03/2010. I can confirm that bus from Morchit (6.30 am.) is going all the way to the Rongklua market.
The back trip was something more complicated. I had to take a bus from Siem Reap - about 4 hours to the border but it was cheap - 4 dollars.
It's was a good idea to get the e-visa in advance.

Posted by Marcin on 26th March, 2010

hi the advise sounds great. planning on doing the trip from bangkok to siem riep on the 12th may. anyone around that wants to share a taxi please get in touch. also does anyone have advise from getting from siem riep to phnom penh and to saigon please. thanks kate

Posted by kate on 1st April, 2010

Wow you guys, thanks for the awesome comments. My brother and I are looking to go from Manila to Bangkok around 10 June, and stay around 10 - 12 days in the area. Maybe 3 days in Bangkok then the balance seeing the structures in Cambodia, ?? vietnam, ?? Laos??? Anybody have any suggestions?I dont have any idea for how much time to plan for what so if anybody has some ideas. We are interested in seeing the different cultures and whatever is interesting,nightlife,food etc. Also, I have seen talk about e-visa but wasn't sure what they were talking about. We are both US Passport holders, any info on that is good also. Thanks again everybody. P.S. If anybody would like to ride share around those dates we are good with that also.

Posted by John Fristoe on 4th April, 2010

We had travel Bangkok - Siem Reap at the end if February.

Jorney from hotel till Aranya by taxi took 3 hours and cost 2200 Bath per car (with help of our Thai friends in bargain).

E-visa is very helpful - to avoid crowded Cambodian visa-office at hot weather without AirCon.

5$ in passport helps don't wait in queue in Cambodian immigration office, so time for crossing borders was about 10 min in total.

Transfer form Poi Pet to Siem Reap took about 1:45 and 45$. We had order it in advance via angkorcars.com and their driver had wait us in front of Cambodian immigration office with plate with our names on.

In total all travel took 5 hours and 35$ per person + visa fee.

Posted by Alex on 5th April, 2010

hello, thanks for the tips and advice! I'm thinking of doing this trip the day after tomorrow, on april 12th, but this date is flexible. anyone planning on doing the same and interested in doing (part of) the journey together? if so, contact me on arianneg1@hotmail.com
bye!

Posted by arianne on 10th April, 2010

Hi,
my gf and I are going from Bangkok Airport to Siem Reap directly at 15th April. Our arrival is scheduled for 12:55 pm. Does anyone know if it's possible to make it to Siem Reap the same day (we want to take a taxi from the airport to the Cambodian border)?

If anyone wants to join us, we would be really happy! Just contact us: robwe@gmx.de or +491788818749

Bye!

Posted by Robert on 14th April, 2010

Hi everyone

Thanks for the great info!

I will be doing the trip on 19th april,via bus, early morning, as I should be arriving from ko phangang at 5am on kao san road. Because the bus goes every 30 minutes, I will try go asap. If anyone is going on the 19th and would like to share the taxi and hopefully no troubles, that will be great!

Im female,25 from south africa and will be staying in siam reap...

ciao

Posted by Tamelyn on 14th April, 2010

Hi Tamelyn! I'm doing the exact same as you leaving koh pagnan at 11:30 this morning. email me if you want to make the journey to cambodia together. i'm a girl, 27, from the U.S.

alex.m.jimenez@gmail.com :)

Posted by alex on 18th April, 2010

hey, i had to get a visa from my country to come to thailand, so, if i crossed the borders to cambodia, does that mean i can't get back to bangkok to take my flight back to Egypt!


Posted by peter on 21st April, 2010

hi peter

I have a 6 month visa for thailand,double entry...whereby after my 3rd month I had to leave thailand to get my 2nd 3 month stay..when you come back from cambodia,overland,they give you 15 days only. whereas Ill be going via malaysia(the best option to re-enter thailand)to get my 3 months again..Im pretty sure the cambodian overland trip-15 day visa is for all countries..hope it helps

Posted by tamelyn on 21st April, 2010

Hi Alex, have you traveled over to Siem Reap yet? How was your journey? I am planning a trip at the end of April from Bangkok. Would just like to know if you used the bus or taxi from Poipet. Thanks!

Posted by James on 22nd April, 2010

Hi!

I want to take the bus to SR from the northern bus station on the 30 of April.. Is it possible to get there from the airport without problems, does anyone know? Anyone planning the same thing and wants to join? my emailad. is andreakrammer@gmx.net

Posted by Andrea on 26th April, 2010

Hi!

I want to take the bus to SR from the northern bus station on the 30 of April.. Is it possible to get there from the airport without problems, does anyone know? Anyone planning the same thing and wants to join? my emailad. is andreakrammer@gmx.net

Posted by Andrea on 26th April, 2010

hi guys! im planning to take this trip by the 1st week of May (May 6 or 7 the most).. i would like to know who else is going so I could possible share the taxi or whatever there is from Poipet to Siem Reap.. i went to Poipet casino a month ago but was not able to go to Siem reap.. surprisingly Cambodian immigration only charged me 400 baht (which i dont think they should though) if any of you reading this forum have any plans of going within the dates i also plan please let me know..

Thanks!

Ralph
rslumeran@gmail.com
0820653335

Posted by Ralph on 26th April, 2010

peter
Posted on 21st April, 2010
hey, i had to get a visa from my country to come to thailand, so, if i crossed the borders to cambodia, does that mean i can't get back to bangkok to take my flight back to Egypt!

Peter that depends on the type of Thai Visa you applied.. if it's just a single entry visa then you may need to get a new one from Cambodia or in any other country you plan to go to upon exiting Thailand so you can get back and take your flight back to Egypt..

Posted by Ralph on 26th April, 2010

wow i did the crossing last week and followed these exact instructions. GOOD TO GO! i met 2 others that got scammed by 700 baht each from touts that convinced them to go with them. just hold your ground stand firm and say that you already have a visa even if you don't. you can get the visa from the immigration officials and if they try to ask for more than $20 for the visa point to the sign above their head over the visa window that states tourist visa: $20.

ignore everyone and anyone trying to talk to you or tell you otherwise. as soon as you get dropped off by the tuk tuk or motorbike look for the most official looking buildings to ask where to get your stamp and ignore those saying they'll do it for you. even if you don't have a guest house booked just tell them the name of one you might be interested and lie that you already have the reservation.

it can be intimidating but this posting is golden!

Posted by alex on 27th April, 2010

wow i did the crossing last week and followed these exact instructions. GOOD TO GO! i met 2 others that got scammed by 700 baht each from touts that convinced them to go with them. just hold your ground stand firm and say that you already have a visa even if you don't. you can get the visa from the immigration officials and if they try to ask for more than $20 for the visa point to the sign above their head over the visa window that states tourist visa: $20.

ignore everyone and anyone trying to talk to you or tell you otherwise. as soon as you get dropped off by the tuk tuk or motorbike look for the most official looking buildings to ask where to get your stamp and ignore those saying they'll do it for you. even if you don't have a guest house booked just tell them the name of one you might be interested and lie that you already have the reservation.

it can be intimidating but this posting is golden!

Posted by alex on 27th April, 2010

if i want to take the bus straight from the aiport, how long will the trip be till Siem reap.(taking the bus at 7 am)?

Posted by ahmed bouazza on 10th May, 2010

Hi!

me and my girlfriend are leaving Siem Reap to Bangkok 4.6.2010 morning. if someone wants to share a taxi to thai border or whole way to Bkk, please contact us:)

Ilari Munck
+358440700225
ilari.munck(a)gmail.com


Posted by Ilari on 1st June, 2010

Hi

If anyone can recommend the best way to get from SR to BKK, it would be really helpful!

Posted by John Eborall on 9th June, 2010

hi
im getting into bangkok at 3:15pm tomorrow, then getting a taxi to mo chit station to find my way to siem reap anyone doing the same?

Posted by ben humphreys on 9th June, 2010

Hi everyone!

I'm doing this trip with my friend in june 29 from bangkok. :) Is anyone else going to travel siem reap that day?

feel free to contact us!

romuemail@gmail.com

Posted by Iida-Maria on 11th June, 2010

Hi,

arriving in BKK on June 26th and then going to Siem Reap the same day or the day after? anybody joining?



Posted by Georgia on 13th June, 2010

Hello!


I'm going to Siem reap from Morchit, Bangkok on june 22.2010 taking the first bus at 4 am. Anyone else doing the same ??

Posted by Jeremy on 18th June, 2010

Hello,

We are planning this journey on June 24th. planning on taking the early train or a bus. Anyone want to join or meet in Aranyaprathet, to take a share taxi, we are with two! Feel free to contact us; gijsvanpelt@hotmail.com

Posted by Gijs on 18th June, 2010

Hi Georgia,

My friend and I are travelling Bangkok to Siem reap on Sunday (27th June) arriving at the Airport early morning and heading straight to Cambodia - we arrive too late for the first train so catching the bus from Morchit station

Lucy



Posted on 13th June, 2010
Hi,

arriving in BKK on June 26th and then going to Siem Reap the same day or the day after? anybody joining?


Posted by lucy on 21st June, 2010

Hey - i'm planning on doing this trip together with my husband on either monday (28th) og tuesday (29th). Let us know if you want to join us :) :)
rebekkaboileau(AT)gmail.com

Posted by Rebekka on 26th June, 2010

Hey - i'm planning on doing this trip together with my husband on either monday (28th) og tuesday (29th). Let us know if you want to join us :) :)
rebekkaboileau(AT)gmail.com

Posted by Rebekka on 26th June, 2010

My wife and I are planning to leave Tues AM from Suvarnabhumi on the bus, if anyone else will be doing the same. Then we're staying at the Golden Mango in Siem Reap.
laschwartz2@gmail.com

Posted by Lee on 27th June, 2010

Thanks..great post!
I was thinking of doing an overnight trip from BKK to SR on the 3rd July but after many concerns from family & friends, I have decided to travel early morning on the 4th July 10. If anyone else will be doing the same, let me know

Happy Travels.

Posted by nizza on 1st July, 2010

aw man missed your trip by one day I'm headed that way on the 5th of July

Posted by Ian on 4th July, 2010

If you take a minivan at Victory munument there is no risk for the scam, that is just a legit way of traveling in Thailand. It is faster then the big bus. I have made the trip a few times because I have friends in Siem Reap. If anybody is interested in more information on for example a good guide in Siem Reap, just drop me a line. famousmr@live.com

Posted by Jeroen on 5th July, 2010

Hi
I will arrive in Bangkok airport on august 16th at 3.25pm.
I would get from Bangkok to Siem Reap (via Aranhiaprahet) the same day but i know that the Poipet border crossing point will be closing at 8pm and this would be a problem in getting the visa. Is it true? And in that case...what I have to do to get to Siem Reap in the same day (august 16th)?

Posted by Valentina on 7th July, 2010

My girl and me will be doing this journey (BKK-Siem Reap) on 25 July. We plan to take the bus early in MoChit.
Anyone to share taxi in Cambodia?

Please contact me:
betikomitiko@yahoo.es

Posted by Aitor on 8th July, 2010

Hey
I will go to (BKK-Siem Reap)Angkor Wat next weekend from the 16th to 18th of Juli 2010. If anybody arrive on the same day or travell back on Sunday? I am happy if you contact me.
My mobile phone is: 0876746370

Posted by Ben on 11th July, 2010

Thanks for all this helpful information! I will be doing this run/trip during the holiday (July 24-26 or 27). Not sure how long I will stay. I want to visit the Angkor Wat and such so I am playing it by ear. If anyone is interested in sharing a taxi/meeting, feel free to contact me! Thanks!

jennyleeisabroad@gmail.com

Posted by Jenny on 17th July, 2010

Thanks for very useful information.
Me and My wife will travel to Siem Reap on 26 July by first train or early morning bus. we have read on Jennyleeisa pages, if in any chance you read this, for we are happen to go there at the same date, and still need friends for sharing a taxi, we loved to. feel free to contact me. cheers,

afiyanto@gmail.com

Posted by Arif on 17th July, 2010

Hi there!

My husband and I will travel to Siem Reap from Bangkok on 25, July. If there is anybody interested in doing the trip with us and sharing the cost of taxis, please let me know.
Cheers!

Posted by Pili on 19th July, 2010

Hi any good hotels to recommend? Thanks

Gina

Posted by Regina on 21st July, 2010

Aitor and Pili:
I will also be doing the trip from Bangkok to Siem Reap on the 25th (tomorrow). If you're interested in traveling together, please contact me at aosborne@ymail.com.

Posted by Ashley on 24th July, 2010

I'm thinking of going in late JULY to early AUGUST 2010.
Perhaps it's the safety in numbers thing, cost savings, or more fun than going alone.
So if anyone's interested, leave your phone (optional) and email at:
lcosini@yahoo.com
Thanks,
L
Oh and your preferred dates of departure.

Posted by L on 25th July, 2010

Hi!

I want to this trip from BKK to Siem Reap on Sun August 1st. Please email me if you would like a travel buddy to share taxis/expenses!

Cheers!
Rosey
roseyclaire716@yahoo.com



Posted by Rosey on 26th July, 2010

Hi, I am going to travel from Siem Reap to Bangkok on 13th October (planning early!) if anyone wants a travel partner. Email me at kateemmabaker@googlemail.com

Thanks
Kate

Posted by Kate on 26th July, 2010

Hi, I am going to travel from Siem Reap to Bangkok on 13th October (planning early!) if anyone wants a travel partner. Email me at kateemmabaker@googlemail.com

Thanks
Kate

Posted by Kate on 26th July, 2010

We just returned on Monday, July 26, 2010 from an overland trip from Bangkok to Siem Reap and Angkor Wat. To the extent that our experience may benefit future travelers, here are our thoughts and suggestions, as well as instructions for making the trip:

1) Take a taxi from your hotel or guesthouse to the Northern Bus Terminal (also known as Mochit) in Bangkok. Cost: 100-200 THB depending on location of your hotel. The expressway costs an extra 45 THB and is worth the cost, in my opinion, given the traffic in Bangkok.

2) Buy a ticket on a first class air-conditioned bus to Aranyaprathet, Thailand, near the Cambodian border. Buses apparently run every 30-60 minutes starting at 4 AM or earlier. The trip took four hours and the bus drove us directly to Rongula market, right near the border. Cost: 210 THB (it may have been a little more or a little less).

3) Once you get off the bus at the Rongula market, look for the 7/11, walk around the corner to the end of the road (maybe 100 yards), turn to the left and follow the stream of people heading toward the border, which will now be directly in front of you. IGNORE ALL TOUTS AND OTHERS who will persuade you to buy a Cambodian visa from them.

4) Proceed through Thai immigration and walk straight ahead until you see the large Khmer style gate welcoming you to Cambodia.

On the right hand side at the base of the gate is the Cambodian visa office, where you can obtain your visa to enter Cambodia. Cost: $20 US (you must have US dollars or Thai Baht, but I strongly recommend you get new US dollars in Bangkok from Bangkok Bank or Super Rich before making the trip). The Cambodian visa officers will tell you the visa costs $25 or 1000 THB -- or tell you there is a charge for expedited service, but simply point to the sign above the window, which clearly says $20 US. They will reluctantly take your money and passport and give you your visa within minutes, assuming the line for visas is not long. We paid $20 US and waited perhaps 5 minutes for the visa.

RECOMMENDATION: I recommend using the Cambodian government's e-Visa website to order your visa in advance. The process takes 3 business days and costs $25 US. If you arrive at the visa office at the border at the wrong time of day, you could perhaps spend an hour or more waiting for your visa. The e-Visa will spare you the wait.

5) Turn right out of the Visa office and walk straight until you come to the Arrivals office on the right hand side of the road, passing a number of casinos and hotels along the way. Enter the Arrival Office, fill out an arrival card, proceed to the window, ignore any requests for money (no one asked us, but the Thai woman in front of us paid 100 THB) and then exit the office after the immigration official has returned your passport to you.

6) Now you officially in Poipet, Cambodia, which is a place you will probably want to leave as soon as possible. You can either take the free government-run shuttle to the transportation center or attempt to arrange in advance with a hotel or car service in Siem Reap to have a driver meet you to drive you to your hotel.

We opted to take the government shuttle and encountered our first scam upon arrival at the transportation center. You must buy a ticket to take a taxi to Siemp Reap, and although the prices in the window clearly said $12 per person, one of the "managers" told us that we would need four passengers paying a total of $48 to leave the station. Since we already had met one other person to join us, we decided to split the extra $12 among us. But since many other travelers have reported the cost to be $30-35 US, I suspect we were scammed into paying extra.

The trip from Poipet to Siem Reap takes roughly 2 hours by car. The road is a paved, 2 line highway and the ride is smooth, though your driver will probably drive quite fast and pass any slower cars or motorbikes in his way. I would advise against making this trip after dark.

6) On your return trip, book your car in advance (the fare from SR to the border is usually around $30 US) and be prepared for longer lines back into Thailand, especially late in the day. The last bus from Rongula to BKK leaves around 5 PM. On a Monday night after a holiday weekend, the return trip to the Northern Bus Station (Mochit) took us approximately 5 hours.

7) Angkor Wat, Angkor Tom and other temples in the area are amazing places to visit. Siem Reap has a large number of restaurants and shops.

There are a significant number of children who will ask you to buy postcards, books, drinks, etc. Please keep in mind that most Cambodians earn less than $100 US per moonth. I suspect these kids work for someone else (they all know the same lines: no money, no honey; tomorrow never comes; etc.) so if you want to help them, I think the best thing to do might be to give them a dollar and tell them the money is for them and their family, not for someone else.

In short, the trip from Bangkok to Siem Reap and return is quite easy and quite inexpensive, though you should budget 8 hours in each direction and a very long day or two for seeing Angkor Wat, Angkor Tom and some of the other sites.

Good luck!

Posted by randy on 27th July, 2010

hi, i just found this website... it's great! cheers for the info.
i am headed to siem reap tomorrow (3 aug) leaving in the morning from khorat. i was wondering if there is anyone who cares to share a taxi from poipet into siem reap.... or if someone happens to be leaving from khorat (not very likely i reckon) company for the whole trip?

thanks

Posted by christina on 2nd August, 2010

Hi,

On monday 30-8 I'm landing at Bangkok's Suvarnabhumi Airport at 09.15 h. From there I'm heading for Siem Reap. If there's someone who's interested in traveling with me and sharing the taxi costs, please send an email to caspervanbeugen@hotmail.com.

Thanks,
Casper


Posted by Casper van Beugen on 6th August, 2010

Hi everyone, on Friday 20th of August, My boy friend and I will leave BKK for Siem Reap, Is there anyone want to share the taxi with us? Please be free to contact me, Phone number 0809086663 or email me to heo_con2002@yahoo.com. Hope to have a good trip and thanks for this helpful website.
Phuong

Posted by phuong on 8th August, 2010

Me and my boyfriend are planning to visit Thailand & Cambodia in march 2011. anybody to visit it in the same duration.

Posted by Manali on 12th August, 2010

3 of my friends and I will be arriving BKK come Sept. 2. We are planning to go to Cambodia early Sept. 3. If there is anyone who would like to travel with us, you are very much welcome.

Posted by Gary on 12th August, 2010

Hi, i will be heading to Siem Reap from Bangkok on the 23th August. Will be taking the first bus from mochit. Will be there roughly by noon or slightly before that. Anyone wants to share a cab to Siem Reap?

My number is +65 81126451
email is ginawhines@yahoo.com.sg

Posted by gina on 13th August, 2010

Hi, I will go to Siem Reap from Bangkok, will leave Bangkok by bus or van to the border and than continue by taxi in Cambodia. Anyone wants to share a cab to Siem Reap?
email is carpe-diem-71@hotmail.com


Posted by Miranda on 20th August, 2010

Hi, I will go to Siem Reap from Bangkok, on sundaymorning 22 august. I will leave Bangkok by bus or van to the border and than continue by taxi in Cambodia. Anyone wants to share a cab to Siem Reap?

email is carpe-diem-71@hotmail.com

Posted by Miranda on 20th August, 2010

Hi i did the trip from bangkok to siem reap together with my girlfriend in july 2010.

We went to the northern busstation (take the BTS skytrain in bangkok to Mo Chit and grab a taxi to the northern busstation) We bought 2 tickets to Aranyaprathet for the next day for 424 baht (so 212 for 1 ticket.) In Aranyaprathet we took a tuk tuk for 80 baht to the cambodian border, they try to sell you the arrival and departure card. Just wait and say that you want to go to the border. At the border we went through thai immigration pretty quik and bought a cambodian visa for 20 dollar and 100 baht. In 1 hour we were in Cambodja. For 40 dollar you can hire a cab we shared it with another guy so 40 dollar for 3 people for a 2 hour drive seems fare to me. In siem reap we had to go off and the last 5 minutes was on a tuk tuk. The tuk tuk drivers want to put you in a hotel. We just paid them 2 dollars and insisted them that we want to choose a hotel by ourselfs. I think the journey took us 7 hours. So at 15:00 i was drinking an Anchor beer.

Posted by Daan on 22nd August, 2010

Hi there,

Thanks for the interesting tips. My husband and I are making the trip from Bangkok to Siem Reap on the 14th October 2010. It would be nice to join fellow travellers making the same trip. We're from the UK. I'm 29 and my husband is 36.

Please email me on erikacaruana@onvol.net if you are traveling on the same day.

E

Posted by Erika McGinnes on 22nd August, 2010

Hi, i will be travelling Dublin to Bangkok on 5th November and then onto Siem Reap on 6th November '10. It would be good to join up with some fellow travellers. Please email me on mcdonagh.brendan@gmail.com

Posted by Brendan McDonagh on 25th August, 2010

Posted on 26th AUG, 2010
I'm planning on doing this trip (Bangkok to Siem Reap) on 29th of AUG 2010 - if anyone fancies meeting up somewhere along the way (to share taxis etc) feel free to let me know.
b4246jp@yahoo.co.jp

Posted by akira on 26th August, 2010

Thank you for all the information. Am sure this really will come in handy. :D

To GARY, me and my sister will be making this trip at the exact date. We'll arrive in BKK on the 2nd of September and will go to Siem Reap on the 3rd.

Maybe we can join you guys?

Posted by Marlen on 30th August, 2010

Thanks so much for the info, everyone! I'm planning on a solo budget trip from Bangkok to Siem Reap on November 2 or 3 and am looking for someone/a group to travel and share cab fares with. I'm still sorting out plans and all the info you gave are a great help. Any suggestions as to where to stay in SR? Planning on going to Vietnam, Kuala Lumpur, then Singapore from there.

If anyone's interested, please email me. drliza.quiatchon@gmail.com

Posted by liza on 1st September, 2010

Me and Elena we planning a trip around Cambodia, Laos and Vietnam, we will fly from Melbourne to Bangkok the first week of october. If someone want to share with us that will be nice.

Francesco info@franzx.com

Posted by Francesco on 7th September, 2010

Hi everybody, me and my girlfriend doing this trip on Saturday, 11th this week. Will be staying in Bkk for one night before, if someone wants to come along!

Greetings, Andreas (turboandi@gmail.com)


Posted by Andreas on 7th September, 2010

I am a Filipino working here in Thailand. I'm going to take a trip to Siem Reap this coming October 2-4. The information given on this site would really be of great help for me. And I guess my Thai language would give me comfort when conversing and asking questions though I am not really that fluent yet.

I know this trip would be one of my bests.

Posted by Elmer on 8th September, 2010

Hi there we are planning on travelling from siem reap to Bangkok in about three days can someone please let me know where we can buy a bus ticket to poipet in siem reap. Then I understand we take a taxi from poipet to aranyaprathet US$45? Then can we buy a ticket in aranyaprathet to Bangkok when we arrive there?

Thanks


Posted by Victoria on 13th September, 2010

To Victoria

I think most of the guest houses there sell the bus ticket from Siem Riep to Poipet (border). I paid USD4 for the bus (it has AC and comfy too). Only that bus will make a stop a several hostels to pick up pax.

From Poipet to Aranyaprathet, you can take a tuk-tuk. If you're heading to Bangkok, you can take a bus from the terminal near the immigration office (so you just need to walk a little). I think it'd cost around 100-140 baht? I'm not sure.

But if you're taking the train (like I did) from Aranyaprathet railway station, you need to take a tuk-tuk for 60-80 baht. The train leaves at 13.55 and the ticket costs 48 baht. I enjoyed taking the train even though it took 6 hours to get to Bangkok. The train's clean and safe.

Posted by Marlen on 14th September, 2010

Hi everyone!
My friend and I are planning to go from BQQ to Siem Reap on Oct 27th. If someone is going on the same day, i´d be great to share a cab.
Best
Ines (ipalmas@hotmail.com)

Posted by Ines on 15th September, 2010

Hi!

I'm thinking of making this journey anytime after the 7th of november or even on this day and am looking for people to travel with, if anyone is in Bangkok and wants to share taxi cost and travel together let me know!

cheers, Simon

lighter.thief@hotmail.co.uk

Posted by Simon on 17th September, 2010

hiya, me and my OH looking to make the trip from BKK to Siem Reap on Sun 31st Oct/ 1st Nov (the latest) ... anyone interested sharing a taxi, pls let me know.

mirela _ldn@hotmail.co.uk

cheers, Mirela

Posted by Mirela on 20th September, 2010

Hi there! I am an Asian working here in Thailand. my friend will come from Singapore to join me on my trip to Siem Reap on October 2-4... We will be leaving BKK around 10 in the morning to Aranyaprathet... If anyone wants to share taxi with us, please contact me on this email ad: deespyder@gmail.com

Thanks!

Posted by Elmer on 22nd September, 2010

I'll be doing this trip solo on 19th Oct.
if anyone wants to share the ride please email me!! (super_jemery@hotmail.com)


Posted by Jeremy on 29th September, 2010

hi i will be in bangkok by march 2011 and planning to go cross the bprder to see angkor wat.

if someone is plannning to be there at that date as well please reply to this thread so we can split the fare :)

Posted by rose on 30th September, 2010


DIRECT BUS (BKK AIRPORT - ARANYAPETH)

Just did this last Sept 24, 2010. From BKK airport, go down 1 level from the arrival area, then u can take a direct bus to Aranyapeth. It is a yellow bus counter right beside the Avis Rent a Car counter. The lady selling the tickets said that this bus service is run by the government (The Transport Co. Ltd). We paid 187 baht and the bus leaves twice a day (one at 0745 and 0930) and brings u directly to the Cambodian immigration border. Bus ride is approximately 4hrs.

Upon arriving at the border, a guy came on the bus and greeted us and brought us to a small shop giving us immigration forms and health certificate forms. The guy was so nice but later turned out to be a scam when he started asking us for 300 baht each for the health certificate. My advice, get down the bus and walk directly to the immigration gate and ignore anyone seemingly nice offering help. You can do everything in the immigration office in a few minutes and the health certificate is free.


Posted by Marcus on 30th September, 2010

Correction, the direct bus from BKK airport to Aranyapeth leaves at 0715 and 0945 daily.

Posted by Marcus on 30th September, 2010

Hi,
Does anyone know how often the busses leave for Bangkok from SR? and on what days?
Thanks


Posted by Liran on 3rd October, 2010

Liran,

if you are planning to go to SR straight from the airport at Bangkok, you can book a ticket from there. It costs 187 Baht and they have 2 schedules... 7:15AM and 9:45AM...

Elmer

Posted by Elmer on 5th October, 2010

Hello. I'm planning on taking my family to visit Angkor Wat (6 & 4 yr. olds) for new year, and am trying to book flight from Bangkok to Siem Reap between xmass and new year, recommendations? Thanks,
sean

Posted by sean on 9th October, 2010

Thanks for the info
what is the direct bus from BKK airport to the border was the bus like ? crowded hot etc
Afetr passing through Immigration is it easy to get to Seim reap ??
I am travelling alone (female) early Dec is it safe ?
Anyone travelling at this time let me know ?

Posted by Terri on 13th October, 2010

Hello,

I applied for my visa for Cambodia on the following site: http://www.mfaic.gov.kh/evisa/

And I already get it approved today.

So I hope it will save me a lot of hassle on the border :-)
Does anybody knows if there is a special e-Visa immigration counter in Poipet?

Planning to enter Cambodia on the 8 of november.

Thanks!

Posted by Natasja on 19th October, 2010

Hello everyone! We are travelling from Bangkok to Siem Reap on either of the days from January 18~19, 2010. There will be three of us (two males and a female). Anybody wants to share the cab fare with us? We could also hang out and discover cambodia together! Please contact me at: kazuhirowatanabe@yahoo.com


Posted by Gerard Kazuhiro on 25th October, 2010

Hello everyone! We are travelling from Bangkok to Siem Reap on either of the days from January 18~19, 2010. There will be three of us (two males and a female). Anybody wants to share the cab fare with us? We could also hang out and discover cambodia together! Please contact me at: kazuhirowatanabe@yahoo.com


Posted by Gerard Kazuhiro on 25th October, 2010

Hello everyone! We are travelling from Bangkok to Siem Reap on either of the days from January 18~19, 2010. There will be three of us (two males and a female). Anybody wants to share the cab fare with us? We could also hang out and discover cambodia together! Please contact me at: kazuhirowatanabe@yahoo.com


Posted by Gerard Kazuhiro on 25th October, 2010

How many hours will it take (by Bus) from Bangkok Int'l Airport to Aranyapeth? Four (4) hours or Fourteen (14) hours?

Posted by Gerard Kazuhiro on 25th October, 2010

How many hours will it take (by Bus) from Bangkok Int'l Airport to Aranyapeth? Four (4) hours or Fourteen (14) hours?

Posted by Gerard Kazuhiro on 25th October, 2010

Hi everyone, my boyfriend and I are travelling from Bangkok via train to Siem Reap on the 7th January 2011. If anyone fancies sharing a taxi to split the fare please email us.

xandyandnory@hotmail.co.uk

Posted by Nory Jones on 25th October, 2010


Hi all,

I will be doing this trip solo from Bangkok Suvarnabhumi Airport to Battamberg on the 14/15th of November so if anybody wants to join to share the cab fare is welcome.
Please contact me at ceren_eker@yahoo.com
Ceren

Posted by Ceren on 5th November, 2010

Thanks for sharing this

New Bay Area rappers
Bay Area music

Posted by Brian on 7th November, 2010

Very helpfull piece of text. thnx!

Posted by Paul Metzemakers on 15th November, 2010

will be going back to Siem Reap on or around the 16/01/2011, first bus from mo chit to poipet border and then taxi to Siem Reap.. looking to split the cost of the taxi :-)

Cheers

Posted by Carl on 20th November, 2010

I'm travelling from Bangkok to Siem Reap on the 6th of December if anyone needs a travel companion/ someone to split taxi and tuk-tuk fares with.

Posted by Jane on 2nd December, 2010

One thing important to know is when you take the free shuttle bus from the boarder to the bus station of poipei, the guides say to you to change money to reels, because in siem reap dont accept bath or usd. Thats all lies, they want you to change money there at awfull rates. Dont do it. Keep your baths or usd.


Posted by Ivan on 5th December, 2010

hi,
boy traveling solo 15th december,looking for someone to share taxi from Poipet to siem reap and if possible companion!
please mail me leng4ever at yahoo.com

Posted by donjohan on 11th December, 2010

Looking at traveling alone Bangkok - Siem Reap on Feb 10th 2011 or other direction Mar 8th (Fly one way). Keen to travel this with someone so if you are doing this on or around one of these dates email me

vickeea@opotikicol.school.nz

Posted by Vickee on 15th December, 2010

hi i want to go siem reap from bankkok will u explain me how to go by train i would prefer, im from india im going come there in feb 3rd 2011 ind to thainad.from thailand me and my wife planning for combodia;

Posted by abdul rahman on 26th December, 2010

Hi everyone, just did the trip on Dec 14th following these instructions and like to add some comments since at one or other points we were not quite sure if we were following the right track:

Visa scams on the Thai side are still there - the tuk-tuk driver took us first to an official-looking agency where they simply lie in your face ("Welcome to Cambodia, we are Cambodians and this is the only place you'll get your Visa..."). Make sure the tuk-tuk driver takes you directly to the border, you'll be fine there (we went back into the tuk-tuk and demanded to take us to the border). Price for tuk-tuk was 80 baht.

At the border the procedure is as follows:

1. You walk a footbridge towards a gate where on the left-hand side you have the queue vor Thai emmigration (no Visa here required, still Thai side).
2. Behind you walk another bridge to Cambodian side, where you might need to fill out a health form (at no charge).
Cambodians seem to have now official people in place to guide you through the rest (at no charge) and actually are very friendly, though we were very sceptic and expected scams around every corner.
3. On the right hand side you walk to Cambodian Visa agency, where you fill out 2 forms, hand in Passport and Photo and 20 USD to get the Visa. They asked us for another 100 Baht "express fee" which is more or less a bribe. As we happend to have only 100 left for us two, this turned out to be okay as well... so much for the official fee...
4. Behind, there is another line for passport control into Cambodia.
5. Directly behind there is a shuttle bus to the bus and taxi station (about 5 mins), this was again free of charge and we were led there by the same guy who showed us all the way through.
6. At the station you have the mentioned choice between bus or taxi. We paid 25 USD for a taxi to Siem Reap, but 2 others who shared with us paid more before so the driver got a good deal there...

All in all no big deal if you know what to do and what not ;-).

Cheers, Niko

Posted by Niko on 1st January, 2011

Going from Mochit to Siem Reap on around the 16th Jan 2011, looking to share a taxi from Poipet to Siem Reap.. thx

Posted by Charlie on 7th January, 2011

I would like to go to hanoi then siem reap then bangkok. Please assist me as to the best trains and buses possible. Thank you

Posted by Beatriz on 24th January, 2011

how about the exit? what time does the bus from the border to bangkok leaves? so as the taxi and how much would this cost? is it higher or same price?

Posted by allan on 31st January, 2011

how about the exit? what time does the bus from the border to bangkok leaves? so as the taxi and how much would this cost? is it higher or same price?

Posted by allan on 31st January, 2011

hi, i would like to book a flight from bankok to siemp reap. i would like to know how much dost it cost, one way only.

Thanks

Martin Vignolo

Posted by martin on 17th February, 2011

it costs about 60 dollar US but well worth it, takes about 40minutes but be prepared for alot of hassle from taxi drivers etc when you come out from siem reap airport

Posted by Brendan Mcdonagh, Ireland on 17th February, 2011

The fastes way to get to the border is by minivan from the Victory monument in Bangkok. Saves the effort to go all the way to Mo Chit as Victory monument also has a BTS station.

I also have the phone number of a taxi that goes to and from the border and Siem Reap for 25 dollar. Also a nice guide that gives great tours and can arrange a tuk tuk etcetera. When interested just sent me an e-mail

famousmr@live.com

Posted by Jeroen on 18th February, 2011

I just did this route and here is some update, thank you for the information btw.

OK:

From Kao san rd where most foreiners stay you can take the bus 3 all the way to Mochit bus stn, 7-8 baht. You can also take a taxi approx 110 baht depending on traffic.

The bus from Mochit now take you all the way to the market, we got to walk for about 5 min. The bus doesnt stop on the way only to refill fuel. Stock up on some food and dont drink too much.

Nowadays you can do a cambodian e-visa 3 days ahead. This will save you time if you arrive on the border around 2 oclock otherwise its cheaper (5 dollars cheaper) to do it there and my friend did it and it was very fast. But that is if you avoid the big herds of ppl around 2 pm.

The actual price on the taxi from the cambodian border is 25 usd. However u have to walk away from the border control and pretend to go to a hotel. A tuk-tuk will pick you up to take you to a hotel where the arrangements are made. The reason for this is that the cambodian border police charges 5 usd for every taxi.

Thats all, thanks


Posted by Sofia on 12th March, 2011

Update:

The bus no 3 takes 1 hour. The taxi 20 min, dep on traffic

Posted by Sofia on 12th March, 2011

Update:

The bus no 3 takes 1 hour. The taxi 20 min, dep on traffic

Posted by Sofia on 12th March, 2011

hi guys! anyone going to SR on the 31 March?? My friend and I will travel from Bangkok on that date.. we'd love to share the ride with anyone from Poipet to SR.. anyone interested? just send me an email rslumeran@gmail.com

Posted by Ralph on 20th March, 2011

You can add the SCambodian Embassy to the long list of scammers. It starts in Bangkok at their Embassy now. Charged me 1000 B at the embassy. I questioned the charge as the visa still says $20 USD on it. They said it was for "ecpress" handling. I was the only one in there and they had 3 people behind the desks. They do offer the same for $25 USD. It is written down on a piece of paper that they produce when questioned. It is a cheap printed out price list on a single piece of printer paper they produce from behind the counter when no one else is around.

Posted by Dan on 24th March, 2011

hi anyone my friend are looking for someone we could share taxi with who travelling to siem reap on april 18-20. email me allan.villarta@yahoo.com. if you would be travelling from phuket it would be better since phuket would be our first stop before angkor wat. thanks!

ps does anyone knows a direct bus from cambodian border to pattaya? again thank you!

Posted by laura opsima on 9th April, 2011

sorry about the name. its an autofill options in my pc. we're male travellers from phils by the way

Posted by allan on 9th April, 2011

Me and my wife travelled from Aranyapathet to Siem Reap in March 2010, a year back. There were no problem from Poipet to Siem Reap. There were buses but we took an airconditioned taxi with another Portugese family. The road was very good. It took around 2 hours to reah Siem Reap Hotel. Hotels in Aranyapathet are cheap and clean and while going and return we took a hotel room. Food in Aranyapathet was also good and cheap.

Posted by Nirjhar Roy on 10th April, 2011

Where do i buy the bus ticket at bus station (Morchit)?
Can i buy the bus ticket at 3:30 am or I have to buy the ticket in a day beford?.......Pls help.....many thx

Posted by Hau Yi on 16th April, 2011

Hi all, My name is Phuong, I am going to Siemrep from Poipet ( Thailand )on 28/4/2011 and would like to find some one to share taxi, I am now living and working in Bangkok, please contact me by 0833237981 (Thailand number) if you w ant to share taxi to Siemrep on 28/4/2011, thank you.

Posted by phuong ngo on 19th April, 2011

Hi all, My name is Phuong, I am going to Siemrep from Poipet ( Thailand )on 28/4/2011 and would like to find some one to share taxi, I am now living and working in Bangkok, please contact me by 0833237981 (Thailand number) if you w ant to share taxi to Siemrep on 28/4/2011, thank you.

Posted by phuong ngo on 19th April, 2011

Hi Hau Yi, you can buy the bus ticket from Bangkok to Poipet in both Mochit bus station or Victoria Monument , the bus run all day from 6 am to 5 pm, about 250B / ticket. Have a good trip.

Posted by phuong ngo on 19th April, 2011

Hi all, My name is Phuong, I am going to Siemrep from Poipet ( Thailand ) on 28/4/2011 and would like to find some one to share taxi, I am now living and working in Bangkok, please contact me by 0833237981 (Thailand number), thank you.

My email: Heo_con2002@yahoo.com
I am Vietnamese Female, please send me a email if you want to join.

Posted by phuong ngo on 19th April, 2011

i would recommend getting the train from bangkok (hua lampong station) to aranyaprathet. and then stay a night there if you have a day spare. it's a nice town. you can rent a really nice room for 200-300 baht.
there may be a little tussle for a seat on the train - there are no allocated seats.. so some people need to stand up.. but then it thins down.. it's 48 baht. you cannot buy the ticket in advance, you buy it the same day.. either way, whether you get the bus or train, i would stay a night in aranyaprathet.
pay 80 baht (100 baht if you like to tip like me) for a tuk tuk to the border.. yeah, if the tuk tuk stops at an office, politely say you'll get the visa at the border, and the tuk tuk should continue without a worry.
get US dollars in advance.. it will make things smoother.. and either have a photo or pay 100 baht (not too bad). but yeah, inside the visa office, the police may ask you if you have the arrival card and they'll want 100 baht for that. you don't need to pay it, but hey, if you're feeling generous you can pay, and get your arrival card all filled out while waiting the few minutes for the visa. otherwise you'll get the arrival card for free once you get to the last office.
you can pay $30 for a taxi directly from cambodia side of the border.. but you may find it difficult to walk past where the free shuttle bus takes you from.. otherwise take the shuttle bus and then pay $30 from there. share with others to save money. make friendly conversation with the taxi driver on the way and you're set.
good luck and remember - travel calmly

Posted by dangman on 20th April, 2011

Hi
i want to know from Bongkok to siem reap i'm arriving at Bangkok at 01:00 AM (in the morning) is there a Bus going to Aranyaprathet at 04:00 AM ( I want to go to Siem Reap when i get to bangkok .

1. where can i buy the ticket to Aranyaprathet ?
2. Should i take bus or train ?
3. what time is the early buses or train leaving for bangkok ?
4. where is the Mochit bus station?
PLEASE HELP.......THANK YOU VERY MCUH

Posted by Jessica on 25th April, 2011

Hi, is there anyone interest in going from Bangkok to Angok Wat next week? If you do, please let me know. My number is 0886941592 and my email is ksun520@gmail.com. I am from America, New York. Thank you!

Posted by kaden sun on 29th April, 2011

Well i must say, your comments are correct. But, I even hired a "tour" service from a travel agent in Bangkok and still got ripped off. I supposedly booked a bus and got a van, which arrived 1 hour late after I had to call them. Taken to their "outpost" on the Thai side of the border and waited in "their" convenient? restaurant. (only one around)So me and the rest of the "van" people were stuck there while they tried to sell taxi rides on the other side of the border and blamed the travel agents in bangkok, and then wanted a tip for their service. HaHa ...Hey Siem Reap is cool and fun, so don't let this discourage you. Just keep your wits about you and "if it smells like a rose" you know the rest. Have fun

Posted by Vincent Lennox on 22nd May, 2011

Just got back from Siam Riep Great place.

Mo Chit is the last stop on the BTS you can also take the Metro to Mo Chit. I think the station you are talking about is Mo Chit 2 not Mo Chit near Chaduchuk weekend market.

Sonbat bus company is really good but not sure it goes the border.

The train is state run but you have to be careful of the ticket touts in the train station. You think its a state company but its just a company who buys a booth and brokers tickets. The train station is the last stop on the Metro Hua Lamphong MRT(From Ari BTS link).

As far as buying tickets I have a Thai girlfriend so she works all that out without any hassles. Be very weary of touts and travel agents. Always keep your valuables safe on this route.

Posted by Richard on 29th May, 2011

BKK-SR Oct 31st

I´ll be going alone from BKK to Siem Reap on Oct 31st (early morning). Not sure if by train or bus.
Anyone going that date in the same direction feel free to contact me at penelopin@gmail.com

Mery

Posted by mery on 5th June, 2011

BKK-SR Oct 31st

I´ll be going alone from BKK to Siem Reap on Oct 31st (early morning). Not sure if by train or bus.
Anyone going that date in the same direction feel free to contact me at penelopin@gmail.com

Mery

Posted by mery on 5th June, 2011

Thanks so much for the how to guide we followed it to the T. Much appreciated. Note to travelers: The guy manning the desk at the Cambodian visa on arrival hut at the Rongklua market saw us coming. He said since we were Indian it wasn't 20 dollars for us it was 2,700 baht. We paid it not knowing any better only to find out all nationalities pay 20$ except for a list India is NOT on. On top of that he charged us 2,400 baht for a cab from Poipet to Siem Reap claiming that was the flat rate but when we came back the exact same way the hotel got us a cab for 1,000 baht. Kind of a bummer that we managed to avoid all the touts but the govt representative took us for a ride. Thanks for all the guidance :)

Posted by kc993 on 6th June, 2011

I am keen to use the bus service listed above from Bangkok's Suvarnabhumi Airport to Aranyprathet. It states the bus service departs twice daily.

Does anyone know what time these bus services leave?

Posted by Tim on 11th June, 2011

I am keen to use the bus service listed above from Bangkok's Suvarnabhumi Airport to Aranyprathet. It states the bus service departs twice daily.

Does anyone know what time these bus services leave?

Posted by Tim on 11th June, 2011

Thanks a lot! Anyone knows if you also need $20 for customs when you go back to Bangkok?

Posted by Roy B on 24th June, 2011

To answer a couple of questions..the 1 way airfare from BKK to Siem Reap is about 218 USD icluding all taxes and fees. "BUS" services are mostly vans and if you don't mind being held hostage at their outposts it is the cheapest way to go....just learn to say NO "thank you" they love to prey on 1st time " guests" haha...
BUT if you have the "bucks" fly and get an evisa on line for the $20 or $25 USD. Print it out and you are good to go...much easier than the visa on arrival.. Have a downloadable RECENT and sizable photo available along with the normal info.... good luck...It is worth seeing Siem Reap and a fun town...

Posted by Vincent on 24th June, 2011

If I take a taxi from Bangkok to the Cambodian Border, go thru the visa process, and the take another taxi to Siem Reap, how many hours will this all take?

John

Posted by John on 4th July, 2011

Hi! Me and my wife are going to Siem Reap straight from Bangkok. We are arriving late at night in BKK (Around 8pm) so any advice on how to get to Cambodia at that hour? Our option now is to wait for 5:50am train ride. Any other means of travelling there? Thanks!

Posted by Ric on 4th July, 2011

You might as well plan on spending the night in Bangkok because the border crossing closes at 8PM.It is about 2 hours from BKK airport to border.
Other option in to find a taxi who will take you to Aranyprathet, a short distance from the actual border crossing at Poipet Cambodia. It is a fixed flat rate, a little less than 3000 Baht (about 100USD)It is posted in the taxis. There is an additional 50 baht airport fee
You can then spend the night there and wait for the border crossing to open the next morning.

Posted by vincentlennox on 5th July, 2011

John,
Get the visa on line, it will save you time. Just print out 2 copies, black and white is acceptable, give them 1 on arrival and 1 on departure. Taxi to border is about 2700 baht plus the airport fee. It's a fixed flat rate posted in a majority of the taxis. It should take about 2 hours but be sure the driver knows you want to go to the border otherwise he/she will bring you to Aranyprathet and then you'll need to get another ride for the short trip to border.
Poipet (Cambodia) to Siem Reap is a challenge and the prices are all over the place. Taxis are old and frequently breakdown. Try to find other tourists to share and be prepared for many rip offs. Be sure the taxi driver agrees to take you to the Hotel, otherwise they drop you at a Tuk Tuk stand and you pay another couple of dollars to get to the Hotel. You will probably have company in the Tuk Tuk with someone trying to sell you tours.
Bring USD or get some at SCB (Bank) at BKK airport. ATMS dispense large bills, so if possible have some $1 5 10's.
The entire trip should not take more than 5 hours but it depends on the Cambodian immigration staff, They can move rather slowly and the lines can be long.Figure on the trip being an all day event.
If budget permits Fly Fly Fly Bangkok Airways.

Posted by vincentlennox on 5th July, 2011

Hi Vincent,
Thanks for the tip. We're planning on just going straight to the bus terminal and wait for the first trip to leave. I've read from recent posts that the travel time from the terminal to the border is 4 hours. Can you please confirm if this is still accurate? :)

Also, I hope i'm not much of a bother but would you mind sharing the first (and hopefully best) bus trip going to the border from Bangkok! Much appreciated.

Ric


Posted by Ric on 5th July, 2011

Hi Ric,
Bus will be about 4 hours because it will make stops. Plus the bus terminal in on the opposite side of Bangkok from the airport. The bus will need to travel through Bangkok and then you will pass the airport you just left. I have lived here since March 2010 and been to Siem Reap a few times but never took scheduled bus services. If it is like other bus services, there are different level of comfort. VIP 24 being the most comfortable. The lower the number the more expensive. 24 just means the number of seats hence the amount of leg room.
If you are seasoned and patience and can keep your sense of humor, 500 Baht 1 way, will get you from Bangkok to your Hotel in Siem Reap via the several van services. You just need to be prepared as they will try to "upsell" everything to you.
I have used Charlie Connection Travel and Tour a few times. They speak english well and have always been good. They should be happy to guide you in the right diection. BKK address is 44 Samsen Rd. Bhanpanthom Pranakorn BKK 10200. Telephone (66) 0-2629-4262 ask for Mattana Wannawong who speaks very good english. or try www.travelconnecxion.com (yes it's an "x") Once again the problem is not with the travel agent it is with the van services trying to make a buck and they are not shy about it. The vans are comfotable but they make a couple of unnecessary stops at places they own to get you to buy water, soda food etc. Do get the evisa to enter Cambodia. It will be one less thing they will try to rip you off for. Takes 24-48 hours from the time you apply.
Best of success and feel free to aks. Sorry I can't be of more help.
Vincent

Posted by vincentlennox on 5th July, 2011

Hi Vincent,

Thanks For the tip! Much appreciated. :)

Ric

Posted by Ric on 5th July, 2011

Just as a footnote. I believe the actual distance from BKK to SR is only about 230 miles. (360KM?) my metrics suck sorry. That being said you can easily plan to meet your ground transport at 6:30 AM and not be in your SR accomodation until 7-8 PM. Like I've said, they will prey on your being tired and impatient. There is a premium to be made by them for slowing things down and some not so subtle harrassment.
Siem Reap is worth the trip though...so go for it.
The BKK airport (pronounced suwanapoom by Thais) is outside of BKK and on the route to Siem Reap. So if you can get the trip from the airport you will save time.

Posted by vincentlennox on 5th July, 2011

July 19,2011
Just to update my travel from Siem Reap to Bangkok by $7 bus ticket purchased from the Siem Reap Central Hostel ( bus company was Hang Tep) where I stayed for 5 nights.

There were 6:30, 07:30, 08:30 12:30pm and 02:00 am bus options all at different prices. We took the 07:30am one for 7$ each.

at 08:00 walked to the large clean bus a block away, we all have seats. left at 08:20am. The trip from Siem Reap is 140 km. stop for 15 minute rest at 10:00, at 11:15 stop at about 10 minutes from the border for 15 mintues, where each go different stickers depending on what price you paid so they can assign different mini bus on the Thai side of Poipet.

The new Cambodian paved road is better than any regional road in Canada and US. Very smooth ride.

at 11:30 grabed your luggage and went through the Cambodian side for exit stamp. walked with luggage for about 200 yeards to the Thai side and go through thai immigration.

the bus company rep had us wait for the rest of the group and assign us numbers for the mini van ( very new toyota minivans ) 10 to a minivan all have seat with seatbelts if you choose to use them. The all took about an hour.

the mini bus then took us to their office/restaurant had lunch if you choose, then reassign the mini buses based on your readiness to leave and the price you paid. From what I saw the higher price ones were less cramped, but our ride was quite comfortible.

then 4 hour drive to bangkok. The drive to bangkok is mostly on divided highway, once you get near bangkok , you get a chance to experience bangkok traffic. so depending on traffic, you time my be longer.

Bus driver dropped all of us of at Khao San road at 17:00.

Trip was smooth and uneventful, better than any bus ride in Vietnam.


sammy88




Posted by sammy88 on 21st July, 2011

Hi,

My friend and I will be travelling from Bangkok to Siam Reap on the 24th July 2011. We will be taking a bus to Arahnyapratat (excuse spelling) . If anyone would like to do the bus journey with us and then share a taxi from the Cambodian side to Siam Reap please e-mail me at the below e-mail address. Thank you.

rolli_2000@yahoo.co.uk

Posted by Doll on 21st July, 2011

Hi,

I will be travelling from Bangkok to Siam Reap on the 25th July 2011. I hope to use this plan. If anyone would like to meet me for the journey, it would be great to get a group together. My email is bitofarose@gmail.com. Cheers!

Posted by Jarroz on 22nd July, 2011

The Khao San Road buses or shuttles are infamous and as stated should be avoided at all costs. This is not to say all shuttles are bad. In my experience the shuttle from Victory Monument (use the BTS Skytrain to get there)is excellent (230 Baht) and takes 3.5 hours as opposed to 3 hours by taxi.From the BTS station walk around Victory Monument on the Skywalk Platform 180 degrees. When directly opposite BTS station walk down the stairs and up the road 20m, keeping to the left hand side of the road cross over the Motorway on ramp and on the left hand side are shuttles.Shuttle departs on the hour from 6.00am to 2.30pm? cost 230 baht (3.5 Hrs). If you ask Shuttle drivers for the Shuttle to Aranyaprathet they will point you in the direction. I have used this option several times.

Posted by Norm Gin on 24th July, 2011

Thanks Norm,
I knew there had to be at least 1 reputible service. I am going back to Siem Reap on August 11 for about 1 week. (it's Mothers Day weekend here in BKK--Queens B'day) A big domestic travel weekend.
If I deceide not to use van service, anyone want to share a taxi from BKK to the Thai border and then taxi from Poipet to Siem reap.
email vincentlennox@hotmail.com not more than 2 or 3 others. I am mature American living in BKK since March 2010.

Posted by Vincent on 24th July, 2011

Bangkok to Siam Reap on the 3rd August 2011.

Hi,

I'll be in Bangkok on Khaosan Road on Tuesday 2nd August then make the trip to Siam Riep on Wednesday 3rd August sometime in the morning. Please email me if you'd like to meet up for drinks on Kahaosan Road on Tuesday 2nd or meet up for the trip to Siam Reap on Wednesday 3rd August?

jamoknox@gmail.com

Cheers

Posted by James on 28th July, 2011

I would advise if drinking alone in Khaosan Road to be very careful with your drinks. I met an Aussie guy who was doing this and his drink was spiked and all he knew about things was when he woke up in hospital after being assaulted.

Posted by Norm on 29th July, 2011

HaHa or 55 (same in Thai)....it happens all over bangkok...just don't leave your drink alone. Ladyboys are especially a problem...Just use common thinking in a big city. Most are good and no problem...but once you get the beer or other, don't leave it out of your sight..

Posted by vincent on 29th July, 2011

Heading to Siem Reap on Aug 11 (morning) share taxi OK?
email vincentlennox@hotmail.com or I will take mini bus (van) from Victory Monument...Have friends picking me up in Poipet to SR if want to share cost? $40 Total you do the math but not more than 2 people.


Posted by vincent on 29th July, 2011

I just took the trip from Bangkok to Siem Reap for the fourth time..
I was staying at Khao San Road and took a taxi to the Victory Monument (60bt) where there are loads of minivans clustered around the intersection. Minivans leave every half an hour from around 5am, 220bt and only took 3 hours to the border.

The minivan drops off at Rongklua Market - right at the border (buses are about 6km from the border). The border post can be confusing if you get stuck in the market, but look up and you should be able to see the signs at the border.

Crossing the border was hassle free as I had an evisa.. I have had hassles before with requests for bribes etc, but this didn't seem to be the case with others who paid in cash on this day. Of course you will be approached by touts.. just ignore them with confidence and tell them you have taxi from your hotel picking you up, all organized, and make sure you don't let them do anything for you, and watch your belongings from the beggar kids.

Poipet is basically a hole. Although this time I didn't strike so many touts or beggars - maybe the place has cleaned up its act a little.

After crossing the border, you will likely be herded in the direction of a shuttle to the Govt bus station which has buses and taxis to Siem Reap and beyond, but with a police-enforced monopoly imposed so prices are extortionate.

After getting your Cambodian visa, you will see a large roundabout/traffic circle. Diagonally across it and to the left there is a small drink-shop/guesthouse. After the heat of the crossing, it's a good place to stop. They may be able to help you arrange a taxi outside the government monopoly here, but from my experience I have been approached by taxis first.

After a bit of haggling with the taxi that approached me, I got it for $35, whole car, direct to hotel. Turns out this guy pays off police $10 a trip so that he can sit at the border post, and not at the Govt depot where he would give up $30 of his fare to the police. He was reliable, and it took around 2 hours to Siem Reap.

Comfortable trip, best way to do it if theres a few of you, and much cheaper than a flight.

Posted by Carl on 10th August, 2011

Thanks Carl This will be my fourth trip to SR. I will try your advise and leave in the morning (11th)
Hang Tep (bus van service) is the one I had so many problems with. Previous comments seem to say "no problem" I would say the 2 or three stops are not needed and the time spent at those stops definitely not needed. They sold (yes I'm embarassed) myself and three Korean guys a Taxi, which broke down half way, then driver begged for money for food and THEN paid another taxi to take us to a Tuk Tuk outpost and paid again for ride to hotel with a salesman trying to sell tours.
I am happy another traveller had a good (or more patient) experience than me as I used them 2 times...both not good and LONG trip.


Posted by vincentlennox on 10th August, 2011

I have just done a four day to Siem Reap overland from Bangkok with my wife and I have to thank everyone for their postings.
We caught the minibus from Victory Monument. We followed the directions posted and used the BTS walkway. We asked a few people and was directed to the minibus park under the motorway. It was 230 baht and we had one stop.
The minibus took us to a carpark next to the border and we were met by a very nice man who took us to a tourist information office and handed out forms for a Cambodian Visa. He wanted 1200 baht. No way!
We walked towards the border following the signs ignoring all of the touts.
Once through Thai customs cross over the road onto the right hand side and go into a large official building. I didn't actually see any signs. In there the Cambodian Visa is 20 US dollars. It took 3 minutes plus 100 baht!
Carry straight on to immigration and you will be at the roundabout mentioned above.
They were very insistant on us getting the shuttle bus and since we had met two lads who would share a taxi we went on it.
At the shuttle place we paid 12 US dollars each to get to Siem Reap. The taxi would have cost 48 US dollars.
Once in Siem Reap the taxi driver stopped and pretended he did not know where our hotels were. A tuk-tuk driver appeared and asked for 2 dollars to show him the way. We said no thank you many times because we had a map. We said this many times.
The taxi driver set off, turned right and found our hotel - he knew where it was.
On the return journey we booked a bus through our hotel from Siem Reap to Bangkok for 18 dollars each - it was ok.
Happy travelling, the experience was interesting.

Posted by Gordon on 20th August, 2011

What is a "tout"?

Posted by John on 2nd September, 2011

Just a street salesperson trying to steer you towards a particular product, service or establishment. They get a tip from establishment.

Posted by Vincent on 2nd September, 2011

Anyone planning to go from Bangkok to Siem Riep next monday (September 5th) and want to share a taxi and stuff?

Cheers

house-music@live.nl

Posted by Tim on 3rd September, 2011

Farmer Capable,most loss spread drive second prevent therefore tea sound screen motion criterion money proposal hard difficulty cultural criticism shoulder letter chief special supply past living most conclusion otherwise common speak dinner enemy somebody light wear commitment chair character publish proper comment discipline work attack claim regular week strongly link guide factory neighbour month joint leading in generally worth medical map watch aye direct raise earth cost phase approach last implication positive operation measure hang population rock choose medical safety careful express over begin character connect match immediate

Posted by autoversicherung fahranfaenger teuer on 8th October, 2011

I am moving from Bangkok to Siem Reap for 1 year starting Nov. 1 2011
If i can be of help in answering questions i will try to assist. I have been to SR 5 times and lived in Bangkok for 2 years. Feel free to ask. English only...sorry!
Regards Vincent

Posted by Vincent on 30th October, 2011

I wanted to know if there is any direct Bus from Suvarnabhumi Airport to Aranyaprathet or Siam Reap. How much does it cost

Is it better to go to Victory monumnet and then take a bus from there or its shorter to take bus from Airport

Please advise, thanks a lot

Posted by alok on 9th November, 2011

Alok,
If money is not an issue , get an evisa on line and connect to Bangkok Airways which has holy flights, but a monopoly so expensive for the distance.Itis the most hassel free way to get here (Siem Reap)
If you go to victory monument, you can get van service for about 230 Baht, but check for flooding as many areas are underwater. Van bus" from Airport would be best but never tried sorry. Airport is on the route to border.
Victory Monument you will head back into the city and then pass the airport on your way to Siem Reap. Hope it helps a little.
BUS?VAN only goes to border then you have to make your way from Poipet to Siem Reap which can be hell...ask if you want. I lived BKK 2 years and now live in SR.
Vincent

Posted by Vincent on 9th November, 2011

Hi, I am from Melbourne and am travelling around south east asia next year, ending in siem reap!! i am trying to work out the cheapest and quickest way to get back to melbourne... thinking ill have to fly from siem reap to bangkok then fly to melbourne from there... does anyone else have some better suggestions. How long in total is the journey from siem reap to bangkok if u dont fly these days?

Posted by michelle on 19th November, 2011

Michelle, 5.5 or 6 hours overland to Bangkok, flying Hotel to Hotel will take about 4.5 and cost USD160. Have a look at Jetstar ex Phnom Penh or Air Asia (Sr to KL, KL to Melb)

Posted by Norm on 19th November, 2011

You can check Wikipedia/Siem Reap International Airport. There are 15 airlines servicing SR Airport. SR to BKK is monopolized by Bangkok Airways.
Overland SR to BKK I have done several times and never less than 7 hours. If you get a morning service you hit BKK at rush hour. I've found Hang Thep to be the worst, if you want to get there fast. I've had better success getting the bus to Poipet, KH. walking through the border crossings and getting the ride to BKK in Thailand. It might be a couple of dollars more but can save an hour or 2 minimum.
I live in SR now. Good trip!
Vincent

Posted by Vincent on 20th November, 2011

Taxi from BKK, depending on Traffic 3 hours (1600Baht), 30 minutes to get over the border (depending on how busy) and Taxi to SR two hours (Max.USD35.00)

Posted by Norm on 20th November, 2011

Are you sure 1600 baht? I lived in BKK for 2 years and had a regular taxi driver and best I could get was 2700 baht BKK to border crossing.
Taxi from Poipet to SR is correct if you want a taxi to yourself. Be absolutely clear that you want a ride to you Hotel (even if you think they understand ask them to repeat it and if they know the Hotel location) or they will drop you at an outpost and you will need to pay a Tuk Tuk a couple of bucks for the ride to Hotel.


Posted by Vincent on 20th November, 2011

Yes Vincent I am sure,I live in Siem Reap as well. I have travelled SR ro BK return 6 times over the last few months and used both Shuttles and taxi's. When we did it the first time last year we paid 2800 Baht from Bk. Now we pay 1600 Baht BK to Border and 1900 Border to BK. Many friends have has this taxi service as well to visit SR

Posted by Norm on 20th November, 2011

Wow, good deal BKK to border. You have a number for that service?
Thanks very much.
Vincent
PS I live out by Sofitel Resort

Posted by Vincent on 20th November, 2011

This company charged 1600 baht for the taxi.
Twin Golden Gate Travel Co Ltd, phone 086 848 4786 or 089 532 9794.


Posted by Norm on 21st November, 2011

Thank you very much for taking the time to share the info. I think I head to BKK this weekend and will use their service on the return.
Best Regards
Vincent

Posted by Vincent on 22nd November, 2011

Hi guys,

I need to get from SR to BKK next Monday (5th Dec 2011)

Any latest info on best routes etc.. planning to go by bus/taxi

cheers

Posted by Dazza on 27th November, 2011

I just did SR to Poipet but did not go on to BKK. I had great success with Capitol Tours (Bus service)$10 to BKK. They are a little more expensive than Hang Thep Company you will see all over town for $6-$7 but they will take much longer as they force to you stop at their "outposts" to get you to spend some money on food etc.
You can get ticket for Capitol at the Sinh Tourist Hotel directly across the street from the Museum Mall. Book the day before ,meet at hotel and van will take you to the bus. Took 2hrs. 20 minutes, actual travel time, to border with one stop. (Hang Thep took 3 1/2 hours with 2 stops the second of which was for 1/2 hour so the staff could eat lunch. They get worse when you get on the Thai side of border, I suggest you avoid them.

Good luck with your trip.


Posted by Vincent on 28th November, 2011

Thank you for this info. I am heading to Siem Reap next year via KL and Thailand to spend some time volunteering at 'Together for Cambodia', an orphanage. I will have my 2 sons, aged 13 and 14 with me, I want it to be a trip for them to remember, so I don't want to make it a fly in fly out thing, I want to do it the real way!!

Posted by Terrie Dempster on 14th December, 2011

I will live in Siem Reap for at least 1 year from today. Feel free to contact via vincentlennoxbangkok@gmail.com I lived in BKK for 2 years and recently relocated here. If you are coming during the monsoon season, be prepared, as Siem Reap floods are not a nice experience. Be cautious of "orphange" scams too. Ask if you want any help. KL is wonderful! Good luck!
Vincent

Posted by Vincent on 14th December, 2011

Thanks Vincent,
http://www.togetherforcambodia.org/wish%20list.php this is the web site for the place I'm going to, I got linked to it from a Cambodian family in Melbourne. I wont be going for another 12 months (I'm a teacher and will go at the start of my Summer holidays next year). Will you still be there this time next year? And what have you been doing in BKK?

Terrie

Posted by Terrie Dempster on 14th December, 2011

Hello!
Travelling Bangkok to Siem Reap the 20th of January, anyone travelling same way? :) contact on my email trossen89@hotmail.com

Thank you!
Alba

Posted by Alba on 20th December, 2011

Hey, we arrived last night using the above route which was challenging to say the least. I was wondering if anyone could recommend a decent bus/coach company that takes you from Siem Reap direct to bangkok? Any help would be much appreciated.

Posted by carl on 7th January, 2012

No matter who you use, you will have to leave KH and enter TH and change buses/mini-buses/vans/
My suggestion is avoid Hang Thep Travel. You will see them advertised all over Siem Reap and can pay anywhere from $6-$14 SR to BKK.

I had good success with Capitol Tours and the trip from SR to BKK is $10. They are efficient, polite and "no scams". You can also take them to Poipet, cross the borders and then negotiate the ride to BKK with some of the many companies. This will be more expensive.

Capitol has ticket offices downtown or you can get at the Sinh Tourist Hotel across from the National Mall (National Museum)
I live here , so feel free to ask if you need help.
Vincent

Posted by Vincent Lennox on 7th January, 2012

I might be heading to BKK on the 20th of Jan. for Cambodian visa purposes. email vincentlennoxbangkok@gmail.com I'll give local phone number through there.
Vincent

Posted by Vincent Lennox on 7th January, 2012

We were there Dec'11. Arriving at Aranyaprathet, we asked a tuk tuk driver to take us to the border. Instead she took us to some scam office where who knows what their plan was. I said this isn't the border why are we here. After a few exchanges including asking them if they were from the government, they consented to let us leave. The scammers said the border was five minutes walk away, but I said to the driver she was paid to take us to the border.
The driver had a bandana over her face, whether from scarring or not wanting to be recongnised I don't know.
Also when in the Cambodia customs office we were told it was $20 plus 100 baht per person. I paid the bribe, thought they might keep us waiting for an hour otherwise. Siem Reap - if you find a good tuk tuk driver, keep him for the duration.
cheers Michael

Posted by Michael on 8th January, 2012

In the future take the Van Service from Victory Monument direct to Rongklua Market, then just a short walk to the Border crossings. Save the hassel with Cambodian visa and get a tourist electronic-visa on line for $25.00. Good for a 30 day trip and extendable for an adittional 30 days if necessary.

Posted by Vincent on 8th January, 2012

Thank you for these information. I am super scared now about going to Cambodia however my question is about renting a taxi going to siem reap? so we can bargain?

Posted by jeff on 10th January, 2012

Don't be overly concerned. Just be smart and try to act like you know what you are doing.
A taxi from Poipet to Siem Reap should not cost more than $35 USD. You can "team up" if you are traveling alone and share the cost. $35 is for the Taxi NOT per person. Actually, your best bet is to arrange at the actual border crossing. If you don't mind a short motor bike ride (tip the motor bike driver $1) , there are many "teams who work together" One owns the motor bike and another owns the taxi. The taxi is usually parked a mile (1.6 KM) away from the border which is the reason for the motor bike ride. Why? So they don't have to pay off the police who shake them down for $10-20. Taxis are not permitted to "hang out" at the crossing.
If you are skeptical about arranging at the border, your next choice is to take the free shuttle bus to the bus station and arrange one there. It will most likely cost you more as the police take a bigger "piece of the fare". Be CERTAIN the taxi driver knows he is taking you to your Hotel/Guesthouse. Otherwise you will get dropped at a Tuk Tuk stand outside of Siem Reap and pay another $1- $2 to get to your hotel.
With all that being said, Siem Reap is well worth the visit. Just expect the unexpected. Bring USD in $1 5 10 20.
Good traveling and enjoy the trip.

Posted by vincent lennox on 10th January, 2012

Not strictly correct Vincent, you can pick up a taxi within 50m of entering Cambodia. With heaps of luggage who is going to get on a motorbike and what if there is two or more people? After you clear Cambodian Immigration you will be approached to get on a bus which takes you to the transport centre. Taxis here are I believe USD48.00. What I do is ignore the bus and walk straight within 20m you will be approached more than likely by a tout and you can sort the price an ALL UP price with him, Max USD35.00

Posted by Norm on 11th January, 2012

OK I stand corrected. I just never saw a taxi at the border crossing unless they were dropping off a customer doing the reverse trip.
My response was directed at a solo traveller with one bag or backpack.
Obviously, you raise some good ponts.
I might add, for others, don't get talked into changing your money into Reals at the bus station. Other than for items costing less than $1 US they are not necessary and you will get a horrible exchange rate on the AU$ US$ and Euro amongst other currencies.
Come with US dollars.

Posted by Vincent Lennox on 12th January, 2012

thanks vinny very helpful

Posted by marto26 on 12th January, 2012

Very welcome. One correction, I mean't to say there are no coins here. 1000 reals = 1 US Quarter. So anything that is not in a whole dollar, you will get the change in real. Cost $3.50, pay with $5 you will get 2000 reals and $1 change. Sorry for any confusion.

Posted by vincent lennox on 12th January, 2012

Thank you for the very useful information that I was looking for my upcoming trip to that part of Asia.

Cheers!

Posted by Karim on 23rd January, 2012

Banking travel tip while in Siem Reap.
If you use a Visa debit/credit card to get money from an ATM, use Canadia Bank, PLC...NO FEE regardless of amount. All others will charge you from $3 to $5 to use their machine plus whatever your home bank charges.
Canadia has ATM's at Lucky Mall, National Museum and a full service branch one block from the Hotel De La Paix across from the Khmer China Clinic (short walk from old market)

Posted by Vincent Lennox on 25th January, 2012

Hey, im crossing from Bangkok to Siem Reap on the 13th-14th of february.
Anybody crossing? I'm travelling solo.
Contact me at maria.barreiro.english@gmail.com
thanks
Maria

Posted by maria on 6th February, 2012

I plan to cross over on the 18th-19th Feb. I am traveling alone and if someone else is doing it then, I would like to join. You can email me at swethadandapani@gmail.com

Thanks,
Swetha

Posted by Swetha on 10th February, 2012

Hello,

Just sharing our yesterday's experience in travelling Bangkok-Siem Reap. Despite having read all the warnings about minibus scams, including travelfish and the links (read them!), we decided to go for a try. We're a family of 4 (2 kids of 4 and 6), and were kind of hoping to be faster than public transport. We guessed the abuse was marginal and just gave a bad reputation. Moreover, the agency we booked the trip at, seemed reliable.

So, pick-up at hotel went fine, 7 o'clock. We all got stickers with colour codes for dispatch after the border. Feels a bit like sheep being marked for the slaughterhouse. Then picked up some more people (they are very efficient, and it has a reason). Off we went, through intense traffic jams in Bangkok (took one hour to get out of the city). Ride went fine, stopped for gas after two hours, just ten minutes, no problem.

But then, just before the border, we pulled in to an isolated restaurant (that had the logo of the tour company - Sawasdee Angkor tours). A guy -very friendly to kids- start distributing visa request forms and asks us to fill in, which we did. They he asked for our passport and 1300 bath (42 USD) and two passport photos (he asked 200 bath to one guy not having any photos) for visa arrangement. Most people paid -some already had visa-, we refused. He got a bit excited (so did I) and told us to not to count on him when it went wrong at the border. He said we'd have to look and pay for our own taxi then, and I gently (hm, not so gently) had to remind him that we paid for the entire transport to Siem Reap.
His arguments for the price were :
- 20$ visa doesn't exist at the border
- they only accept thai bath (like US would only accept mexican pesos at their border)
and a few more, all of which we knew were lies (thanks to the tales of asia info linked above)
So, we had our passports
Two girls observed us and decided to take the same approach. We stuck together through the whole border process, and it went fine.

Border process :
exit Thailand (fill in your departure card first)
pass some health formality (no papers needed, just fill in that you're healthy, kids are exempted :)))
get cambodia visa (surprise, 20$ only) - refuse the 100bath fee with a smile
then get into cambodia about 500m further.
How simple can it be ?

After that, we got on the free shuttle to the bus station, where also the taxis are parked. We found our "friend" again, and he showed us our taxi. Who broke down along the way, but for real (I know a bit of mechanics, and this didn't look good, I feel sorry for the driver now having threathened to call the police).
Anyway, safe and sound in Cambodia now, saved 90 USD in the scam.

Conclusion :
- if you go by minibus, don't fill in any forms unless given by officials at the border
- after all, we got for 650 bath each (88 USD for the 4 of us, excluding visa) from Bangkok to Siem Reap, arriving a bit after 5 pm, airco all the way, not a bad deal.
- taking the public bus gets you to the border a little before the scam minibuses, and you could win a lot of time in the queues (although we queued for about 30 minutes in total only). Main reason is that you leave Bangkok before traffic jams, but that requires you to leave an hour earlier from your guesthouse as well

So, quite an adventure (but that's what we travel for, right), main recommendation is to do your research, be self-confident and go for it.
When more people start refusing the visa-scam, they will probably find other ways or just raise prices for the transport...

Have a nice trip,

Fred

Posted by Fred on 27th February, 2012

Fred,
Unfortunately your trip is more the "status quo". You handled it quite well, I must admit. I now live in Siem Reap and have done the BKK to SR trip many times. To readers: Fly if you can afford it, get the evisa on line for entry to Cambodia. You can do the entire family in one transaction, just be sure to have a passport sized photo of each family member scanned into your computer before you start. Takes about 48 hours to get the visa via your email.Make 2 copies of visa for each family member and you are set to go.(black and white copies OK)
My last trip I got the Van service from Victory Monument, about 235 Baht which takes you to the market on the Thai side of the border. About a 10 minute walk to Thai immigration, exit Thailand, walk through the "no mans land" where the casinos are, hand over a copy of you evisa with your passport at Cambodian immigration (fill out the entry/exit card)and you are almost done.
Now take the shuttle bus (FREE) to the transportation center and pay $9 for the bus or NO MORE THAN $35 for a taxi. Sign posted will tell you $48. Bus will take you to one stop in Siem reap and then you work your way to your hotel via Tuk Tuk. Taxi SHOULD take you direct to your hotel and be adamant about service to your hotels door. Most Taxis will try to drop you at a Tuk Tuk stand just outside of town claiming every excuse in the book.
Safe Travels. Siem Reap is worth seeing.
Vincent


Posted by Vincent Lennox on 28th February, 2012

Hi, I am planning to do BKK-SR overland. I have several questions: can this company Capitol be contacted in BKK, or do they just travel from SR???? What is the best way to visit the temples, hire a tuk-tuk, a tour, a bike? Obviously, I am looking for reasonable prices as I am travelling as a backpacker. Can you recommend me any guesthouse and anything else that I should visit in Cambodia ? Thanks

Posted by Danielly on 10th March, 2012

@ Danielly... I have been to Siem Reap by land from Bangkok last year and I did not have any problems at the immigration maybe because I am also an ASEAN and we don't need to show any visa to enter Cambodia...

When I got there in Siem Reap, I found this very simple yet clean guesthouse (which I forgot the name)... It is a 5-10 minutes walk to the city center and the person-in-charge of the guesthouse is very friendly and accommodating... He even helped me with my 1-day tour in Angkor Wat with a Tuk-Tuk... The tuk-tuk driver was also very friendly...

All in all, I spent less than a hundred US dollar for my weekend trip in Siem Reap...

Posted by deespyder on 10th March, 2012

If you can get the e-visa on line for entry to Cambodia. It will make your trip much easier at the border. There are many legitimate van services from Victory Monument (about 235 Baht) who will take you to the market on the Thai side of the border. A 10 minute walk to Thai immigration then another 10 minute walk to Cambodian Immigration. If you get the e-visa on line (takes about 48 hours) print 2 copies B&W OK.Go directly to the Cambodian border crossing. Once cleared you can take the free shuttle bus to the transportation center. Take the bus for $9 or team up with some travellers and split the cost of taxi. You should be able to negotiate the taxi for $35 although the sign posted say $45-48. If you take a taxi BE SURE they understand you want to go to hotel. There are many many reasonably priced hotels for backpackers anywhere from $4 for dorm type room on up to $10-20 USD. If possible come with USD in small denominations. Good travels.
PS Forget the scam vans who have prices as low as $10 BKK to Siem Reap.


Posted by Vincent on 10th March, 2012

Entry to Ankor Wat is $20. Cheapest way is a bike that you can rent for $1-$2 a day. Tuk Tuk with guide most expensive. Tuk Tuk no guide will run about $10-15 for a few hours. There will always be someone ready to take your money so negotiate and be prepared to walk away.

Posted by Vincent on 10th March, 2012

Entry to Ankor Wat is $20. Cheapest way is a bike that you can rent for $1-$2 a day. Tuk Tuk with guide most expensive. Tuk Tuk no guide will run about $10-15 for a few hours. There will always be someone ready to take your money so negotiate and be prepared to walk away.

Posted by Vincent on 10th March, 2012

Can anyone tell me if it is okay to take one's own car from Bangkok to Siam Reap and drive across border is this a straight forward thing like in Europe or am I asking for trouble............................any advice much appreciated.

Thanks

Posted by Angela on 15th March, 2012

Sorry, but in a word no.

Probably the best way is Taxi/ Shuttle or Bus from BK and then catch a taxi once you are over the border. Don't get on the bus, keep walking and you will be approached by touts USD30+/-

Posted by Norm on 16th March, 2012

Hi,

I am interested in doing the opposite trip in April, from Siem Riep to Bangkok. What times do the buses depart Siem Riep and what time do they arrive in Bangkok? Is it possible to go direct to Bangkok's international airport? Alternatively, how long does the bus take from Siem Riep to Phnom Penh? I might just buy an Air Asia ticket from Phnom Penh to Bangkok instead of going overland.

Thanks a lot.

Posted by Michelle on 19th March, 2012

Thank you for the great info! I'll poste after we do the trip in May :)


Posted by Paula W on 24th March, 2012

Your last choice, fly Phnom Penh tp BKK is a good one. It is a very competitive route.I actually flew Thai Airways round trip, for about $40 more than Airasia and much less hassle. You can get a bus/van from Siem Reap to PP for $7-10 USD. Price differnece should only be how long they take....5-7 hours. But "buckle up" crazy roads and drivers . Have a safe trip/

Posted by Vincent on 26th March, 2012

Rather than travelling to Morchit there is a bus service from Ekkami (March 2012).

Timetable (copied from window)
06.15
08.30
10.30
12.30
16.30

200 baht. Not a vip, but ok aircon bus.

The 6.15 is good, what I took, but the problem is that the skytrain starts at 06.00, however, the bus did not leave until 06.30. No idea if this is the regular practice.

phone: 0 2713 5335. Sign said online ticket: www.airaran.co.th

Great alternative to getting yourself to Morchit and then heading back.

The trip took 4.5 hours. The bus stopped at the northern side of Rongklua. A young guy on a bike offered to take me and my bags to immigration for 30 baht. He took me there with no hassles so I gave him 50.

Thai immigration was a little slow, but no hassles. Cambo side, lots of touts, but not pushy. One guy followed me through the Cambo visa process, but as he did not even offer to carry one of my bags, no tip. The usual waiting in line. Got out at the roundabout. Was offered a 'free' ride to the bus terminal, but I walked on and was offered several $35 rides to Siem Reap by independents (the gov guy told me I would be taken into the jungle tortured, shot and raped-- not sure that was the correct order, if I took an independent). Pleasant ride. I like to stop and take pics along the way. No problem. Gave the guy (lives in Siem, 2 kids, wife (usual story)), $40, for the no hassle, helpful, lots of stops experience.

For me this is the easiest way to get to SR. For three people about the same as a bus.

Posted by ianintheworld on 28th March, 2012

Hey everyone,

I'm a solo female traveller,and doing this trip in June - if anyone wants to share the experience please get in contact x

Posted by kiss15 on 19th April, 2012

Not traveling, but have lived in Siem Reap since Oct. 2011. Ask if you need any info. DO GET THE Cambodian electronic visa on line direct from Immigration. Will save you some potential hassels at the border crossing in Poipet. If you can not find the web site, ask and I will send it to you.
PS pack some extra patience for your trip.
Vincent
vincentlennox@hotmail.com

Posted by Vincent on 20th April, 2012

We just did the Koh Chang to Siem Reap trip and the Siem Reap to Bangkok Trip...

On the way there, we were silly enough to get tempted by the mini ban cheap price and easy plan... Plus I read somebody here saying that it was not bad... I can hear you all saying "I told you so!!!" My bad!!! I will say it again: DO NOT TAKE THE MINI VAN NOR THE BUS!

The 1st part of the trip from Koh Chang to Cambodia was OK for us (we had the e-visas) but we saw 1st hand the visa scams (all other passengers paid 45 USD each!!! They told them that in order to get the 30 days and pass fast, they had to do it there...

On TOP of that, they sold them a $10 pill against malaria (or somthing like that) that was supposed to be mandatory (another lie, another way to get money from them)... They didn't bother us, but we had to WASTE 60 minutes while everybody else was buying their scams...)

Then on the border, the exchange rate scam followed (again, we politely declined, but everybody else on the van went to exchange their money with the mini van driver...)

But the WORST part come in Cambodia. The driver approached everybody and told us that there were a "problem" with the bus and that HHE could get us "a cheap taxi", for $20 USD each person, 3 in the car!!!!" You know how it followed: everybody got in the taxi!! There were 3 people travelling together, they "negotiated" to $50 for all 3 of them... We declined and got our things in the BUS...

That bus was NOT going anywhere anytime soon! It's all part of the scam, so people get tired of waiting and get on a taxi around there. After 20 minutes of waiting, I went back to talk to the driver, to politly ask "when are we leaving?" his answer?

"I don't know, maybe in 4 or 5 hours, when the bus is full..." I said "the bus IS full now" and he replied

"but I don't want to leave now, you can wait for another 4 or 5 hours, or maybe MORE, or you can take a taxi: I DON'T CARE!"

So you don't care????? "No, people will continue to come here and people will continue to pay for taxis, and I will continue to get money, so I don't care about you or anybody else on that bus"

I though: WOW! That is a "nice" way to "welcome" people to Cambodia!!

In the meantime, my husband negotiated with a driver to get us to Siem Reap for $20 for BOTH Of us, the ONLY people in the taxi. On the way back, we paid $25 for a better taxi with a great AC. Most places will ask for $35 but you can negotiate without a problem!!! The route is great, it took about 2 hours. We left early and it was around 30 minutes on the border, for both sides.

Lesson learnt! On the way back: taxi all the way! From Siem Reap to the border was $25 and from the border to Bangkok (3 hours, with AC) we paid 1900 Baht (63 USD)

PS: The E visa is the way to go! $25 USD and you get it in 3 days. Print and you're done. Good luck!!!

Posted by Paula W on 7th May, 2012

I believe this has been said before, but after reading the immediate past post it is worth saying one more time. To get to Siem Reap, from anywhere in Thailand, take the standard bus to the Aran border, walk across, ignore anyone not in a uniform (but try and ignore as many uniforms as you can), get the visa. Then, to get to Siem Reap, walk past the touts, past the large traffic circle and you will come to the independent taxi guys. $35 to Siem Reap, you can go a little cheaper, but if the guy does the right thing (and these guys always do), go with the $35. No troubles, no hassles. No buses, no 'official' anything, no touts.

Posted by Ian Reide on 7th May, 2012

Seems like you hit most of the scams but hope you enjoyed Siem Reap. The van service from Victory Monument in BKK is still scam free and inexpensive. Takes you right to the market on the Thai side of the border. Avoid anything with Hang Thep or Sawadee Transport.
Taxi from Poipet to SR, and the reverse, can depend on where the driver lives. Remember if they live in Poipet they are stuck in SR without a return fare and need to pay room and food until they find a fare. Never forget you are paying for the Taxi and not the number of people. Also be certain the driver knows he is taking you to your hotel or they will drop you outside of town at a Tuk Tuk station and then you negotiate again. You will hear many excuses as to why they can't go to the hotel, all are lies.
Also remember, they all will smile and lie to you so best to be well informed and learn to say NO frequently. Don't change money at the border unless you use a bank ATM machine.I've even overheard people being told they need to get Reals as the US dollar is no longer accepted. (4000 Reals = 1 USD)
While in Siem Reap use Canadia Bank PLC. They are commision free, regardless of the amount, for Visa withdrawals. I'm not sure about other cards. Most banks will hit you with a $4-$5 usage fee.
And ,as suggested, get the e-visa directly from Cambodian Immigration website. You will be glad you did. If you can't find the link email me and I will send to you. vincentlennox@hotmail.com
Happy travels
Vincent

Posted by Vincent on 7th May, 2012

Thank You for that useful information, it was invaluable and has saved me a lot time.

Karen xx

Posted by karen on 10th May, 2012

One more repetative word of advise. If you have the money FLY FLY FLY BKK to Siem Reap. There is nothing to see on a road trip and you avoid the scams. Unfortunately the route continues to be a monopoly by Bangkok Airways but they have 5 or more flight every day. Your wallet might get upset but your mind will thank you hahha. Remember to deduct the ground trip costs and potential costs from airfare. AND GET THE E_VISA

Posted by Vincent on 10th May, 2012

Siem Reap was a beautiful experience!!!!! So what went wrong????

I did this trip May 2012. It was THE WORST experience ever, and I can blame nobody but myself. After reading all the horror stories I challenged the experience thinking everyone was crazy. WRONG!

Supposed to happen: a mini-van pick us up from the hotel and take us to the bus station where we get a big bus to the Poipet border. After crossing, we catch the same bus to Bangkok. Total time, 730-3pm.

What actually happened: a tuk tuk picked us up from the hotel and took us 4 streets away. The driver told us to get out and wait, literally in the middle of a random block in a non-touristy area. A bus came and picke us up. We were releaved. The bus then went to another pick-up are where it immediately filled up. People were sitting on foldign chairs in the aisle. It had AC which was nice, and took us to Poipet. We got out and went through Cambodian immigration, no problem.

Going into Thailand was a NIGHTMARE. The process took 4-hours where we waited in the hot sun. The line just didn't move for 3-hours, where we stood and waited. Tour bus after tourbus with loads of people were given priority over us, and we simply watched and waited. We finally passed through (4-hours total) and were picked up, not by the big bus.... but by a pick-up truck with benches. They took us to a make-shift eating area where we waited 30-min for the bus. Whew! Wrong!!!!! A MINI-BUS came and we all crammed into the little area wedged between luggage and backpacks. It had little A/C anbd the floor was extremely hot due to an overheating motor. We stopped for Gas which meant everyone off... wait... then back on. We got to Bangkok at 9pm!!!!!

FLY!!!!!!!!!!!!!!!!!!!!!!!!!!

Posted by Greg on 14th May, 2012

Sometimes I feel embarassed as people continue to report the "horror" stories. Happy you enjoyed your time in Siem Reap.
Tour Bus operators have a vested interest in a smooth trip and have a way of saying "thank you" at the border. Understand? Everyone else is an independent, so you wait. Again AVOID the cheap $6 trips ( Hang Thep) from SR to BKK...you will pay more in time, aggravation or $. I still think Capitol is OK at $10. Option, just negotiate a taxi SR to Poipet($35 max) then cross the border and get a taxi to BKK 1900 Baht. Although they can not control an influx of tour Buses at the border. Thats the way it is.
Bangkok Air has web saver fares, but still expensive for the distance. Be sure to have the credit card, you used for booking, when checking in or they might deny passage. Seems like there is a lot of fraud.
Happy travels. Vincent

Posted by Vincent on 14th May, 2012

I just made the trip in March 2012 and I found your comments helpfull and accurate. The one point I would like to make. The bus we took from Bangkok (240 baht) stopped once for a 15 min washroom break and dropped us off right at the border crossing to Cambodia (5 min walk). We did not need a tuktuk. A word of caution though, it let us out with locals waiting to sell us Cambodian visas for over 1,000 baht. We walked past them to the border, and bought the visa for $20 US. Don't forget your passport photo. We didn't have them but they gave us the visa without them. The trip was an adventure - a great one.

Posted by Winks337 on 23rd May, 2012

I am going to Seam Reap fro BKK in a couple of weeks. Does anyone know the times the bus leaves from Suvarnabhumi airport going to Aranyaprathet?

Posted by Dave on 30th May, 2012

Remember the border crossing is not 24 Hrs. and closes at 7 or 8PM. If you are flying into BKK from a long distance plan ahead. Not sure about "bus/van" but if you have the money take a taxi to the Thai border. Going price was 2700 baht but if you scroll back a few months there is a contact for a company that charged 1900. Hope it helps a little.
Vincent

Posted by Vincent on 30th May, 2012

@Dave. Don't know the times, but all the buses travelling from Bangkok to the border pull into the Swampy bus station. Thus buses should be fairly frequent. If you are at the station in the morning you will get a bus in plenty of time to get to the border before closing time.

Posted by Ian on 30th May, 2012

OK I have to ask sorry, What is the "sawmpy" bus station. Been in the area for 3 years and never heard the term. Thanks Vincent OH maybe Airport built on a swamp = swampy.. cute

Posted by Vincent on 31st May, 2012

Swampy = Suvarnabhumi airport. Easier for some to say.
Personally, spending 2700b for a taxi to the border is unnecessary. I did the bus trip from Ekami in March, a pleasant 4.5 hours.

Posted by Ian on 31st May, 2012

You can get to the border via Taxi for 1600 Baht.

Twin Golden Gate Travel Co Ltd, phone 086 848 4786 or 089 532 9794.

Posted by Norm on 31st May, 2012

You can get to the border via Taxi for 1600 Baht.

Twin Golden Gate Travel Co Ltd, phone 086 848 4786 or 089 532 9794.

Posted by Norm on 31st May, 2012

Awsome. Straight forward info! Am planning this in a couple of months time and taking our 3(quite well travelled) kids with us. Staying overnight in aranyapathet and heading to the border in the morning. My boys are 13, 12 & 7. This is ok trip to do with kids of this age???

Posted by Jackie on 6th June, 2012

Absolutely OK with kids, just use normal travel precautions and GET THE e-visas for the family, you can do multiple family members in the same transaction. You will find it much more enjoyable if you take a taxi once you cross into Cambodia $35US MAX to pay and be certain the driver knows to take you to Hotel. You have obviously read
previous posts. Good luck and safe travels.
Vincent

Posted by Vincent on 6th June, 2012

Do Philippine tourists need visa in going to Thailand and Cambodia?

Posted by Dfo Nograles on 16th June, 2012

Just completed the land trip BKK to Siem Reap in record time of 6 hours.
Note: This is highly unusual and not to be expected. I took a 9:30 AM Van from Victory Monument (230 baht) The vans that service many cities are located next to the Century Mall/Theater. If you take the BTS to Victory Monument use exit 2 and you are there. Service to Arrayanphet (Rongkuela Market) is about the 6th booth down from the street. Most signs are in Thai so just ask. You can say Poipet which is easier to pronounce. Trip to Rongkuela market took 3hrs. 30 min. including 1 short stop. Short walk to Thai immigration (keep walking and avoid any scams or offers) Thai immigration was empty so took 10 minutes to clear. Now walk through the "no mans land" past the casinos to Cambodian immigration. (If you did not heed the advise to get the evisa on line) You will have to get a visa on arrival. You will have many many offers but you will pay much more for the services.
I have a multiple entry visa so no problem for me. Cambodian Immigration was virtually empty so took 5-6 minutes to clear, most of which was spent filling out the arrival/departure form.
Walked out to the circle and there were many ride offers. I got a taxi to my home for $30 just me and a friend had the entire back seat. Driver did cram 2 Khmer into the single passenger seat up front so I'm guessing he got a few bucks from them. Great driver, made one quick stop just inside Siem Reap Province and then to the city. (50 KM from the time you enter SR Province to City) Drivers number on card is 092 20 71 30. Not sure if it's a company or just him.
Home in Apartment at 3:30 a record 6 hour trip. Keep in mind this is NOT the norm. You can spend 11 hours doing the same trip. My travel was on Wed. 4 July 2012.

Posted by Vincent on 4th July, 2012

One last note: DO NOT buy into the $15 or less BKK to SR trips. They are all scams and will suck every last drop of blood out of you before getting you close to where you want to go. I have even been shown pictures of VIP buses by travel agents and it was a van. Went back to complain and they said "thanks for telling us" hahaha...Tattoo "stupid" on your forehead. Sorry to be blunt. I've done the trip many many time from novice to pro.
Have a safe trip!

Posted by Vincent on 5th July, 2012

This is going to be my first trip to angkor wat in cambodia coming from Bangkok.., i bet this is going to be fun

Posted by Minette Fallorina on 18th July, 2012

This is going to be my first trip to angkor wat in cambodia coming from Bangkok.., i bet this is going to be fun

Posted by Minette Fallorina on 18th July, 2012

This is going to be my first trip to angkor wat in cambodia coming from Bangkok.., i bet this is going to be fun

Posted by Minette Fallorina on 18th July, 2012

5 of us will be travelling from Bangkok to Siem Reap by October. Is it possible for us to take one taxi only in going to Siem Reap? if yes, how much will it cost us to pay the taxi? How much will it take us to get a permit in entering Siem Reap? We're Filipinos, are we required to secure Cambodian visa?

Posted by ail francisco on 18th July, 2012

Wonderful information. I must thank the author for sharing these valuable bits of information which he must have acquired at his own expense.

Posted by ARUNAVA DASGUPTA on 20th July, 2012

I think everyone except Vietnamese nationals need a visa. Viet and Cam have an arrangement. Check www.mfaic.gov.kh for evisa and other requirements.
5 in a taxi might be tight, but as long as all are average weight it can be done. Taxi driver might want more $ and depends on whether front seat is a bench seat.
Have a good trip!
Vincent

Posted by Vincent on 20th July, 2012

Visa Exemption

Laos, Malaysia, Philippines, Singapore, Vietnam, Thailand, Indonesia

I personally recommend to all my friends going overland to get an E Visa to save all the hassles within flated Visa prices.

5 People will be very tight, also you will struggle to get in 5 bags.

Use Twin Golden Gate Travel as above for a 1600 Baht Taxi

Posted by Norm on 20th July, 2012

You continue to have such great, well informed advise. Thanks for sharing.
I do suggest travelers visit the website previously mentioned for updated info and e-visa. Philippians it will depend on your passport type PN (passport normal) is 21 days versus PD or PS type passports which are 30 days. Anyway, safe travels!
Vincent

Posted by Vincent on 21st July, 2012

thanks vincent for that information... it's very useful.

Posted by ail francisco on 22nd July, 2012

We wish to get a taxi/van (for 5 adults needed) to get from Don Meaung airport direct to the border. Found a website quote for THB3900 from one company. Is there a cheaper company that has a website where we can pre book as this seems high. We land at 10.15 Airasia from Yangon and want to get straight into a van and off to the border. How long will the Don Meaung - border trip take? We will head advice and get e-visa. Thanks for your advice.

Posted by dave on 11th August, 2012

Hi! If you want to go to Aranyaprathet which is the border town of Thailand to Cambodia, I suggest you take the bus from Mo Chit station since Don Meaung Airport is near the bus station. You will only have to pay around 150 THB for the taxi and the bus ticket would only cost around 230 THB. Buses leaves every 30 minutes to an hour. Just make sure you can make it to the border before 19:00 otherwise you'll have to spend the night at the border town. Hope this helps! Cheers!

Posted by Rafael on 11th August, 2012

Mo Chit is closer so good advise but you can go to Victory Monument and get the Van service direct to the Rungula Market and walk. Bus will leave you at bus station and you will need a tuk tuk to go to border. Be sure to get a metered taxi ONLY, there are no "special" deals off meter. 5 people with bags in a taxi will be tight. Taxi to Victory Monument maybe 200 baht. Meters move slowly after the first 35 baht drop.Van makes fewer stops than bus. Have a good/safe trip and you will be happy you got the e-visa. Vincent

Posted by Vincent on 13th August, 2012

Thanks for the information Vincent and Rafael - appreciate you taking the time to reply

Posted by dave on 14th August, 2012

THIS WILL NOT HELP MOST..but is to give you the true value of the trip from Poipet to Siem Reap via taxi. I travel with a Khmer (Cambodian) friend so the language is the issue.
Anyway, I came back from BKK a couple of weeks ago on a Sunday, took the van from Victory Monument at 9:30 and had cleared Thai Immigration by 1:30.
NOW (scroll down to previous messages) I called the last taxi driver I took, He was already on his way to Siem Reap but called a husband and wife team who had a car. They called me back in about 15 minutes and arrived at the "circle" about 30 minutes later. So we hung out around the shuttle bus stop for a while.
Walked a little past the circle to meet the "taxi". I did not have both feet in the car for 1 minute and the police where there "protecting my interests" The wife gave $5 and we were on our way. COST $8 each or $16 total. I did however give them $20 to cover the "protection" cost . They were so happy they both hugged us as we got home. SOOOOOOOO $30 $35 $40 ++++ you are getting ripped off.
NO ENGLISH SPOKEN but the # is 012 472 099
PS: the car did rattle a little and I had to sweep some potato chips off the back seat. Arrived safely home at 4:30 (7 Hours)

Posted by Vincent Lennox on 11th September, 2012

Good information! Can't find any of the kind in Lonely planet's book on Cambodia. So this is priceless. Thank you for sharing it!

Posted by Peter Lindahl on 11th October, 2012

I did the same trip again, last week, with the same Cambodian friend. Called the same husband/wife team (see above) Note they speak NO english.
They arrived on time but this time we got not only the police "protection fee" but also got hit by the "taxi association" fee. Met a single traveler from Finland on the van ride from Bangkok, she did not have the EVISA so we walked her through the scams , got her to the immigration office and within 20 minutes she had her visa. (100 baht tip)plus visa cost. (This was a Sunday afternoon)
There was virtually no wait at either the Thailand exit or the Cambodian entry. Got the taxi but this time $30 for the 3 of us (including fees). So I just would try to make the best deal you can and be SURE the taxi will take you to your hotel/guest house. Good travels!


Posted by Vincent on 11th October, 2012

it was really a scary experience of our trip from the cambodian border going to siem reap, particularly at the bus terminal where we got the taxi in going to siem reap... we were actually harassed by a man at the bus station. i was a bit scared tho' i wouldn't want it noticed by my companions. when i decided that we go out of the bus station and just get a taxi outside of the terminal, we were approached by a man who introduced himself as a tourism staff and helped us get the right taxi in going to siem reap. it was at that time that i was able to breath well. with this experience, i am thinking of not going to cambodia again and would highly recommend to my friends not to go in that place too...

Posted by don on 2nd November, 2012

Some repeat suggestions based on the "bad" experience of the past two comments.
1. IF you have the money FLY BKK to Siem Reap. If you plan on going to Phnom Penh, Fly BKK to PP then go PP to Siem Reap by land. There are no scams on the PP to SR heavily travelled route but 5 hours ($10) by express van and 6 1/2 hours by bus ($7?) Golden Bayon Express Vip van service does a good job.

2 If you must go by land BKK to SR just bring your patience along with you. The people in Poipet can be intimidating but mostly harmless.
They are looking to make a buck and that includes the so called "tourist" guides with badges around their necks.

3 Unless you are completely exhausted, negotiate the taxi fare to a max of $35 for the taxi, not the number of people. Make certain they know you are to be taken directly to your hotel> Ignore the excuses at the end of the trip "I do not know where it is" YOU still have the money. NEVER pre-pay!! And do not book the taxi on the Thai side of the border. You WILL be offered that "service".

4 After your trip from BKK to Thai border, use the large public toilet on the Thai side. You may wait in line for Thai exit and Cambodian entry for awhile plus a 2 hour taxi ride excuding the time to get one. It is the last well maintained and clean one you will see before your hotel/guest house.
5. GET THE EVISA on line.
6. Do not get talked into buying malaria pills or changing your money into Real. US dollar is the currency used. Come with crisp new USD! There are NO coins.. 1000 Real is 25cents US etc. Occasionaly you will find a vendor with no dollars to change. It's OK it happens, take the Real with the same math as above.

OH well, good journeys and have a good time.!


7. You are on vacation/holiday try to relax...enjoy Siem Reap it is well worth the "adventure" Poipet is the armpit of Cambodia.

Posted by Vincent on 3rd November, 2012

"Expect to pay around 5,000 baht one way (before taxes, fuel charges and so on) for the flight -- yes, it is an absolute rip-off"

Just been to Bangkok Airways website and the price is B7,500 for the day I want to go next week. Including surcharges and taxes it comes to almost B10,000. Over $300 for the one hour hop. Its too much.

Posted by Rutergar on 22nd November, 2012

Yes Bangkok Airways has a monopoly on the route for some reason and it is a rip off. If you consider a pleasant 50 minute flight with no hassels compared to the 7 to 11 hour ground trip from hell, it does become attractive if you have the money. What value do you put on your sanity ha ha. Round trip, if you get their "web saver deal" advanced booking is a little more reasonable albeit still expensive.

Posted by Vincent on 22nd November, 2012

Yes Bangkok Air has had a monopoly on this route for some time.

Cambodian Angkor Air is now flying this route as well. Prices it seems are better, but still expensive.

You can go overland via Taxi (one to the border and then another one on the other side) for about USD90 for the whole taxi.

I have completed this route in just over 5 hours. This is dependent on traffic as well as the number of people crossing the border at that time.


Posted by Norm on 23rd November, 2012

WOW awesome advise!! Thanks. I just checked Cambodia Angkor Air and found a round trip Dec. 22 leave Dec. 26 return for less than $150.00

You are well informed! Thanks again.


Posted by Vincent on 23rd November, 2012

I should have added it is a Turbo Prop and 1 hour 10 minute flight..(maybe a little less).but good deal!

Posted by vincent on 23rd November, 2012

I know i said it, but I can not thank you enough for the Cambodia Angkor Air info. I just booked a ONE WAY BKK to Siem Reap for 75 USD including all taxes ,fees etc.
It is a PROMOTIONAL offer until 31 December and subject to availability. Turbo Prop plane and 1 hour 10 minute flight. Get to BKK airport with airport express train, get the E-Visa to enter Cambodia and you will have a most pleasant and relativly inexpensive trip.
It will be worth avoiding the Poipet "adventure"
Good travels! (hassel free)

Posted by Vincent on 29th November, 2012

hi
dear
we are Iranain
next month coming to bangkok
like visiting siam reap
let me know ,we need the VISA for combodia???
we have visa for THILAND
we can get the arraivable visa in siam reap?

Posted by Mr Nokar on 30th November, 2012

Iran does not appear to be supported by the e-visa program. Sorry. you can check www.mfaic.gov.kh for more information on "visa on arrival" for you country. Safe travels!

Posted by Vincent on 30th November, 2012

I decided to do the trip from Bangkok to Siem Reap overland last week and used some of the advice in this post. It's not nearly as bad as it used to be thanks to the newly paved road from Poipet to Siem Reap.

The trip was

- Bangok - Aranyaphratet (220B) 5 hrs easy
- Hotel Overnight in Aranyaphratet at bus station hotel (380B) easy
- Tuk tuk to border (80 B) easy
- Line up Thai at border (30 mins) not bad [Walk past touts and shops offering Cambodian visas, Border didn't seem to open until 9am for foreigners and got there at 8:30 so had to wait??]
- Walk to Cambodian visa place, complete form and pay $20...... plus 100B written on a piece of paper and held up by Cambodian immigration...no explanation for extra 100B....perhaps a gift, but unavoidable)
- Walk to Cambodian stamp post and get stamped into country (easy)
- Walk into Poipet (avoid instructions to wait for bus to International Passenger Terminal and talk to a few taxi drivers...even in full view of police...negotiate $30 to hotel in Siem Reap (easy)
- 2 1/4 hour taxi to hotel (easy)

Total was
B300 + $30 for transport ($40 total) plus $13 accommodation in Aran that you can avoid if you leave earlier in day and want extra time in Siem Reap

Posted by Rutergar on 3rd December, 2012

I did the BKK to Siem Reap last week (woman with 2 sons, 12 and 14). I took lots of Vincent's advice, made sure we had the evisa. We decided to go to Aranyaprathet by train (48 baht each. Train is a long trip and seats are hard but all in all it is a good experience, travelling with the locals: people selling food up and down the isle for the entire trip (do yourself a favor and get the cake in the box, to die for!). Going between the Thai border(stamp out of Thailand) and the Cambodian (stamp into Cambodia) is a little confusing as it is not well signed but just follow the other backpack wearing people and you will work it out.

We then walked past the shuttle bus and caught a taxi, $40, that was the price asked and I was too tired to argue, slept all the way (2 hours) into Siem Reap.

We are heading back to BKK on the 28th and are taking Vincent's advice again and paying $10 with Capital Tours here in Siem Reap: a bus to the border, they then wait for you on the other side and take you by bus to BKK. Fingers crossed the border crossing is not too busy and all should be well.

Posted by tadempster on 25th December, 2012

On Jun 10 / 2013 - Looking for 2 people to share a taxi with me and one friend to go to Siem Reap from Poipet.

Posted by Fernanda on 3rd February, 2013

You might want to ask again in mid May as most do not plan that far ahead. Good luck and get e-visa.
Vincent

Posted by Vincent on 3rd February, 2013

anyone knows how much is the tuk tuk from Aranyaphatet train station to the border?

Posted by xyle on 11th February, 2013

If money is not an issue. Cambodia Angkor Air still has promo deals for web bookings. I flew them back in December and they are great with ground and air crews and planes, although turbo props. I just booked another BKK to Siem Reap flight for late March at $113 all inclusive of taxes, airport fees etc. Deduct the cost of your "deal" from some of the ground companies, the agravation, taxi?? and the time going through Poipet and it is a gift, trust me. If you need to suffer the pain, then go by land ha ha. Good travels!
PS I think round trip you can do better. Trip in reverse is long but hassle free if you stay away from Haeng Thep.

Posted by vincentlennox on 14th February, 2013

Taxi from station at Aranyaprathet to the Cambodian border is super cheap, 50bt I think, less than 100 anyway. If you have a visa already, be VERY sure to tell the tuk tuk driver you do not need a visa if you already have one. Otherwise they will drop you at the visa office which is actually before the border. If you do get shoved out there (as we did), its not that far to walk and you can probably follow someone if you are not sure where to go.

Coming back from SR we did as Vincent advised and paid $10 each to Capital tours and it was really easy. Big bus to the boarded, drop you off, put a sticker on you so they know who to pick up on the other side ("you blue sticker, come come"), Mini bus waiting on the other side of the boarder. Be careful who buy tickets from when doing this trip, another couple got their tickets from their hotel thinking they were all the way to BKK only to discover they were not and they didn't get a blue sticker! This meant a made hustle to find seats from the border to BKK.

Terrie

Posted by tadempster on 14th February, 2013

Taxi from station at Aranyaprathet to the Cambodian border is super cheap, 50bt I think, less than 100 anyway. If you have a visa already, be VERY sure to tell the tuk tuk driver you do not need a visa if you already have one. Otherwise they will drop you at the visa office which is actually before the border. If you do get shoved out there (as we did), its not that far to walk and you can probably follow someone if you are not sure where to go.

Coming back from SR we did as Vincent advised and paid $10 each to Capital tours and it was really easy. Big bus to the boarded, drop you off, put a sticker on you so they know who to pick up on the other side ("you blue sticker, come come"), Mini bus waiting on the other side of the boarder. Be careful who buy tickets from when doing this trip, another couple got their tickets from their hotel thinking they were all the way to BKK only to discover they were not and they didn't get a blue sticker! This meant a made hustle to find seats from the border to BKK.

Terrie

Posted by tadempster on 14th February, 2013

Suggestion! Too late for some, in time for others. Try to book your first night at a hotel/guest house in SR BEFORE arriving and be sure you have a pre-paid voucher.
I live across from 2 lower price range guest houses and watch people walk in and have to find another as they are full. This is high season so the last thing you want to deal with, after a long trip from BKK, is finding a hot shower and a bed. Take it or leave it.

Posted by vincentlennox on 16th February, 2013

Airline update:Bangkok to Siem reap
Checked and booked (March 31) Cambodia Angkor Air USD $113 inclusive of taxes and fees
Checked same day similar time (5PM local) Bangkok Airways 8375 THAI BAHT (about USD $250)inclusive of taxes and fees.
Way to go if you have the money. There is nothing to see going by land and Poipet is to be avoided IF you can.
Safe travels!

Posted by vincentlennox on 20th March, 2013

Thanks for this site! So helpful.

I just booked on Cambodia Angkor Air, one way from BKK to REP. $3250 Baht, or $115 USD roughly. This is a huge savings compared to Bangkok Air at $300USD!

Go CAA!


Posted by Greg on 1st April, 2013

Good for you ! Your wallet might hurt a little but your mind and body will be better for it. I just completed my 3rd flight with CAA and they are friendly and efficient at both sides of the trip. I hope they keep the route going and give Bangkok Airways a run for their rip off.
Worth it to avoid Poipet except for those who need to experience the "adventure"

Posted by Vincent on 1st April, 2013

Good for you ! Your wallet might hurt a little but your mind and body will be better for it. I just completed my 3rd flight with CAA and they are friendly and efficient at both sides of the trip. I hope they keep the route going and give Bangkok Airways a run for their rip off.
Worth it to avoid Poipet except for those who need to experience the "adventure"

Posted by Vincent on 1st April, 2013

Did this trip the slow way (train, taxi etc.) on 27 March 2013, in the hot season. There's indeed nothing at all to see during the 5+ hours of the train ride, plus you can end up travelling with your knees in your throat, like we did. People travel heavy, lots of baskets and luggage that doesn't fit in the overhead shelves, so you end up really crammed. Poipet should be avoided, it's a nuisance, from the moment you set foot at the border on the Thai side even, you are closely followed and herded to "free state buses" etc. I read that this is all a scheme run by an association. Not a scam, still very cheap, but annoying, you don't have a moment's peace until you buy the ticket for their taxis. The slow way costs less than 20$, all the way from Khao San road to your hotel in Siema Reap, so there is a difference compared to the plane. But do fly if you can, especially in the hot season. Wish I had.

Posted by Bill on 12th April, 2013

NEW DIRECT BUS FROM BANGKOK TO SIEM REAP!

This bus launched on February 21, 2013!

Company: The Transport Co. Ltd.
Price: 750 baht
Duration: ~8 hours
Departure Time: 9:00 am
Approximate Arrival Time: 5:00 pm
Where To Get Tickets: Mo Chit (Northern) Bus Terminal, Booth 22
Destination: Should be Pub Street in Siem Reap, or close to it
Phone Number: 0066 (0)2 936 0657 (call center) 1490

We recently took this bus on April 16, 2013 and it went very smoothly, compared to the alternative method of overland travel anyway. We wrote a very detailed account of our experience in our blog post below if anyone is interested.

http://artydubs.wordpress.com/2013/04/18/direct-bus-from-bangkok-thailand-to-siem-reap-cambodia/

Hope this helps!

Posted by Julie on 26th April, 2013

Thanks for the information on the bus service. Some of the best and most detailed I have read. I have been flying BKK to SR, just to avoid Poipet but might give it a try for my next round trip in July.
Thanks for sharing.
Vincent

Posted by vincentlennox on 29th April, 2013

Update: as of Feb 22nd, 2013 there is now an international bus operated by the Transport Company that leaves Mo Chit (Bangkok) at 9am each day and heads to Siem Reap. The cost is 750 baht for the first class ticket.

Posted by drewdogy on 5th May, 2013

Maybe someone has already said this in the 500+ comments, but I just wanted to tell you that the Cambodia Angkor Air flights are 3520 baht BEFORE taxes. WIth taxes, a roundtrip ticket is in the neighborhood of $350, which is about the same as Bangkok Airways. For a quick trip from Bangkok, it's an insane amount to pay, considering the distance, but I guess they know we all want to see Angkor Wat!

Posted by Kate on 20th May, 2013

Cambodia Angkor Air has a promo fare of $120 one way including taxes and airport fees. You will need to book on line and be able to plan ahead. Still expensive but better than Bangkok Airways and far better than the travel by land.

Posted by vincentlennox on 20th May, 2013

Cambodia Angkor Air "promo" fare, all inclusive has moved up to 4510 THB (about $150 USD) ONE WAY BKK to Siem Reap. I booked for July 30 2013 on June 16 2013 so as to date stamp this message.
Good travels!

Posted by vincentlennox on 16th June, 2013

Taking your advice and changing over to the FLY FLY FLY option and giving up on the "adventure". We are visiting Siem Reap and Phnom Penh end of July. Will it be raining all the time with flooding etc? Will we be able to do the speed boat trip to Phnom Penh during this time? And is it equally harrowing to get to Hochi Minh City overland ?

Posted by Rati on 29th June, 2013

Oops! sorry for the multiple posts

Posted by Rati on 29th June, 2013

If you do not care as to whether you go to Siem Reap or Phnom Penh first, it will be much less expensive to fly BKK to Phnom Penh. It is a much more competitive route. You can then get a "scam free" 5 hour van service from PP to SR for $10. I use Golden Bayon Express (SR 017 22 1919 PP 089 22 19 19) frequently. Vans are 2012 Fords and can be comfortable but try to avoid the rear row of seats and the seats next to the driver as the middle seat is a jump seat and the worst. Seats 3 & 4 behind the driver have the most leg room.Book a couple of days in advance to get best seat selection.
You can probably expect it to rain heavily at some point of the day/night in July ,August and Sept. The "50 year floods" of two years ago seem to have mellowed and last season was rather mild. Roads do flood but most drain rather quickly. If your guest house/hotel is on an unpaved road, expect a lot of mud.
Saigon travels you will have to get info from others but many travel agencies in Siem Reap "specialize" in travel to Vietnam. Have a safe trip

Posted by vincentlennox on 30th June, 2013

Cambodian E-visa will further improve your experience and save a few steps and wait at the airport.If you need the Gov't web site ask and I will re-post.
Vietnam visa "on arrival" is questionable without a "broker" and varies by your home Country. Might be best to get at the closest Viet. Embassy/Consolute if time permits before you leave. Maybe someone else can give you some pointers. Look closely at the cost as there is a final "stamp" that can run $50.


Posted by Vincentlennox on 30th June, 2013

Another thing is when making reservations with Hotels, email them and make sure they have a generator. This year more so than last there have been many power cuts

Posted by Norm on 30th June, 2013

Another repeated tip...No need for Cambodian Real. They are mostly used for "change" less than one dollar.Smaller shops may not have dollars at the time so 4000 real to the dollar is OK. Either come with new US dollars or ATM's dispense them. The slighest blemish or tear on a 5 10 20 50 100 and you will have trouble getting to use it. $1's seem not to be an issue. Watch the bills when you get change and don't be afraid to ask for a different bill if in question. Canadia Bank LTD has no service charge for cash but your own Bank might charge you for the transaction.
Good advise on the "book ahead" for the first night.

Posted by vincentlennox on 30th June, 2013

Good news! Air Asia now flies BKK (Don Mueang) airport to Siem Reap. This should start to push the prices down so check it out. Avoids the scams and hassels of the ground trip. Plus there is nothing to see in Poipet.
You can cheaply reach the airport via Hua Lampong train staion in BKK

Posted by Vincent on 31st July, 2013

There is a new 100 dollar bill coming into circulation in October 2013. Probably best to avoid them for a month or 2 until the Cambodians get use to seeing them. Bring crisp un-damaged, US bills only. No $2 bills or coins as they are not accepted. Don't get talked into converting your money to Riel at any crossing land or air.
Welcome AIRASIA as of Oct. 1. Riel is only used for change as there are no coins here.
Good travels! Siem Reap is booming!

Posted by vincentlennox on 30th August, 2013

Does anyone know if it's possible to self drive from Thailand to Siem Reap in a Thailand registered car, and if so how safe a drive is it?

Posted by Rockdoc on 24th September, 2013

Air travel update BKK to Siem Reap. Getting more competitive. I booked a flight ,one way, on 13 Nov. for travel on 10 Dec. on Cambodia Angkor Air for less than $90 (US) all inclusive. Taxes, airport fees, fuel surcharges etc. are the "killer" as the base fare was about $30.
Cheaper than Air Asia for similar time and web site much easier to complete the transactions without Air Asia's constant "add on's" for baggage/seats/meals/insurance AND the $25 "service" fee.
Check all options between air asia ,bangkok airways and cambodia angkor air before you book. If you can be flexible with dates and time there are some decent deals. Look for Cambodia Angkor Air Super Promotion fares. All beat avoiding Poipet. Good travels

Posted by Vincent Lennox on 13th November, 2013

I am consistently finding lower fairs on Cambodia Angkor Air ($188.00) all inclusive round trip BKK to REP. Plus they fly out of BKK instead of Air Asia CNX.
Flown them several times and great service, on time performamce, no hassel booking on the web, no additional charges for bags, seats, snacks etc.
Give them a try if you are flying. One way didvide by 2 as there appears to be no premium charged for one way flights.


Posted by Vincent on 5th January, 2014

Poipet is the worst land border crossing in all of the Golden Triangle countries. Be aware of the REAL fees and be prepared to stand your ground against scams by your bus driver, immigration officials, and really anybody around.


Posted by Kconan on 31st January, 2014

Too bad! I was hoping Poi Pet would improve with the new airline competition, although still not cheap. I just booked a one way BKK to REP for travel the end of March ($103.00 all inclusive) on Cambodian Angkor Air. They are a good airline but currently fly Turbo Props so takes 1 Hr. 10 Min. Bangkok Airways continues to be the most expensive and has not yielded to the comptition. Air Asia is in the middle when you calculate all their "add on's".
If you can not afford to fly or choose not to:
There is nothing to see in Poi Pet.
Get you visa on-line no matter which way you travel.
Don't get talked into changing your money to Cambodian Riel. US dollar is the currency of choice. US coins, $2 bills or slightly
damaged $10, 20, 50 or 100 will not be accepted. The new US $100 has not arrived here yet so bring the older version prior to Oct. 2013.
You don't need to buy malaria pills, especially at $10 each.
If you can, book your first night accomodations. This is "high" season and most guest houses/hotels are full especially the less expensive ones.
If you wind up taking a taxi, be certain they will take you to your hotel or you will pay a Tuk Tuk after they drop you outside of town.
DO NOT buy your taxi ticket on the Thai side of the border. You will get an official looking receipt but means little to the driver on the Cambodian side. They want their cash.
If you want to take the bus, it can be a long ride as the bus drivers are part of the scams. They will take their time getting you the 2 hour ride to Siem Reap and make unnecessary stops.
AVOID Haeng Thep in either direction!!! I think now they have another name Sawadee.
SR to BKK, by land can be hassel free if you stay with Capital Tours or a few others. $10 SR to BKK with bus to border and van border to BKK. You can pay $15 or more and either get the same or in most cases a longer trip plus some stops ,you don't need, at places they own to try and get you to buy food, drink etc.
Expect to spend 9 hours SR to BKK depending on how busy the border crossing is and how bad the BKK traffic is.
Good luck!
Vincent

Posted by Vincent Lennox on 31st January, 2014

Do you need a loan to pay bills or start your own business, you may qualify for a loan now and contact
us by e-mail: credit01@blumail.org

Loan Application

Name:
address:
Tel:
Age:
Occupation:
Country:
Amount of loan needed:
The duration of the loan:
Purpose of loan:

Mr Herry Mark

Posted by Mr Herry Mark on 6th February, 2014

Has anyone taken the Siem Reap to BKK trip on NATTAKAN (Cambodia) Co. LTD? They told me $28 from Siem Reap to MoChit bus station. They said it was the same bus the entire trip but their card says "Only one company direct to Bangkok VIP Bus and VVIP van" whatever that means. Anyway, for $28 I would expect they carry me across the border ha ha.
Capital Tours is $10 bus to border and van to BKK. What can be worth their hefty charge? Time? They say, understandably, depends on lines at the border crossings and BKK traffic.But say they get in about 3:30PM for the 8AM bus. Capital get in about 4PM for the same trip and 1/3 the price. Anyone have updated info please advise??

Posted by Vincent on 22nd February, 2014

Hi. I am wondering if it's okay to travel from poipet to siem reap at 6pm. Will we be able to easily get a taxi that would take us from poipet to siem reap at 6pm? Thanks.

Posted by Gene on 11th April, 2014

6PM should not be an issue especially if you get a taxi driver who needs to get home to Siem Reap. This weekend is Khmer/Thai New Year so expect a shortage of rides.
Price is all over the place but they know you are tired from you BKK trip and will take advantage. Don't buy your taxi on the Thai side as you will surely pay more. The more you say you'll take the bus and time is not a problem the better taxi fare you will get. 2 people taxi to yourselves $30 max....share with others cut it down...be adamant and have no problem say FU or "why you want to steal from me" or whatever words come to mind. "I live here and do this all the time" works too. ha ha.
Good travels.

Posted by Vincent on 11th April, 2014

I've lived here for a few years and I wouldn't say FU unless I was willing to follow it up.

I have been through Poipet dozens of times and I did go through at 6.00pm once and I will not do this again.

If there is a limited number of drivers at this time you either pay whatever they ask or risk getting stuck.

Personally I wouldn't leave it until that late, unless I had pre booked a driver that I know.

Poipet to me is like the wild west.

Posted by Norm on 11th April, 2014

Ha Ha Point well taken and I never go through Poi Pet anymore except to exit the Country and prefer to fly back to Siem Reap.
Happy New Year. I too have lived here 2+ years. Many trips to BKK.


Posted by vincentlennox on 11th April, 2014

Ha Ha Point well taken and I never go through Poi Pet anymore except to exit the Country and prefer to fly back to Siem Reap.
Happy New Year. I too have lived here 2+ years. Many trips to BKK.


Posted by vincentlennox on 11th April, 2014
Add your comment
Feature story quicklinks
Giving back in Southeast Asia (16)

Burma (9)

Cambodia (23)

Indonesia (14)

Laos (18)

Malaysia (10)

Singapore (9)

Thailand (79)

Vietnam (32)

Accommodation guides (21)

Travel with kids (7)

Opinion & advice (16)

How do I? (11)

Cycling Asia (13)

Health and safety (6)

Money and finance (4)

Diving guides (6)

Photo essay (3)

Guest blog (2)

General (15)

Book reviews (5)

Interviews (8)

Explore Bangkok by BTS (18)
Newsletter signup