Orientation
Tipping
Many guidebooks and other resources advise that tipping is not customary among Cambodians, and that it is therefore not necessary while travelling or living here. We beg to differ. That said, it can be difficult to know exactly what is appropriate.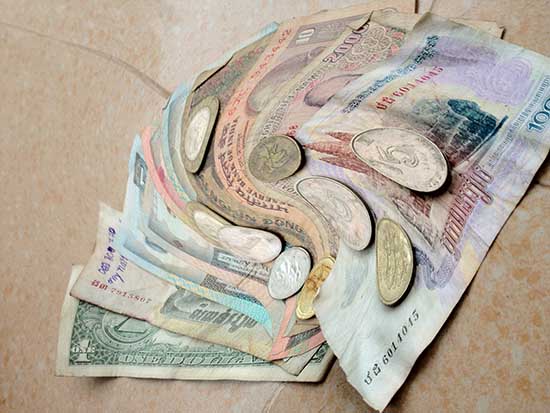 In a largely unregulated environment, it can be difficult to know what the rules are for anything, and also to know what will happen to your money if you do choose to leave a tip. It's more than reasonable to assume that some establishments will pocket the lion's share of what you leave, cutting only a fraction for the staff. But there are others that distribute it fully, or pool them and put them towards paying for healthcare and education for their staff, distributing what's left. You have absolutely no way of telling which does what, and if you ask the staff you will more than likely just embarrass them.
But even if staff only receive a fraction of the tips left by customers, it is important, and can make a huge difference when the average starting salary for wait staff is $80 a month. Since most staff work six days a week, that means a day rate almost equivalent to what you may have just paid for a single cup of coffee.
How much to leave then becomes the only question. Since there is no general context from which to work, there are no hard and fast rules. $1 should be enough to leave you feeling unembarrassed on a bill up to $20. Alternatively, 10% is a good baseline to work from, but aside from that whatever you're comfortable with is really the best guideline. It might go towards paying for the owner's new swimming pool, or it could mean that a younger sister or brother is able to go to school. Fear of the former should not hold you back from enabling the latter, and the amounts involved are so small that you're hardly likely to lose sleep over the loss.
About the author:
Nicky Sullivan
Nicky Sullivan is an Irish freelance writer (and aspiring photographer). She has lived in England, Ireland, France, Spain and India, but decided that her tribe and heart are in Cambodia, where she has lived since 2007 despite repeated attempts to leave. She dreams of being as tough as Dervla Murphy, but fears there may be a long way to go. She can't stand whisky for starters. She was a researcher, writer and coordinator for The Angkor Guidebook: Your Essential Companion to the Temples, now one of the best-selling guidebooks to the temples.
best price guarantee
Photo gallery
Jump to a destination
Hot spots

Phnom Penh & surrounds

Siem Reap, Angkor & West Cambodia

Sihanoukville & Cambodia's islands

Banlung, Kratie & the Northeast