Tad Thong Waterfall
Luang Prabang's third waterfall
What we say:
Travellers to Luang Prabang will probably visit Kuang Si and Tad Se Waterfalls but few people know of Tad Thong, a rainy season-only series of small waterfalls six kilometres from town. While certainly not as spectacular as the other two sets of falls, Tad Thong offers the chance to take a short vigorous hike through the jungle, a brisk spring-fed pool to cool off in and a place entirely to yourself. It's a very low-key experience. If you're sure-footed, want to enjoy some nature and get away from the tourist crowds, Tad Thong is the ticket.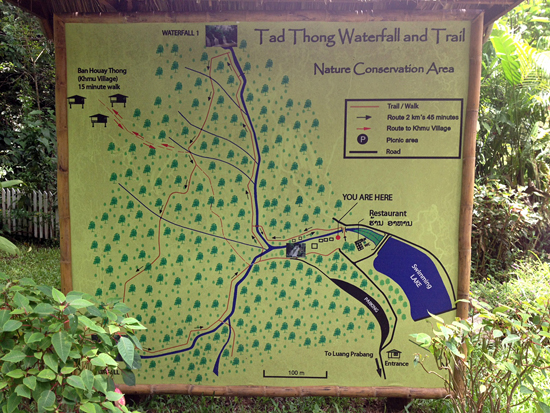 The trail is a two-kilometre loop through the jungle. It should take 45 to 60 minutes and there's an optional side trail to walk to a Khmu village, 15 minutes one-way. There are three small waterfalls, one at the trail entrance and two within the jungle. The waterfalls flow from approximately July to December/January.
A basic map is posted at the entrance and we recommend you take a photo of it, but even with the map, the track can still be a little confusing, so keep your wits about you while walking. The trail is not maintained so expect it to be uneven, slippery and muddy when wet. Wear proper hiking shoes/sandals, bring insect repellent, water and snacks.
Though Tad Thong is only six kilometres from town, we don't recommend walking or cycling as Route 13 is a major artery and you'll be sharing the highway with heavily loaded transport trucks. If you choose to cycle, get a mountain bike with gears.
The best way is to hire a tuk tuk, roundtrip costing around 150,000 kip, or rent a motorbike. Head south on Route 13 for four kilometres until you see the bright yellow Beerlao branded sign "Tat thong Water Fall & Restaurant." Turn and go along the rolling dirt road for 2.8 kilometres to the entrance, parking and ticket booth. Here you will find a restaurant and a small lake surrounded by huts used by the locals for picnics and beer drinking. In fact, it's a fantastic place to come and just hang out surrounded by the mountains. We even spotted a few inner tubes to use for floating on the lake.
More details
Ban Donekang
Last updated: 12th August, 2014

Last reviewed by: Cindy Fan

Cindy Fan is a Canadian writer & photographer living in Laos since 2011. She's the author of So Many Miles, her blog about diving in, discovering and creating a narrative about the world, one story and adventure at a time.
Luang Prabang interactive map
Click on the map below to open a new window with a zoomable interactive map of Luang Prabang, including (where available) points of interest, guesthouses & hotels, restaurants and more.
Map data © OpenStreetMap contributors, Mapbox Terms & Feedback
Photo gallery
Add your photos to this via Flickr More info
Jump to a destination
Hot spots

Vientiane, Vang Vieng & surrounds

Luang Prabang & Northern Laos

4,000 islands & Southern Laos
Most popular sights in Luang Prabang
The above sights are the most popular sights in Luang Prabang that people are reading about on Travelfish.org.