Mae Khlong market
Is that train going to roll through here?
What we say:
Fish vendors frantically lug their buckets into the shadows. A gang of photographers emerge from the woodwork to snatch a spot near the old train track/footpath. Several men hastily lower the market's makeshift roofs as pineapples and mangosteens tumble from their baskets. A lazy day at Samut Songkhram's small but tightly packed Mae Khlong market has instantly transformed into a chaotic spectacle. Turning around, I realise why: "That train's not going to try coming through here, is it?"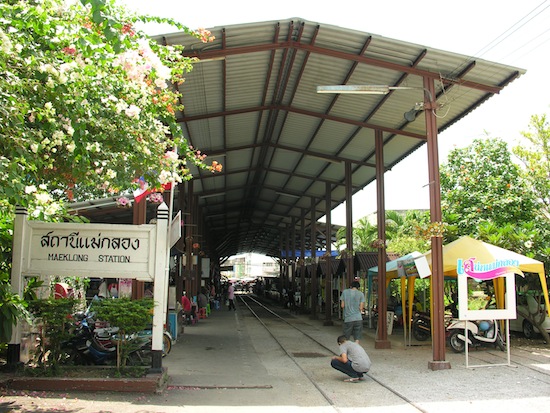 Could that be a hint?
This small market along the Mae Khlong river some 70 kilometres southwest of Bangkok goes by the local nickname "talaat sieng thay", which loosely translates to "dangerous but you have to go anyway market". At first glance, the market doesn't seem "dangerous" in the least, but it is cramped. As I push my way through an especially crowded section of the narrow train-tracks that are used as the market's main footpath, it strikes me how I can hardly fit through an area that, at some point anyway, was wide enough for a train to pass through.
It's one of those kids' carnival trains right?
My first impression is that this a great place to pick up fresh fruit, vegetables and spices, and I find the market to boast a particularly fine selection of fresh fish, including no shortage of the Samut Songkhram specialty pla tuu (mackerel). Although most vendors sell fresh foods to be prepared later on, a handful offer ready-to-eat finger foods for munching as you walk.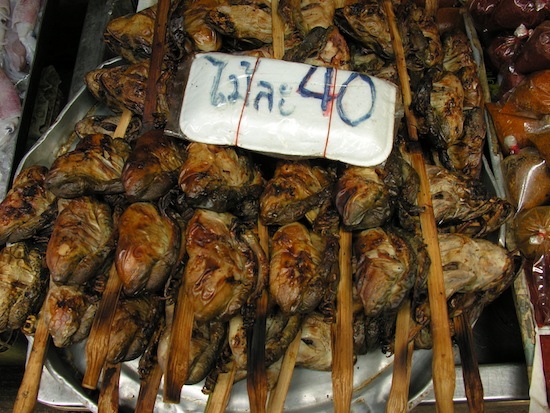 Like grilled frogs on a stick, for example.
Apart from its impressive selection of fish and curious setting around old train-tracks near the river, Mae Khlong reminds me of countless other Thailand wet markets: colourful, eclectic, pungent, hot and tight. Of course, from a Western point of view, markets like this are anything but ordinary.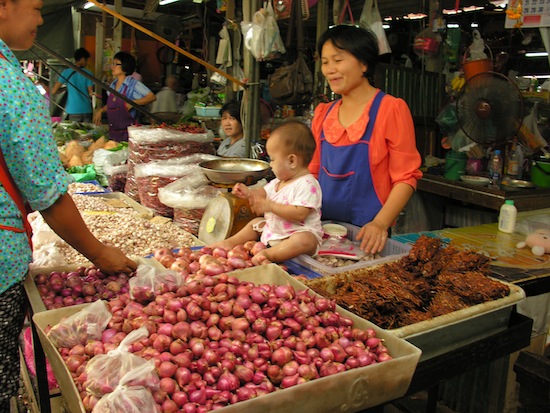 I bet she'll like spicy food when she grows up.
Then, just past noon, something extraordinary starts to happen. At the drop of a hat, the entire market moves away from the train tracks, squeezing adult, child, table and product into the dark inner network of corridors a couple of metres away from the main selling zone around the tracks. The scene has echoes of a mediaeval village swiftly shuttering indoors to make way for a mob of pillaging hooligans. A local vendor yells at a handful of photographers still on the tracks while flapping his arms like a pelican cleaning its wings: "Move to the sides! Move to the sides!"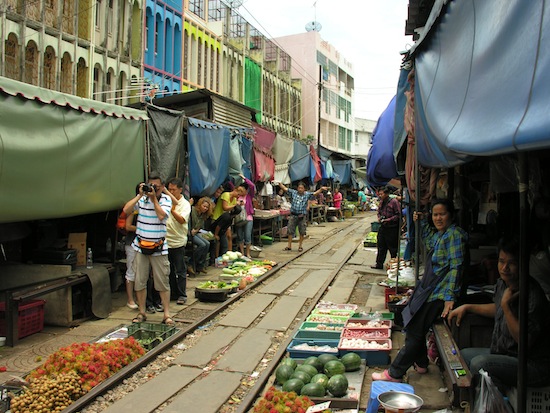 Is it an alien space craft? A herd of wild elephants? A mob of political protestors?
Within 15 seconds of the first signs of something bizarre taking shape, I turn around and ...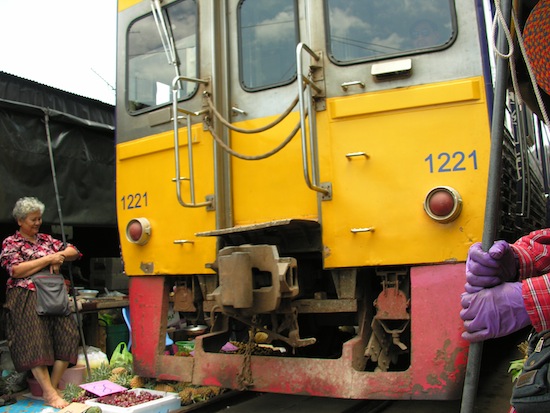 "Holy **** it's a train!!!"
Those narrow, ancient looking tracks that I was struggling to fit through minutes earlier are now being occupied by a full-size steel locomotive. "Did the train take a wrong turn? Am I in the midst of a vivid dream based on that Denzel Washington movie about an out-of-control train?" These thoughts run through my mind as I stand no more than a half metre from steel wheels rolling centimetres above displays of rambutan and lychee.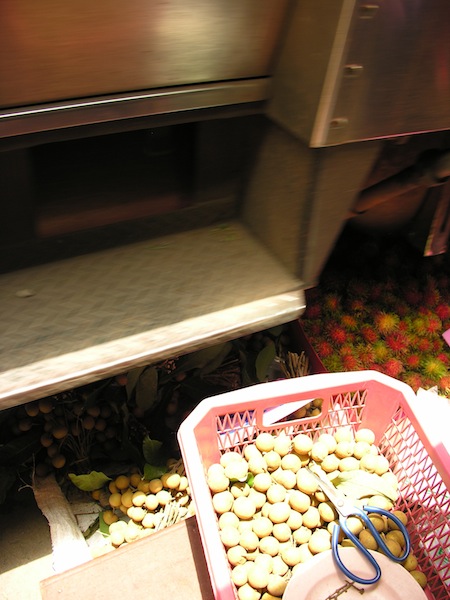 One second I'm sampling fruit, and the next I'm diving out of the way of a speeding train.
In reality, the train is going about its daily routine of picking up and dropping off a handful of passengers from the seemingly defunct rail station located directly on the banks of the river near the market. In less than one minute, the entire place goes like clockwork from relaxed market, to chaos, to train, and back to relaxed market.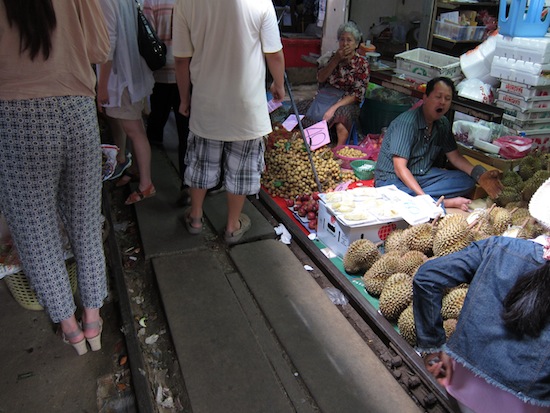 "Yawn -- what train?"
About 15 minutes later, when the train makes its return trip through the market, the entire scene repeats itself. This time, I catch a decent photo of this ludicrous, dangerous and hilarious spectacle.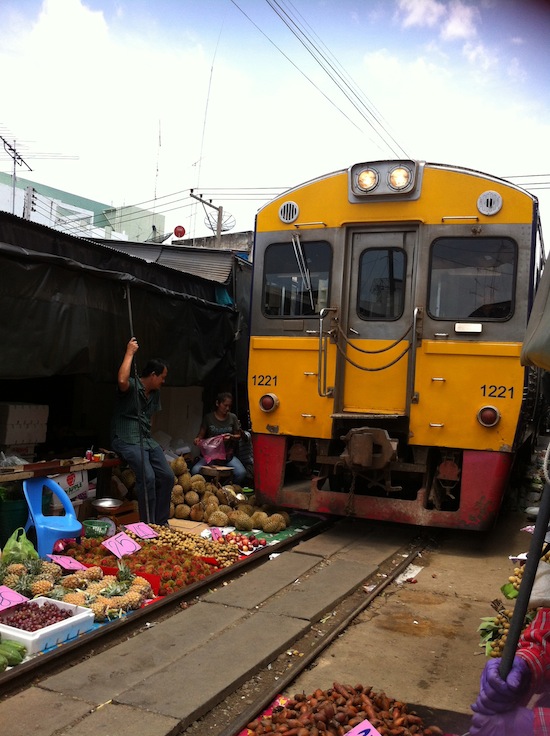 It will do more than just hurt if you don't stay out of the way!
It's indeed a jaw-dropping experience to see a full size train come cruising through a tight market. With that said, use caution if you go, and remember that you're not seeing things in line with reality when looking through the lens of a camera. The train moves fast for such close quarters and accidents have happened in the past (and I don't just mean a watermelon getting run over).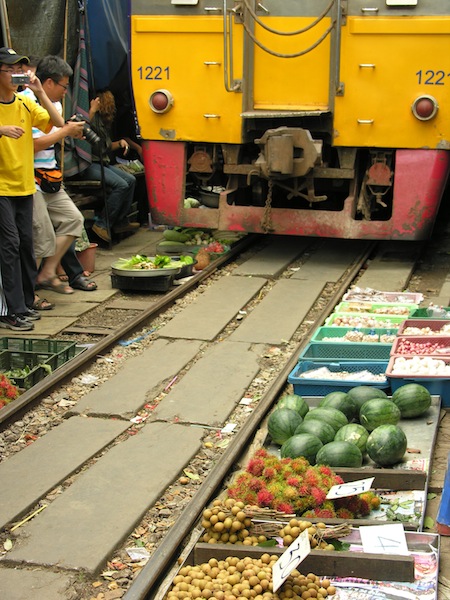 And just like that, it rolls away.
The easiest way to get here is to catch a mini-bus from Bangkok's Victory Monument to Samut Songkhram (make sure to tell them you're heading to "Talaat Mae Khlong"), which leave every hour from early morning to late afternoon and cost 80 baht one-way. Local regular buses may also be caught from Bangkok's Sai Tai Mai (southern) bus terminal (again, let them know where you're headed), and both regular and minibuses congregate at a bus stop near the market at the corner of Rattan Witthi Road and Ratpasit Road in Samut Songkhram.
The market can also be reached by train and a short ferry hop across the Cha Chin river in Samut Sakhon, in which case you would be in the train as it enters the market and would miss the photo-op from outside. With that said, the train -- which will eventually leave you at Wongwian Yai rail station near the BTS (sky train) stop with the same name in Thonburi -- looks to be a relaxing and picturesque ride back to Bangkok.
If looking to explore further in the area, an army of tuk tuks and songthaews in front of Rama II hospital near the market are always ready and waiting to take you to nearby Amphawa, Tha Kha and Damnoen Saduak. Although the floating markets of these destinations are only open on Saturday and Sunday, Mae Khlong market is open daily, with trains typically arriving at 09:30, 11:30 and 15:00.
Story by David Luekens.
Last updated: 26th May, 2015
About the author:
David Luekens
Usually found exploring Bangkok's side streets or south Thailand's islands, David Luekens is an American freelance writer & photographer who finds everyday life in Asia to be extraordinary. You can
follow his travails here
.
best price guarantee
Photo gallery
Jump to a destination
Hot spots

Bangkok, Amphawa & Ayutthaya

Kanchanaburi & Central Thailand

Chiang Mai & Northern Thailand

Khorat, Nong Khai & the Northeast

Ko Chang, Ko Samet & East Thailand

South: Krabi, Khao Sok & more

All Thailand's islands
Sights in Bangkok
The above sights are all the sights in Bangkok we list on Travelfish.org.