Spark! Circus
What we say:
Spark! (that's with the !) is a group of volunteer circus performers who try to add a little sparkle to the lives of disadvantaged children in refugee camps, migrant schools, hospitals and orphanages along the Thai-Burmese border. More than 200, 000 refugees are based in camps along the border, with a large proportion of them being children.
Now while food, shelter and medical supplies are of course important to needy children, what can often be forgotten is that children need to be, well, children. Children in refugee camps and orphanages often end up growing up too fast, as they face facts of life that other children don't have to deal with.
Spark! reaches more than 4,000 children annually with its circus-style fire show, play shops and donations of toys and art supplies. The circus is completely volunteer-based, relying on donations, volunteers supporting themselves, and community support. The project aims to develop the children's creativity, physical fitness, communication skills and confidence, through play and entertainment.
Spark!'s volunteers meet up on Ko Samui and Ko Pha Ngan, where they get together and design the show, perform fund-raising shows and workshops, before moving on to Bangkok to do more prep work and buy supplies and toys. Finally they end up where they perform their most important performances – for the children in the refugee camps at Mae Sot, in the northwest of Thailand, on the Burmese border. Here they work with the children and their families, as well as local Thai communities and schools.
A typical day for a volunteer will involve prep time and packing the trucks, setting up at the school, orphanage or camp followed by the first performance of the day at lunch time. The show is followed by a couple of hours of workshops and activities with the children, before cleaning up and heading back to base. There'll be another performance in the evening, as well as preparation of costumes and toys for the next day's shows.
Should you be on Samui mid-January, on the 12th Spark! is holding a circus day on the campus of the International School of Samui. The day will involve shows, workshops, talent competitions, prizes, food and drink and a Rotary secondhand sale. Entrance is 150 baht for adults, and 50 baht for children, and all are encouraged to dress circus-style with funny hats and costumes. There'll be prizes for the best dressed.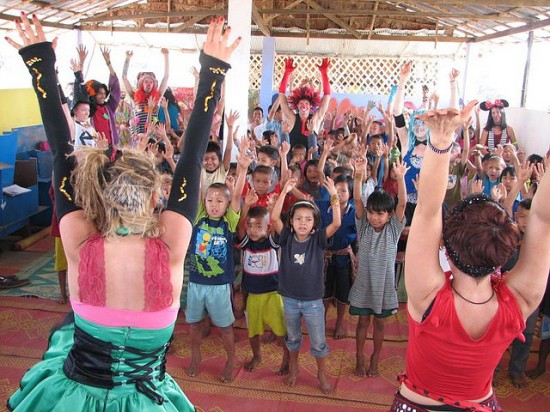 The following day Spark! will perform their "Spectacular fire & light show" to raise funds. The show will be on the front lawn of the Bandara Resort & Spa at 18:30. For reservations, call (091) 651 9138.
* Photos supplied by Shelley Poplak
Last updated: 6th March, 2015
About the author:
Rosanne Turner
Rosanne Turner relocated to Thailand in 2010 from South Africa. She enjoys sharing her discoveries of Samui after walking every beach, hill, coconut grove and forgotten path in search of that memory-making beach bar. You can follow her blog at
Travelling Pen
.
best price guarantee
Photo gallery
Jump to a destination
Hot spots

Bangkok, Amphawa & Ayutthaya

Kanchanaburi & Central Thailand

Chiang Mai & Northern Thailand

Khorat, Nong Khai & the Northeast

Ko Chang, Ko Samet & East Thailand

South: Krabi, Khao Sok & more

All Thailand's islands
Sights in Ko Samui
The above sights are all the sights in Ko Samui we list on Travelfish.org.