THAILAND:Andaman Sea island hopper
Just some suggestions
Introduction
Coconut trees crouch over white sands, limestone cliffs soar from clear aquamarine water and another magnificent sunset unfolds; it must be the Andaman Sea off the southwest coast of Thailand. The decision to visit this, one of the world's most idyllic destinations, is an easy one, but choosing an island or two can be tough. Settling into a single island for a solid chunk of time is the best way to fully unwind, but if seeking adventure, why not hop till you drop by way of high-speed ferries?
Several companies run speedboats that connect many of the best Andaman islands during the November to March high season, with plenty of more out-of-the-way islands reachable via private longtail boats. Beginning on Phuket and finishing up way down in Malaysia's Langkawi, you could conceivably chill out on 22 different islands without ever setting foot on the mainland -- and you don't need your own private yacht to do it. Here are some options to satisfy both the beach bum and Magellan in you.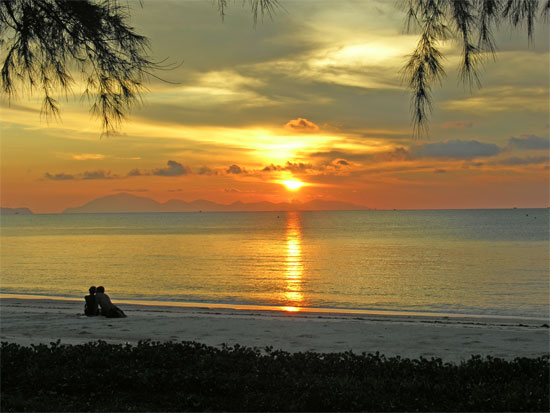 So where to tomorrow?
Weather
It's essential to visit the Andaman Sea at the right time of year if wanting to take advantage of island hopping routes. The early bird boats get started early to mid November and finish up mid to late March while others, such as the large Tigerline, don't set sail until December. Arrive between December and February for the widest range of options. If you visit between April 1 and October 31, be prepared to head back to the mainland and travel by mini-bus/local ferry between each island as it's too dangerous to attempt these relatively long stretches on open sea during the monsoon.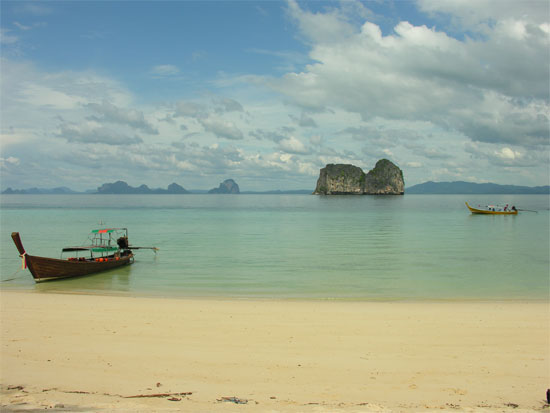 Ko Ngai taxi.
Suggested trip length
Unless your primary desire is to feel the wind through your hair on daily speedboat rides, we would recommend at least two or three days on whichever islands you choose, not including travel days. Plan on a solid two to three months if you actually want to attempt visiting all of the islands mentioned here -- and if you can swing that, boy do we envy you.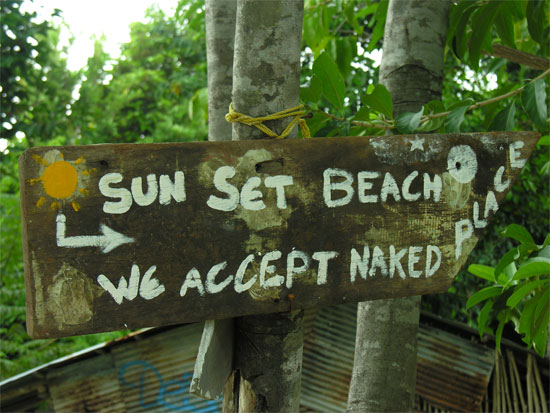 Ko Lipe: All welcome.
Logistics
Keep in mind that it's best to purchase each ferry route individually rather than by way of the "open tickets" offered by some travel companies as it can be difficult to find the right boat down the line and travel offices aren't always willing to help if you're not buying tickets from them. The one exception is Tigerline, which offers direct booking via its website and provides instructions on where to meet the boat. With that said, the smaller speedboats are speedier and more fun than the big Tigerline ferries. We've yet to try all of these, but we have enjoyed consistently smooth rides with Bundhaya.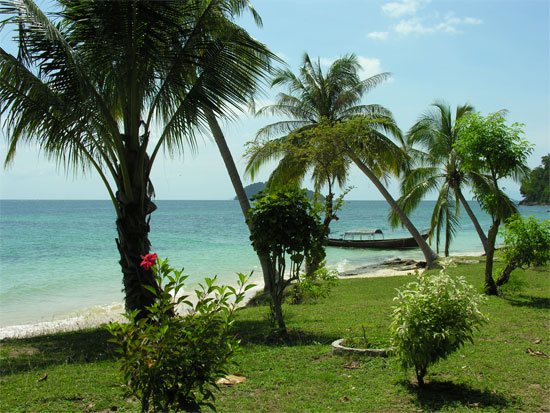 Ko Bulon Lae: Quit your job now.
Also note that the mainland is reachable from virtually all of these islands, and boat tickets to anywhere can be easily arranged through guesthouses or travel companies. On the national park islands, simply contact the visitor centre when you're ready to go and they'll point you to the right boat. Prices can run anywhere from 100 baht for a short longtail ride, such as from Ko Lipe to Ko Adang, to more than 2,000 baht for longer distances. Most of the legs take less than an hour but expect a half-day of skimming the waves if going from, for example, Ko Lanta to Ko Lipe.
Ko Adang: Climb the hill, earn the swim.
The main island hopping route
Most speedboat companies run the following route daily in either direction, starting in either Ko Lipe or Ko Phi Phi in the morning and arriving at one or the other by late afternoon.
Ko Phi Phi > Ko Lanta > Ko Ngai > Ko Muk > Ko Bulon Lae > Ko Lipe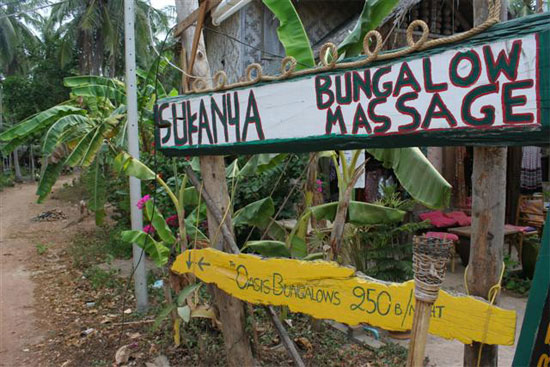 Ko Lanta: You've earned that massage.
A few companies stop at Ko Kradan as well, which can also be reached via a private longtail from Ko Muk. At least one boat also makes a stop at Ko Lao Liang, Ko Jum, Ko Libong and Ko Tarutao, respectively. Ko Jum is also reachable via a direct ferry from Ko Lanta, and Ko Si Boya is reachable from Ko Jum by longtail. You can also get to Railay direct from Ko Phi Phi, though that would be cheating as it's technically on the mainland.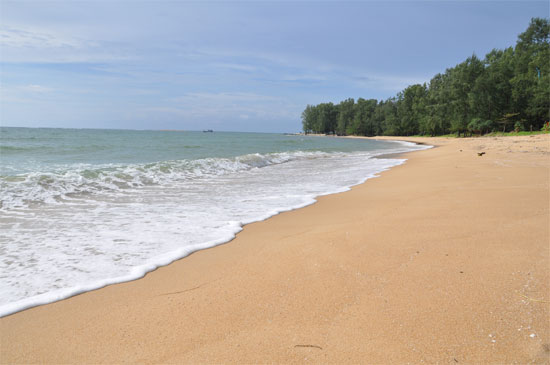 Nai Yang Beach, Phuket. Overcrowded ... not.
The Phuket zone
Not surprisingly, Thailand's biggest and most visited island offers direct boats to a range of nearby islands. Low-key escapes like Ko Maiton, Coral and Raya Islands, Ko Lone, Ko Yao Yai and Ko Yao Noi are reachable from various piers around Phuket. Keep in mind however that these islands are not on the larger island hopping routes -- you'll need to first return to Phuket and then catch one of countless daily departures for Ko Phi Phi to link up with the speedboats that cruise further south.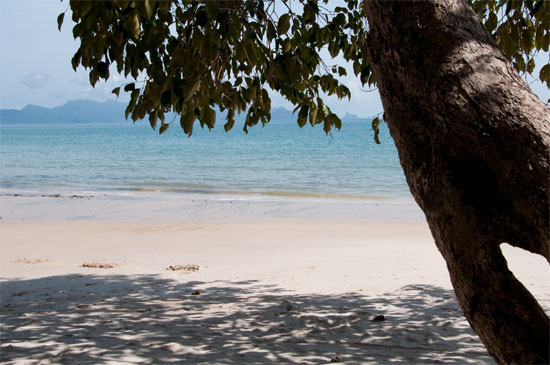 Langkawi: Plenty of empty sand.
The Lipe / Langkawi zone
Several boats also run back and forth from Ko Lipe to Langkawi, making it possible to cross the border without going back to the mainland. We can't imagine a more fun place to enter Thailand than Lipe's charming immigration building slap bang on the fine sands of Pattaya beach. From Ko Lipe, a private longtail can take you to its national park island neighbours, Ko Rawi and Ko Adang. It's also a breeze to get dropped off at Ko Tarutao by one of the many speedboats that connect Lipe to Pakbara on the mainland.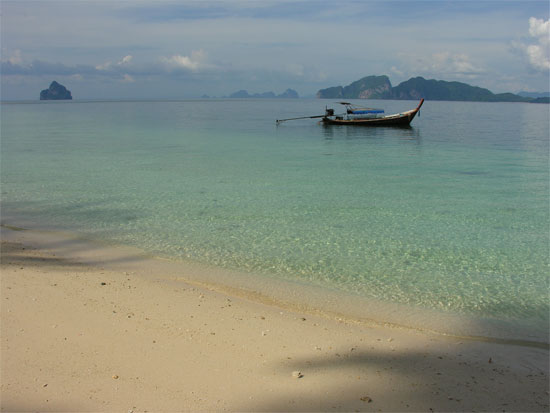 Ko Kradan: Itinerary destroyer.
Suggested itinerary
Possibilities are endless and your own itinerary should reflect your tastes, but if we had a few weeks to hop around the Andaman we'd seek a mix of kicking back on picture perfect beaches, back to nature activities like kayaking, hiking and snorkelling, settling into a comfy spot with good eating and nightlife for a little while, and also some bare bones bungalow time on at least one not-so-touristy island. Here's an example: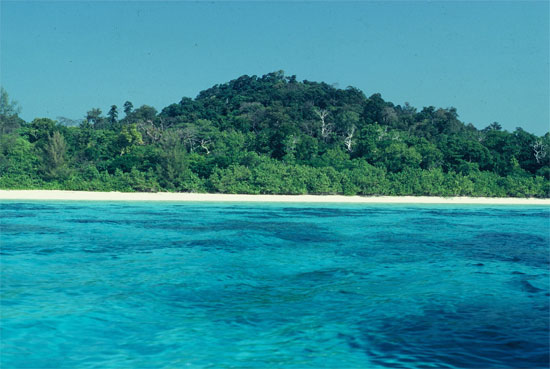 Ko Rok: Call me Crusoe.
Start off with a solid four days on activity-rich Ko Lanta, then cruise to Ko Muk for a three- to four-day stay including a side trip to the stunning beaches and great snorkelling of Ko Kradan. Next, head for a comfy and lively week on Ko Lipe, with some mountain trekking thrown in on Ko Adang. Finally, we'd lose ourselves on enchanting Ko Bulon Lae for a few last days before returning to the real world, at which point the story has two possible endings.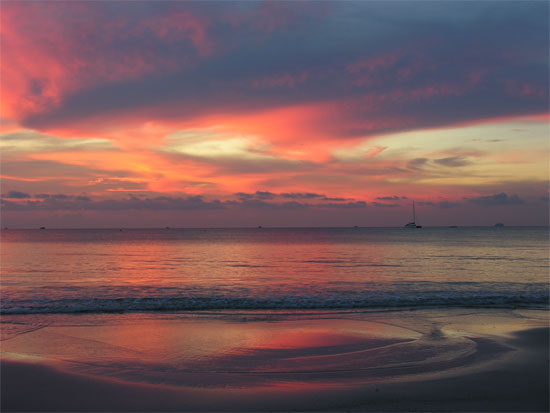 There is always next year!
Either you'll slide back into normal life and work feeling refreshed while secretly relishing the jealousy in co-workers' eyes upon seeing your deep chestnut tan. Or, you'll be so entranced by the island hopping experience that you'll quit your job and end up back in the Andaman within a matter of months. Be warned -- the latter is a lot more common than you think.
Planning advice by topic
Getting started

How to plan

Why you need insurance

Health & safety

Money & costs

Travel with kids

Accommodation

Food

Transport

Work & volunteering

What to pack

Where to go

Gear advice

Gear reviews

Learn the language
Other suggested itineraries
Thailand

Laos

Cambodia

Vietnam

Malaysia

Indonesia

Burma Myanmar

The region

Remember this is just a guide -- often the best trips are the ones you make up yourself!

Newsletter signup