MALAYSIA: Two days in Langkawi
Just some suggestions
Introduction
For just two days in Langkawi, Pantai Cenang or Pantai Tengah are the base camps of choice, with white sandy beaches, an abundance of shops, restaurants and cafes along plus plenty of transport rental options.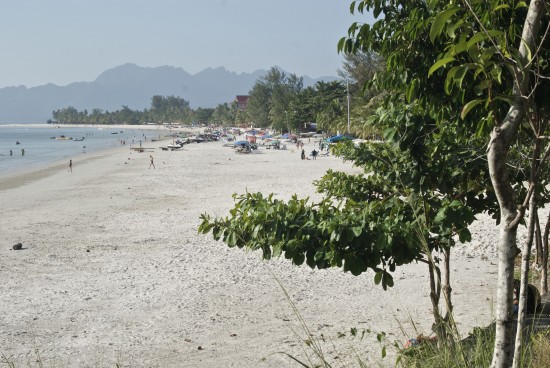 The perfect base camp!
Where to stay? For backpackers, Rumours Guesthouse has dorm rooms starting at 20 ringgit per night per bed and private rooms from 70 ringgit. Midrange travellers can opt for Langkapuri Inn which starts at 140 ringgit per night for a beachfront room, complete with sea breeze and sunset spot. Also, check out Langkawi Cactus Inn in Pantai Tengah. Seaside splurges can be had at Meritus Pelangi Beach Resort and Spa or neighbour Casa Del Mar, with the sandy white beach at your doorstep.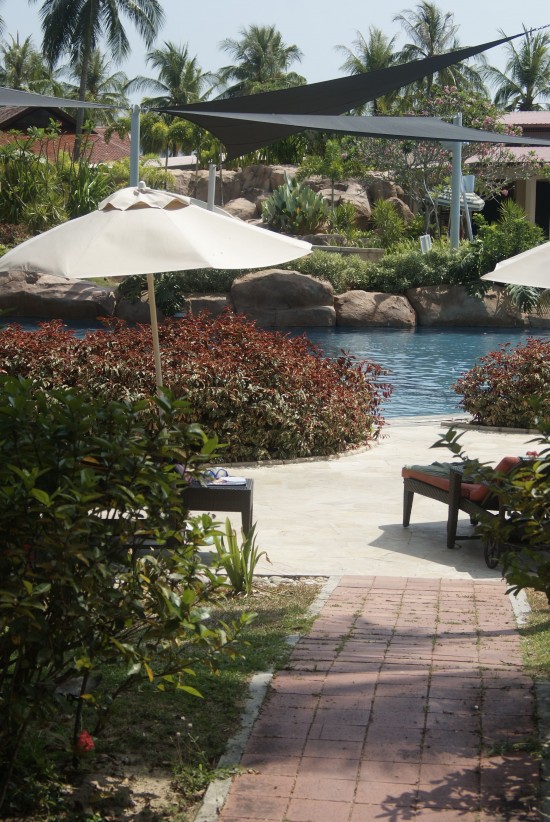 Perhaps a little luxury is in order?
Start your lightning visit with a dip in the sea and a sundowner, with several spots that double as great spots to eat as well. Sugars offers an array of drinks and Asian fusion fare with the added bonus of a view of newbies launching parasails on the beach.  At the north end of Pantai Cenang is Cba at the Meritus Pelangi Beach Resort, with cosy outdoor couches set against the backdrop of the Andaman Sea. They have a daily happy hour from 17:00 until 19:00 as well as waterfront dining under the stars.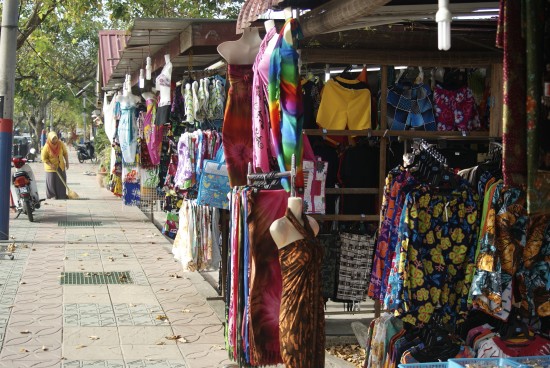 You name it, it's here somewhere.
By sundown, most shops along busy Jalan Pantai Cenang are open and ready for business. From cheap eats and duty-free spirits to Persian rugs, anything and everything is available here. For those determined to make the most of their duty-free visit, centrally located Naam's OMG! fills the bill for late night revelry. The Langkawi Beach Hash House Harriers have a 'run' every other Friday evening and is an interesting way to explore local trails and meet a few local characters. As a bonus, the run comes with a meal and all you can drink for 35 ringgit.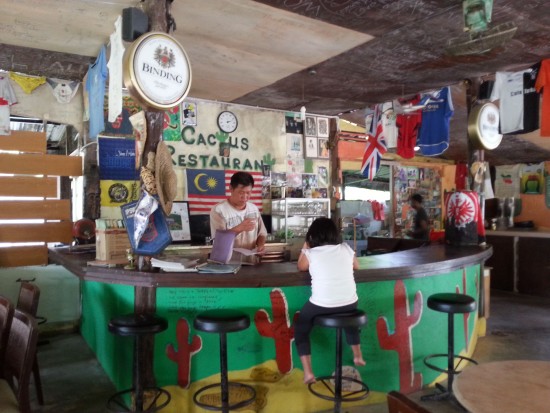 Local watering hole as well as brekkie favorite.
For early risers, a Saturday breakfast at local favourites The Cactus Cafe in Pantai Tengah or in Pantai Cenang, Tomato Nasi Kandar for roti canai or nasi lemak will get your day started quick. A day skirting the shoreline or zigzagging across the island via motorbike will give you a chance to explore off the beaten path at your leisure.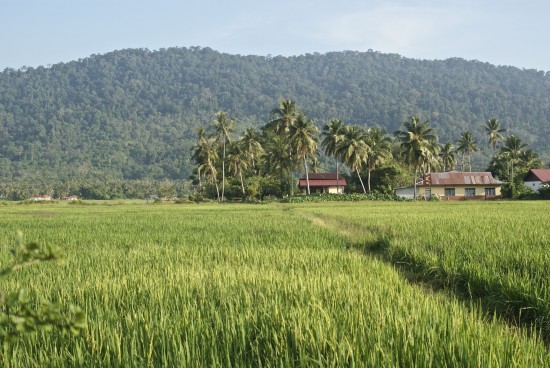 Off the beaten path.
Head to pristine Tanjung Rhu Beach to Scarboroughs Fish and Chips for excellent fish and chips and a cold one. Alternatively, hike to the top of Mount Gunung Raya and enjoy a panoramic view of the archipelago as well as distant Thailand. Mangrove or nature cycling tours are fun guided excursions and you'll be back in time for sunset. A few tour companies, such as Dev's Adventure Tours, include hotel pick up. Group island hopping jaunts are real bang for your ringgit with a three-hour, three-island tour, which includes a stop at the legendary Lake of the Pregnant Maiden, for about 50 ringgit.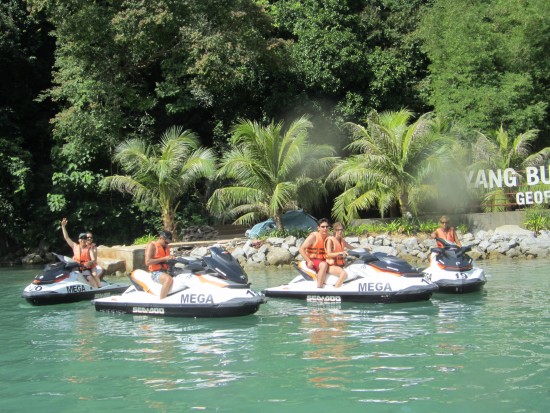 Jet ski tours are great for offshore exploring.
Adrenalin junkies can take a jet ski tour which gives about four hours of water time, including spectacular offshore geological formations in addition full throttling opportunities safely away from the populated shoreline. Do book a day in advance.
A sunset cruise is a great way to spend the late afternoon and evening as you slowly putter through tranquil waters and enjoy an island-style meal with open bar for under 300 ringgit. Expect to make lots of friends as the evening wears on.
Overlooking the picturesque Telaga Harbour, Privilege Restaurant & Bar serves excellent Malaysian fusion cuisine -- it's a five-star experience at three-star prices. Reservations are highly recommended. Just up the road in Kuala Teriang is local hotspot Santai Cafe, serving excellent Malaysian-inspired dishes at backpacker prices.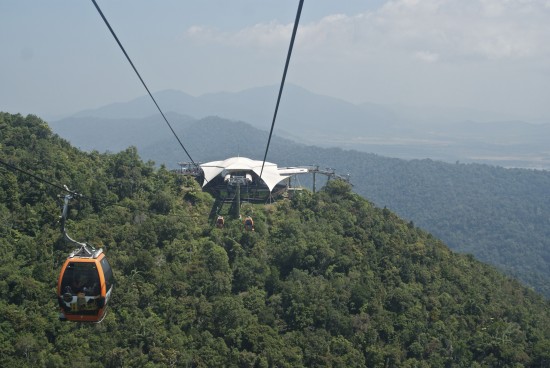 The sky's the limit at the Panoramic Cable Car.
Catch the Panoramic Cable Car early on day two before the crowds arrive and take a dip in nearby Seven Wells. On your return, enjoy a fresh coconut juice or sample the  hearty Western brunch at Mangoes Bar and Grill complete with bloody marys or mimosas. Mangoes is located on the waterfront of a fishing village and is a great setting for that Instagram shot to remember Langkawi by.
Planning advice by topic
Getting started

How to plan

Why you need insurance

Health & safety

Money & costs

Travel with kids

Accommodation

Food

Transport

Work & volunteering

What to pack

Where to go

Gear advice

Gear reviews

Learn the language
Other suggested itineraries
Thailand

Laos

Cambodia

Vietnam

Malaysia

Indonesia

Burma Myanmar

The region

Remember this is just a guide -- often the best trips are the ones you make up yourself!

Newsletter signup