THAILAND: Coast to coast
Just some suggestions
Introduction
Laze on picture-perfect stretches of white sand; hike beneath old growth rainforest canopy; swim in clear cerulean blue waters; make some friends at a beach party; visit old town markets and relaxed fishing villages; snorkel or dive majestic seascapes, and get accustomed to exploring the high seas by longtail. It's all possible in just three to four weeks in southern Thailand.
Travellers to this region often feel it's necessary to choose between the eastern Gulf of Thailand or the western Andaman Sea, with Ko Samui and Phuket being the default choices on either side. It's true that each coast has plenty to offer, but reliable transport options make it possible to explore some of the highlights on both sides of the peninsula in a few weeks.
Weather
More than any other part of Thailand, it's important to pay attention to weather in the south. This trip would ideally start after December 1, once the east coast islands have dried out from the daily storms that roll through in October and November, and finish up before the rainy season arrives on the Andaman coast around May 1. If wanting to steer clear of inflated prices and crowded accommodation, avoid the peak season weeks between mid-December and mid-January.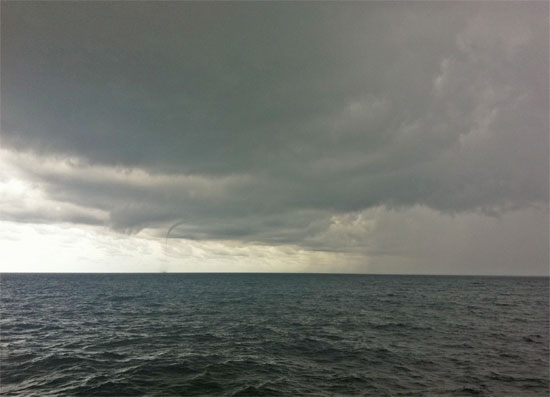 You did pack an umbrella right?
Suggested trip length
Three weeks is enough to visit most if not all of the destinations mentioned here, but keep in mind this is an "explorer" itinerary suitable for those who don't mind travelling frequently from place to place. Factor in an extra week if you want a solid chunk of time on a single beach.
Sample plan
Starting in Bangkok, make your way to Chumphon and hop on a ferry to Ko Tao. Enjoy world-class diving, a casual snorkel, cliff jumping and sun-bathing before tucking into a cocktail in time for the sunset and a fire-dancing display after dark.
Next, take a ferry down to Ko Pha Ngan. Stick around for a few days if its beach bum atmosphere and pumping parties are what you're after, but in any case don't miss a daytrip to the stunning Ang Thong National Marine Park.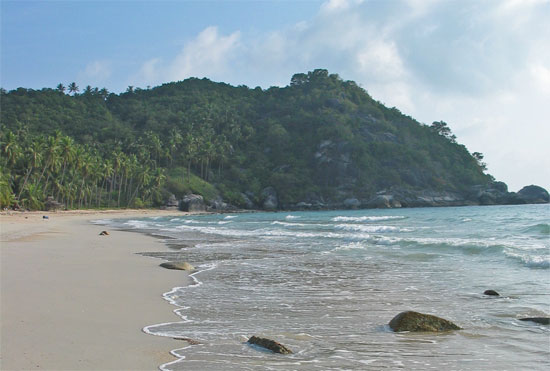 Just another strip of sand on Ko Pha Ngan.
With some of the Gulf coast's best islands under your flippers, return to terra cotte at Surat Thani and catch a bus to one of the world's oldest tropical forests: Khao Sok. Hike beneath soaring trees while spotting wildlife en route to remote waterfalls, go for a cruise amid the sheer karst cliffs of Chiew Lan Lake (take a dive there too if you're really adventurous) and have a morning dip in the lake's emerald waters after a night spent in a floating raft house.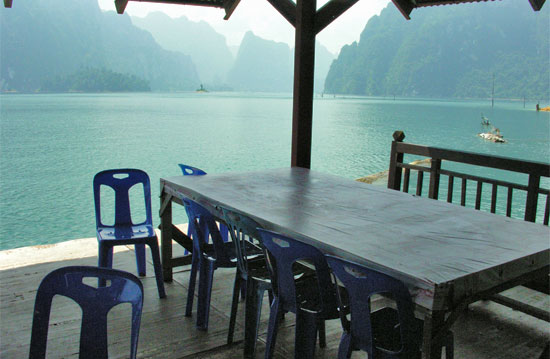 Khao Sok: Sit here and think about the office back home :)
Once the Tarzan in you has been sufficiently satisfied, rise early and catch a bus from Khao Sok to Takua Pa an hour's drive to the west. This old tin-mining port town is seen by many as little more than a transport hub, but we recommend hiring a songthaew or motorbike taxi and taking a half-day trip to the Tsunami Memorial in Baan Nam Khem fishing village and the historic streets of Old Takua Pa. You should be back in time to catch a late afternoon bus that would have you in Krabi before the restaurants close, but Takua Pa does have a few hotels if you need to spend the night.
In the Krabi vicinity, you might stop for a Western comfort meal in Ao Nang before heading for Railay to do some rock-climbing and sea kayaking, or to the party-beach scene at Ko Phi Phi to let loose for a few days.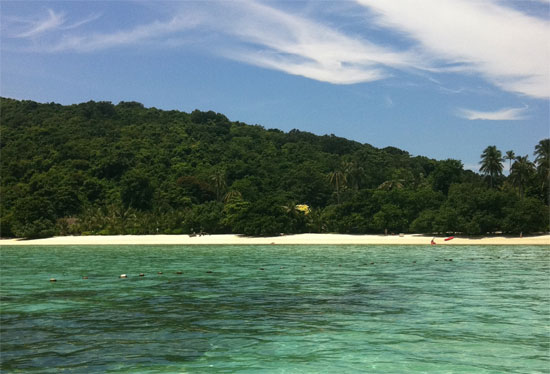 Phi Phi is lovely in spots.
Next, take a bus down to Trang for some kopi tasting and fantastic local food in the night market, and if time allows, venture to one or more of the area's many waterfalls or the Botanical Gardens and jungle canopy walk.
With your trip winding down, it's time to kick back on chilled out Ko Muk. Be sure to hire a longtail boat to take you to nearby Ko Kradan, which is even tinier than Muk and boasts one of the most idyllic beaches we've seen anywhere in Thailand. Whether you hit Kradan as a daytrip or an overnight, be sure to stop in and say hi to Wally at Paradise Lost. He usually has a story or two to share from his decades of sailing the world, and we reckon that by this point, you'll have a story or two of your own.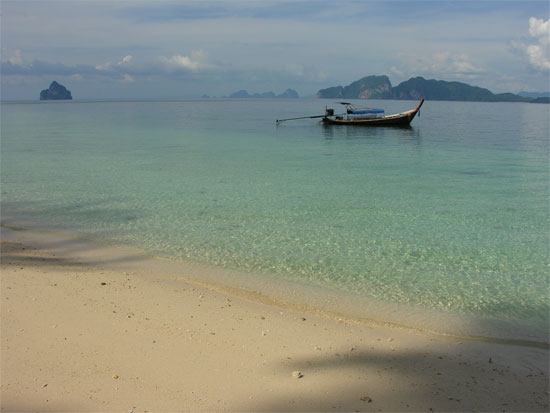 Your boat is waiting.
Save some time
Half day: Fly from Bangkok to Chumphon at the beginning of the trip with Solar Air.
Half day: Fly from Trang to Bangkok at the end of the trip with Nok Air.
Half day: Skip the sights out of Takua Pa and instead head straight to Krabi.
3 to 5 days: Skip Ko Tao or Ko Phangan/Ang Thong National Park.
3 to 7 days: Skip Krabi/Railay/Ko Phi Phi or Trang/Ko Muk/Ko Kradan.
Take a side trip
2+ days: Visit Ko Samui before or after Ang Thong National Park.
2+ days: Hit some of the other worthwhile islands out of Trang.
2+ days: Take a sojourn into Phuket.
More days: Head further south to more Andaman islands like Ko Bulon Lae, Ko Lipe and Ko Tarutao, perhaps all the way down to Satun town and/or onwards to Langkawi in Malaysia.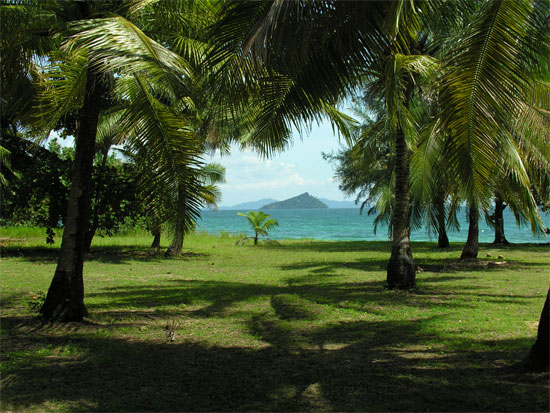 Just another day on Ko Bulon Lae.
Combine trip plans
This trip could be easily linked to the Northern Andaman coast itinerary (you would want to head north instead of south from Takua Pa).
Planning advice by topic
Getting started

How to plan

Why you need insurance

Health & safety

Money & costs

Travel with kids

Accommodation

Food

Transport

Work & volunteering

What to pack

Where to go

Gear advice

Gear reviews

Learn the language
Other suggested itineraries
Thailand

Laos

Cambodia

Vietnam

Malaysia

Indonesia

Burma Myanmar

The region

Remember this is just a guide -- often the best trips are the ones you make up yourself!

Newsletter signup