Posted by somtam2000 on 10/11/2015 at 19:02 admin

From this week's newsletter:

I was watching Star Wars (the original) the other night with the kids and they got asking after the Jawas - who were they, where were they from, and what did they do for a job. I settled on "scrap collectors" as a catchall for their occupation and our high year-old daughter asked, "So if they're the recyclers, does that mean everyone else are dumpers, like in Bali?"

According to numerous media reports through 2015, Indonesia is the second biggest source of plastic waste in the oceans -- after China and before the Philippines. According to the Jakarta Post, Indonesia generated more than three million metric tonnes of mismanaged plastic waste in 2010. If you thought that was bad, even worse is that the tonnage is on target to increase tenfold in the next decade.

Wet season with an onshore breeze can see Bali's beaches in a deplorable state. Yes, efforts are made to clean up some to a degree, but still, "Come to Bali to swim with soiled nappies" probably isn't the slogan Indonesia Tourism is shooting for. And for every beach cleaned up dozens are left filthy.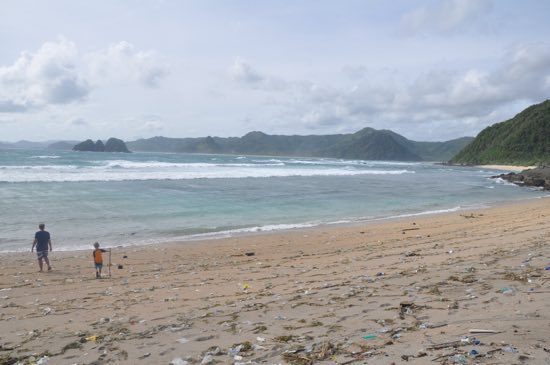 But it's not just the beaches. When I walk from my house along a ricefield road into Seminyak I see piles of rubbish, mostly plastic, lying at the base of the rice fields. Some of it is run off from the road, but near all of it is thoughtlessly thrown onto the ground: out of a car window, from the back of a motorbike, or just discarded without a thought while walking.

While it began in southern Thailand, Trash Hero Thailand builds community-based projects working to clean up existing waste but also to enact long-term behavioural change. It is through the latter that real change will be made.

Growing up in Australia in the 1970s, the "Keep Australia Beautiful" television campaign was such an approach. It drilled an anti-littering message that has stayed with me (and many others) since. This is what Indonesia -- and many other countries in the region -- really need. Nationwide campaigns to educate people, starting with the kids, that littering isn't an acceptable practice.

Sadly, you wouldn't want to hold your breath waiting for governmental action, but as a traveller to the region, there are plenty of small actions you can take that all make a difference. Refuse plastic bags in convenience stores, use a refillable water container, refuse plastic water bottles in restaurants and hotels, or participate in beach cleanups. It all helps, even if it is but a drop in the ocean (sorry!). Make a donation to an organisation like Trash Hero to help them clean up more.

Do you have ideas on how travellers can help to have less litter impact on their travels?
#1 somtam2000 has been a member since 21/1/2004. Location: Indonesia. Posts: 8,090
Posted by Jakartass on 10/11/2015 at 20:20

Caucasian travellers get noticed in Indonesia. Be brave and set an ostentatious example when disposing of your own rubbish. If you can't find a rubbish bin, then place it in your bag or pocket.

If you're in a public place, ask someone where you can dispose of it:
"Permisi pak (man) / ibu (woman). Ada tempat sampah dekat disini?"
Excuse me sir/madam. Is there somewhere near here where I can dispose of my rubbish?

If there isn't somewhere, take photos and tell folk that you're going to post them on your social media account.
.....................................
When buying anything in a supermarket or convenience store, refuse the (free) plastic bag.
#2 Jakartass has been a member since 7/9/2015. Posts: 4
Posted by Gogomobile on 11/11/2015 at 01:52

Avoid going to these trashy places. Best way to reduce waste and punish these grubs.
#3 Gogomobile has been a member since 14/4/2015. Posts: 412
Posted by exacto on 11/11/2015 at 09:52

Nice suggestion by Jakartass to lead by example. But I think it will require a proactive approach too, as somtam suggested, by refusing plastic bags in shops, plastic bottles at restaurants and hotels, etc. That is pretty much what we do at home, and while it has taken a generation or two to get there, we have moved a fair distance in the right direction.
Growing up in the states, I remember when roadside litter was a huge problem, and we had the big government and NGO campaigns to create awareness. Unfortunately, the litter problem seemed to be a result of a certain level of economic development and lifestyle changes (like the switch from glass to disposable cups in restaurants, for example). Even more unfortunately, it took more than a generation for people to catch on and stop throwing their trash anywhere they felt like it.
I think it will take Indonesia a while to figure it out. But there is hope too. Thailand had a huge rubbish issue in the late 80's and early 90's, but has made great (if not yet complete) strides to address the problem in the last few decades. Regards.
#4 exacto has been a member since 12/2/2006. Location: United States. Posts: 2,840
Posted by gecktrek on 11/11/2015 at 16:51

hey, in the late 80's an australian movement called 'cleanup australia day' was launched by ian kiernan. it has organically grown to become an event that the general public participates yearly.

on a recent trip to nusa tenggara, apart from the collection of recyclable waste, i noticed that general rubbish is collected and burnt twice a day, once in the morning, another in the evening. and while this is great in theory, the practice of burning of rubbish, particularly at this time in indonesia, isn't so good. it would appear the local community is either happy/coerced into this action, which is a step in the right direction.

as for tourists, what about the introduction of an indonesian 'national clean-up day', which would see locals and tourists working side-by-side...
#5 gecktrek has been a member since 24/3/2013. Location: Australia. Posts: 178
Please login to add your reply