Posted by Shining on 14/8/2017 at 06:40

Hey there,

we are planning a trip through Isaan in November and for our last couple of days a short intermezzo at the sea. I thought, it might be an idea of trying Ko Kut, as the Ko Chang Archipelago is also in the east... But it seems, it is not so easy to connect it to our route.
I thought about taking a train, probably from Ubon, and it seems, as there is a connection to Kaeng Koi (?), where it might be possible to jump on the green line to Pattaya or Marp ta Put (?). But I was not able to find any infos on the recommended booking page here, and also, it seems like the both questionable stations (see ?) where not possible to choose there. Anyone familiar with travelling by public transportation in Isaan and/or the east and willing to help? Or any other suggestions? I would prefer NOT to travel via Bangkok to Trat....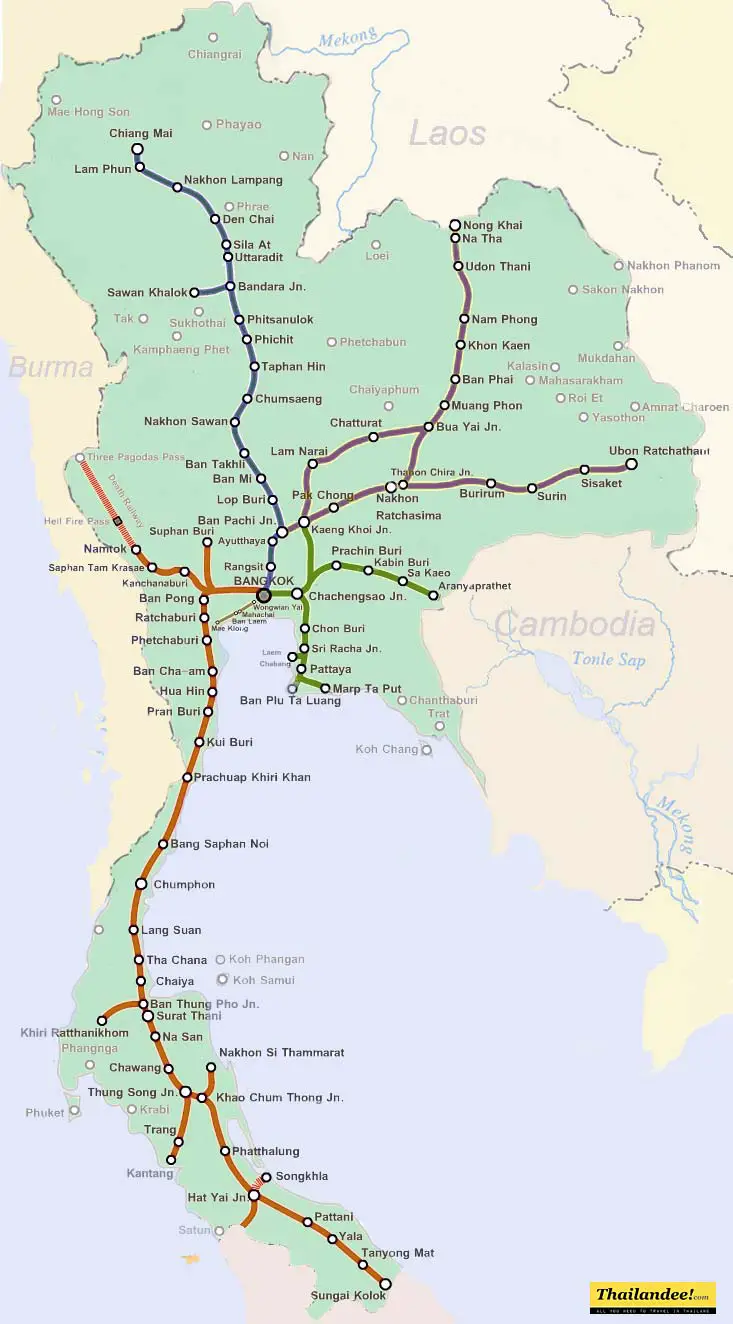 #1 Shining has been a member since 13/8/2017. Posts: 3
Posted by Tilapia on 14/8/2017 at 13:14

Suppose you could manage a couple of ways. These are the two I'm familiar with. I'm done the first one myself and it's not the fastest, but your options are limited if starting in Ubon.

You could take the train Ubon Ratchathani to Nakhon Ratchasima, then bus to Chanthaburi , likely via Sa Kaeo. Lots of buses from Trat from Chanthaburi. The train trip is about 5 hours, and the bus trip from NR to Chanthaburi is about another 5 hours. It's about an hour from Chanthaburi to Trat.

You could also take the bus from Udon to Aranyaphrathet, then from Aranyaphrathet to Chanthaburi.

There are probably minivans that you'd be able to pinball around in from Ubon to Chanthaburi.

However you go, it will be a very long day if you try and make it in one. Unlikely you'd get a ferry unless you started your trip the previous evening. I'd recommend going as far as either Chanthaburi or Trat, then heading to Koh Kut the next day. Both are nice places to stay.
#2 Tilapia has been a member since 21/4/2006. Location: Canada. Posts: 1,524
Posted by DLuek on 15/8/2017 at 00:25 TF writer

There may now be a direct bus from Ubon to Chanthaburi . If not, the best place to transfer would be Buriram , which can be reached by train or bus from Ubon. Buses run frequently throughout the day from Buriram to Chanthaburi, and then from Chanthaburi to Trat . You'd almost definitely have to spend one night in Trat before taking a ferry to Ko Kut the next morning.
#3 DLuek has been a member since 19/6/2008. Location: Thailand. Posts: 1,346
Posted by Shining on 15/8/2017 at 16:42

Thanx alot to both of you!
I already planned to stay one night in Trat, so both possibilities, via Khorat or via Buriram sound much better than having the Trip via Bangkok. ????
#4 Shining has been a member since 13/8/2017. Posts: 3
Posted by Tilapia on 15/8/2017 at 22:10

I love Bangkok, but in this case there's no need for you to go back there just to get to Trat and then Koh Kut.

Trat's night market is great! Try the oyster omelet (hoi tohd) with Sri Racha.
#5 Tilapia has been a member since 21/4/2006. Location: Canada. Posts: 1,524
Please login to add your reply